Khỏe - Đẹp
It is easy to confuse dengue fever and Covid-19, how to distinguish?
Doctor Dinh The Tien, Duc Giang General Hospital, said that when a child has a high fever, signs of vomiting, lethargy, a lot of fatigue, a negative Covid-19 test, parents should send the child to the hospital…
In recent weeks, the Southern provinces and Ho Chi Minh City have recorded an increase in the number of severe dengue cases and there have been deaths.
On April 22, the Department of Health of Ho Chi Minh City said that by mid-April, this locality had recorded nearly 4,500 cases of Dengue hemorrhagic fever, of which 109 severe cases were being treated at hospitals.
With the number of severe dengue cases increasing recently, experts believe that the number of cases in the community may be more than the number of recorded cases. In Ho Chi Minh City, there have been 2 deaths from dengue fever due to late detection and late hospitalization.
Similarly in Dong Nai, according to statistics of the Provincial Center for Disease Control, since the beginning of the year, the province has recorded more than 1,300 cases of dengue fever. In which, many severe cases required hospitalization (mainly in children under 15 years old), with 2 deaths.
Doctor Pham Thi Kieu Trang – head of the intensive care unit against poisons, Dong Nai Children's Hospital, said that nearly half a month ago, on average, the department received about 4-5 children with dengue shock every day. .
The reason is that many people get confused between dengue fever and Covid-19. Notably, when these two diseases are first caught in the early stages, the symptoms will be relatively similar, which can cause confusion such as fever and pain. headache, body aches…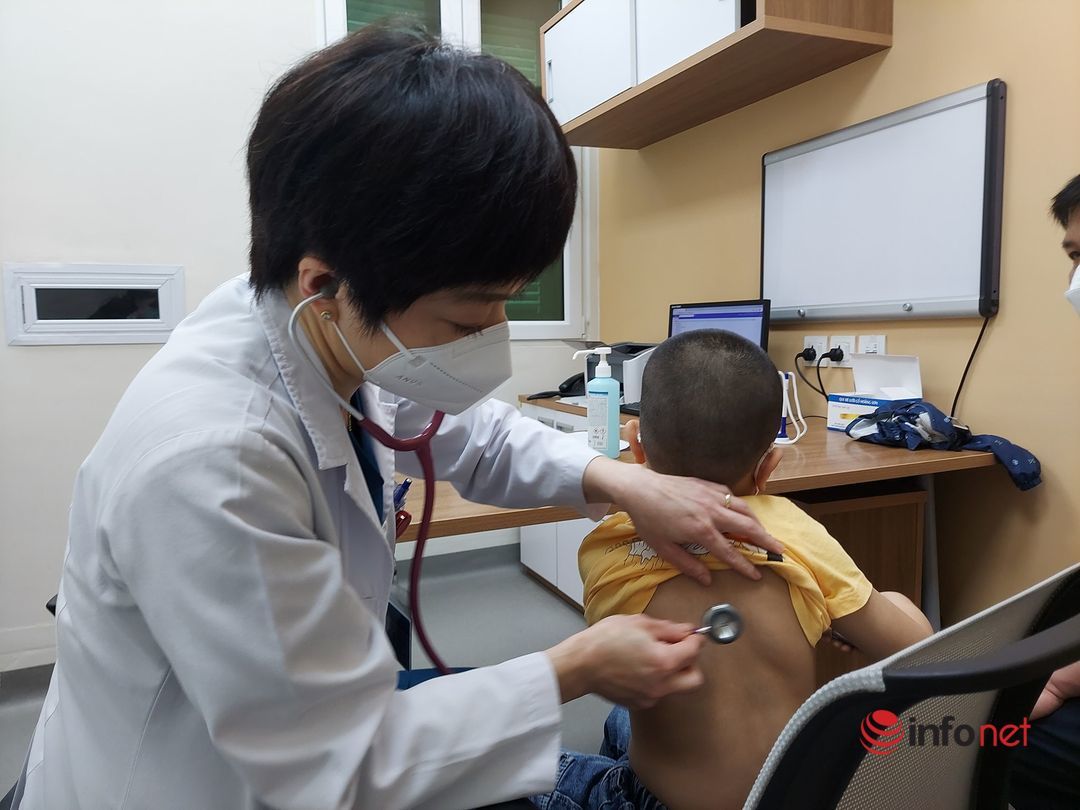 Illustrations
Talking to reporters, Dr. Dinh The Tien (Department of General Internal Medicine, Duc Giang General Hospital) said that at Duc Giang General Hospital, no similar case has been recorded – the pediatric patient was in shock due to hemorrhagic shock.
However, in fact, the hospital also recorded dengue fever patients for examination and treatment. This includes both adult and pediatric patients.
Dengue fever often peaks in the rainy season in the North (from July to October), in the South almost all year round, about 3-5 years, a rather large outbreak can occur. .
In the context of the ongoing Covid-19 epidemic, according to doctors, it is necessary to distinguish between dengue fever and fever caused by Covid-19. According to Dr. Dinh The Tien, dengue fever usually has a high fever continuously, lasting 5-7 days, accompanied by headaches and body aches.
In particular, there may be lymphadenopathy, rash. On people with congestive rash, there may be abdominal pain in the liver, nausea, nosebleeds, bleeding gums. If progress is severe, there will be symptoms of lethargy, hypoglycemia… leading to shock, heavy bleeding, multi-organ failure.
"And especially when the fever is high, there are signs of vomiting, lethargy, the child is very tired, the Covid-19 test is negative, parents should send the child to the hospital," emphasized Dr.
In addition to Covid-19, there are many causes of fever, such as dengue fever, Japanese encephalitis, or pneumonia, bronchitis. Especially in very sensitive groups like children.
"So if the child shows signs of high fever, rapid breathing, or vomiting, it is necessary to take the child to a medical facility for timely examination," noted Dr.
In addition, Doctor Nguyen Phuoc Truong Nhat Phuong – head of the pediatric department of Hoan My Dong Nai International Hospital – said that in addition to people easily confusing the two diseases, children are also at risk of both contracting Covid-19 and contracting Covid-19 at the same time. dengue.
Depending on the case, if any disease progresses more seriously, the doctor will prioritize treating that disease first. If the case of both diseases progresses seriously, the treatment will be very difficult and complicated.
Therefore, people need to pay close attention and understand the nature of each disease for early recognition, to avoid serious complications before sending children to the hospital. with young children.
In order to detect and treat diseases in time, especially co-infection with Covid-19 and dengue fever, experts warn people to monitor for unusual health symptoms.
In addition to some common symptoms such as fever, muscle aches, and fatigue, the two diseases have different signs. If the fever is suddenly high for more than two days, accompanied by spontaneous bleeding such as vomiting, nosebleeds, blood in the teeth; black stools, abnormal vaginal bleeding… need to go to a medical facility to examine and test for dengue virus infection.
If there is additional cough, sore throat, stuffy nose, runny nose, sneezing, loss of smell, taste, difficulty breathing… it is necessary to do a Covid-19 test.
"People should absolutely not diagnose the disease by themselves, self-administering fluids, taking anticoagulants and anti-inflammatory drugs at home can lead to unfortunate consequences," said Dr. Tien.
N. Huyen
You are reading the article
It is easy to confuse dengue fever and Covid-19, how to distinguish?

at
Blogtuan.info
– Source:
infonet.vietnamnet.vn
– Read the original article
here