Công nghệ
Many young people use TikTok to become famous, but at what cost?
Risking your life in exchange for likes
Timothy Isaiah Hall, 18, known for his @TimboTheRedneck account which has more than 273,000 followers on TikTok, died trying to pull off a stunt to impress his online audience. The reckless action caused Hall's GMC truck to overturn, pressing on his body, crushing his internal organs. The @TimboTheRedneck account had over 2.5 million likes, but Timothy Isaiah Hall is gone forever.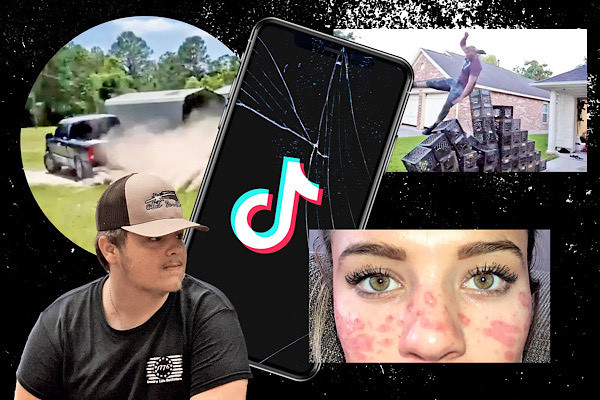 Renard Smith, 29, has amassed 1,500 fans on social media after he nearly broke his spine while participating in the popular TikTok Milk Crate Challenge. To do this challenge, the participants gathered plastic milk cartons, stacked on top of each other in the shape of a ladder. The player will then climb to the highest crate and return without falling.
"I'll do it again, next time I'll just wear padding," Smith said. The challenge was later banned because it resulted in a range of life-threatening damage including torn ligaments, broken bones and spinal cord injuries.
Photo: Many young people give up traditional jobs to become TikTokers, despite the costs of privacy, mental health, or even life.
Health experts say that millennials (those 26 to 41 years old) and Gen Z (10-25 years old) become addicted to the euphoric feeling of receiving lots of attention. thanks to TikTok's recommendation algorithm. The threat to life does not seem to concern young people, the aura of fame is so attractive that they are willing to risk their lives.
Psychologist Yamalis Diaz of NYU Langone Health told The Post: "Users feel a sense of euphoria when their posts go viral, when hormones like dopamine and adrenaline are released, causing a sensation. Infatuation is similar to drug addiction. Once content creators get to experience the taste of online fame, they almost won't stop."
Impact on privacy and mental health
At the age of 16, Jiggy Turner has amassed more than 600,000 followers on TikTok. The popularity on social networks has helped Turner have many advertising contracts with brands and have the opportunity to act on the screen. For Turner, this seems like the dream life. "Every kid wants to be famous, nobody wants to do a boring job," Turner said.
After two years of building up her follower base, one day Jiggy's account was suddenly locked. An anonymous "hacker" launched a bot attack that repeatedly flagged Jiggy's account for reporting violations until TikTok closed the account. Then the hacker starts a new account. "Basically, he stole my photos and videos and then profited from advertising money," Jiggy said.
Jiggy's inbox was quickly flooded with angry emails from customers who said they hadn't seen the advertised ad on Jiggy's account. "The hacker tricked the customers. I feel this has really damaged my reputation," shared Jiggy.
But Jiggy still hasn't given up on her passion to become an influencer on TikTok. He has notified TikTok of the incident and is working to recover his account. In the meantime, he's started a new account. So far, it only has 50,000 followers, but the number is growing fast.
Turner is just one of many teenagers who are ditching traditional career paths for the chance to become a social media celebrity. In a recent survey, 54% of Gen Z millennials said they want to be a influencer (KOL) and 86% expressed interest in monetizing social media posts. .
Layla Ann VanHooser, a 13-year-old girl has about 100,000 followers on Musical.ly. The app was fun at first, but after Musical.ly was acquired by TikTok, VanHooser's fanbase changed and she struggled to find new audiences to connect with her content. .
Unlike TikTok, Musical.ly does not restrict content to users under the age of 13. In addition to the positive comments, many followers left negative comments that insulted the girl's appearance. At the time, VanHooser was only 11 years old. Now that VanHooser is 13, the minimum age to post videos on TikTok, she's using her comedy and dance to spread an anti-bullying message.
VanHooser says he doesn't have the patience to finish watching a favorite movie, but could easily spend four hours in a row using TikTok, scrolling through recommended content. Even when receiving negative comments, VanHooser still said that he wanted to be famous and wanted to receive a green check for his account.
Authorities get involved
Cutting down on social media time among teenagers can be a top priority. About 37.3 million US teenagers use TikTok. The average TikTok user spends more than 24 hours viewing content on the app each month.
Lawmakers fear that the popular social media app could create a mental health crisis for young Americans. In March, US states joined forces to open an investigation into the harmful effects of TikTok on young people. This is the latest effort to strengthen child protection online.
"As children and adolescents already struggle with issues of anxiety, social pressure and depression, we cannot allow social media to further damage our physical and mental health. them," said Massachusetts Attorney General Maura Healey, one of those leading the investigation.
In September 2021, leaked documents from former Facebook employees also revealed the harmful effects of Instagram on young people, especially teenage girls. Then a Children's Online Safety Act was introduced, requiring companies to implement features to protect teenagers from the negative effects of social media.
Huong Dung (Synthetic)
You are reading the article
Many young people use TikTok to become famous, but at what cost?

at
Blogtuan.info
– Source:
vietnamnet.vn
– Read the original article
here