Business
Raising dairy cows, Moc Chau people "squeeze" billions of dollars every year
"Barefoot giants" thanks to dairy farming
Moc Chau (Son La) is famous for its beautiful natural scenery, fresh and cool climate all year round, and vast land. And this is also an attractive destination for many tourists in recent years. In addition to the natural scenery, this place is also known for its long-standing dairy farming. Many farmers have risen out of poverty and become dairy billionaires with the farm model of Moc Chau Dairy Cow Breeding Joint Stock Company.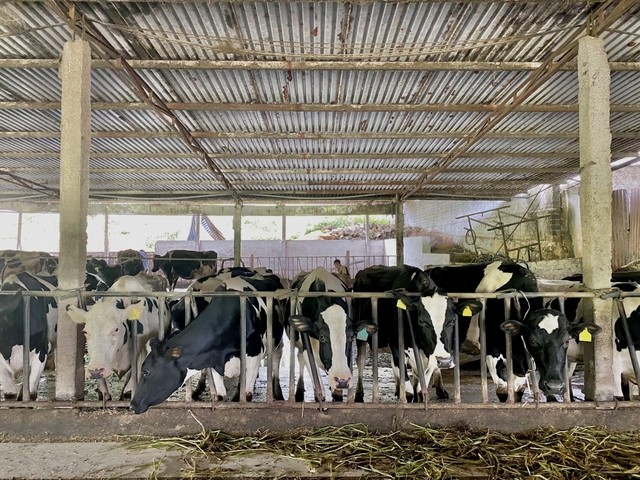 One of the Moc Chau dairy cows.
Doan Truong Son, owner of a dairy farm in Xinjiang, Moc Chau Farm town (Son La), said that dairy farming was passed down from his parents' time according to the custom of "passing down from father to son". It's been 23 years now. Previously, along with livestock, his family grew vegetables, tea and other fruit trees. But in recent years, his family has given up farming and focused on livestock.
"I followed my father's profession from a young age. When I was not married, I often helped my parents with chores such as bathing the cows, milking the cows, mowing the grass, etc. Later, when I had a family, I had accumulated enough experience and was able to operate my own farm. When I first set up the farm, my parents gave me and my husband three cows as capital. Thanks to breeding, the number of cows is increasing day by day and is a premise for us to have the "wealth" as we are now", Mr. Son said.
Mr. Son added: "When there were no machines, all processes were done manually from milking to cutting grass, etc. The couple mainly take turns working. But now, the number of cows on the farm increases and the development of technology, almost we just need to milk, other processes are hired and supported by machines."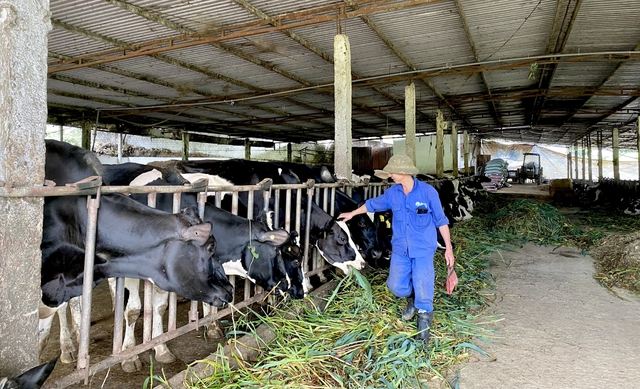 Son's family cow farm with more than 100 dairy cows.
Mr. Son's family farm has a total of more than 100 dairy cows, of which 50 are dairy cows. From milking and importing to the company, the family's average monthly income is about 100-120 million VND (excluding other expenses). Regarding the new direction of husbandry to develop the family's economy in the near future, Mr. Son said: "Dairy farming brings my family a lot of benefits: having a stable income and solving problems at the same time. fuel (biogas). In addition, it also helps the family to have a safe source of fertilizer. In recent years, the price of milk has continuously increased, I believe that not only my family but also many other livestock households have a stable income thanks to this profession.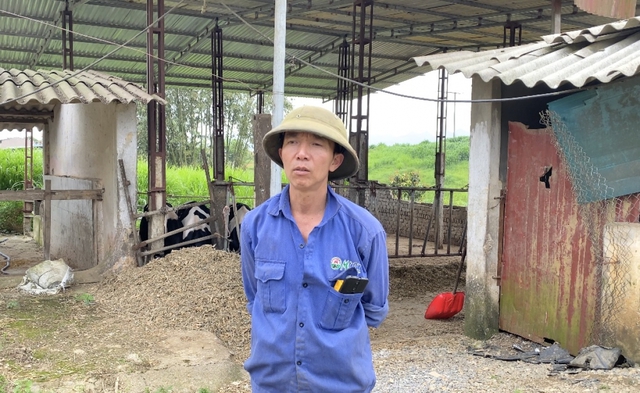 Mr. Doan Truong Son at the front of the dairy farm.
Not only Mr. Son's family, many other families on Moc Chau plateau have become billionaires from nothing. Nearly 600 dairy farming households all have stable income, over 200 households have income from one billion VND/year.
More than 20 years of establishment on the Moc Chau plateau, Hai Hien and his wife in the town of Moc Chau Farm (Son La) have made a fortune from empty hands. Currently, your family's farm has 45 dairy cows with a value of approximately nearly billion VND/year. In which, there are 26 dairy cows, with a milk production of about 6 quintals/head/month, a 9-month cycle of 5 tons/head/year with an average selling price of VND 13,000/liter, the total profit that his family makes. She earns an average of several tens of millions of dong/month.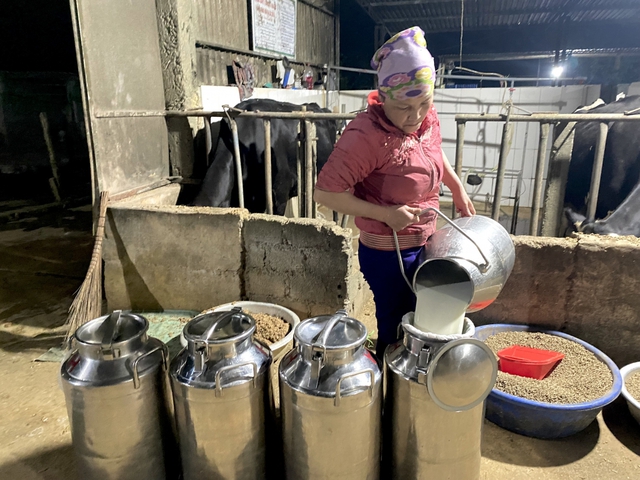 Ms. Hien is pouring freshly squeezed cow's milk into large jars to be weighed and sold.
Ms. Ngo Thi Hien shared: "The family has been raising dairy cows for more than 20 years, in the past, the farm had only 3.4 cows, now thanks to the care and breeding techniques that her farm has The family has 45 dairy cows, of which only 26 are milking, the rest are calves and pregnant cows. Young cows (calfs) will produce more milk than older cows. In the past, milking cows was still very difficult, using only hands completely. But today, thanks to machines, the milking process becomes more convenient and saves time."
The young generation wants to follow in the business
Besides the "old generation" of long-term dairy farming, there are also many younger generations who are continuing the profession that the family has built. One of the young examples who can become a "billionaire" in the future is Mr. Doan Manh Toan, a university student at the Vietnam Academy of Agriculture, currently living in Moc Chau (Son La). He is the youngest child in a long-time dairy farming family in the town of Farm, the family's farm has over 60 dairy cows, of which 37 cows give milk.
Mr. Toan said that he is studying at a school in Hanoi. In his spare time, he often goes back to his hometown to help his parents to learn and gain experience. Later, he wishes to have a farm of his own, build his own when he has mastered everything from now on.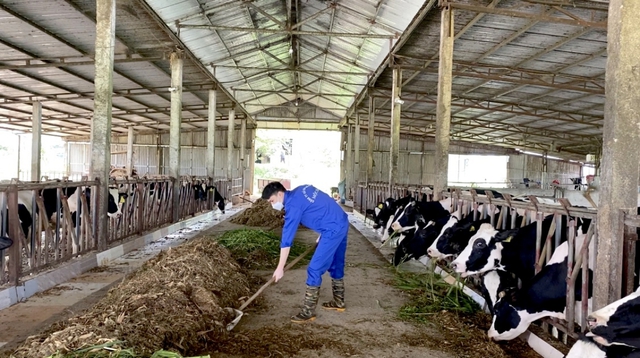 Mr. Toan is well versed in cow feeding and milking.
Mr. Toan said: "I often go back to my hometown in my free time to help my parents. Later, when I graduate from school, I will build my own farm and get rich with my own two hands. My goal is to continue the family business, inherit and promote it to be worthy of the career that grandparents and parents have preserved for generations."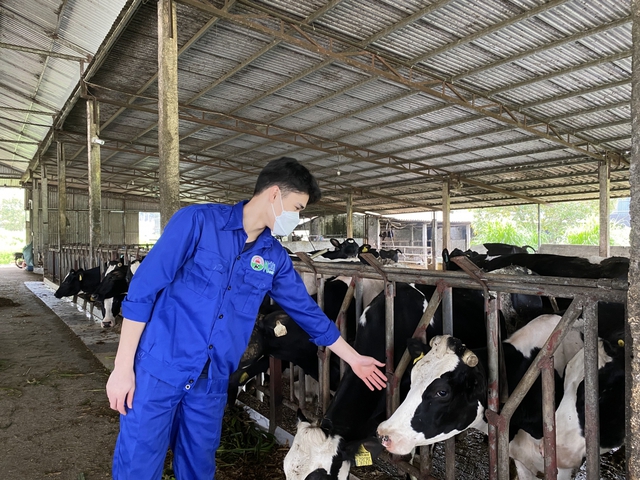 Mr. Toan is cuddling and cherishing dairy cows who have helped his family get rich over the years.
Dairy farming on Moc Chau Plateau is developing constantly. Thanks to traditional husbandry, this place has overcome unemployment, helping people get rich on their own land. This is a career that promises to bring a stable source of income and is the foundation for the appearance of many "billionaires" in the future.
You are reading the article
Raising dairy cows, Moc Chau people "squeeze" billions of dollars every year

at
Blogtuan.info
– Source:
cafebiz.vn
– Read the original article
here