Giải trí
The boy who followed his mother to sell lottery tickets was hit: "Mom, I want to go home and sleep!"
While following his mother selling lottery tickets, a four-year-old boy in Hoc Mon, Ho Chi Minh City ran across the street to pick up balloons when he was hit by a motorbike running at high speed and thrown away…
The boy miraculously escaped death after the accident, however, his family encountered many difficulties, they wanted the people involved to have care and support.
4-year-old boy was hit by 6m
On April 24, Ms. Vo Thi Diem Thuy (32 years old, from An Giang, temporarily residing in Thoi Tam Thon commune, Hoc Mon district, Ho Chi Minh City) said she was still at Children's Hospital 2 (District 1, City). Ho Chi Minh City) to take care of her son, THD (4 years old), who was hit by a car while following his mother selling lottery tickets on Song Hanh Street, Hoc Mon District.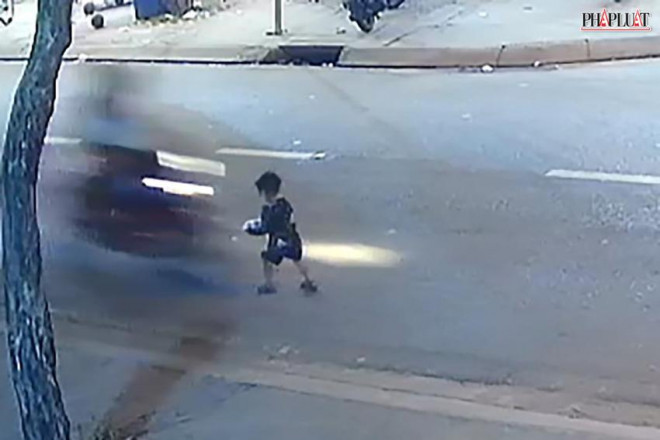 The boy was crossing the street to pick up the ball when he was hit by a motorbike. Photo taken from the clip
According to Ms. Thuy, the incident happened at more than 1 a.m. on April 23, at the intersection of Song Hanh Street, National Highway 22 and Tan Xuan 5 Street (Tan Xuan Commune, Hoc Mon District).
At this time, Thuy and her eldest son went to sell lottery tickets in the area. Baby D was carried by his mother, then dropped on the sidewalk to play with him.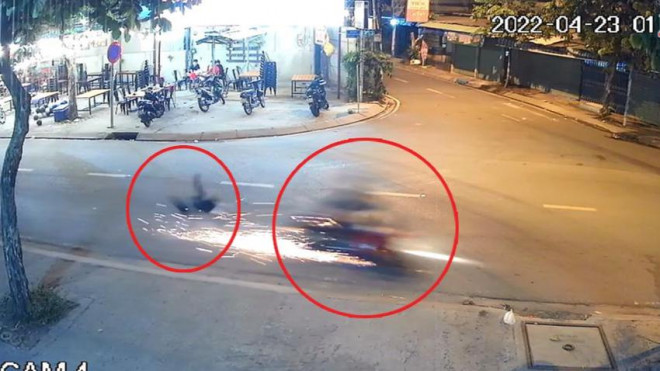 The impact was so strong that the boy was thrown into the sky and about six meters away. Photo taken from the clip
"My son and I rocked back and forth a water bottle on the sidewalk. Then she ran to the tree as if to hide from her mother. I stand about 1.5m away from my child, "said Thuy.
Then, the boy saw that the store opposite was celebrating a birthday. A man stomps the balloons making an explosion. "She wants to run over to pick up a balloon to play," Thuy said, adding that the child normally only plays on the sidewalk, never running down the street.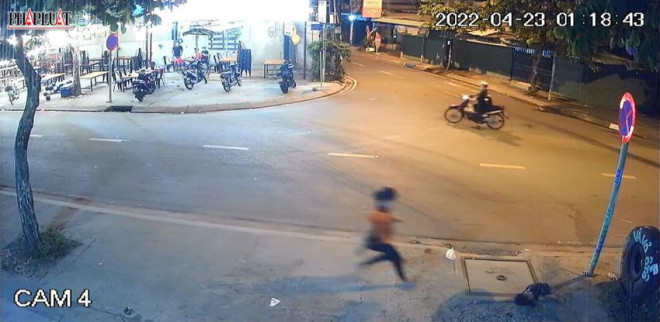 Discovered, the mother screamed and ran to see the condition of her son. Photo taken from the clip
While the boy was crossing, the mother noticed and shouted so he stopped. At this moment, an Exciter motorcycle with two young men sitting on it rushed to hit it.
The impact was so strong that the four-year-old boy was thrown many meters onto the sidewalk. Thuy screamed and ran to her son. "I saw his limbs and head bleeding. I just thought at that time how to bring the child to the hospital as soon as possible," Thuy continued and said that after the accident, two young men on the motorbike also fell on the road.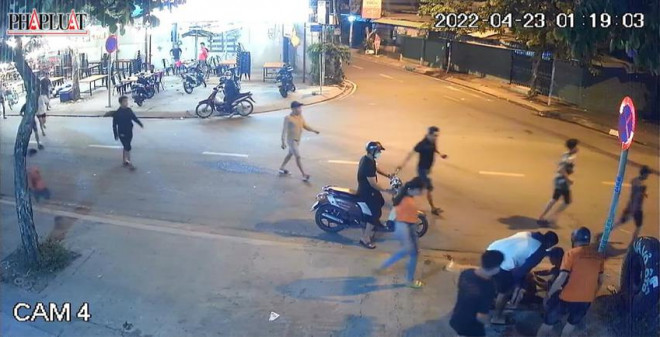 Many people around also ran to seek help. Photo taken from the clip
Images from security cameras near the scene showed that after being hit, two young men fell and their motorbikes burst into flames. Particularly, baby D was thrown into the sky, about 6m away. A lot of people in the area rushed over, asking questions, taking care.
Thuy rides a motorbike to take baby D and her eldest son to Hoc Mon General Hospital for emergency and treatment. The baby was determined to have broken leg bones, scratched head and bleeding, so he was transferred to Children's Hospital 2.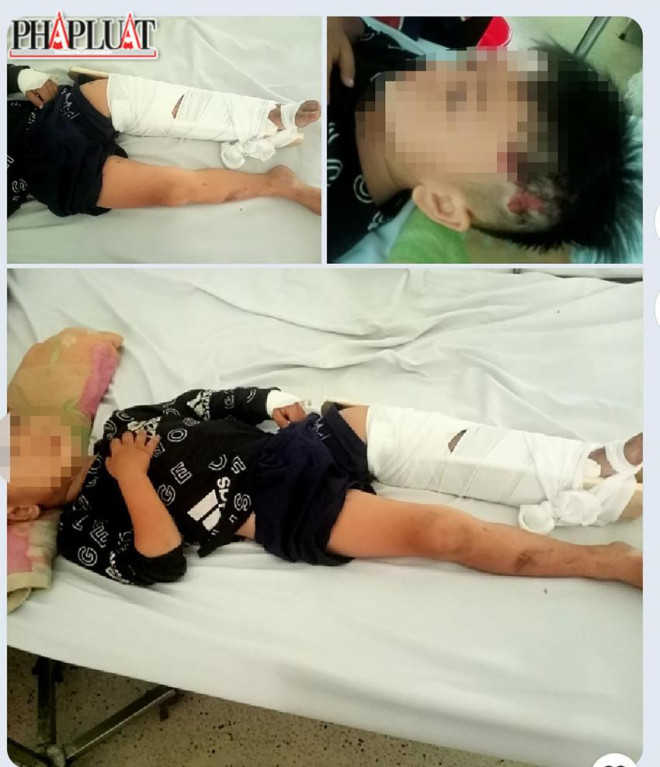 According to the family, the boy suffered a broken leg and scratched head, but it did not affect his life. Photo: GDCC
"At that time, the baby was in pain, crying. I am only concerned for my children's health, not for the two young men riding motorbikes. When I rushed to take my child to the hospital, they were still at the scene, "- Ms. Thuy informed.
The sad mother said that, after crying due to the accident, her son did not complain of pain, was not afraid, but just said to his mother, "Mom! I just want to go home and sleep." "I'm sad and worried about my child, just a minute of negligence can cause my child to have birth defects when he grows up, poor…" – Ms. Thuy said and said that the baby is in good health, just a little sore.
The family situation of the mother who leads 3 children to sell lottery tickets
Receiving PV in a motel room about 15 square meters in Tam Dong hamlet, Thoi Tam Thon commune, Hoc Mon district, Mr. Tran Hoang Long (38 years old, father of baby D) said he was worried about his son's health and difficult days. upcoming towel.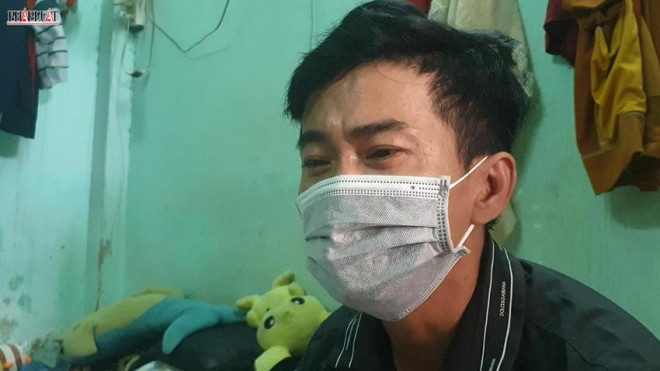 Mr. Long said that after hearing the news, he had gone to the scene, but the people involved had left. Photo: NT
Mr. Long said that the couple has been living in Ho Chi Minh City for nearly 10 years now. Normally, Mr. Long works as a nurse in Cu Chi district, while Ms. Thuy takes baby D and her two older sons to sell lottery tickets to make ends meet.
The man said that Thuy has been selling lottery tickets for about three years. Two older sons, one in eighth grade and one in sixth grade, both sell lottery tickets with their mother in the evening.
Particularly, baby D was carried by his mother. Every night, both parents and children will go out to sell from about 19:00 to 1 a.m. and return home.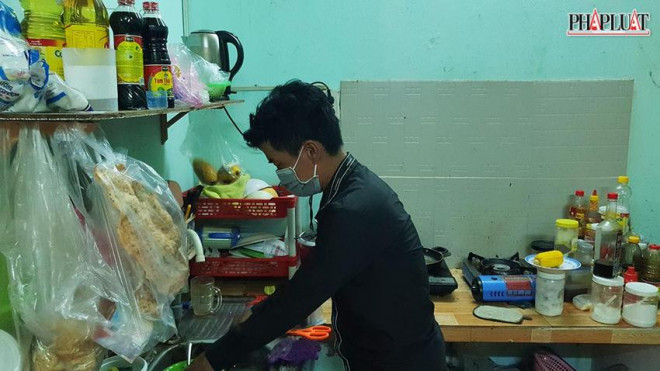 Mr. Long had to take a leave of absence for about three months to have time to take care of his children. Photo: NT
In the motel room, Mr. D cleans up his children's clothes and prepares food to bring to the hospital for his wife. In one corner, there were two red scarves of the two eldest sons and a bottle of half-drinking milk from the youngest son.
"My income day by day does not depend on; on average 300 thousand/day if there is a job. Parents and children selling lottery tickets also get about 300 thousand after deducting food and fuel," Long said and said that his wife had to sell lottery tickets continuously, had to sell them every day or else they would be "cut off". they don't sell it anymore.
After his son had an accident, Mr. Long took three months off to take care of himself. On Sunday, the two eldest sons, absent from school, continued to sell lottery tickets early to earn money to take care of them and their mother at the hospital.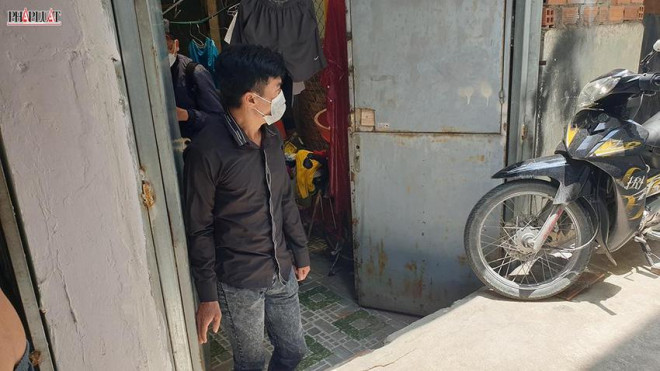 The family hopes those involved in the accident have support for the family. Photo: NT
Mr. Long said, his family can do as much, spend as much because of the large number of children, the job does not have a high income. "My room, my children's school fees, my hospital bills, I don't know where to go. I just hope that the people who hit my child can help the family to overcome some difficulties," said Mr. Long.
The father also ran to the scene, asking for images of security cameras in the area to find information about the people involved and get pictures when the child was in trouble. "I watched the camera with all my heart, worrying about my child's fate," – Mr. Long said.
Before that, Ms. Thuy worked as a worker. After giving birth to baby D, she took a break and sold lottery tickets to have time to take care of her children. The mother said that she would send her baby to school in the future, but not let her go with her mother to sell lottery tickets.
Seeing the PV coming, a man next door of Mr. Long said: "He and his wife suffered a lot. Good, polite children often run to the alley to play. It's hard to rent a room like that. Every time I drive the car through the high steps, it is very difficult, I don't know when."
After listening to the PV, the leader of the People's Committee of Tan Xuan commune, Hoc Mon district said that in the event of an accident, people should contact and immediately report it to the authorities for handling.
The representative of the Tan Xuan Commune Police Department informed that Mr. Long had reported to the locality. Because it's the case traffic accidents so he instructed him to go to the Traffic Police Team of the Hoc Mon District Police to report and make a file.
You are reading the article
The boy who followed his mother to sell lottery tickets was hit: "Mom, I want to go home and sleep!"

at
Blogtuan.info
– Source:
24h.com.vn
– Read the original article
here