Life Style
Yêu
The bride is 5 months pregnant with a jubilant engagement ceremony
The bride is 5 months pregnant and the impressive engagement photos
The pandemic situation has caused many wedding plans to be missed. Therefore, there are many bride On the happy day there was a baby. However, that was not enough to stop them from giving their best on the big day.
Recently, photos of the bride Le Huyen on the wedding day were shared on social networks. Currently, Huyen is 5 months pregnant, she wears ao dai on the wedding day and has had memorable moments with her husband.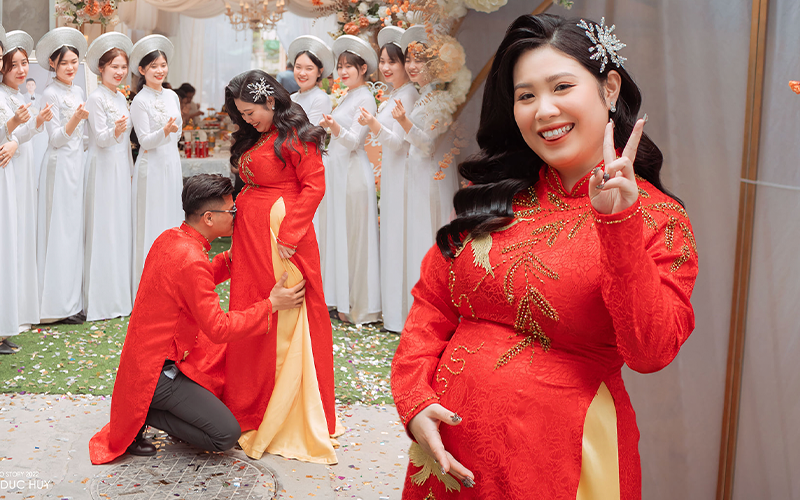 Huyen is 27 years old, working as a pharmacist in Hai Phong. Her husband's name is Van Hieu, 2 years older than his wife and from Binh Duong, living in Saigon.
It is known that the photos in the red ao dai were taken during the day interrogation by Huyen on April 24.
"I'm 5 months pregnant, so it's hard for me to travel and get married. At first, the two of us calculated that the wedding New Year would come back, but the outbreak came back, so we missed the plan. Now that we can get married, the baby is already quite big. "Huyen said.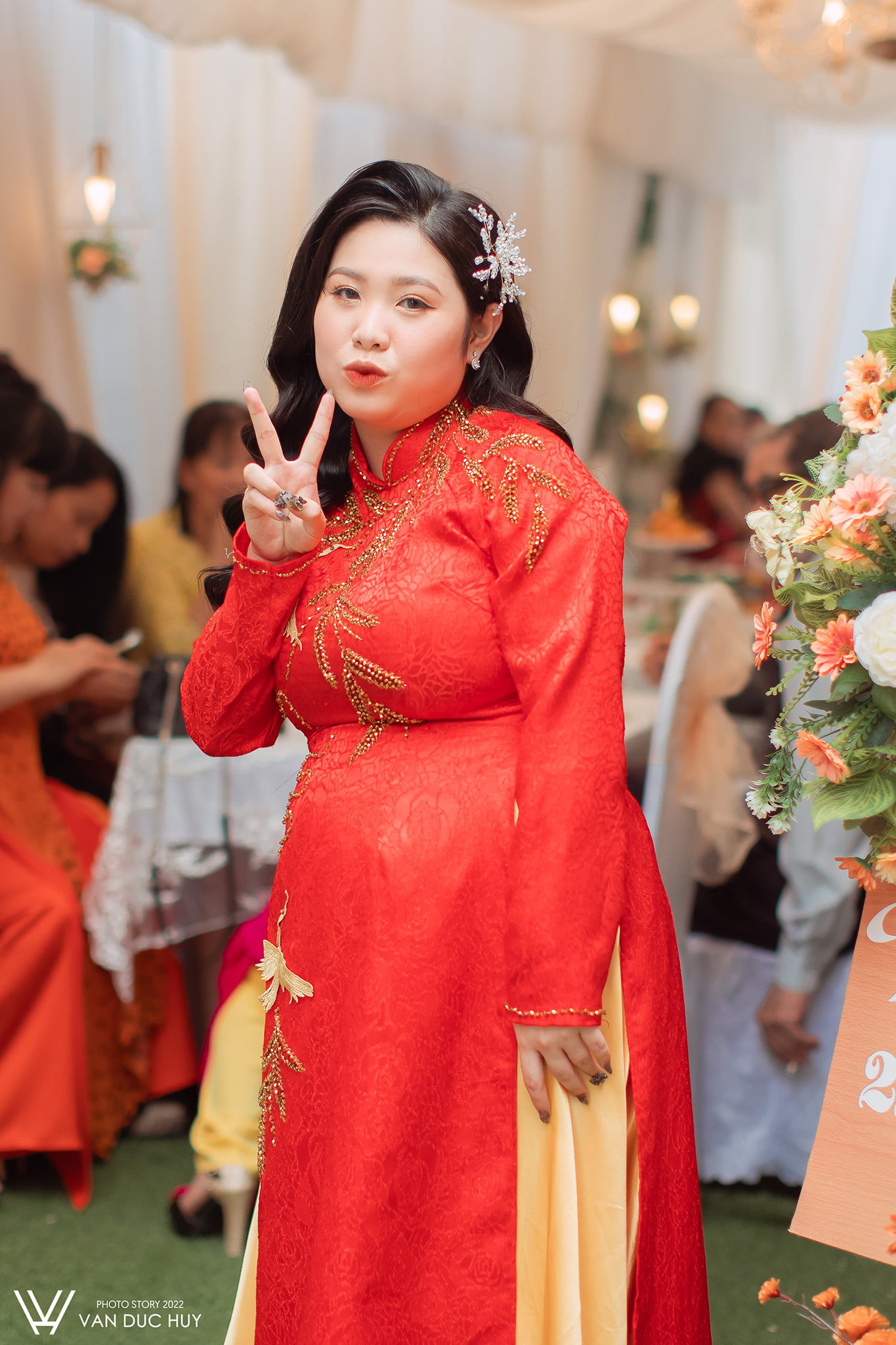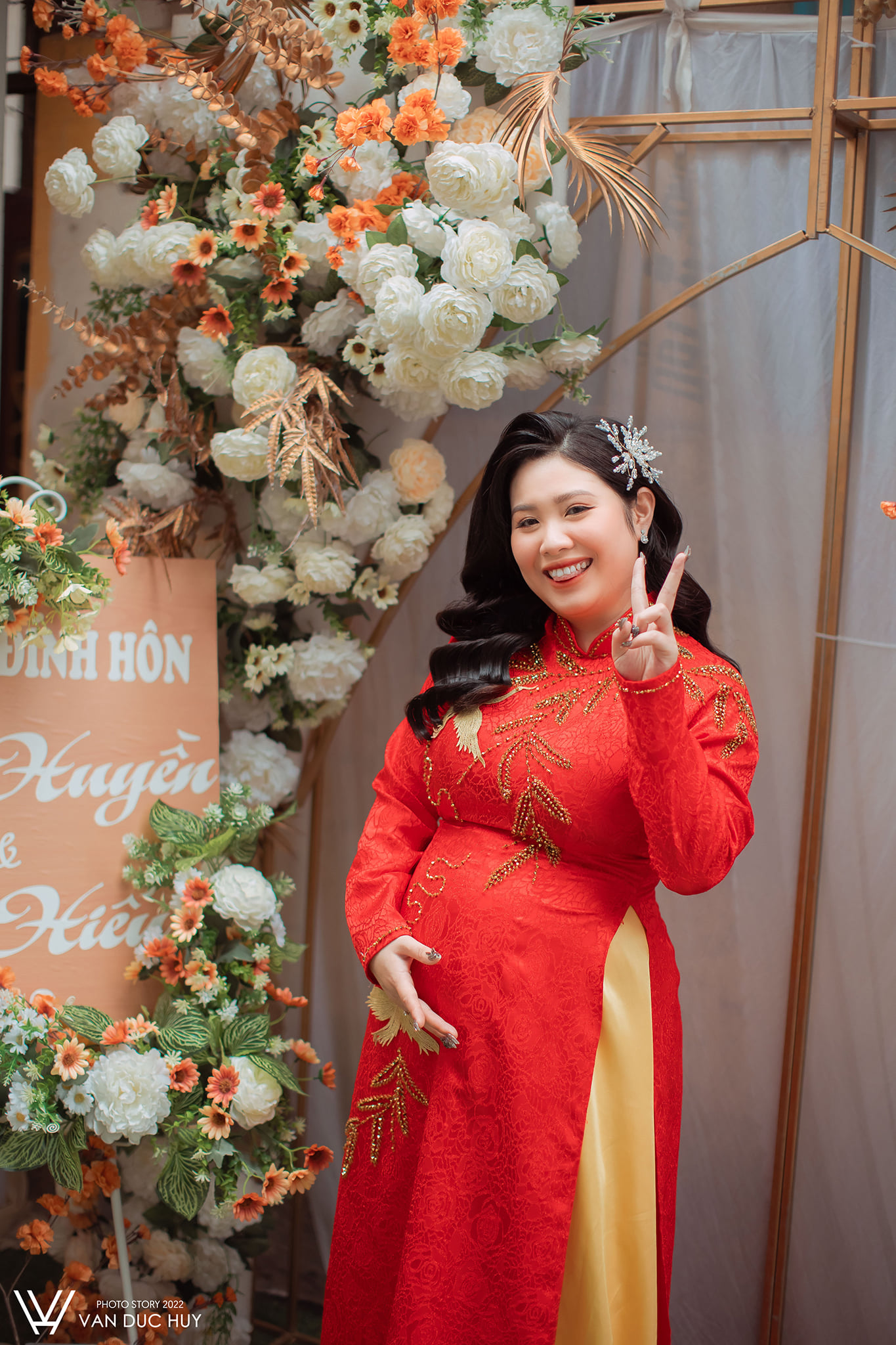 Because of her large belly, when trying on wedding dresses and ao dai, the staff also had a hard time choosing clothes to help her.
"I thought I couldn't wear ao dai because my belly was quite big. Fortunately, I still chose the right one, and it was as pretty as I imagined."Huyen shared.
On the big day, Huyen comfortably "hugs her pregnant belly" to take funny photos, comfortably naughty with her loved ones when on screen. Unlike many other brides who are somewhat shy or intentionally cover their pregnant belly, for Huyen, having a baby on a happy day in life is really a happiness.
Huyen confided: "I don't know how everyone is, but for the couple, the baby is a great happiness. My husband is almost 30 years old, so I expect to have a small warm family. Children are a gift from heaven, so both sides of the family. My family is very happy to have a new member, so I am not embarrassed at all, on the contrary, I am very happy when my happy day has this special presence."
Impressive pictures of the wedding day.
Agree to marry far away at the second meeting
It is known that Huyen and her husband Van Hieu knew each other through a game introduced by a younger brother. Understanding sociability, fun and very know how to talk makes Huyen quite timid, but seeing him chirping all day long, talking about everything.
Huyen recounted: "The time to know him was during the stressful epidemic days, the two of us were only at home, so we had a lot of time to spend together. I asked him to play games for me, after such times we both talked more and fell in love. Feelings are always bad. In August 2021, the two officially fell in love."
Loved online for 4 months, when the distance between Saigon ended at the end of December, the couple decided to meet in Hanoi.
At that time, both were shy. Understanding is the one who talks to make Huyen less confused. The first meeting lasted 3 days. They began to have memories of being together, such as eating delicious food or walking together, going to tourist attractions in Hanoi.
The second time he met, he went straight to Hai Phong with the goal of proposing to his beautiful girlfriend and he succeeded.
Huyen said: "When my parents heard that their daughter wanted to get married, they were shocked because the time they knew each other was not long. Moreover, the distance between the two sides was nearly 1,700km, so they were very worried. Parents were afraid of being bullied, so they did not agree. He went out to his house, met and talked. His parents saw that he really wanted to take care of their daughter, so they agreed to get married. It was his sincerity and seriousness that made our parents feel more secure."
Beautiful wedding photos of the couple.
In the near future, Huyen and Hieu will hold a wedding in Binh Duong and Hai Phong. After the wedding, Huyen stayed to work and prepare to give birth to a baby. When the pregnancy is over, her mother and daughter will go to Saigon with her husband.
"Actually, I'm not mentally prepared at all, sometimes I'm scared and worried about things after marriage, but I think I'll just live with my husband's family. Sincerity will be exchanged for sincerity. Dad The mother-in-law is also comfortable, her personality is very cute."Huyen said.
It is true that fate is cleverly arranged. Even though two people have a distance of thousands of kilometers, they will have a fate if they have a predestined relationship.
Congratulations for Huyen's love story and hope that the couple will have a very happy and happy marriage!
Photo: Van Duc Huy Photo
https://afamily.vn/co-dau-mang-bung-bau-5-thang-quay-trong-ngay-an-hoi-gai-xinh-hai-phong-dong-y-lay-chong-cach- 1700km-in-lan-gap-thu-2-dot-ngot-bao-cuoi-khien-bo-me-soc-20220423221534653.chn
You are reading the article
The bride is 5 months pregnant with a jubilant engagement ceremony

at
Blogtuan.info
– Source:
Afamily.vn
– Read the original article
here