Khỏe - Đẹp
Unexpectedly discovered a common disease that few people know after contracting Covid-19
Afraid of having cardiopulmonary sequelae due to Covid-19, a man in Hanoi went to the doctor and was surprised when he first heard about the sleep apnea disease he had.
That is the case of Mr. NXA (41 years old, Hanoi) who has just been treated by doctors from the Respiratory Center, Bach Mai Hospital. He confided to the doctors, 3 weeks ago his family contracted Covid-19 so he bought a SpO2 meter to monitor at home.
However, he discovered that when he slept, he often had episodes of very low blood oxygen. Family members observed that sometimes it was less than 70%.
Fearing cardiopulmonary sequelae due to Covid, Mr. XA went to the Respiratory Center, Bach Mai Hospital.
Here, the doctors discovered that he had symptoms such as snoring, headache, daytime sleepiness, and lost focus on work for a long time, but he had not been detected and diagnosed.
Right after that, Mr. XA was measured polysomnogram at the Respiratory Center. Measurement results showed that the patient had severe sleep apnea with AHI >70, the longest apnea lasted 70 seconds and the lowest SpO2 was nearly 50%.
Immediately, the patient was consulted for treatment with CPAP ventilation method. Initially showed a good response, Mr. A was less sleepy and awake the next day.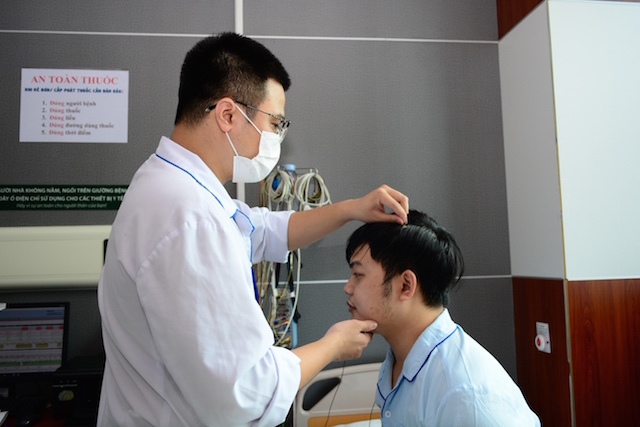 Illustrations
Obstructive Sleep Apnea (OSA) is a sleep disorder in which breathing stops for more than 10 seconds or repeats hypoventilation during the night with symptoms of snoring and excessive daytime sleepiness. level.
Patients with sleep apnea typically maintain airway clearance while awake but present with obstruction during deep sleep. The patient's deep sleep was disrupted by severe obstruction and stimulated awakening to enter light sleep. This awakening re-establishes the airway that accompanies a long inhalation.
Notably, sleep apnea is a common disease today, but the disease is little known and concerned in the community, although it can have very serious complications, even death.
The prevalence in North America is 15-30% in men and 10-15% in women. Global estimates suggest that there are more than 936 million people with OSA between the ages of 30 and 69.
The disease can occur at any age, but is most common in middle-aged men. People who are obese, have structural abnormalities of the upper respiratory tract (excessive tonsils, small jaw, large tongue, …), drink a lot of alcohol, use sedatives, or have family members with sleep apnea are at risk. muscles with sleep apnea are higher.
Sleep apnea, if not detected and treated promptly, can cause systemic hypoxia, Prof. Dr. Ngo Quy Chau – former Deputy Director of Bach Mai Hospital, Director of the Respiratory Center, Bach Mai Hospital. In the long term, sleep apnea syndrome not only affects sleep and quality of life, but also can cause many dangerous complications such as revascularization, myocardial infarction, traffic accidents, loss of memory, loss of concentration…
However, it is a disease that can be diagnosed and treated. For accurate diagnosis and effective treatment of this disease, patients need to conduct polysomnography and polysomnography. These tests have been performed routinely at the Respiratory Center of Bach Mai Hospital and some other hospitals.
Professor Chau also added that this is a disease that can be prevented by a healthy lifestyle. If you are overweight, you need to exercise, follow a reasonable diet to lose weight, if you smoke, you need to quit as soon as possible. the better…
If you and your loved ones have clinical symptoms of sleep apnea such as snoring, daytime sleepiness, headache after waking up, you need to go to a respiratory specialist hospital for timely diagnosis and treatment. .
N. Huyen
You are reading the article
Unexpectedly discovered a common disease that few people know after contracting Covid-19

at
Blogtuan.info
– Source:
infonet.vietnamnet.vn
– Read the original article
here