Thế Giới
Surprised "Heart of Europe" in Dubai
This is a work of genius in an attempt to recreate the European continent for high-end resort travelers amid complicated epidemic developments. Amid the global tourism downturn caused by Covid, it also represents a huge leap in confidence in Dubai's enduring appeal.
After a 4km boat ride from the mainland, visitors can see the world's 300 man-made islands jutting out of the Arabian Gulf like reverse golf bunkers. Most of these have been vacant since the project started in 2003 along with the ensuing global financial downturn with little incentive to developers.
And then the Heart of Europe appeared in strategic vision. No less than 15 luxury hotels, resorts and billionaire residences are now or are starting to appear on these aquatic lands. Most of the work remains unfinished, awaiting the final finishing touches needed to meet the first completion deadline of late 2020.
The six themed islands that form the Heart of Europe, visitors can choose between locations designed to mimic Sweden, Germany, Switzerland, Venice, the Cote d'Azure and others. .
Snowball right in the heat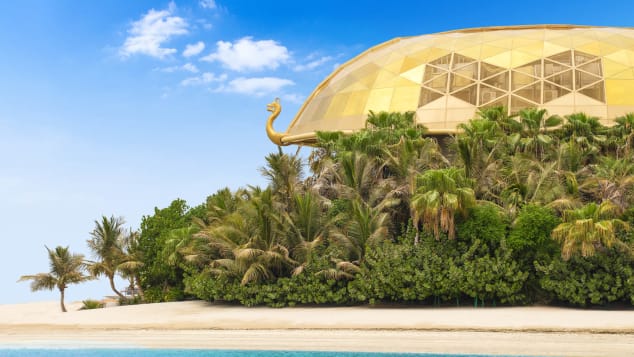 In the island's vast $21.8 million gallery mansion – one of 10 "palaces" resembling capsized Viking ships – is a basement that houses a kitchen, gym, spa and sauna … and a snow room.
The white snowflakes are mechanically transported on request from the high mountains. The scale of the mansion contains both luxury and grandeur but still very elegant. Surrounded by lush Scandinavian jungle, these six-story hotel-sized homes have both an elevator and a private beach.
Luxury car company Bentley has produced exclusive interiors that include luxurious seating for lavish dinner parties on a limo-long table, a round bed overlooking the ocean and a large wooden bathtub. marble.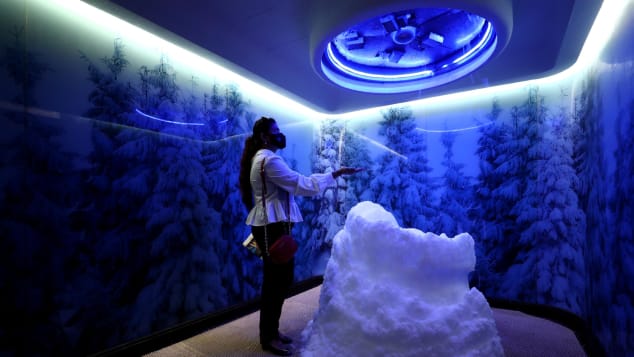 Furthermore, a large dome banquet hall can accommodate 300 guests – an ideal place for post-pandemic celebrations.
The design of 32 futuristic German island beaches or lagoon-facing houses was inspired by the Bauhaus, but more closely resembles a lunar colony. Only one of these remains unsold at the moment, with a price tag of $7.89 million.
First World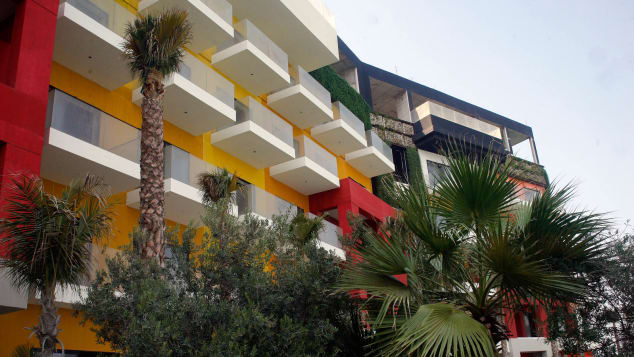 The main European island resort of Portofino, like the famous seaside area for which it is named, has a colorful Italian facade.
Visitors will be screened by Italian-speaking staff. They can spend euros here – a resort just minutes away by boat, helicopter or seaplane from mainland Dubai.
Josef Kleindienst, Chairman of Kleindienst of the archipelago real estate group, said: "When you come here, you should forget that you are in Dubai and feel like you have arrived in Europe. "You will get the impression that you are in Dubai. went to Italy and then you walk and go to Spain, France and go to London."
Portofino's colorful demeanor extends to hotels in the Côte d'Azur area of ​​Europe's main island. These playgrounds are named after the French Riviera playgrounds such as Monaco, Nice, Cannes and St. Tropes.
Here investors are promising more world firsts, including the largest sustainable swimming pool, powered by solar seawater and a nature-friendly filtration system. .
Floating police station
The heart of Europe has proven popular among people in the region. Kleindienst says most of its recent real estate investors have come from Saudi Arabia. The first phase of the project is expected to be completed by the end of 2020, with all three phases due to be completed in 2023.
It will then include The Floating Lido – a Venice-inspired resort that includes a hotel, the world's first underwater gym and spa, and a floating beach.
The finished project will include Switzerland, with 77 mountain chalet-inspired villas. There will also be a floating police station and a circus with holographic animals. Other hotels will be named for places like Spain's Marbella and Ibiza, Germany's Munich, Greece's Ikaria and London.
(Picture 6)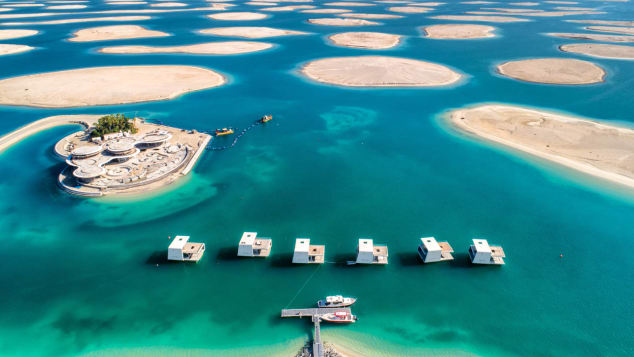 And there will be a hotel dedicated to weddings – St. Empress Elizabeth – and the heart-shaped Honeymoon Island, where newlyweds can relax on beaches set aside for sunrise and sunset.
At the Coral Institute, located in the resort of Portofino, several aquariums and tanks exhibit breeding programs focused on 50 local species, including sharks. The sharks, which are not considered dangerous to humans, will be colonizing the islands as part of the developer's "marine reclamation" program to "expand marine ecosystems and help rebalance." by the aquatic environment."
Prosperous environment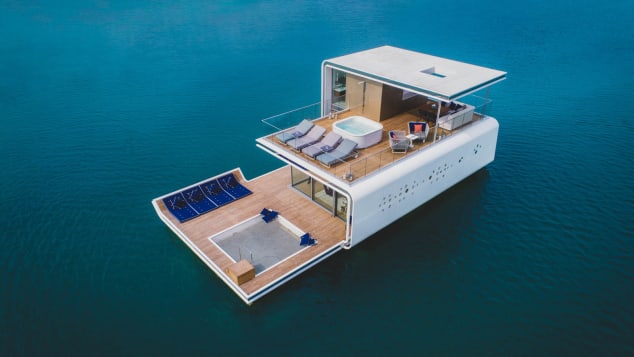 The Coral Institute is cultivating 20 varieties of local live coral, eventually intending to enrich at least 500,000 square meters of the reef with 100,000 species of coral each year.
These will be especially for those staying in future Floating Seahorse villas, individual homes that will have rooms above and below the water – some of which are currently on sale. There will eventually be 147 Floating Seahorse villas moored in one of three "colonies" around the Heart of Europe.
Close to sea level, the luxury seating and dining areas are also furnished by Bentley, while the outdoor rooftop offers a more spacious entertainment space with kitchenettes, seating and hot tubs.
As with the rest of the megaproject, the design and construction of the Seahorse villa followed the guidance of world-renowned Feng Shui Master Victor Li Dexiong – promoting "a prosperous and happy environment" in order to attract Chinese people come to buy.
But throughout the European Heart project, the problem of unusual construction has brought many difficulties. For Kleindienst, these include the need to reinforce the surface of the islands to ensure surface strength, and sourcing the right construction technology to comply with strict policies on conservation Environmental protection has been inscribed in World Vision since its inception.
Combine travel
People close to the project stress that the completed resort will not be a cultural theme park, but a luxury second home and vacation destination.
Besides real estate investors, it will target international tourists looking for an alternative hotel experience and Arabs expanding their stay horizons.
With the pandemic set to affect economies and international tourism for months to come, Kleindienst said he thinks fewer foreign tourists will be balanced out by the local market, ultimately leading to 50/50 combination. He said that the Heart of Europe was targeted at domestic traffic from the outset, with a "go without boarding" scenario.
It remains to be seen whether the completion of this megaproject will excite the owners of the remaining islands of the World that, 12 years after emerging from the sea, are still under development.
Separated from the mainland, the Heart of Europe may also be free of Covid as 1,200 construction workers on the island and other employees, including the president, are in voluntary quarantine for two months in the first wave.
"They're happy, we're happy," said Kleindienst, "Europe's Heart was originally touted for completion in time for Dubai's Expo 2020 – now postponed until October next year," said Kleindienst. 2021.
You are reading the article
Surprised "Heart of Europe" in Dubai

at
Blogtuan.info
– Source:
danviet.vn
– Read the original article
here