Business
The young man started a business from chisels and saws to create interesting products that attract customers from all over the world
Born and raised in a poor farmer family with 6 siblings, his father died early when Tuan Anh was 7 years old, his mother was alone in raising 6 children to study.
Growing up in difficulties, but Tuan Anh himself always did not accept poverty, so in 2006, after graduating from high school, young Tuan Anh asked his mother to learn a trade at Ha Tinh Vocational School.
After finishing school, Tuan Anh continued to study fine art sculpting from skilled artisans with famous names.
"In order to nurture my passion for sculpture, in my spare time, I often go to carpentry workshops to learn from the craftsmen by paying close attention to how the artisans hold chisels or saws, watching every movement. Basic technical work from shaping to design simulation and the ideas shared by the craftsmen before creating the work…
In order to master the technical elements in the art of sculpture as well as carving on wooden materials, one must work hard, take the time to learn from the experience of the artisans, practice, experience. more in reality, get used to the materials on wood, so as not to be surprised when returning to work in his homeland", Tuan Anh said.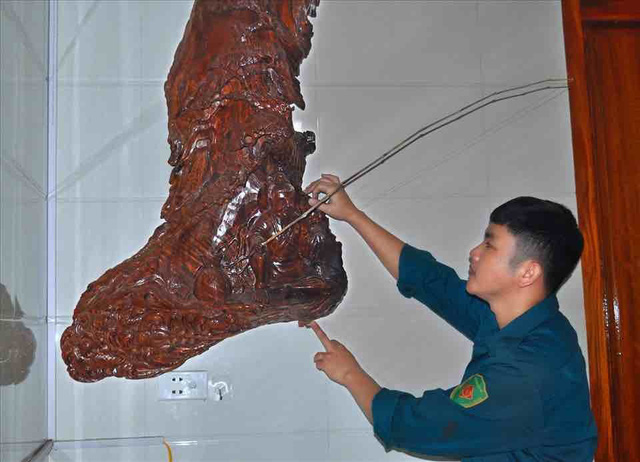 Nguyen Tuan Anh started his business from chisels, saws, wood milling machines
Having accumulated a little capital in the process of studying and working, in 2014, Tuan Anh decided to go back to his hometown to open a wood workshop to work and improve his skills.
Talking about the time he started his business, Tuan Anh said: "Having a little savings, but not enough to buy equipment to work and open a workshop, in 2014, I discussed with my family to borrow another 200 million VND from the bank.
At that time, 200 million dong was a lot of money so I was a bit worried, but then, with all my determination, I started to open a woodcarving workshop.
After having capital and opening a factory, the most difficult thing that worried me was finding a source of customers because no matter how beautiful I was, it would be bad if I didn't have a customer.
Therefore, after learning about the tastes of many people, I enlisted to create products from the smallest that can be hand-held to paintings, wooden statues and all must be made very sharp, sophisticated and meticulous.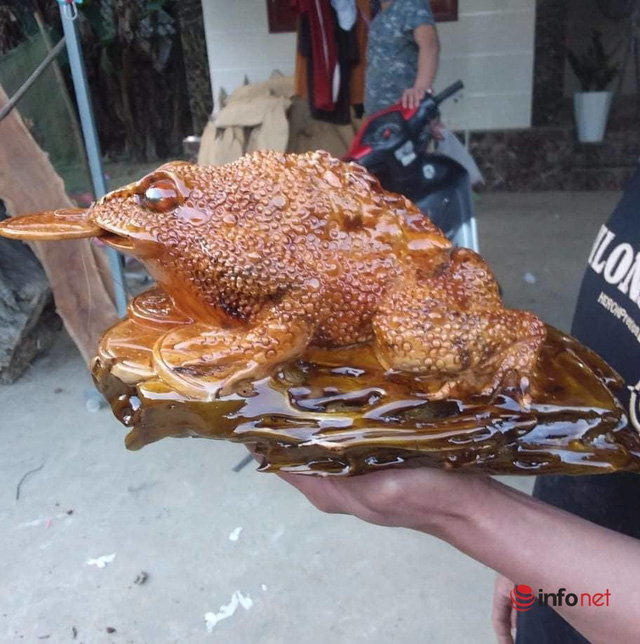 Initially, there were also customers who were skeptical of my products because they did not know the true value of the wooden sculptures. Gradually more and more customers come.
Currently, my workshop is not short of work, in addition to serving customers in the province, there are also many customers in other provinces ordering."
According to Mr. Nguyen Tuan Anh, wood carving is a high-class handicraft, in addition to being skillful, the worker must also have creativity, perseverance and real passion.
"In addition to basic techniques, workers must learn to draw to know how to pose, to sketch large lines as well as small motifs on each work," said Tuan Anh.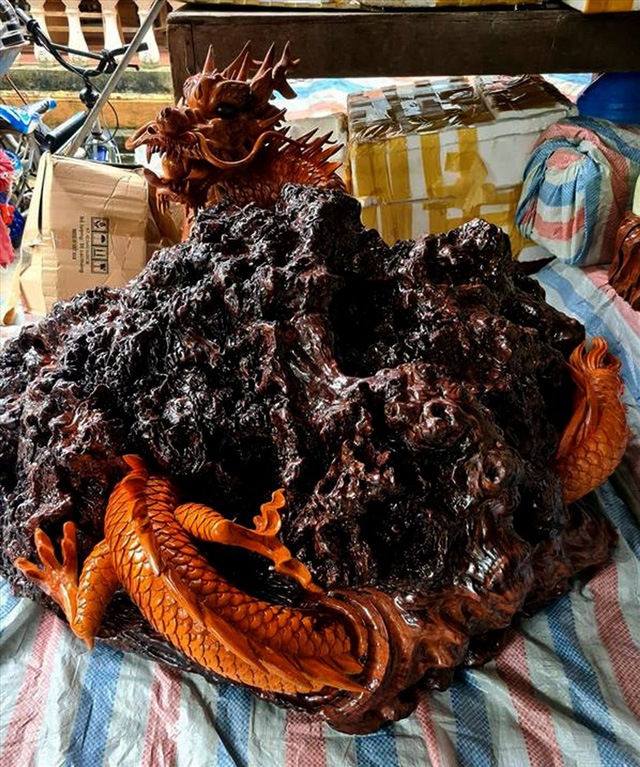 Exquisitely crafted wooden dragon adoration conceived by Tuan Anh
Sticking with chisels, saws, wood milling machines… from the very beginning, Tuan Anh turns tree stumps, trunks, roots… into vivid, unique, different shapes, choosing according to the shape, color, wood grain, u… on each wooden block.
Especially the "soul" of each work is different, no two works are the same.
Tuan Anh said: "The process to create a wooden sculpture has to go through many stages, from choosing wood embryos, forming ideas, breaking rough, sharpening, finishing products.
Most of the stages are done by hand, so when choosing wood, you have to be very meticulous. Accordingly, the wood must be of good quality, flexible, not cracked and free from termites and termites. Besides, the craftsman must be really skillful so that the chisels and touches must be sharp, the shape and details of the carving must be vivid."
Tuan Anh shared that he has now composed more than 1,000 works. In addition to quality, prestige is always focused and put on the top in the process of doing business. "I always deliver on time, ensure quality, and will refuse orders if I don't meet the requirements on time schedule," he said.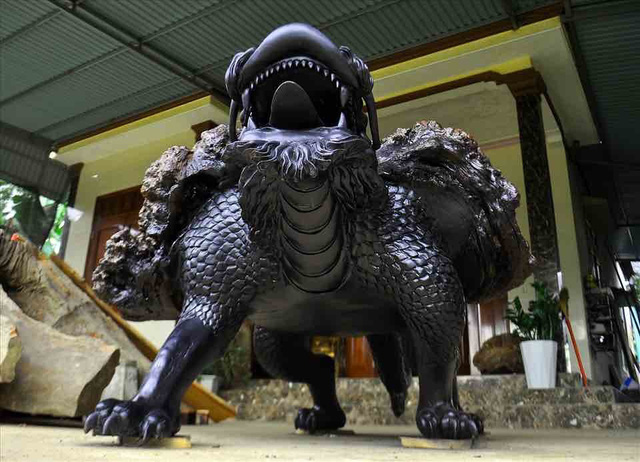 The work "Long Quy" made by Mr. Tuan Anh made many people admire
From 2014 to now, after nearly 8 years of establishment, Tuan Anh has had stable customers with hundreds of valuable sculpture art products. On average, every month, Nguyen Tuan Anh's woodcarving workshop receives about 10-15 orders, he is always busy to deliver on time.
You are reading the article
The young man started a business from chisels and saws to create interesting products that attract customers from all over the world

at
Blogtuan.info
– Source:
cafebiz.vn
– Read the original article
here