Nguyen Duc Toan (Gia Lam, Hanoi) is currently a securities investment advisor at a financial technology company in Hanoi. Recently, my friend has passed level 2 on the journey to conquer 3 levels of CFA certificate (Chartered Financial Analyst: A certificate exclusively for professional financial analysts in the fields of: Securities, investment. , risk management, banking and finance.This certificate is compiled by the American CFA Association – the international association for professional investment managers around the world.
Being a confident and logical person, it was not difficult for Toan to come to the subject of securities, and now is a job in securities. Level 3, Toan majored in Mathematics from the High School for the Gifted of Natural Sciences. To university, Toan chose the Faculty of Foreign Economic Relations of Foreign Trade University. "At that time, I didn't know what Foreign Economic Relations was, so I got a good score, so I left my wish 1"Toan share.
Let's take a look at the stock investment journey, as well as the views of a securities investment advisor about young people and this market from Duc Toan.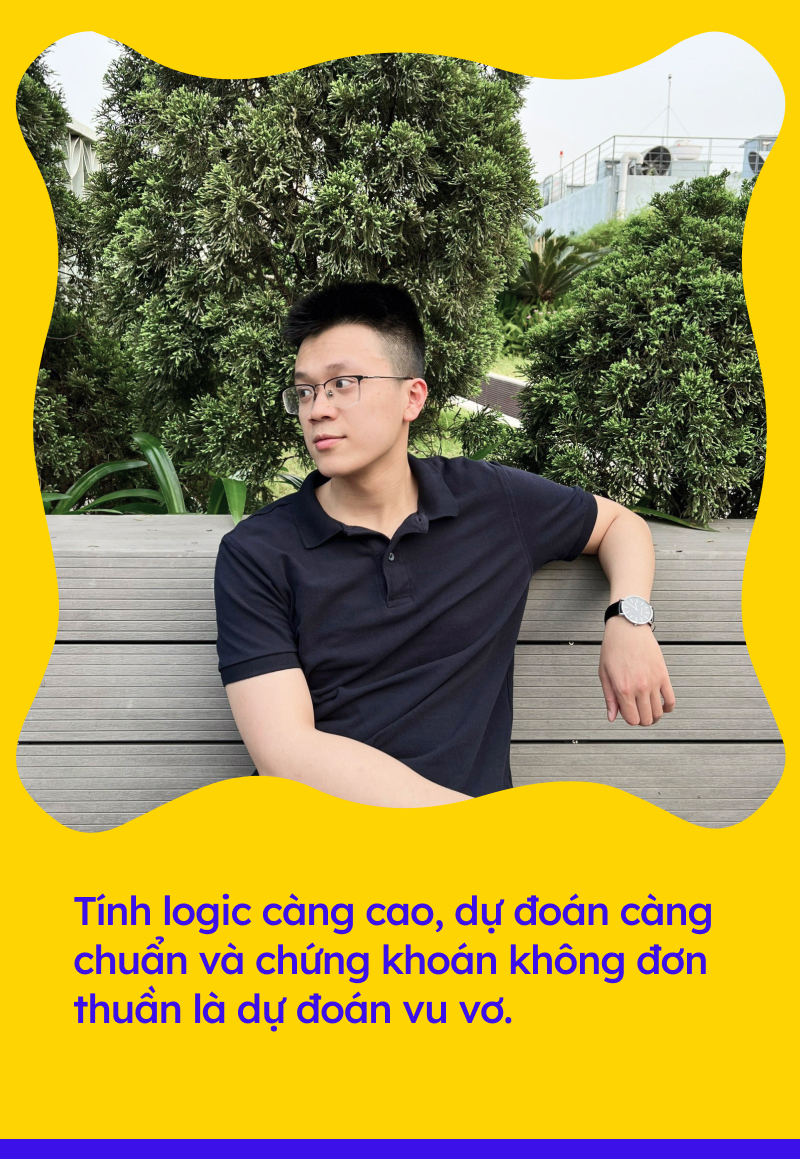 Uptrend markets bring profits, downtrends teach us lessons
After his freshman year of college, Toan realized he needed to work part-time, so he decided to work at a securities company. A few months of working, he realized that the stock market is a field that is closely related to calculations and has high logic.
"The higher the logic, the more accurate the prediction and the stock market is not just a random prediction"Toan confirmed.
This is also the reason why Toan decided to quit his job at a securities company to study CFA, hoping to gain more professional knowledge in this field. For Toan, CFA is not a divine certificate as many people still describe, but studying and taking the CFA exam will help anyone with a passion for finance have a stronger foundation. Level 1, Full review in 50 days, Level 2 takes 30 days, instead of 300 days of exam review as described.
Because of the desire to become the breadwinner for the family, Duc Toan does not like to live and work abroad. "I think I need to earn about 100 million per month to be able to take care of my loved ones, not counting profits from investments. I aim to do that by the age of 25.", the friend shared. However, because of the generation difference, his parents did not fully understand his thoughts, but after all, Toan was trusted by his family.
Toan's current stock investment is a combination of personal money and money given to him by his family. "Parents were born in a different era, couldn't fully understand everything they were doing, so they believed that was the only way that parents could do it."
Talking about the easiest investment to play – the easiest to win, Toan told me "all in" in the stock ticker of the textbook trading company. "I also think it's simple, September starts, then March is the time to prepare for the book-selling season. So I decided to buy shares of that company and 30% profit".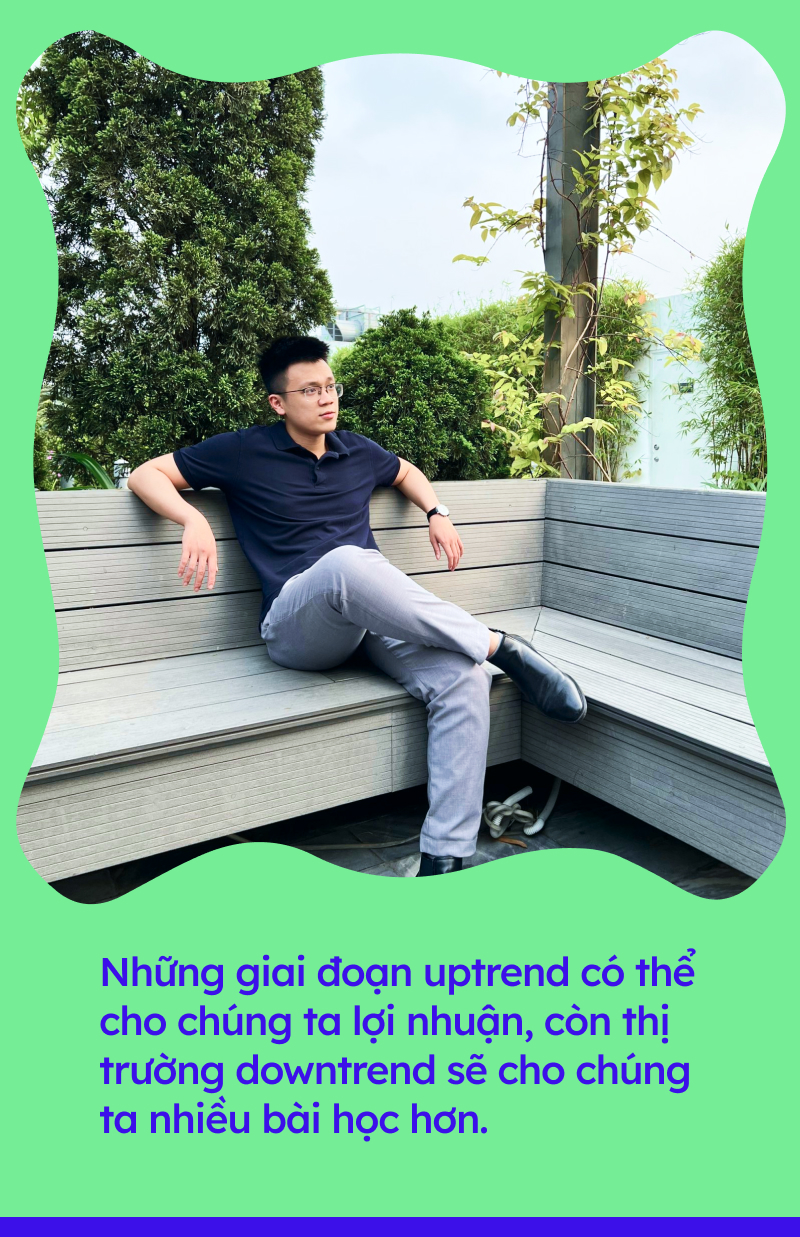 I joined the market at the time of the uptrend, whoever buys wins. In addition to having a certificate, I am very confident. It can be said that my ego is blown up very high during the uptrend period, and I think there will be many such investors: When I win, it is definitely because I am good, I do well. However, starting in 2022, the market entered a difficult period. sideway. At this point, it only takes one mistake and your account can fly to 10-20% in the T+3 range. This made me realize that my previous success was due to the support of the market, combined with the proper use of leverage, and that I still had a lot to learn. I see uptrend periods can give us profits, and downtrend markets will give us more lessons, and in the long run, uptrend or downtrend will only thicken our experience.
When investing in a downtrend, my secret is to keep a reasonable proportion of stocks, limit the use of leverage and absolutely should not chase. In general, it is necessary to think about risks before thinking about profits because in a downtrend there are more risks than opportunities. Adhering to the rule of stop loss is also a necessity for survival when the market is downtrend.
"There are 2 ways to stop loss. 1 is to cut loss according to a predetermined percentage. For this, you should refer to the transaction history, re-statistic and find a number that suits your risk appetite as well as your risk appetite. personal investment method. I am leaving the level at 7%. The second way is to cut losses when key support levels are breached such as peaks, troughs, gaps, trend lines or moving averages.Toan added.
When asked about the amount of money he is using to invest in securities, Toan said that his rule is not to disclose the amount of money he has.
Advisors or "keys" is just a name, the ultimate goal is still profit
I am stock investment advisor, Full of teeth with the key row, he kept a neutral opinion. "We see in the economy, there are people who have idle money and need to invest but do not have financial knowledge, so they need a fulcrum to rely on, so this need is completely normal and legitimate. and not bad at all. From my perspective, I think that the purpose of securities is not simply a profit channel, it is also an alternative investment channel for people, a capital mobilization channel for businesses… At the level of retail investors, the ultimate goal is profit. Therefore, investors can completely find a fulcrum on their investment path." – Full sharing.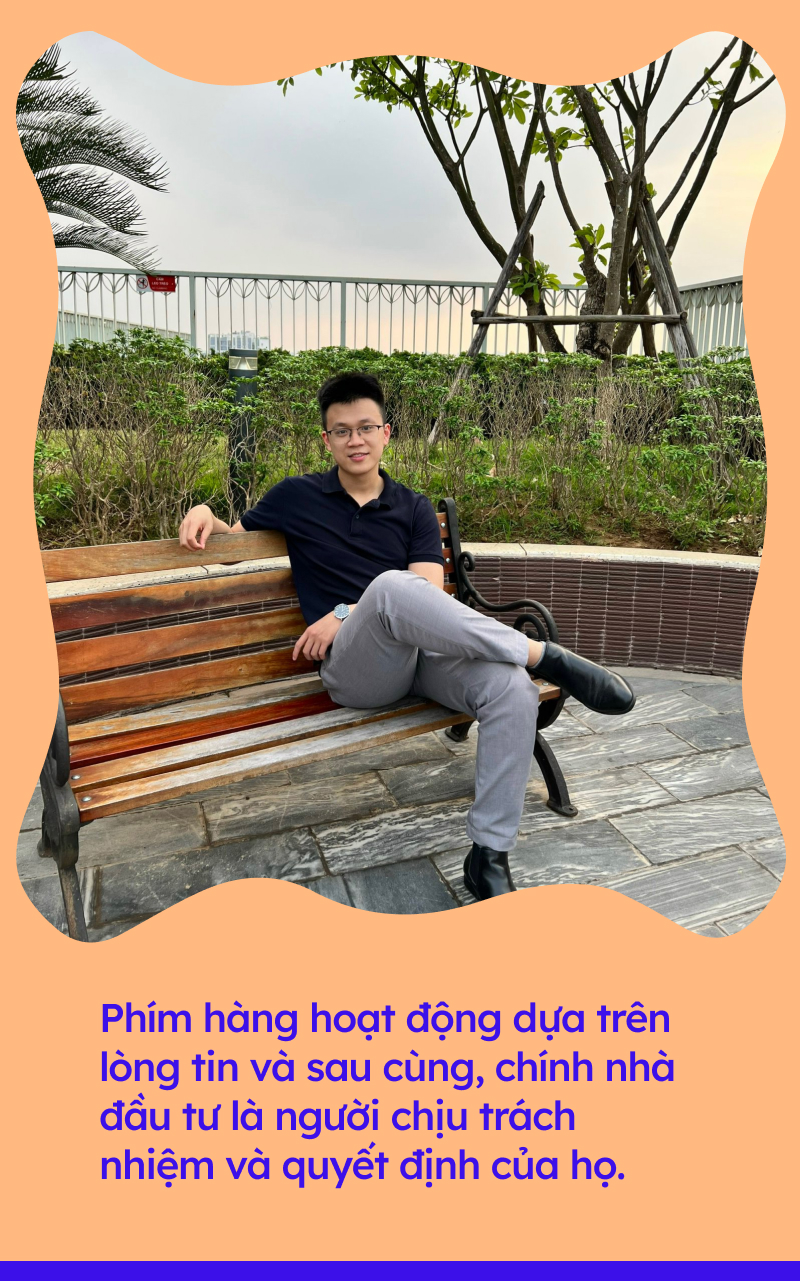 The row key does not break the law, as long as the investor should understand that the row key works on trust and in the end, it is the investor who is responsible for their decision.
Duc Toan believes that mentors and key players, after all, are just names, this is not really important.
Regarding the psychology of young people investing in securities in Vietnam, Duc Toan believes that the current 10x generation is the generation that helps Vietnamese securities to new heights. Toan also said that the stamina and risk tolerance level of young people today is also higher than the previous generation. This is related to the starting point. Maybe today's generation does not have to go through many economic difficulties, so it dares to be "stronger".
Toan has advice for young people to step into the path of stock investment: "One is to learn knowledge by yourself. The second is to find a professional companion.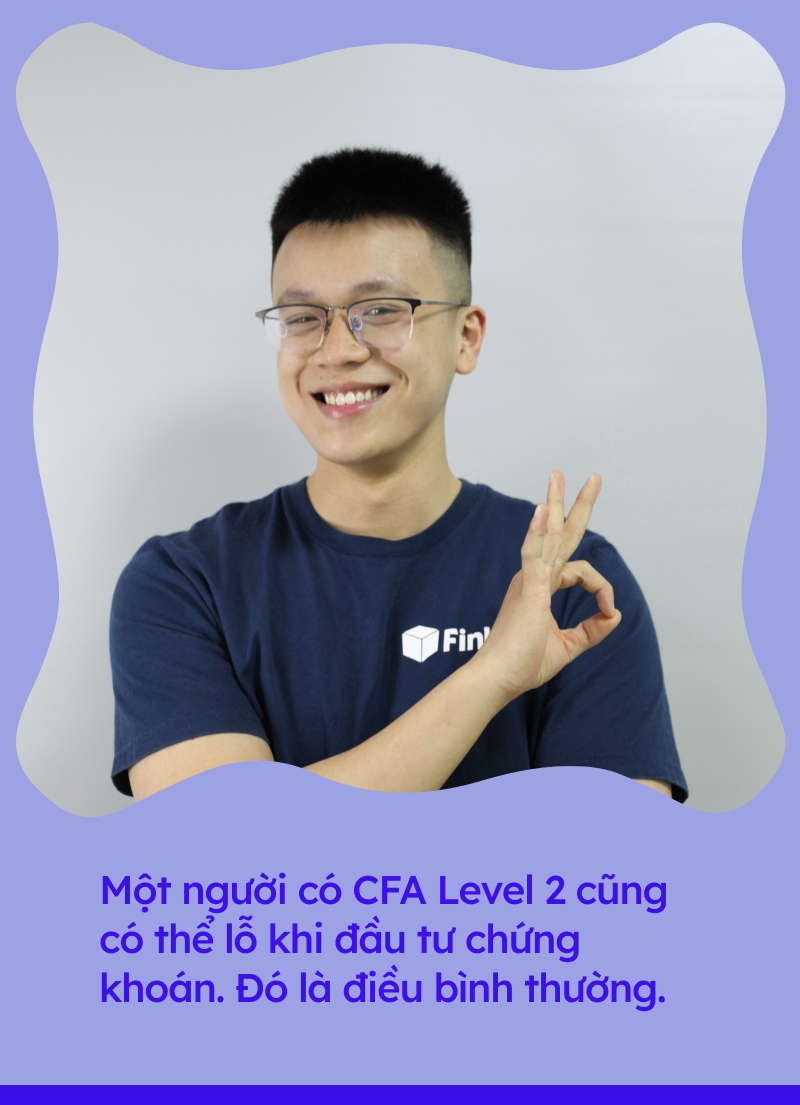 They may be the standard analyst, seeing the business completely right, but not sure if it is profitable to invest. Learning and practice are two things that are quite far apart. A person with a Level 2 CFA can also lose money when investing in stocks. That's normal.
https://kenh14.vn/ban-chuyen-chung-khoan-ngay-thi-truong-roi-co-van-hay-phim-hang-chi-la-ten-goi-cai-dich-cuoi-cung- van-la-loi-nhuan-20220425192459577.chn
You are reading the article
Invest in stocks thanks to CFA

at
Blogtuan.info
– Source:
Kenh14.Vn
– Read the original article
here