Tech
New technology rechargeable battery rental service in Ho Chi Minh City
Pinbus – Savior when the phone is about to run out of battery

Optimizing mobile device charging methods, now going out will no longer have to worry about whether to bring a charging cable or not, whether to bring a spare battery or not. Pinbus – Rechargeable battery technology is an hourly rechargeable battery rental service (10,000 VND/hour), users can rent and pay at two different locations. The following are preliminary reviews of this service.
In terms of quality, Pinbus is tested, manufactured and applied Power Delivery (PD) advanced fast charging technology. Pinbus' technology rechargeable battery is integrated with a variety of chargers including Type-C, Lightning, and Micro on both sides of the battery, so the battery can charge most mobile devices on the market today.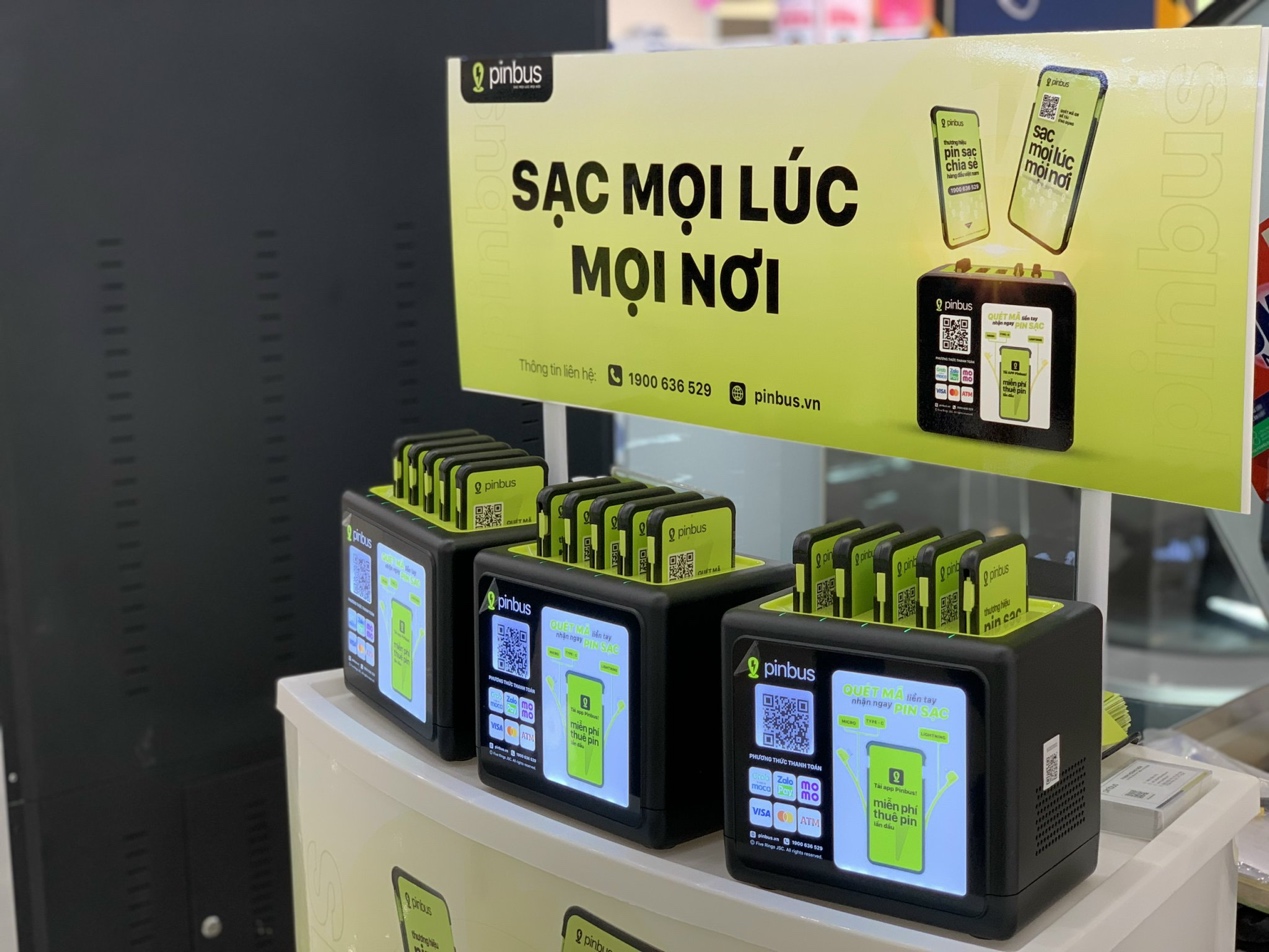 Image showing Pinbus' 5-slot charging stations
Regarding the price, the rental price is 10,000 VND/hour. All rechargeable battery rental transactions are paid through bank cards or e-wallets MoMo, ZaloPay, Grab by Moca, etc. In addition, you need to pay a deposit of 300,000 VND/battery rental transaction. Customers can take away and return batteries at any store with a Pinbus charging station. Of course, as soon as you return the rechargeable battery at the Charging Station, the deposit after deducting the battery rental fee will be refunded afterwards. However, this service also has minus points that you need to note: Firstly, the online payment service will be inconvenient for the market of users who are used to cash. Second, the deposit fee can also be a small barrier for a part of users who are not in the habit of keeping money in e-wallets.
Experience Pinbus technology rechargeable battery service
The battery rental service of Pinbus technology by Five Rings Technology Development and Investment Joint Stock Company has brought to users an interesting new utility.
Ms. Ngo Thi My Hang, a saleswoman in District 4, often uses the phone with high frequency. She shared: "I have used Pinbus quite a few times. At first, when I saw that they introduced a 0 dong offer for new users, I was curious to know how this battery rental service was, so I tried renting the battery. After that, I found this service quite convenient for me, I often have to consult with customers over the phone, so I have to call twice a day. Using and returning it, it is also fast and convenient. Bring a charging cord or spare battery."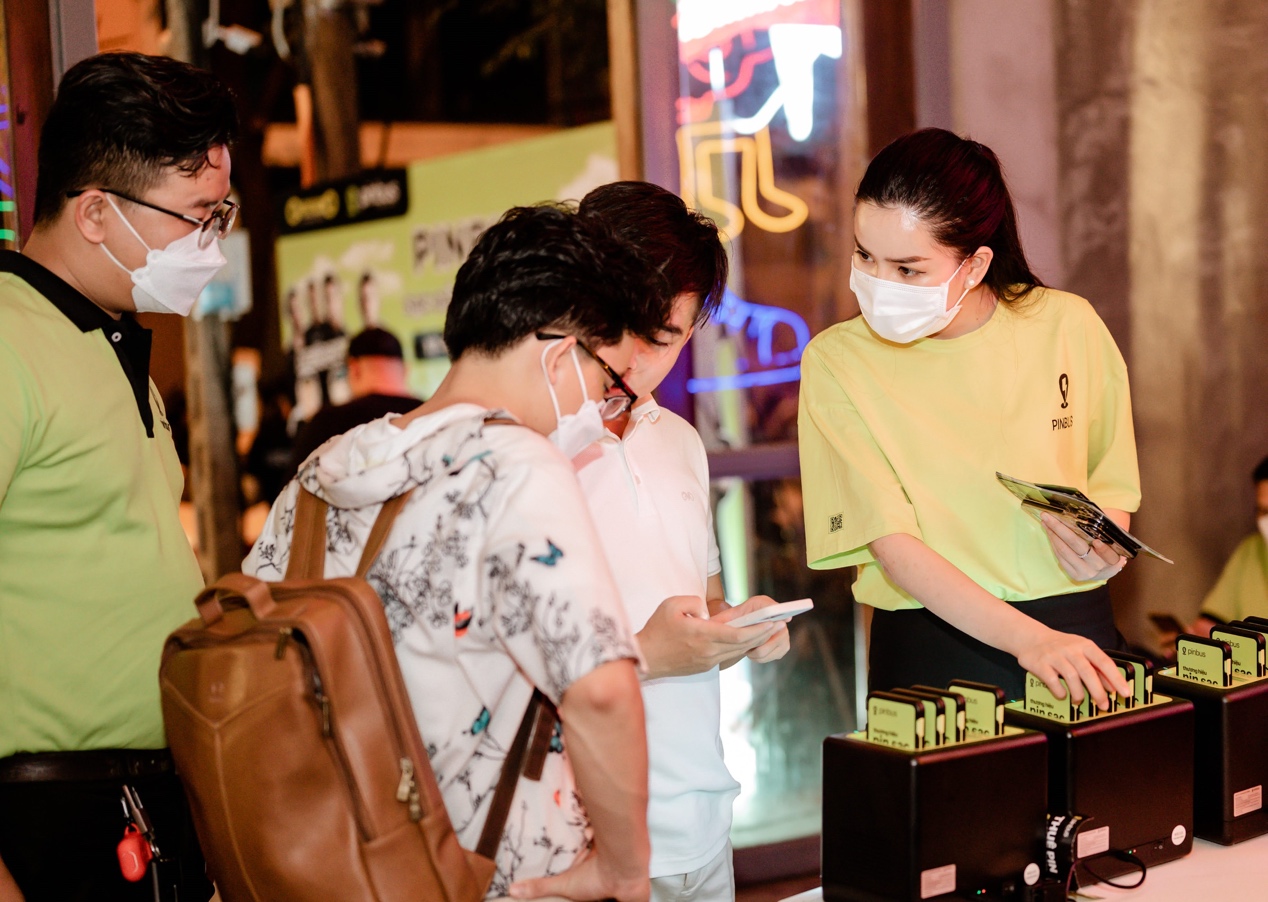 Direct product introduction activities (Source: Pinbus Fanpage)
Le Bao Khanh, a fourth-year student at Ho Chi Minh City University of Architecture, said: "I find it interesting to experience using this battery rental service. It's convenient when I go out for coffee with friends, If you don't have a charging cord or rechargeable battery, there is already a Pinbus at the cashier counter to use. Renting it and returning it to the station is also convenient. In my opinion, the price of 10,000/hour is fine because I charge less than 1 hour. The sound is more than 80% already."
Via Pinbus app or Web-app, battery rental from only 10K
The simple steps to rent a battery are as follows:
Step 1: Scan the QR code at the charging station to register for an account and rent a rechargeable battery.
Download Pinbus app through Appstore or CH Play;
Rent battery through Web – app: https://webapp.pinbus.vn/;
Note: Locate the nearest Charging Station on the map of Pinbus/Web-app;
Step 2: Immediately register an account according to the instructions, rent a battery and make a deposit payment via:
E-wallets: MoMo, ZaloPay, Grab by MOCA
Domestic ATM cards/ Debit cards/ international credit cards of Master, Visa, JCB brands issued in Vietnam. International cards issued abroad are not supported.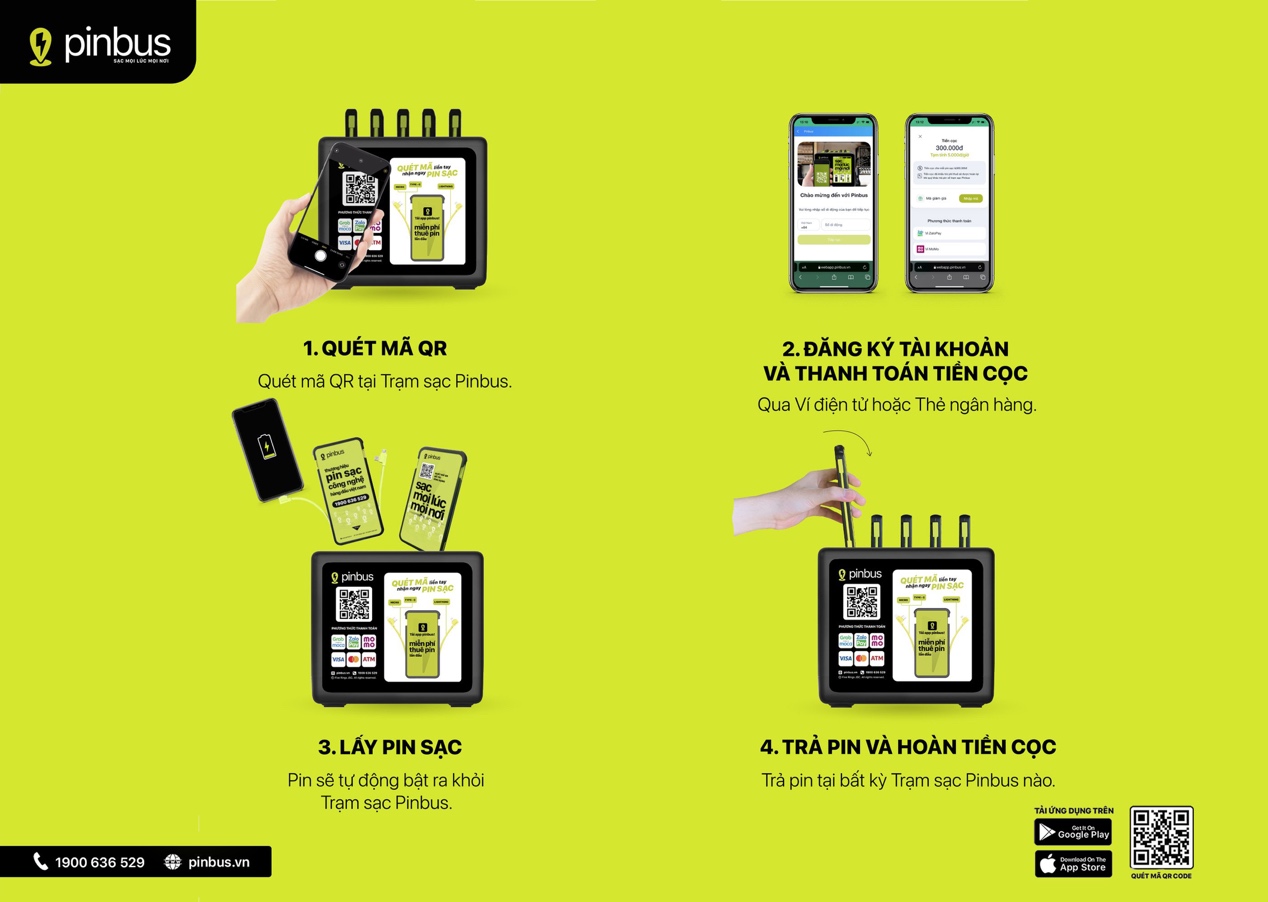 Steps to use rechargeable battery Pinbus (source: Fanpage Pinbus)
Step 3: After completing the deposit, the Pinbus rechargeable battery will automatically pop out of the Charging Station.
Step 4: When finished using, you can return the battery to any location on the Pinbus Charging Station system. Find the nearest Charging Station using the map ("Map") available at the interface of the Pinbus/Web- app.
As soon as the battery is returned to the Station, the deposit will be refunded after deducting the battery rental fee.
Currently, Pinbus is promoting the expansion of the scale of operations in the markets of Ho Chi Minh, Hanoi and Da Nang to create conditions for users to rent and return batteries anywhere, in line with the slogan "Charge all anytime" of the brand. This promises to be a popular service in the near future.

https://genk.vn/pinbus-dich-vu-thue-pin-sac-cong-nghe-moi-toanh-tai-tp-hcm-20220422171653525.chn
You are reading the article
New technology rechargeable battery rental service in Ho Chi Minh City

at
Blogtuan.info
– Source:
genk.vn
– Read the original article
here