Thế Giới
QUICK READING April 26: UN Secretary-General arrives in Russia, 'seeking to end the conflict in Ukraine as soon as possible'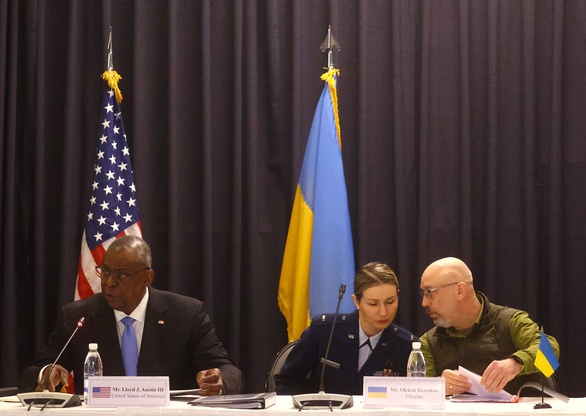 US Defense Secretary Lloyd Austin (left) and his Ukrainian counterpart Oleksii Reznikov (right) speak at the opening of the meeting at the US airbase in Ramstein, Germany, April 26 – Photo: REUTERS
* According to AFP news agency, United Nations Secretary-General Antonio Guterres announced he was seek to end the conflict in Ukraine as soon as possible. He made the remarks before starting talks with Russian Foreign Minister Sergei Lavrov, during a visit to Moscow on April 26.
"We are extremely interested in finding ways to facilitate effective dialogue, facilitate a ceasefire as soon as possible and create the conditions for a peaceful resolution," Guterres said.
* Kremlin spokesman Dmitry Peskov said on April 26 Russia is closely monitoring events in Transdniestriaa territory that secedes from Moldova and is pro-Russian. Peskov said news from the region was causing great concern.
TASS news agency reported that the Security Council of Moldova's breakaway Transdniestria region had announced a "terrorist attack" on a military unit near the city of Tiraspol. Before that, an explosion tore through the security headquarters of Transdniestria and two other explosions damaged an old Soviet-era radio antenna. The President of Moldova convened an emergency security meeting on April 26.
* Begin defense meeting with more than 40 countries On April 26, US Defense Secretary Lloyd Austin expressed confidence that Ukraine can win the two-month conflict.
Meanwhile, the Belarusian Defense Ministry said that the country and Russia will hold joint drills of air defense forces and air force in Belarus, according to Reuters. The exercise is expected to take place from April 26 to April 29.
* On April 26, the Moldovan government said that two explosions damaged an old radio antenna from the Soviet era in a village in Transdniestria (a breakaway territory from Moldova located near the border with Ukraine).
According to Reuters news agency, the two antennas are still used to broadcast Russian stations, so the incident could increase tensions in Transdniestria. Russia has had troops stationed there since the fall of the Soviet Union.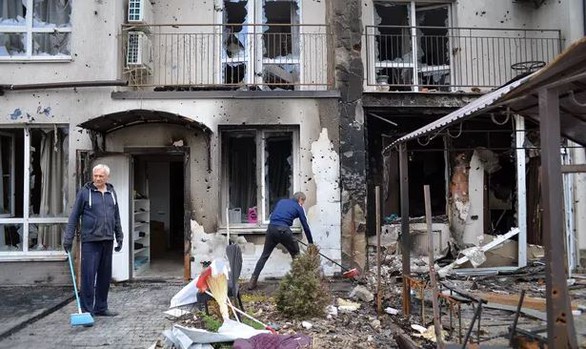 People clear debris outside a housing complex in Hostomel, northwest Kiev – Photo: Ukrinform
* On April 26, the Russian Defense Ministry said its forces had attacked more than 90 Ukrainian military targets overnight, killing at least 500 Ukrainian soldiers, destroying dozens of armored vehicles, artillery and other military equipment. According to Reuters news agency, Russia also said it attacked two ammunition depots in the Kharkiv region of eastern Ukraine.
* According to TASS news agency, Russian President Vladimir Putin will meet United Nations Secretary-General Antonio Guterres on April 26. Guterres arrived in Moscow for talks with Russian Foreign Minister Sergey Lavrov.
This will be Putin's first contact with the UN Secretary-General since Russia launched a "special military operation" in Ukraine. The last time the two met face-to-face was in January 2020 at an international conference on Libya in Berlin (Germany).
* The European Union (EU) aims to reduce Russia's dependence on oil and gas by two-thirds by the end of the year and towards a complete cessation by the end of 2027. This information was given by EU Commissioner for Economic Affairs Paolo Gentiloni in an interview with Il Messaggero daily on April 26.
Russia is the largest oil supplier to Europe. In 2020, Russia provides 26% of the continent's oil imports. Meanwhile, Russian gas meets about 40% of Europe's gas needs.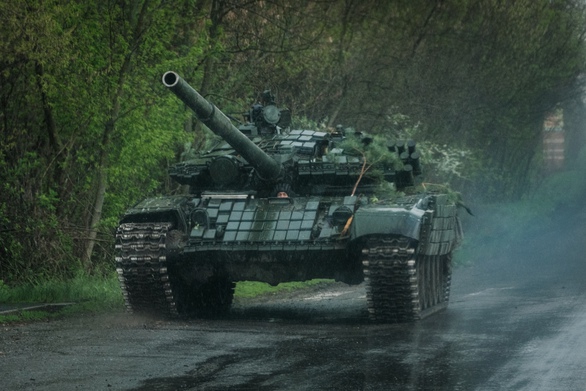 Tanks of Ukrainian forces move near the city of Lyman in eastern Ukraine – Photo: AFP
* On April 26, British Armed Forces Minister James Heappey confirmed that it was not the North Atlantic Treaty Organization (NATO) but the The international community is providing military support to Ukraine.
Earlier, Russian Foreign Minister Sergei Lavrov announced that NATO was engaged in a proxy war with Russia. Speaking to Sky News about Lavrov's remarks, Heappey said: "This funding effort is coordinated by countries, many of which are from NATO, but others are from outside.. It is not NATO that is providing military aid."
* Tass news agency quoted Russia's deputy ambassador to the United Nations, Mr. Dmitry Polyansky, as saying now There is no possibility of an armistice in Ukraine. "They called for a ceasefire. We opened humanitarian corridors but the Ukrainian side didn't use them. We don't think a ceasefire is an option now because it only creates an opportunity for Ukrainian forces to regroup. , staged provocations like in Bucha," explained Mr. Polyansky.
* Kiev authorities impose a night curfew, from 10 p.m. to 5 a.m. the next morning, to protect people from Russia's "provocative actions." "During the curfew, people are prohibited from going out and in other public places, prohibited from walking or other means of transportation," said Oleksandr Pavliuk, head of the military management agency. the Kiev region, said April 25.
* Officials from more than 40 countries are meeting on April 26 at Germany's Ramstein airbase to join US-led discussions on arming Ukraine against Russia. US Defense Secretary Lloyd Austin was also present.
Chairman of the US Joint Chiefs of Staff Mark Milley said the discussions were aimed at synchronizing and coordinating security assistance to Kiev, including heavy weapons as well as armed drones and ammunition. , according to Reuters news agency.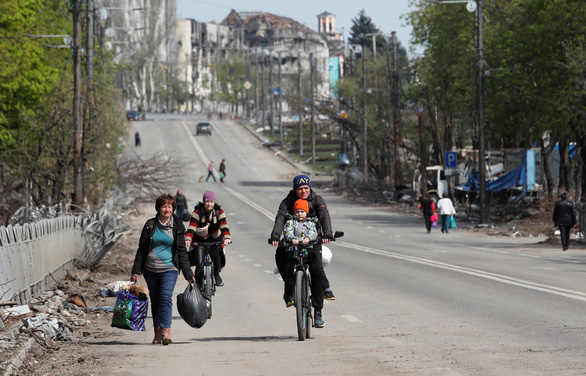 People on the street in Mariupol, Ukraine on April 25 – Photo: REUTERS
* According to Reuters news agency, Lavrov affirmed that this risk is now worth considering but Russia's position is not to allow such a war. Therefore, Russia wants to reduce the risk of nuclear war.
He also warned that weapons supplied to Kiev, such as Javelin man-portable anti-tank missiles, could fall into the hands of terrorists.
* According to TASS news agency, on April 25, in response to the possibility of holding a face-to-face meeting between the Russian and Ukrainian peace negotiating delegations, Russian Deputy Foreign Minister Andrey Rudenko said. the conditions are still not enough to organize.
According to Rudenko, once the Ukrainian side takes meaningful steps to make direct negotiations possible, that possibility will be considered.
Kiev authorities have threatened to withdraw from the meetings peace negotiations outright, and vowed to "immediately" retake any territory under Russian control with the help of weapons from the West. The last time the two sides held direct talks was on March 29 in Turkey.
In addition, according to Russia's Sputnik news agency, Russian Foreign Minister Sergei Lavrov confirmed that the situation on the ground will determine peace agreements with Kiev.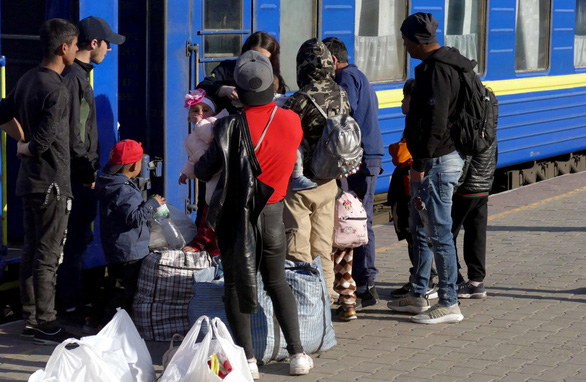 Ukrainians board a train in Odessa on April 25 to evacuate to Poland's Przemysl border gate – Photo: REUTERS
* April 25th, The White House said the United States is likely to impose further economic sanctions on Russia.
"No one is safe from our sanctions," said White House press secretary Jen Psaki.
* According to TASS news agency, on April 25, the minister of industry and commerce of Russia said: Russia is interested in increasing national currency agreements with other countries BRICS (Brazil, Russia, India, China, South Africa), SCO (Shanghai Cooperation Organization) and EAEU (Eurasian Economic Union). Combined, these blocs account for more than 50% of the global economic value.
Last year, Russia's trade with members of these blocs increased by 38%.
* On April 26 (Vietnam time), BBC reporter Will Vernon posted on Twitter that Mr. Vyacheslav Gladkov – governor of the Belgorod region of Russia, which borders Ukraine – confirmed another village (2nd village) was shelled and 2 locals were injured, many houses were destroyed. Earlier, the same source from this governor said that there was a village that was shelled but no one was injured.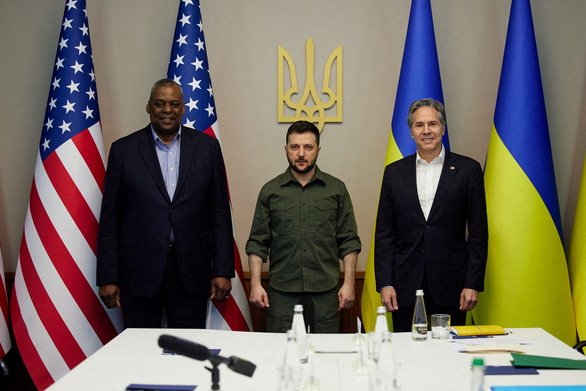 From left: US Defense Secretary Lloyd Austin, Ukrainian President Volodymyr Zelensky and US Secretary of State Antony Blinken in Kiev on April 24 – Photo: REUTERS
* April 26 (Vietnam time), US Secretary of State Antony Blinken tweeted about his visit to Ukraine with US Defense Secretary Lloyd Austin.
"The defense minister and I took the train to Kiev from Poland. We saw people in the streets and clear evidence that (Ukraine) had won the battle in Kiev. But we knew that it was complete." This is in stark contrast to other areas in Ukraine where the Russian military continues to have a presence."
* On April 25, the Government of Canada announced Defense Minister Anita Anand will travel to Germany and the US this week to discuss Ukraine support.
* According to Reuters news agency, The British government will provide Ukraine with 22 more ambulances, 40 fire trucks and equipment. provided medical assistance worth $382,000, including medication, to medics.
* In the daily bulletin on April 25 of the British Ministry of Defense, British intelligence said that Russia's attack on Ukraine has significantly disrupted agricultural production in Ukraine.
"Ukraine's grain harvest in 2022 could be about 20% lower compared to 2021 due to a decrease in the cultivated area because of the war," the report said.
British military intelligence said a decrease in grain supplies from Ukraine would create inflationary pressures, increasing global grain prices.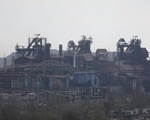 Ukraine: 5 railway stations attacked
You are reading the article
QUICK READING April 26: UN Secretary-General arrives in Russia, 'seeking to end the conflict in Ukraine as soon as possible'

at
Blogtuan.info
– Source:
tuoitre.vn
– Read the original article
here