Kinh tế
Stocks dropped "shocked": Expert decoding
Vietnam stocks plunged with VN-Index "evaporating" nearly 5%. Specifically, at the end of the session on April 25, VN-Index dropped 68.31 points (-4.95%) to 1,310.92 points.
On the HNX, HNX-Index dropped 21.61 points (-6.02%) to 337.51 points. UPCoM-Index dropped 4.61 points (-4.43%) to 99.54 points.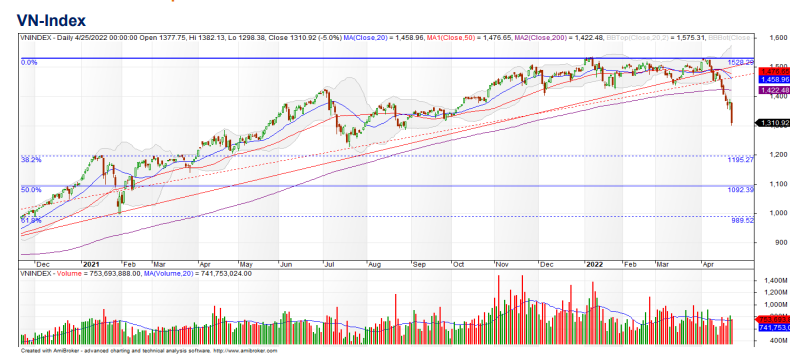 Dan Viet reporter had an interview with Mr. Nguyen Thanh Luan, financial expert of Alpha Securities Joint Stock Company.
Sir, the stock market corrected sharply. VN-Index dropped very strongly up to nearly 5% in the first session of the week, marking the biggest drop since early 2021, just after January 28, 2021 with a decrease of 6.7%. What do you think is the cause?
– There are many reasons for the large-scale decline from information on criminalization of cases related to stock market manipulation, tightening of corporate bond issuance policy, especially in the field of securities market. real estate, profit taking factor from speculative cash flow….
The phenomenon of tension at securities companies leading to cross margin calls when there is a sharp drop in hot growth stocks also created a domino effect recently.
Besides, the context of the world stock market is also in a state of strong correction as well as the "holiday and counting" sentiment also affects the decision of investors to hold the portfolio on April 25, 2022. .
Contrary to the pessimistic sentiment of domestic investors, foreign investors continuously maintained a strong net buying position, with the total value of net buying in the past week reaching more than 2,500 billion dong. In this session, foreign investors continued to net disburse another 250 billion dong. How do you see the move of foreign investors?
– The average liquidity per trading session on the stock market is currently 25-30 thousand billion VND (in 2021, the number of trading sessions is over 50 trillion VND), so the figure of 2,500 billion is not large numbers and strong impact on market flows. The stock market is now completely free from the domination of net buying and net selling of foreign investors.
It is easy to see that the trading strategies of organizations and individuals are quite different in terms of cash flow and holding time. Therefore, from a personal point of view, I think that liquidity from foreign investors is only a reference channel for making strategies in investment decisions.
The Government's message is to stabilize the market, and the State Securities Commission has repeatedly reassured investors not to panic when the macro has many positive signals. Many recommendations also suggest that investors should avoid selling off but can continue to hold their portfolios and observe market movements at the next support zone. But in fact, in the past time, investors cut losses early and lose less. What do you think about this view at the moment?
– This view is not only true at the moment, but always true when the market enters a downtrend. But distinguishing whether the market is in a downtrend, or simply a correction in an uptrend, is not an easy task.
We can see the past 2 years, after each correction, the market and stocks continue to conquer new highs. Investors are used to it, even buying when it is falling to catch the bottom. Usually when the trend changes suddenly, investors are surprised and if they do not follow the principles of risk management, it can easily lead to a sell-off in any way.
Thus, investors should have an investment strategy associated with portfolio and capital risk management, equipped with knowledge of the stock market to be able to react quickly to market trends: Not averaging by all means, watch for technical retracements to lower your holdings and find opportunities to participate when the market's trend is clear.
In particular, in the current context, it is not recommended to use a high margin margin, which will help reduce the pressure on net selling, sober up and not "fomo" in bulltrap beats.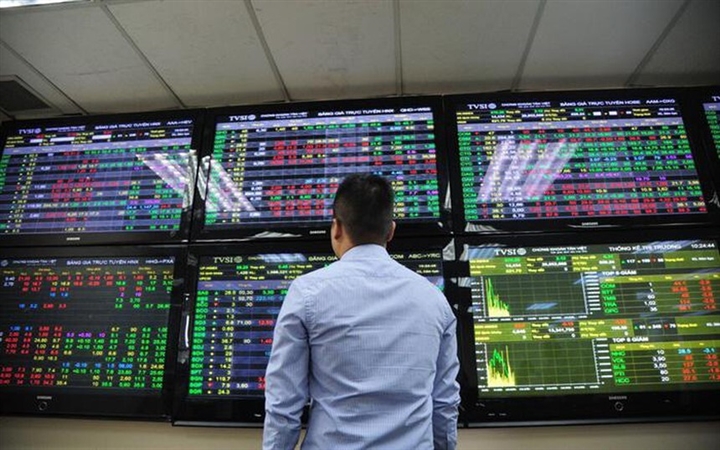 So what do you think about the market in the coming sessions, what should investors do at this time?
– In the current context, whether an uptrend or downtrend still needs many factors to confirm and investors should be calm to handle the account.
Firstly, investors need to watch the technical retracement to lower the proportion.
Second, do not use leveraged instruments to avoid downside risk.
Third, restructure the holding portfolio, do not invest in speculative lines, focus on stocks of profitable and dividend businesses…
"The unchanging mind in the midst of life's variables" will help investors find investment opportunities to increase assets whether the market is in an uptrend or downtrend.
Thank you Sir!
You are reading the article
Stocks dropped "shocked": Expert decoding

at
Blogtuan.info
– Source:
danviet.vn
– Read the original article
here