Thị trường
Waiting for the "super quality" shopping complex in the west of the capital to open soon
April 26, 2022 16:33 GMT+7
Vincom Mega Mall Smart City – the first and largest floating trade center (TMC) in Vietnam to be launched in 2022 – is becoming the focal point that people are waiting for during the holidays of April 30 and May 1. coming.
Kohnan – Bringing Japanese style to a new home
Kohnan – a Japanese consumer goods supermarket – will be present at the 3rd floor of Vincom Mega Mall (VMM) Smart City. This is a famous brand specializing in providing daily life products with more than 300 stores in the land of the rising sun. Vietnamese consumers have preferred Kohnan since the first stores appeared in Vietnam, through beauty products, furniture, household appliances … modern, compact, with many "Japanese standard" functions.

The decorative items, furniture… with the "Minimalism" lifestyle from Japan at Kohnan promises to be an extremely attractive place for visitors.
Right at VMM Smart City, families can freely choose between a large Japanese stall with thousands of products. In particular, the DIY workshop (Do it yourself – roughly translated as "do it yourself") and the home garden area are probably the paradise that every family wants to explore to be able to set up a garden. dream, adding a little "poetry" to daily life in the heart of the vibrant Capital.
High quality imported culinary "paradise"
One of the big names of imported food present at VMM Smart City is Annam Gourmet. This brand has more than 20 years of experience with more than 10,000 food and beverage products of the best brands in the world coming to Vietnam, dubbed "the dream of home chefs". Annam Gourmet at VMM Smart City is also the largest luxury import supermarket in the west of the capital with thousands of premium products every day. From seafood to fresh fish, meat, vegetables… to a unique international cuisine area with Culinary Week of countries such as Italy, France, Spain…, "gourmet" families come to Annam Gourmet will be served to enjoy at indoor and outdoor chilling accommodation. Coldcut & Cheese Bar – the pride of Annam Gourmet is also the right place for you to "fill up" your belly with a plate of premium cheese with cups of famous coffee and wine right at the store.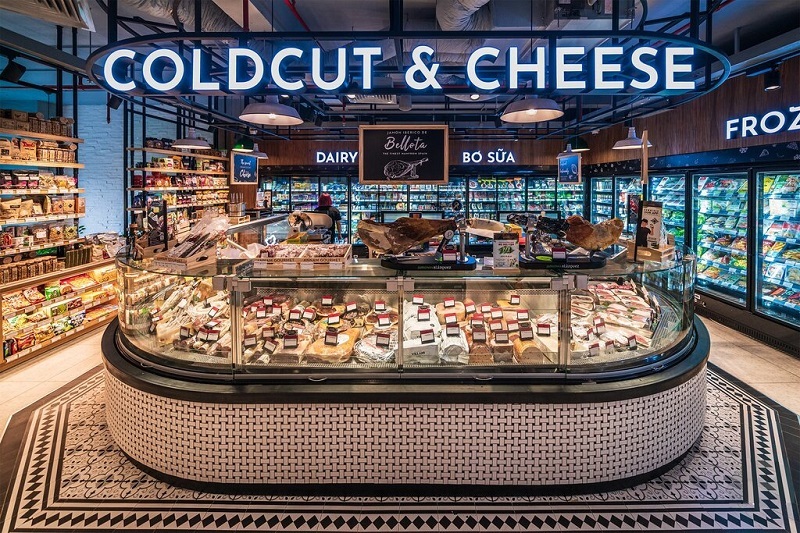 Also at Vincom Mega Mall Smart City, for the first time you will see WinMart supermarket located on the first floor of a shopping mall with thousands of food ingredients and fresh vegetables every day. For the first time, WinMart supermarket brings a convenient Phuc Long milk tea stall right inside the supermarket, which is also the only place where you can enjoy the taste of Phuc Long milk tea in the western area of ​​the city. This will certainly make the "diners", "teaholic-tea addicts" stand still, maybe here will reappear the familiar scene of people queuing to buy milk tea – the image has become " brand" of this beverage company has never "cooled down".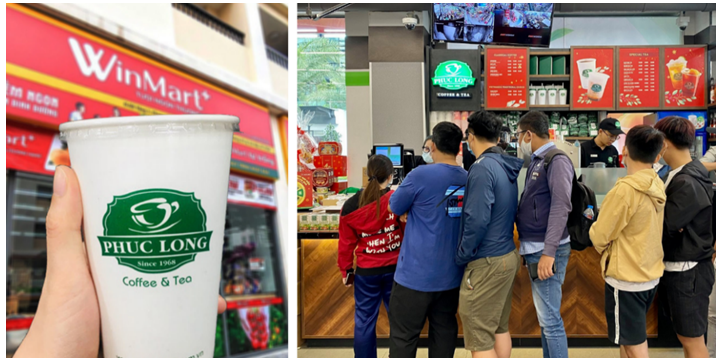 The image of "super familiar" queuing of young people at Winmart+ stores in Ho Chi Minh City will soon appear at VMM Smart City's Winmart supermarket.
Two supermarkets with many different culinary flavors will definitely be regular destinations to change and upgrade the quality of life every day.
Increase the "quality" of trendy living with a new generation shopping experience
For golf fans, the golf fashion store located on the 1st floor of Vincom Mega Mall Smart City is a must-see. At the new generation shopping mall, Mipa Golf – a golf fashion and accessories brand from Korea – for the first time brings a unique shopping and experience space. Especially, only in Hanoi, customers will experience the multi-dimensional golf space at the 3D golf practice room using the latest SG technology from Korea. In addition, golfers can relax, rest and connect with the golf community in the luxurious coffee space of Mipa Golf right at the store.
Spacious shopping space with 3D gym, Mipa's relaxing chair will surely make you satisfied after hours of practice, shopping "to the fullest".
In addition, AMM – a youthful fashion brand with a minimalist smart-casual style following international trends – will also be present at Vincom Mega Mall Smart City. From costumes to store design, AMM offers a modern space characterized by white, gray tones. Surely, this place will be a very hot "check-in" point next to the "familiar" buying point of minimalist fashionistas.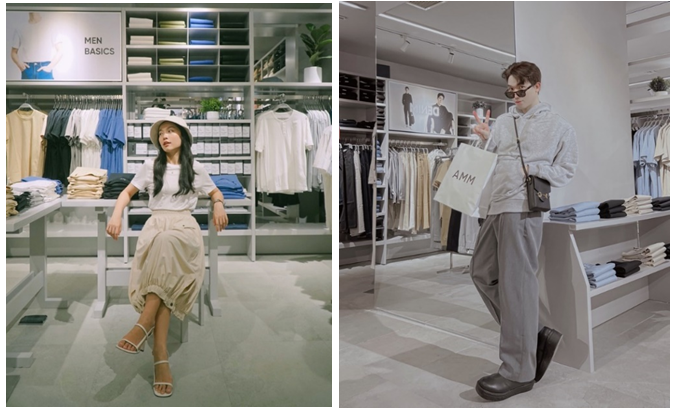 KOL best friends with minimalist style: Ha Truc and Monsimi "relax" at AMM store after shopping "all hands" here.
The largest shopping mall in the west of the capital is also the place where international fashion brand DETERMINANT first introduced its flagship store in Hanoi. From fashion style to architectural space, DETERMINANT always has elegant, luxurious and special design towards nature from natural materials such as gravel, brick, cotton field… DETERMINANT has attracted attention. Many sustainable fashion followers came to support and decided to go with the brand.

DETERMINANT at VMM Smart City is also a place where the space and costumes are designed extremely simply from natural products, demonstrating the brand's valuable philosophy towards the environment and sustainable development.
In addition to prominent brands, guests coming to Vincom Mega Mall Smart City can also experience a series of conveniences that are not found anywhere else, such as a system of lounge chairs along the river to help customers relax while resting while creating Check-in photos of "thousands of likes" next to the unique indoor river in Vietnam. Therefore, the opening event of Vincom Mega Mall Smart City on April 28, 2022 with a series of cultural and artistic activities is promising to become one of the hottest events in the West of Ha Noi. Noi, welcomed by the people.
Minh An
You are reading the article
Waiting for the "super quality" shopping complex in the west of the capital to open soon

at
Blogtuan.info
– Source:
infonet.vietnamnet.vn
– Read the original article
here