Fetal ultrasound can accurately diagnose 85-90% of fetal abnormalities
In fact, it is almost impossible to diagnose fetal malformations clinically, because more than 90% of fetal malformations have no clinical manifestations.
Fetal malformation ultrasound is a safe, effective and easy method to diagnose, monitor and detect fetal malformations at different stages. Fetal ultrasound can accurately diagnose 85% to 90% of fetal malformations.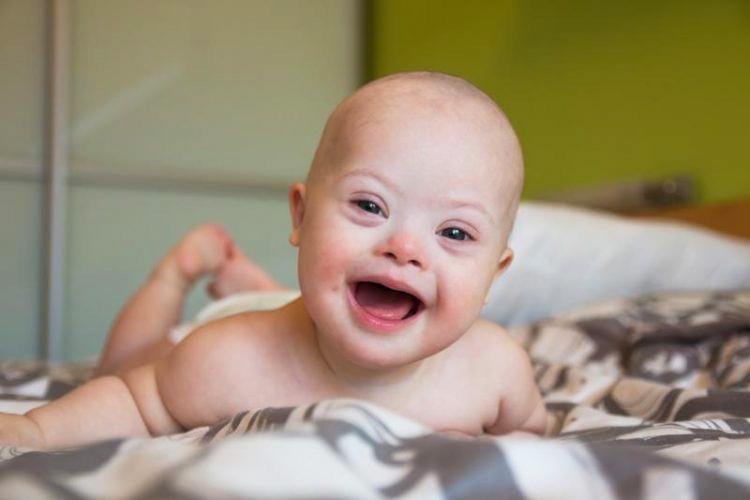 Down syndrome in children with characteristic morphological manifestations
However, the diagnostic value of fetal ultrasound depends greatly on the equipment, the level of the sonographer, and the time of fetal ultrasound.
3 times of ultrasound to help detect fetal malformations
Ultrasound only detects morphological abnormalities – that is, what is visible – but does not diagnose functional disorders. Here are the 3 most common times when an ultrasound detects fetal malformations that pregnant women need to pay attention to so as not to miss:
Pregnancy ultrasound at 12-14 weeks
From 12 weeks of age, the fetus has developed relatively fully in terms of morphology and has reflexes such as flexing and stretching the body, stretching the limbs… This is also one of the 3 important ultrasound landmarks of malformations recognized by the doctors. recommended by experts. During this ultrasound, doctors will check and screen for abnormalities of the brain, face, heart, digestive, urinary, extremities and the whole body.
At this time, ultrasound will help calculate the gestational age extremely accurately. In addition, this is also the only time that can measure the light at the back of the neck to predict some dangerous chromosomal abnormalities that cause Down syndrome…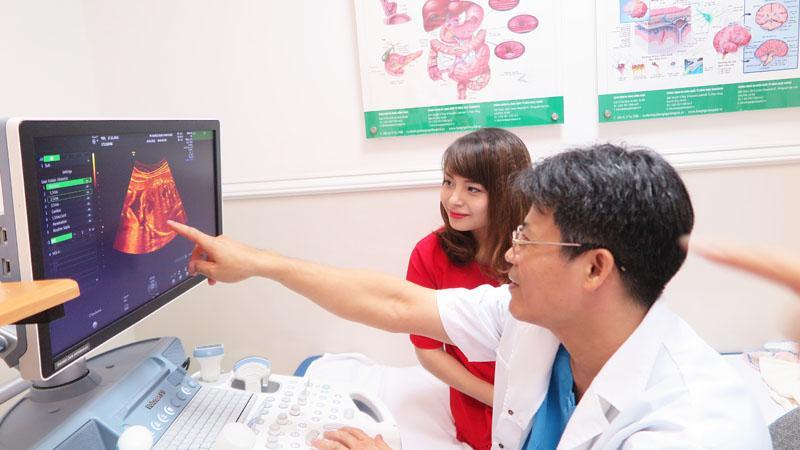 Ultrasound week 12-14 is the first important ultrasound milestone in pregnancy to help diagnose fetal malformations
Beyond 14 weeks, this measurement will no longer be accurate. If the light at the nape of the neck increases, at 18 weeks pregnant women need amniocentesis to diagnose Down's disease and morphological ultrasound to see if there is a deformity.
Pregnancy ultrasound at 18-23 weeks
At this time, the fetus has basically developed all parts of the body, the amount of amniotic fluid is also increased, allowing the doctor to better observe the fetal morphology. This is the standard ultrasound time to evaluate the entire fetus.
In addition, this is also an important milestone to detect most of the morphological abnormalities, confirm the previously suspected abnormalities, and is the final time for the decision to terminate the pregnancy, if any.
Most morphological abnormalities can be diagnosed at this stage, where the sonographer will look at the fetal organs to evaluate the entire:
Neurological abnormalities such as: Neural tube defects, no brain, hydrocephalus, dilated ventricles, baby brain…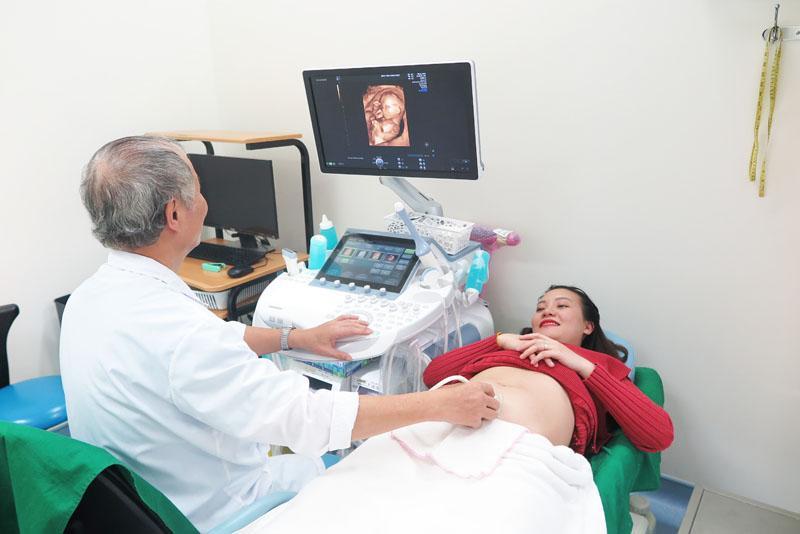 18-23 weeks pregnant ultrasound is the standard time to evaluate the whole fetus
– Maxillofacial abnormalities: Better observation of orbital abnormalities.
Cardiovascular abnormalities: Ultrasound can clearly visualize the heart and its structures, allowing the diagnosis of most abnormalities such as: atrioventricular septal defect, tetralogy of fallot, hypoplasia of the heart valves, Ebteins disease, right ventricular double outlet, arrhythmias…
Chest abnormalities: Diaphragmatic hernia, pulmonary cyst, pleural effusion, pulmonary hypoplasia…
Abnormalities in the abdomen, intestines and abdominal wall such as: Esophageal stricture, gastric stenosis, hepatomegaly, splenomegaly, intestinal obstruction, umbilical hernia….
– Kidney and urinary abnormalities such as: No kidney, polycystic kidney, urinary tract obstruction, abnormalities in the bladder, urethra…
– Abnormalities in skeletal muscles and extremities: Abnormalities of fingers and feet such as many fingers, crooked hands…
Ultrasound of the third trimester of pregnancy at 30-32 weeks
This is the period when the fetus is fully structurally complete and rapidly developing.
Fetal malformation ultrasound at this stage is mainly to evaluate fetal growth, fetal position, amniotic fluid, umbilical cord, and development of the uterus.
Fetal abnormalities that may be further detected or evaluated at this stage include: Fetal malnutrition; abnormalities in the genitourinary system such as testicular position and movement, genital tumors, ovarian cysts; abnormalities in the heart such as stenosis of the heart valve, mitral aortic valve, aortic abnormality… and some abnormalities in the brain.
How to prevent birth defects?
To prevent birth defects Pregnant women should note:
Folic acid supplements: Women planning to become pregnant should start taking folic acid supplements before conceiving. Folic acid can help prevent defects of the spine and brain.
– Pregnant women should avoid drinking alcohol, using drugs and tobacco.
– Use caution when taking certain drugs that can cause serious birth defects if taken during pregnancy. Therefore, pregnant women should consult a doctor before taking the drug.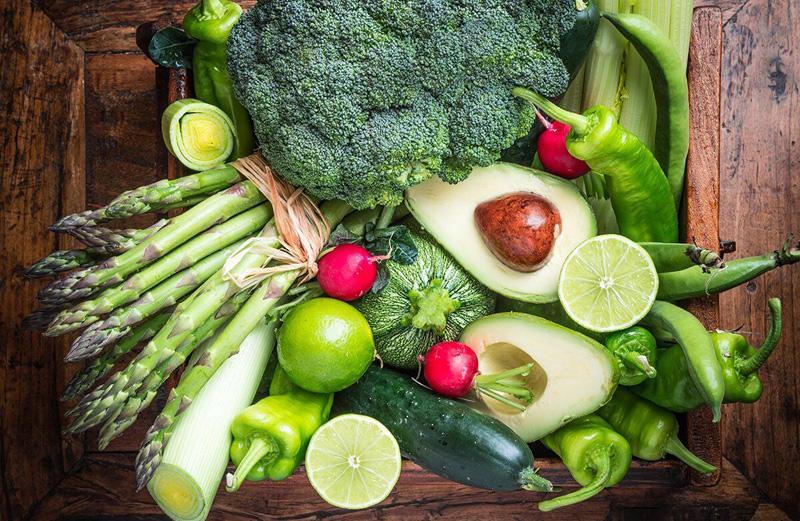 Fortifying foods rich in folic acid will help reduce the risk of birth defects
Maintaining a healthy weight also helps reduce the risk of birth defects. Women with pre-existing conditions, such as diabetes, need special care to manage their health.
– Periodic prenatal check-ups as prescribed by the doctor to detect abnormalities in the baby early.
Birth defects are something that no family wants. Therefore, during pregnancy, the mother needs to take the initiative to have regular antenatal check-ups on schedule, fully implement important ultrasound milestones to proactively detect and promptly detect fetal malformations. From there, the doctor will give advice on the appropriate treatment.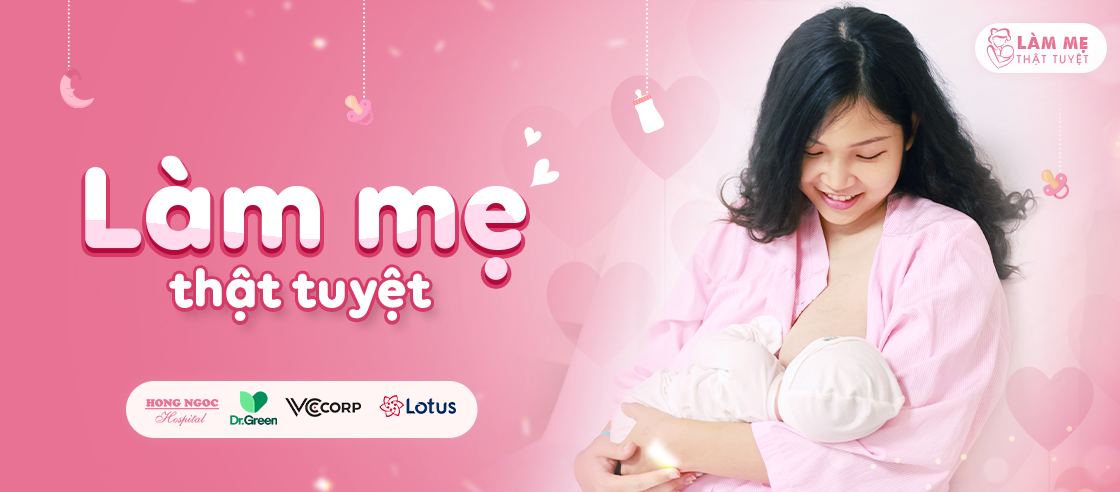 https://afamily.vn/3-thoi-diem-sieu-am-giup-phat-hien-di-tat-thai-nhi-cuc-chuan-ma-me-bau-nhat-dinh-phai-ghi- grapes-20220427123221065.chn
You are reading the article
3 times when ultrasound helps detect fetal abnormalities

at
Blogtuan.info
– Source:
Afamily.vn
– Read the original article
here