Life Style
Sức Khỏe
Breakfast habits help the brain stay young, sharp, and prevent memory loss after the age of 30
Amnesia is a characteristic manifestation of dementia. You are not only forgetful and confused, but also have poor reasoning ability. According to the Centers for Disease Control and Prevention (CDC), more than 5 million people in the United States have the condition. It is more common in people over the age of 65. However, this condition is now alarmingly rejuvenating: After the age of 30, many people have symptoms.
Clinical statistics show that keeping blood pressure healthy, not smoking, not being overweight, exercising regularly, eating healthy and exercising your brain play an important role in disease prevention.
Especially breakfast. This is the meal you have the most control over because you usually eat it at home. You also make sure to eat enough important nutrients like antioxidants, vitamins, and fiber.
Dietitian Justine Chan (owner of YourDiabetesDietitian) says: "Breakfast is your chance to refill your body with foods that can slow aging and delay chronic diseases like dementia. remember in later years.
After the age of 30, whoever has these 5 breakfast habits, the brain will always be young and healthy, living to a hundred years old and still not afraid of memory loss.
1. Light breakfast with walnuts
If you're late for work and don't have time for breakfast, pack some walnuts in your bag for a snack.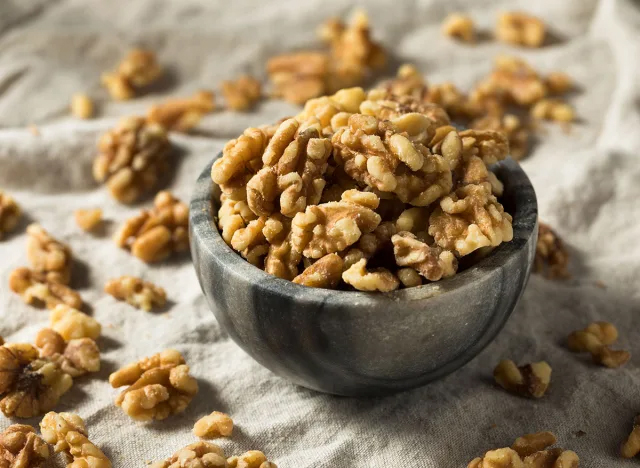 Walnuts are an excellent source of ALA (alpha-linolenic acid), a form of omega-3 polyunsaturated fat. 28g of walnuts have 1.5g of brain-boosting alpha-linolenic acid, which may play a role in fighting dementia.
You can toast walnuts as a homemade muffin for breakfast, too.
2. Eat eggs for breakfast
Eggs, however cooked they are, are a protein-rich and filling breakfast. Breakfast with eggs is proven to help you lose weight, build muscle.
They also help build and develop children's brains. Studies show that children who eat eggs regularly have improved scores in learning, focus and memory in a short time compared to children who eat only egg whites or yogurt.
3. Eat Oatmeal
Low serum levels of certain nutrients such as folate, vitamin E and flavonoids have been linked to poor cognitive function, memory loss, and development of dementia.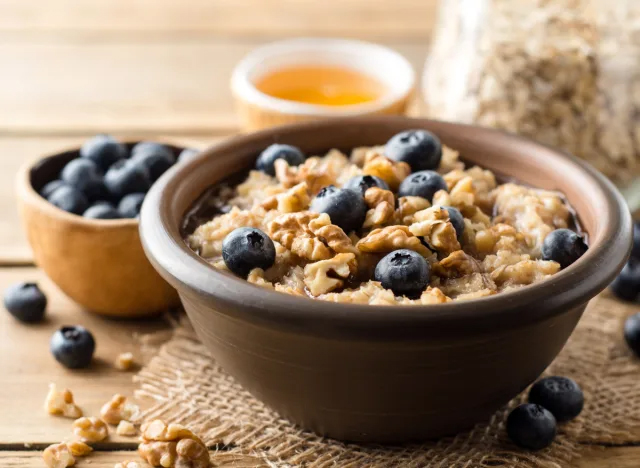 Meanwhile, eating whole oatmeal for breakfast is an excellent source of B vitamins, including folate and vitamin B12.
Experts recommend adding nuts like almonds, walnuts, ground flaxseeds, chia seeds, sunflower seeds and pumpkin seeds to your oatmeal to add vitamin E, which helps maintain nerve function and prevent cognitive decline.
You can also eat it with berries. They contain large amounts of flavonoids. That may be why they are so helpful in protecting nerve connections and preventing the amyloid plaques that are characteristic of Alzheimer's disease.
4. Drink a vegetable or fruit smoothie
Even if you don't like breakfast, after the age of 30, try to have a smoothie right in the morning. However, it should be noted that smoothies come with berries and green vegetables.
Berries and green leafy vegetables are two brain foods included in the MIND diet, which have been linked to improved brain health.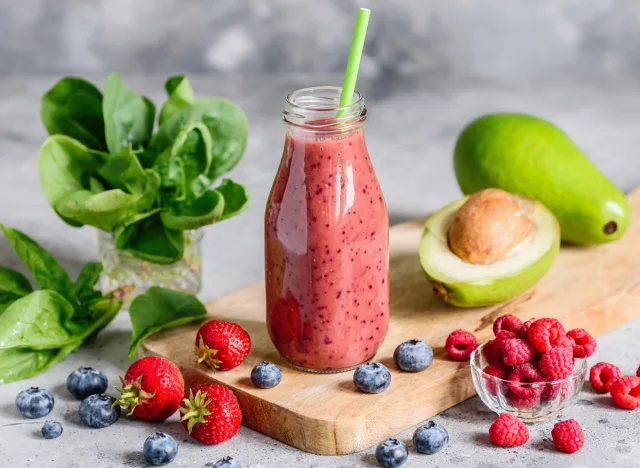 Studies show that regular consumption of the nutrients in those foods can reduce the risk of Alzheimer's disease by up to 53 percent. However, according to the CDC, in reality, only one in 10 adults eats the recommended amount of fruit and vegetables daily. Therefore, people need to pay more attention to the addition of vegetables.
5. Eliminate sugary carbs from breakfast
Many people love a sweet breakfast. The proof is that if you don't eat breakfast with eggs or oats, you may crave a cup of coffee with donuts, croissants, cakes…
Short-term processed, pastries are made with too much refined sugar and saturated or trans fats. This can cause symptoms brain fog and mental fatigue caused by rapidly rising and falling glucose levels. Over time, this condition can have a negative effect on brain health.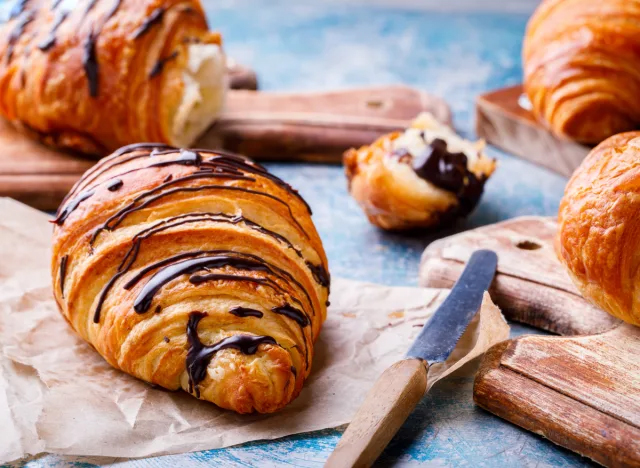 The sugar and processed nature of sugary grains contribute to weight gain, chronic inflammation and poor gut health.
Inflammation can slow cognitive function, and poor gut health can contribute to poor brain function through the brain-gut axis.
Therefore, in addition to avoiding the habit of consuming sugary morning drinks such as sweetened coffee drinks, you should also avoid energy drinks and bottled fruit juices.
5 groups of people are susceptible to dementia, even at a very young age
1. People inherited from family history
Dementia is genetically linked from family history. If someone in the family has this disease, their biological children are 3.5 times more likely to have the disease.
2. People who have a hobby of eating with a lot of energy
The group of people who like to eat a lot, high calorie content will make them prone to obesity. From there, it is easy to suffer from metabolic syndrome, reducing basic metabolic function, leading to a state of falling into a vicious cycle, eating a lot will cause high blood pressure (high blood pressure, high blood fat, high blood sugar). . This is one of the causes of future absent-mindedness.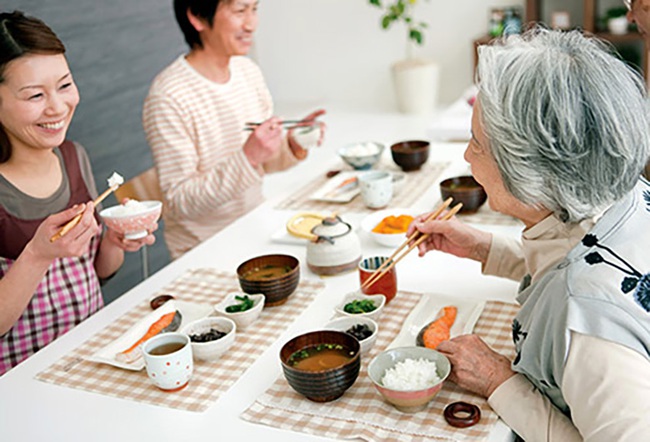 3. People who have had head injuries
People who have had a head injury before the age of 65, such as a fall, accident, or related surgery, have a significantly increased risk of dementia. When there is a history of head trauma, it is easy to cause cognitive decline, memory loss and forgetfulness.
4. People with cardiovascular disease, cerebrovascular disease
Atherosclerosis is one of the relatively high risk factors for dementia. Research shows that people with high cholesterol and cholesterol have a higher rate of dementia than other people.
Group of people with cardiovascular disease, hypertension, arrhythmias… are also associated with the incidence of dementia. Cerebrovascular disease is also associated with cognitive dysfunction. Long-term severe diabetes can also significantly increase the risk of dementia.
5. People in a pessimistic mood
Emotions are very important to human health. If you do not pay attention to take care of your mood to live happily, instead are in a pessimistic mood or let yourself fall into a state of depression, the probability of dementia increases greatly.
(Source: Eatthis, CDC)
https://afamily.vn/sau-tuoi-30-ai-co-5-thoi-quen-an-sang-nay-thi-nao-bo-se-tre-lau-minh-man-song-den- tram-old-van-khong-so-mat-tri-nho-2022042619571683.chn
You are reading the article
Breakfast habits help the brain stay young, sharp, and prevent memory loss after the age of 30

at
Blogtuan.info
– Source:
Afamily.vn
– Read the original article
here