With a series of balanced tweaks by Riot in the past many versions, Mutant is much stronger than before. However, according to statistics websites DTCL many standard Mutant squads have extremely low rates of reaching the top 4. Besides competition from other players, depending on Cho'Gath 3 stars seem to be preventing gamers from promoting the full strength of the Mutant team.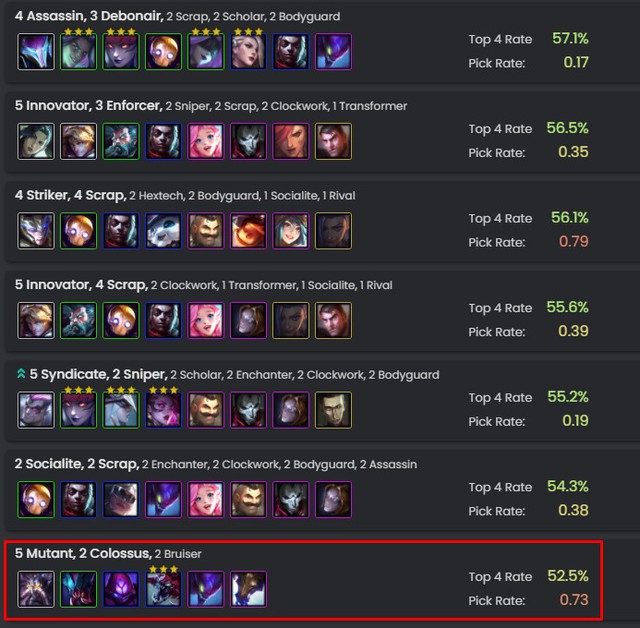 The Mutant lineup has a much lower rate of reaching the top 4 compared to other team-comps

Some variants even have less than 50% top 4 rate
According to the North American server Challenger – BrosephTFT, Cho'Gath is a unit that has a few weaknesses and makes it difficult for the Mutant team to get a high position. The first is that Cho'Gath costs 1 more position in the team and makes the squad lack of flexibility. Moreover, Cho'Gath does not provide any additional effects or control so the price to pay for this unit is too high. So if you want to build a successful Mutant team, then remove Cho'Gath right at the end of the game.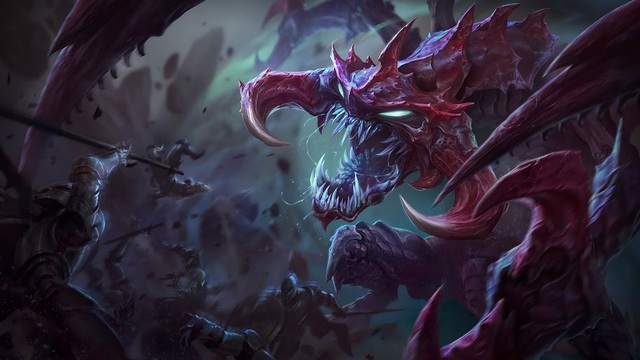 Cho'Gath looks strong, but actually has a lot of weaknesses
About how to build a squad, BrosephTFT thinks that many people are wrong when building the Mutant team in the "vertical comp" style, which is gradually building from the beginning of the game. The reason is because although it is true that there are good 1-3 gold generals, the main strength of the Mutant lineup lies in Kha'Zix and Kai'Sa. So the use of generals is somewhat weak like KassadinRek'Sai to keep blood is extremely wrong.
You can buy them for later, but you need to play with a good early game strength like Tech, Recycling or "economic cheat" like Foreign Soldiers, Yordles. These 2 gameplay will help you to level 8 the fastest way to roll Kha'Zix and Kai'Sa. Of course, if you are called by "dignity" and have all 1-3 gold units of the Mutant system at the 2-star mark, then there is no need to work so hard. Of course, the odds of achieving this are also extremely low.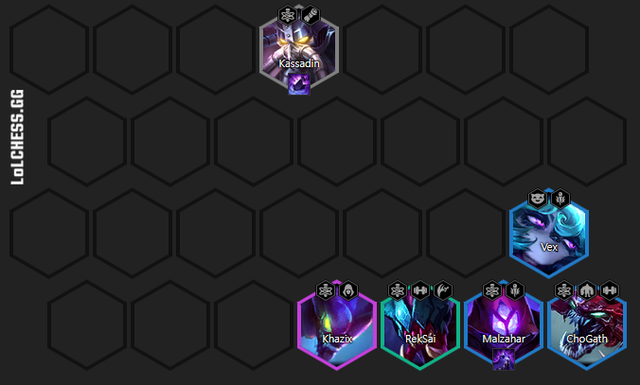 Lineup of 5 Mutants at level 7 for "dignity" gamers
As for item selections, BrosephTFT recommends pairing Shadow Cloak and Hextech Gunblade as soon as possible. The reason is because these are two strong items and are suitable for the two main mainstays of the Mutant team, Malzahar (mid game) and Kai'Sa (late game). With so many Mutant generals being melee, the Shadow Cloak will help the backline mainstays protect themselves very effectively without too many champions.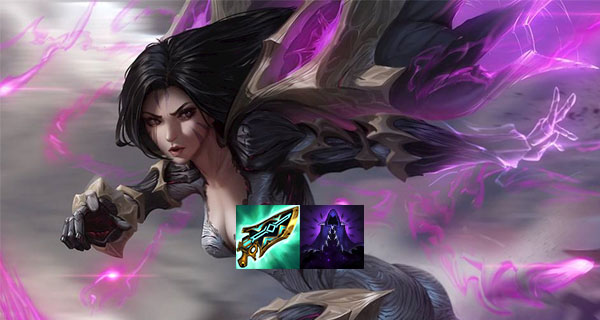 Kai'sa (including 1 star) and Kha'Zix are the mainstays of the Mutant lineup at the end of the game
This playstyle is suitable for most Mutant effects so you can use it in all matches. However, if you encounter the omnivorous effect, you should add a Zz'Rot Channel to get more stats for your squad.
In terms of lineups, BrosephTFT often has a habit of leaving Kassadin in a separate position from the rest of the front line. This helps Kassadin to launch faster, easy to kill to activate the Zz'Rot Channel and Omnivorous Mutant. In addition, Kai'Sa is often placed next to Malzahar and Rek'Sai to avoid being pulled by the opponent's Blitzcrank.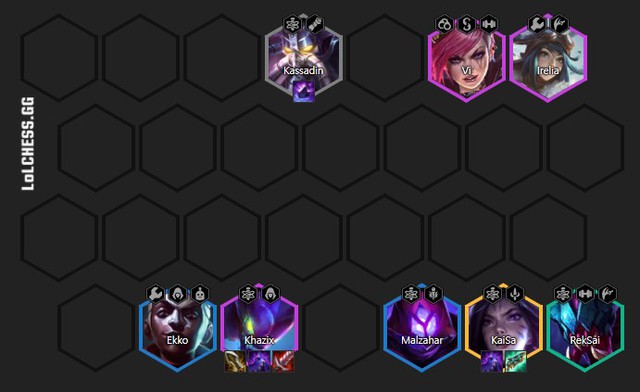 The complete lineup at the end of the game
https://gamek.vn/meo-doc-tu-thach-dau-dtcl-giup-leo-rank-than-toc-voi-team-dot-bien-chogath-cuc-phe-hay-bo-qua- no-20220426115058573.chn
You are reading the article
"Cho'Gath sucks, just ignore it"

at
Blogtuan.info
– Source:
gamek.vn
– Read the original article
here