Gia đình
Having beauty is keeping the hope of marrying a rich man
Beautiful people have to marry giants, young masters, Hong Nhan is silver billion… It seems that more and more young people admire the ending "having beauty is having money".
Beautiful people must be rich?
One Sunday morning, at Starbucks coffee shop on Han Thuyen Street – a "check-in" address for young people with "money", we couldn't help but be startled when we gathered stories of young people sitting around. .
A group of young boys and girls, engrossed in the story revolving around the "hot girl, Facebooker" in school: "Yesterday, T. showed off her beautiful check-in resort in Nha Trang. I love its shoes so much, the best model in Vietnam, probably over three thousand dollars! And the dress too, so sexy, probably thousands of dollars!".
The girl in the group interrupted the story to prove that she knew the story: "I heard that he is dating the son of giant N. How much are these three things, if T. is good, he must be able to "dig" Classy apartment, own a super car!".
At the next table, two teenage girls are also "swinging" with a series of hot information online and occasionally exclaiming in delight: "Look, today Z page shows a picture of her bag collection. "hot" A. I'm so in love with you, I wish I had money to grab this bag right away. Unique, strange, excellent, can't fault it anywhere.
The girl sitting next to her also praised: "I just broke into HT's mansion, which is really "the most livable place on the planet" with supercars, yachts, swimming pools, gilded interiors… Recognition of the beauty wealth cannot be avoided".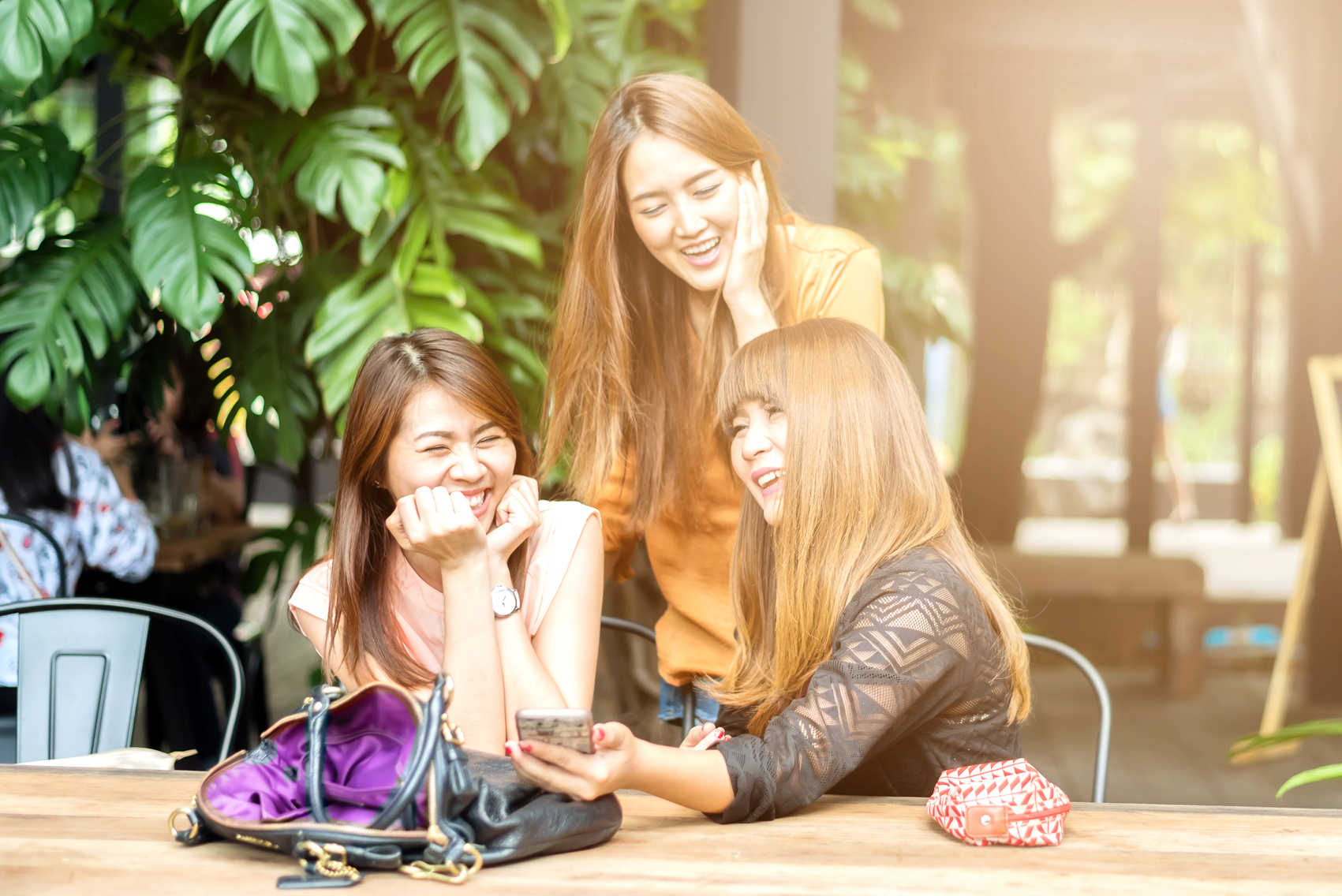 Billionaire silver face, beautiful people must have giants… have become the thoughts of young girls (Illustration image – SHUTTERSTOCK)
Another time, at a famous restaurant in the Takashimaya department store, we heard the story of a few "baby gossip girls" revolving around the story of one queen "flashing her hand over" another queen; There was a respectable "battle" of the "first comers". Then the story of another queen, thanks to the "influence" of the "prince" family power, was crowned Miss. But the "prince" soon got on the "cotton car" with another "princess" according to the family's arrangement for the right "subscription subject". Then the queen also "hugs" a proud family, so she warms herself up and constantly shows off her luxurious life with expensive jewelry, billion-dollar supercars, a regal life at her husband's house…
The girls switched to a hotter topic than looking for a "furnace" to train their body, looking for a place to pump, patch, repair, lift… to find opportunities to change their lives.
Looking for true value
Under the spell of the entertainment world, every year dozens of beauty contests are held to honor Vietnamese beauty; hundreds, thousands of videos and clips of "debuting" beautiful girls. Then those beautiful girls, in turn, married Western husbands and businessmen. I don't see any girls marrying workers, teachers, driving technology cars…
Although sometimes on the internet there is a beautiful girl who gets married to a rich man and leaves the house empty-handed when divorced, but it is rare, and soon, she marries another richer man. It is not clear how true the online stories are, but in fact, all the beautiful girls hope and dream of marrying a rich man.
Mothers with daughters entering the age of love are also full of anxiety before the materialism that surrounds young girls. Ms. Lien A. (Binh An Ward, Thu Duc City) said: "Currently some people prefer looks, luxury cars, gold-plated villas… but I believe these are only temporary in nature. In my neighborhood, mothers with girls 12-13 years old have studied beauty furnaces, places to "refurbish" their children's beauty, while I took her children. Girls go to piano, dance, foreign languages, and drawing classes. When she's a little older, I take her to cooking, baking, knitting, embroidery, sewing, etc. I believe her small family. I will be happy in the future when I can knit warm clothes for my loved ones with my own hands and sew lovely clothes for my children.My friends were also surprised when I gave them hand-drawn drawings that I sat and manipulated all the time. the week".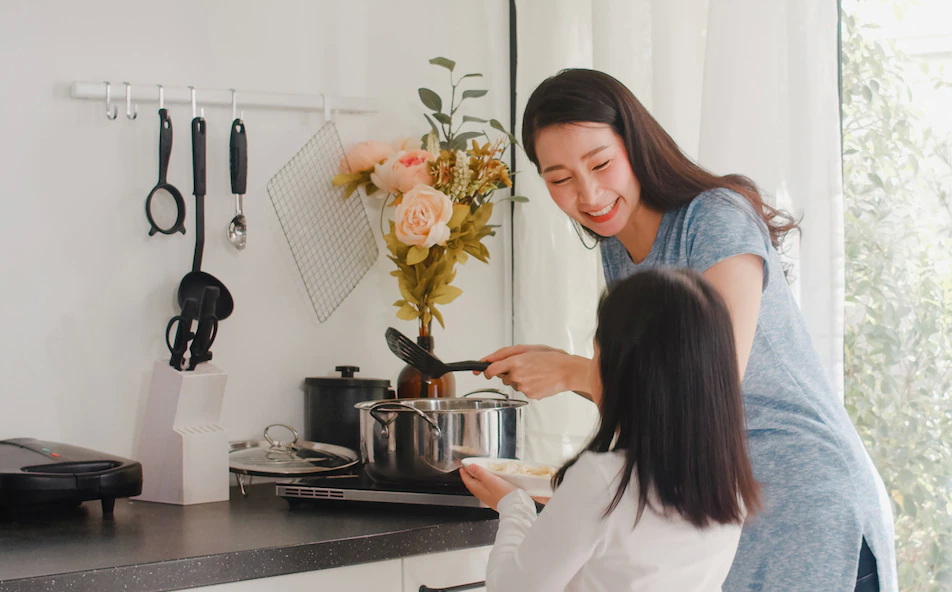 In order for girls not to be misunderstood in terms of material and spiritual values, there is no other way, families, schools and society must teach and shape them from a young age (Pictures are for illustration purposes only).
"These meaningful spiritual gifts will touch the hearts of those who appreciate them. That is true lasting happiness that no money can exchange. My daughter is also quite beautiful, but there is one. I have taught him since childhood that it is a unique feature on his face, to distinguish it from other children. When he appears on the school stage, I often film those scenes and open them up. show it to me so that I can see myself when I play well and dance well, no one will remember the birthmark on my face," Lien said.
Mrs. Lam T. (Ward 15, Binh Thanh District), a businessman in the seafood industry, has two daughters at the age of marriage. She said: In the time when material life was on the throne, my children could not escape that vortex. Seeing that my children often bragged about being the "king of brands", I had to explain to them that: "The money earned from the sweat and tears of honest workers is often treasured and preserved; cannot be squandered. Later, when you get married, it's about choosing a person who is of the same mind and compatible with each other in life, rather than marrying someone who has more wealth than you to enjoy together. Beautiful girls marry rich and happy because they truly love each other.
However, beauty is inherently not durable, someone else will be more beautiful, so the couple is strong because of the beautiful lifestyle of both. I always teach my children business skills to continue to manage family assets, living with my sweat and tears is always more secure."
According to www.phunuonline.com.vn
You are reading the article
Having beauty is keeping the hope of marrying a rich man

at
Blogtuan.info
– Source:
infonet.vietnamnet.vn
– Read the original article
here