Business
"I said spend only 1 billion to buy MWG shares and forget, surely when the child is 18 years old, he will have 100 billion to start a business"
That is the sharing of Mr. Nguyen Duc Tai – Chairman of Mobile World Investment Joint Stock Company (MWG) – at the last Annual General Meeting of Shareholders in 2022. It should be emphasized that 2022 is also an important year when MWG moves towards the IPO of Bach Hoa Xanh, as well as stops expanding to review and perfect the foundation for the accelerating phase in the coming time.
"I remember when MWG just went public, a female friend from Mekong asked me what do you do with money now? I joked about MWG stock and forgot about it. I'm sure when I'm 18 years old, I remember. will have 100 billion to start a business. At that time, MWG went public in 2014. I said just give up 1 billion, buy MWG shares and keep it and forget it."he recalled.
Notably, MWG has increased from the area of ​​16,800 VND/share (2014) to the current price of 144,000 VND/share, equivalent to an increase of more than 8.5 times. Compared to the peak of 160,000 VND/share before entering the general correction before the selling pressure of the whole market, the actual market price of MWG has increased 10 times.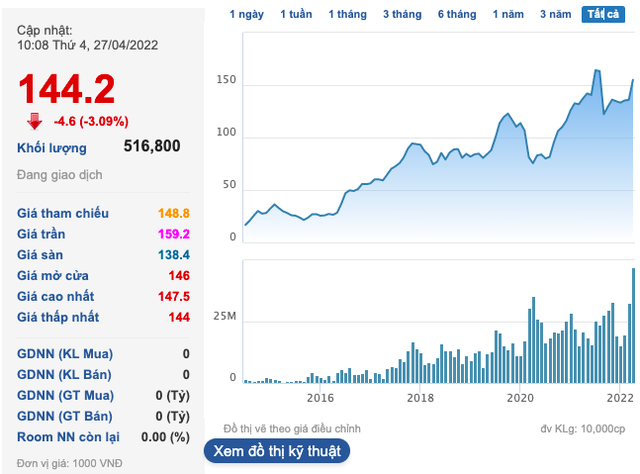 After the success with the Mobile World chain and then Dien May Xanh, Bach Hoa Xanh is also giving positive signals. Declare to devote all efforts to Bach Hoa Xanh since 2018, in the next plan MWG is offering shares for the first time: This is also the previous strategy of the Group to move to listing all segments if it is sufficiently developed.
"When The Gioi Di Dong and Dien May Xanh reach a market share of over 50% and it is forecasted that growth will slow down in the coming time, MWG must expand. Now, if you ask me what will be the growth rate of MWG in the next 2-3 years. can only be said to be Bach Hoa Xanh", he said.
Will only sell up to 20% of Bach Hoa Xanh capital, there are many interested investors
According to the plan to submit to shareholders, MWG will privately offer a maximum of 20% of Bach Hoa Xanh's share capital to partners in the period of 2022-2023, investors in the region or around the world at a high valuation. best. The purpose of using the capital is to invest in distribution centers, fixed assets, technology, strongly develop online sales channels and expand the chain nationwide.
MWG also established a new legal entity and transferred all shares it owns in Bach Hoa Xanh, with a transfer value of VND 12,795 billion. In which, Bach Hoa Xanh Investment and Technology Company will conduct private placement and listing in the future.
This company can invest in other companies operating in related industries while Bach Hoa Xanh will continue to focus on retail business, food and consumer goods.
"So MWG has many subsidiaries: electronics, department stores… So, when the subsidiaries are developed enough, MWG will IPO. Because there are too many subsidiaries, the Group's overall index will have many limitations. As you know, every investor has different tastes. Someone said 'I like your electronics but don't like the department store'….", Chairman said.
Also shared, Mr. Tai said that Bach Hoa Xanh is currently receiving a lot of attention from investors. And the direction of MWG is to hire an independent party to conduct the share offering, it is expected to sell only 20% of the capital, not simply anyone who likes to sit and talk with the management.
2021 can be said to be a "dark" year for Bach Hoa Xanh in general and MWG in particular
In retrospect, despite receiving great opportunities from the pandemic and sudden growth in business indicators, 2021 is also a "dark" year for Bach Hoa Xanh in general and MWG in particular. From the rent controversy with the landlord, the wave of boycotting Bach Hoa Xanh before many negative reflections on the price, service quality… to the fact that the person in charge, Mr. Tran Kinh Doanh, had just suddenly resigned after many years of leadership. chain growth.
At this meeting, Mr. Tai also said that Mr. Tran Kinh Doanh had great merit in 2 development milestones of the group, one is to bring Thegioididong chain from 1 to 100, 1000, the other is to bring a new field from 0 to 100. to 1 – build Bach Hoa Xanh from "big zero.
"But I have a strong belief that not long in the future, maybe at the end of this year or in 2023, I will 'get back' Mr. Doanh back. That is a belief, hope will come true in the future. ", Mr. Tai expressed his belief that Mr. Tran Kinh Doanh would return soon.
As for the "scandal" of boycotting, it is not denied, the person holding the reins said that it is true that Bach Hoa Xanh in the past time still has many shortcomings in terms of service quality. And 2022 will be the year the Company improves all these backlogs.

In 2022, Bach Hoa Xanh will focus on building the management behind, instead of selling
"This year, Bach Hoa Xanh will focus on building the management behind, instead of selling. Because Bach Hoa Xanh needs a solid foundation for the breakthrough period from 2023.
Regarding the store, MWG is also making changes to increase the customer experience when entering the store. In this mini market model that Bach Hoa Xanh pursues, we clearly determine that the owner has 15 minutes to attract customers. And the problem is how to make those 15 minutes feel most comfortable when entering Bach Hoa Xanh.
In fact, there was a time when our customers really enjoyed going to Bach Hoa Xanh, but 2 years ago it was no longer the case. We have mentioned this issue, due to the epidemic, the company focused on having enough goods, leading to neglect and reduced customer satisfaction at Bach Hoa Xanh, pulling back profits.
Currently, MWG has stores that customers entering will spend 15 precious minutes shopping, staying to buy goods." representative emphasized.
Not to mention, in the current 3 main chains, the service at Bach Hoa Xanh is inferior to the telephone and electronics chains. Answering shareholders on this issue, Mr. Tai confirmed that this statement is correct, and that the Company is improving the quality at the department store as mentioned above.
He also explained, the models of these types of retail are different. It is expected that next July and August, customers will see the change of Bach Hoa Xanh, namely increasing service quality as well as customer experience.
"The new store will improve both the space, the arrangement of goods and the rear warehouse… These improvements will make the staff much more comfortable.
Or if in the past, going to Bach Hoa Xanh felt cramped, the staff was sometimes tired and uncomfortable or there were too many obstacles in the way… then the new stores would no longer exist.
Up to now, MWG said that there have been 2 improved and standard Bach Hoa Xanh stores that customers can come and experience.
https://cafef.vn/ong-nguyen-duc-tai-ke-lai-chuyen-luc-mwg-len-san-toi-noi-bo-1-ty-duy-nhat-mua-co-phieu- mwg-va-quen-di-chac-chan-khi-con-em-18-tuoi-no-se-co-100-ty-de-khoi-nghiep-20220427103856627.chn
You are reading the article
"I said spend only 1 billion to buy MWG shares and forget, surely when the child is 18 years old, he will have 100 billion to start a business"

at
Blogtuan.info
– Source:
cafebiz.vn
– Read the original article
here