Khỏe - Đẹp
Only small sores, many children are in critical condition because of the rapidly spreading disease and dangerous complications
Only a few sores warn that a child has a rapidly spreading disease, which can recover and fully recover after 8-10 days or have neurological complications, respiratory failure, circulatory failure, … leading to death if not treated in a timely manner.
Ms. Nguyen Thu Ha (HCMC) said that her daughter had hand, foot and mouth disease, at first she only had a few spots on her mouth, in the palms of her hands and feet and had a slight fever. Ms. Ha took her son to see the doctor and said he had a sore throat. Ms. Ha pointed out the nodules and asked the doctors if it was hand, foot and mouth, and the doctors said there were atypical signs for further follow-up.
2 days later the baby started to show signs of startling. She continued to take the baby to be examined again and had to be hospitalized immediately. Fortunately, after 2 days, the baby stopped the startle. For two days, this young mother stayed up all night to look after her baby, not daring to sleep and scared because the baby almost lost his life.
Children's Hospital Ho Chi Minh City, doctors are also treating a 3-year-old baby from Hau Nghia, Long An worsened after only 2 days of continuous high fever. Initially, the baby also had 1 or 2 small ulcers. The baby was admitted to the hospital in respiratory failure. Doctors gave mechanical ventilation, good anti-convulsant, timely Gammaglobulin (IVIG) infusion… fortunately escaped acute pulmonary edema, respiratory failure. The baby's case was evaluated for a spectacular recovery.
Baby K. P 6 months old from An Giang emergency because of hand, foot and mouth. According to the family, baby P. started to get sick with blisters on his hands and feet for exactly one day, had a high fever continuously and had constant jerks, he was transferred to the City Children's Hospital.
At the hospital, the doctor determined that the baby was infected with the hand, foot and mouth virus EV71, a strain that easily transfers severe. The boy was hospitalized for more than half a month, he had pulmonary edema, his pulse was rapidly bouncing more than 200 times/minute, had to be mechanically ventilated, given many drugs to stabilize the pulse, blood pressure and dialysis for many days…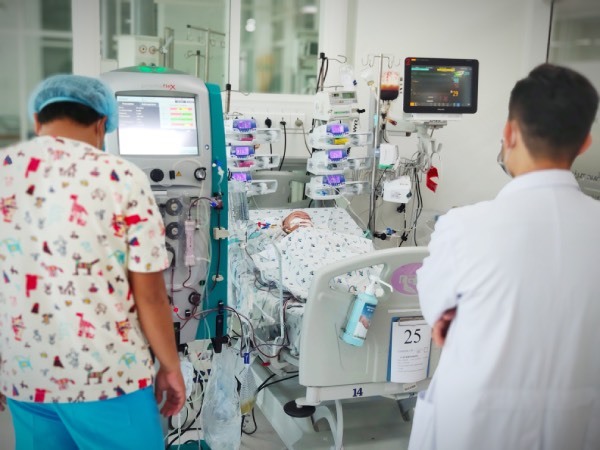 A patient was admitted to the emergency room because of hand, foot and mouth disease.
While Covid-19 is taking the upper hand, other viral and bacterial diseases are also circulating, especially hand, foot and mouth disease. The virus can still invade and wreak havoc on a child's respiratory, cardiovascular and nervous systems.
At the hospital, many children were admitted to the hospital with erythematous vesicles on hands, feet and knees and sore throat. They quickly had neurological symptoms, startling, constant tremors, muscle weakness and acute pulmonary edema.
Doctors warn parents to be careful with hand, foot and mouth disease that is in season (March-April, September-October every year), and severe symptoms develop rapidly and unpredictably.
According to Dr. Nguyen Minh Tien – Children's Hospital of Ho Chi Minh City, hand, foot and mouth disease is an infectious disease that spreads from person to person, easily causing epidemics caused by intestinal viruses. The disease is spread mainly in the gastrointestinal tract.
The main source of transmission is the saliva, blisters and feces of infected children. The disease is common in preschool children because children often have a habit of putting their hands in their mouths.
In the early stages, the disease is usually not life-threatening. However, in some cases, the disease can progress seriously and cause dangerous complications such as encephalitis – meningitis, myocarditis, acute pulmonary edema leading to death, so it should be detected early and treated promptly. .
Manifestations of illness, low-grade fever or high fever, fatigue, sore throat, loss of appetite, vomiting, diarrhea several times a day.
Mouth ulcers: Red sores or blisters 2-3 mm in diameter on the oral mucosa, gums, tongue, causing mouth pain, loss of appetite, refusal to suckle, increased salivation.
Urticaria: On palms, soles, knees, buttocks; short-lived (less than 7 days) can then leave bruises, very rarely ulcers or superinfection.
Children can recover completely after 8-10 days or have neurological complications, respiratory failure, circulatory failure, … leading to death if not treated promptly.
Need to closely monitor, go to the doctor immediately if your child has a disease with a high fever continuously or is startled to sleep, staggers, limps, weak limbs, coma, convulsions…
Dr. Tien said that there is currently no vaccine to prevent the disease, mainly for general prevention. Parents should note: Wear a mask, maintain personal hygiene, wash hands with soap, especially after changing pants. clothing, diapers, contact with feces, saliva, bed linen.
Every day, parents need to wash toys, utensils, doorknobs, handrails, railings, floors, and behind floors with soapy water.
For children with hand, foot and mouth disease, it is necessary to isolate the sick child at home, not to go to kindergartens, schools, where the children play together in the first 10-14 days of the illness.
Khanh Chi
You are reading the article
Only small sores, many children are in critical condition because of the rapidly spreading disease and dangerous complications

at
Blogtuan.info
– Source:
infonet.vietnamnet.vn
– Read the original article
here