Học Đường
Life Style
Pham Huong married a rich man is not as "strong" as the character who gives up his entire fortune to pay tuition fees
For a long time, the US is considered a "promised land" for international students because of its leading educational environment with many of the world's most famous universities. However, along with that is an equally expensive tuition fee and living expenses, but only the warm, young girls dare to dream of studying abroad, unless you have a scholarship in hand.
In Vietnamese showbiz, there are many famous people who send their children to American schools. In fact, they are all stars who have had a certain position in the entertainment industry, are known to the audience and have a non-medium fortune.
Pham Huong
Once one of the famous Queens of Vietnamese showbiz, so even when Pham Huong settled in the US, away from the limelight, she was still the focus of attention of many netizens. The beauty is living a full life with her family, with two children, Maximus and Apollo.
When Max was 2 years old, Pham Huong started sending him to school. The school that this meticulous Miss chooses for her child is Kiddie Academy. Here offers child care from six weeks to 12 years of age with a variety of high-quality programs.
In Kiddie Academy, curriculum for young children focuses on six areas of development: cognitive, communicative, emotional, fine motor (motor that requires a combination of muscles, bones and nerves to perform small and precise movements), gross motor (motor that requires coordination and development of muscle groups) arms, legs, trunk, and feet) and social skills.
For older children, the focus of the curriculum is supplemented with a number of content, including language arts, math, literacy, science, social and emotional skills, and character education.
And of course, going with the quality of education is the commensurate tuition fee. To attend this school, Pham Huong's family has to spend about 310,000,000 VND for a school year. In addition to the tuition fee, Miss Hau also has to pay a number of other fees such as registration fee, reservation fee… If parents pick up their child late, they will pay an additional 6 USD (about 114,000 VND) for every five minutes after school time. end of working hours.
Born into a rich family, the eldest Pham Huong was educated in a top educational environment
My Linh
My Linh is one of the famous divas of the Vietnamese music industry. Besides a successful music career, she is also known to many audiences for her happy family and well-educated children.
The eldest daughter of the family – Anna Truong is a former international student majoring in Music Production at Berklee College of Music. This is one of four highly-regarded music academies, with many famous artists having attended such as John Mayer, Charlie Puth, Au Duong Na Na, Henry Lau…
Having been invested by her family to study music methodically from a young age, Anna Truong has a very successful career in the US
The tuition fee of this school is not cheap, ranging from 12,860 USD (about 298 million VND) – 22,180 USD (about 514 million VND)/semester, depending on the program. In addition, students also have to pay a lot of other costs such as admission fees, health insurance, housing… For a country with an expensive standard of living like the US, My Linh's decision to send her children to school This school is also enough to see the great financial potential of the family.
In addition to her eldest daughter who studied in the US, My Linh's other two children also attended top international schools. Despite inheriting the artistic talent from his parents, My Linh's son decided to study medicine in Australia. Before that, he studied at the United Nations International School in Hanoi – one of the most expensive schools in the capital. Besides, cMy youngest daughter My Anh is studying at an international school in the country.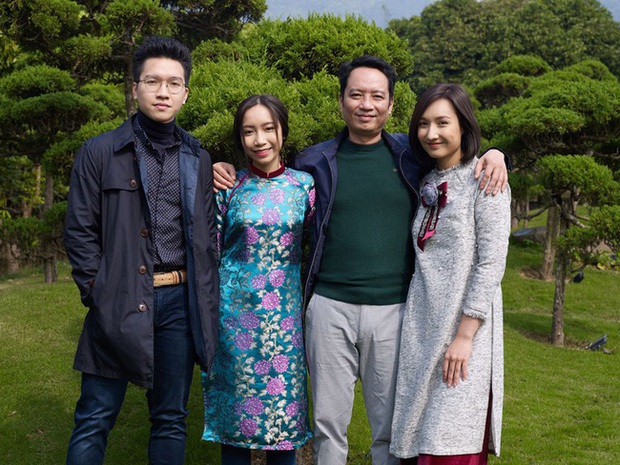 Singer My Linh's 3 children are all talented and have great academic achievements
Thuy Nga
After many years of performing, now comedian Thuy Nga has settled in the US and owns a huge fortune. Therefore, she does not regret investing money for her children to attend schools that cost hundreds of millions of dollars.
According to many information, Thuy Nga's daughter – Nguyet Cat (born in 2011) is studying at Betel Baptis School (USA). Depending on the study program, the school's tuition fee ranges from 9,305 – 12,118 USD/term (about 216 – 280 million VND). When transferring, parents will have to pay 1.7 million VND as the admission fee. Of course, in addition to tuition fees, the family also spends many other expenses such as lunch money, skating money…
Being educated in an international environment, Nguyet Cat has been fluent in English since childhood and is very independent. In addition to studying, Nguyet Cat also has to help her mother with housework such as cleaning the house, watering the plants, cooking… At the age of 10, she flew to the US alone to continue her studies and reunite with her family. mom
Thuy Nga's lovely daughter
Bang Kieu
Before divorcing with Trizzie Phuong Trinh, singer Bang Kieu and his ex-wife had 3 smart and handsome sons. Bang Kieu's eldest son, Bang Phuong (Beckam), studied for a Bachelor of Music program in Guitar Performance at MI Academy of Music. This is one of America's famous musical performing arts schools.
To take the exam, he had to practice playing 14 songs, many of which are very difficult even for a real guitarist. Before that, singer Trizzie Phuong Trinh also shared about finding accommodation for her son Bang Phuong, and at the same time revealed that tuition and living expenses at American University were up to 54,000 USD (about 1.2 billion VND).
"Today, I took Beckam and Ben, Ngoc Anh's son, to Hollywood to see a rented house, boarding to study. The 2-room apartment is tiny, the building is old, built 100 years ago, but the rent is so high. stop.
The apartment is located on the 4th floor, so you have to take the elevator. The elevator is only suitable for 2 people, walking and shaking because I don't know if it is stuck in the middle of the road anymore. In general, a 2-room house in Hollywood near the school is very difficult to find, so it must be captured immediately. The cost of tuition and accommodation for each child is about 54,000 USD a year. she said.
According to public information on the website, Bang Phuong's tuition fee ranges from 80,820 – 82,512 USD (about 1.86 – 1.9 billion VND). It is true that a huge amount of money that only rich people like the family of singer Bang Kieu can send their children to study.
Synthetic
https://kenh14.vn/ao-viet-cho-con-hoc-truong-o-my-pham-huong-lay-chong-dai-gia-cung-chua-manh-tay-bang-nhan-vat- bo-ca-gia-tai-dong-hoc-phi-2022042619122321.chn
You are reading the article
Pham Huong married a rich man is not as "strong" as the character who gives up his entire fortune to pay tuition fees

at
Blogtuan.info
– Source:
Kenh14.Vn
– Read the original article
here