The post sharing about Minh Duy's passion for dyeing bones for animal specimens in the Vietnam Designer Community group received more than 35,000 likes and nearly 2,000 comments. Everyone admired and admired the creativity of the 15-year-old student. No curriculum, no formal training, but only thanks to the guidance of some seniors who went before, then from there tinkering with foreign documents, experimenting to come up with the most suitable formula.
The chance to come to this job came from once seeing a bone-stained specimen on the internet, plus an inherent love of dinosaur fossils and a love of science. Minh Duy started working, at first he had to do it secretly, lack of facilities, so the finished product was not as expected.
Staining of bones for animal specimens requires meticulousness and 100% accuracy because this is an extremely dangerous process that can cause poisoning, cancer, blind burns, infertility…If not careful, , not only affects themselves but also causes harm to the surrounding environment. Bone staining is also the most difficult type of specimen compared to soaking, plasticizing or filling…
Therefore, Minh Duy has his own laboratory to work and is fully equipped with protective gear during the research process. To complete a work such as fish, crustacean, small amphibians can take 2 to 3 weeks depending on the size and thickness of the meat, and for larger animal specimens such as birds, reptiles can take up to several months. The 1.2m snake specimen is the longest animal he has ever made, taking 3 months to produce.
Chemicals used to make specimens are also very difficult to buy in Vietnam, so they have to ask relatives from the US and Canada to buy them and then send them back. In one negligence, the fish was shot in the eye by chemicals, but fortunately because of its low concentration, it was only mildly irritating and did not affect health.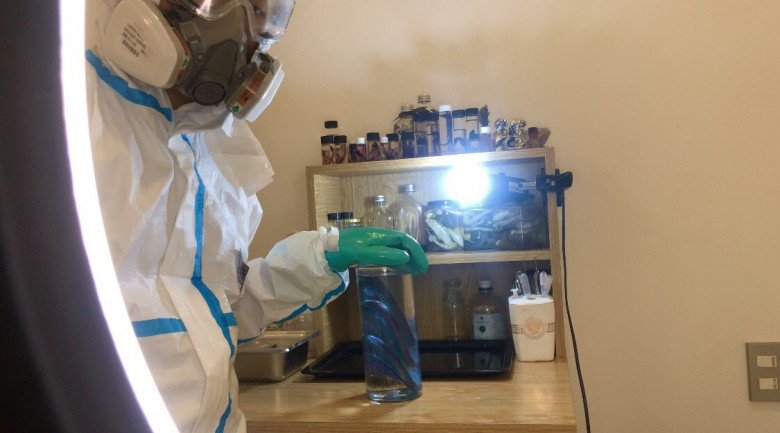 Minh Duy's Laboratory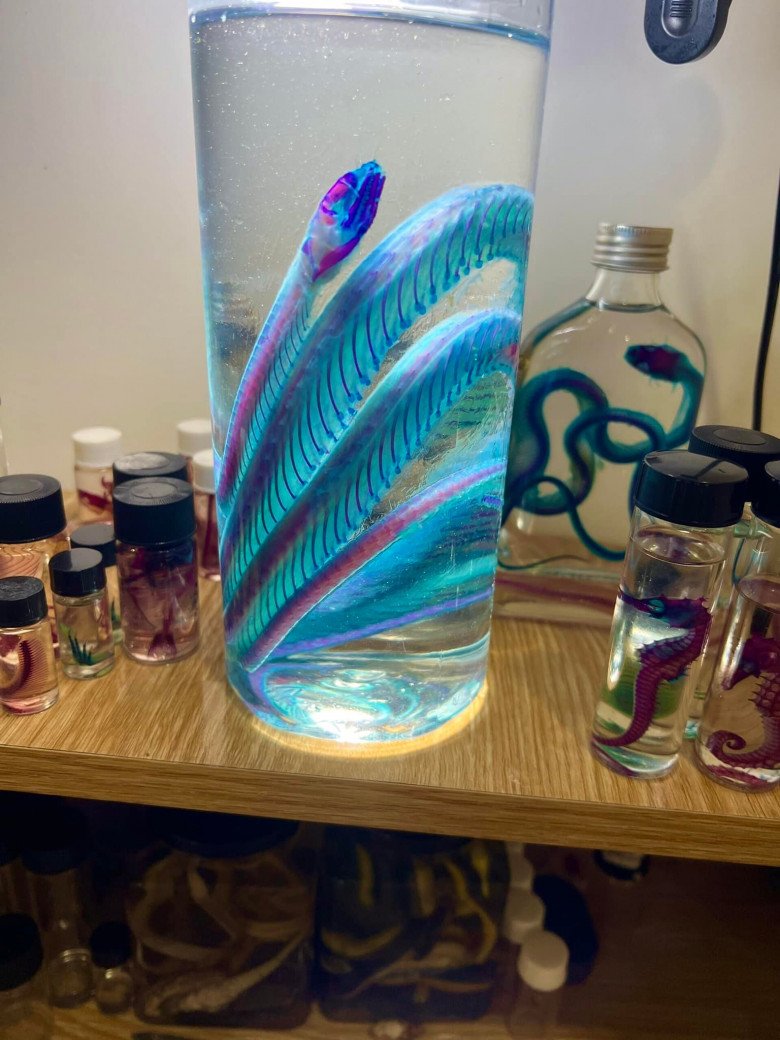 Stained specimen of bones from snakes
The process for finishing involves many steps such as treating the skin and organs of the dead animal, then using chemicals to remove the protein in the specimen to make the skin transparent, and then using the dye formula. to the template. Specimens will be stored in an anti-mold solution for permanent preservation. Excess chemicals will be processed by Duy in the laboratory or taken to the factory for proper treatment, damaged samples will be left to worms to eat. Each time sent to the waste treatment plant costs from 120,000 to 300,000.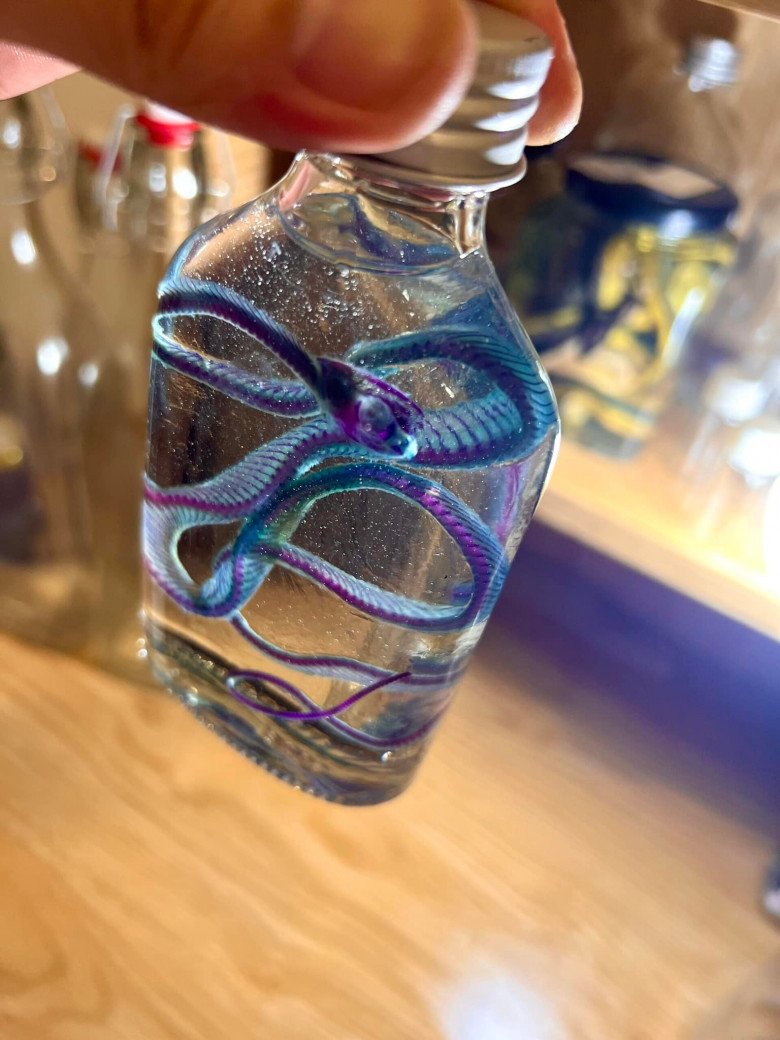 Duy received support from family and friends, but it took a long time to convince him in the past. Not only using arguments, but he tried to focus on his studies, balancing his passion for dyeing bones. Prove to everyone that the product is made from the carcasses of dead animals, not slaughtered while alive.
The source of animal carcasses was obtained by Duy from veterinary stores, fish shops, or given as gifts by friends and acquaintances. After 2 years of learning how to "preserve beauty for death", he has a diverse collection of animal specimens such as Australian dragons, seahorses, all kinds of lizards, many and most successful are specimens from fish and snakes.
Currently, the boy is pursuing this passion for both collecting and trading, but the main purpose of this male student is still mainly collecting. After the post was posted, many netizens offered to buy these bone-dyed specimens for display.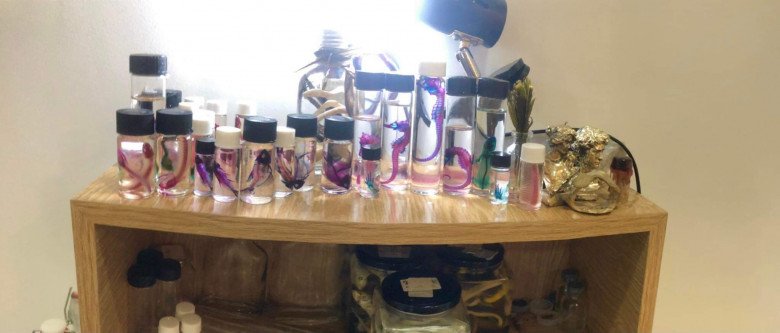 As a science buff but also a fascination with history, Minh Duy aspires to become a history researcher, keeps his passion for bone staining and can become a side job in the future.
The method of bone staining for animal specimens (Diaphonization) has been around since 1897, invented by a German scientist. The way to do this method is to bleach the meat of the animal to become transparent, then dye the bones and cartilage. The specimens commonly used for coloring are mostly small animals such as small fish, birds, reptiles, etc.
Initially, this method was mainly used for biological research purposes. But today, this technique is no longer widely used in the scientific field because of the development of 3D simulation technology, which allows for more visual comparisons and contrasts. Instead, bone staining for animal specimens gradually turned into an art form, serving to display specimens in museums, or to collect and display for those interested.
Photo: NVCC
You are reading the article
The male high school student surprised thousands of people with his passion for saving beauty for death

at
Blogtuan.info
– Source:
Eva.vn
– Read the original article
here