Du Lịch
Top 6 restaurants of the emperor attract gourmets
Enjoy Da Nang cuisine at Ngoc Huong restaurant during the holiday season 30/4 – 1/5
If you want to find an address to enjoy the delicious taste of king crab, you should not miss Ngoc Huong restaurant. This restaurant is located on the famous Vo Nguyen Giap street of Da Nang city. This place is designed with a quite spacious and airy space, with many beautiful views, giving diners an extremely comfortable and pleasant feeling.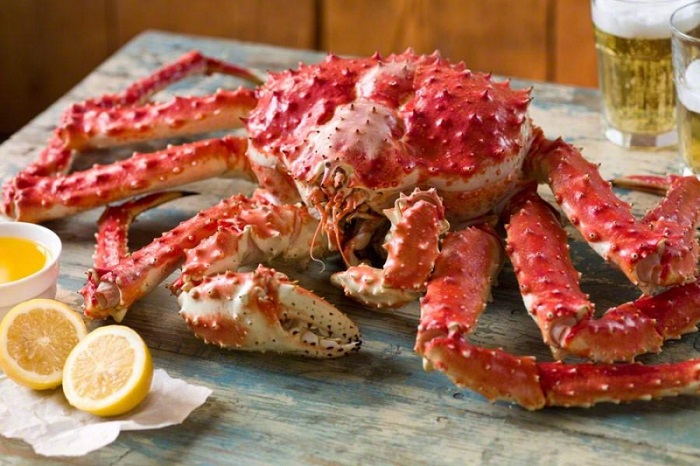 Not only delicious, but the layout of crab dishes at Ngoc Huong restaurant is also Western style. This is also the reason why diners feel like they are eating in a certain American city.
Although it is a luxury restaurant, selling famous Western-style dishes, the price of dishes at Ngoc Huong restaurant is only from 40,000 VND to 400,000 VND. The service style of the restaurant is also very quick and attentive. This is the reason why Ngoc Huong restaurant has become a familiar rendezvous for many foodies.
Address: Lot 8 + 9, residential area 3, Vo Nguyen Giap street, Son Tra district, Da Nang
Opening time: 10:00 – 22:00
Go out to Da Thanh on the occasion of the 30/4 holiday and discover Da Nang cuisine at 4U Restaurant
Located right in the center of Da Nang city, 4U Restaurant is known as the oldest seafood restaurant in the city. Although operating for a very long time, so far 4U Restaurant has kept the enthusiasm and quality in each dish. 4U Restaurant owns a very beautiful culinary space, with a view to many places of the coastal city of Da Nang.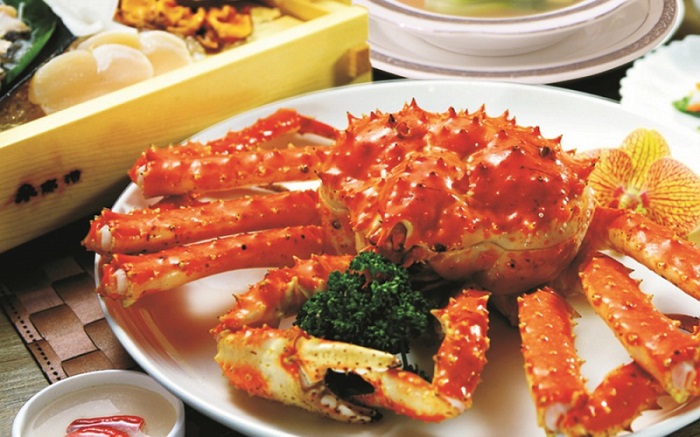 Enjoying food at 4U Restaurant, you can not only feel the delicious taste but also enjoy the cool sea breeze. The price of the dishes at 4U Restaurant is not too expensive compared to the quality. From 200,000 VND to 600,000 VND, you will immediately have attractive and impressive dishes in the style of coastal cuisine in Da Nang.
Address: Lot 9 – 10 Hoang Sa, Son Tra District, Da Nang
Opening time: 08:00 – 22:30
Sabaku – the famous place to enjoy Da Nang cuisine
Sabaku is known as a brand new seafood restaurant in Danang city. This place is designed with 2 floors, luxurious and modern, located on Vo Van Kiet street. Sabaku brings a space that blends the West and the East, giving diners a feeling both strange and familiar. The food here is not only delicious but also beautifully presented.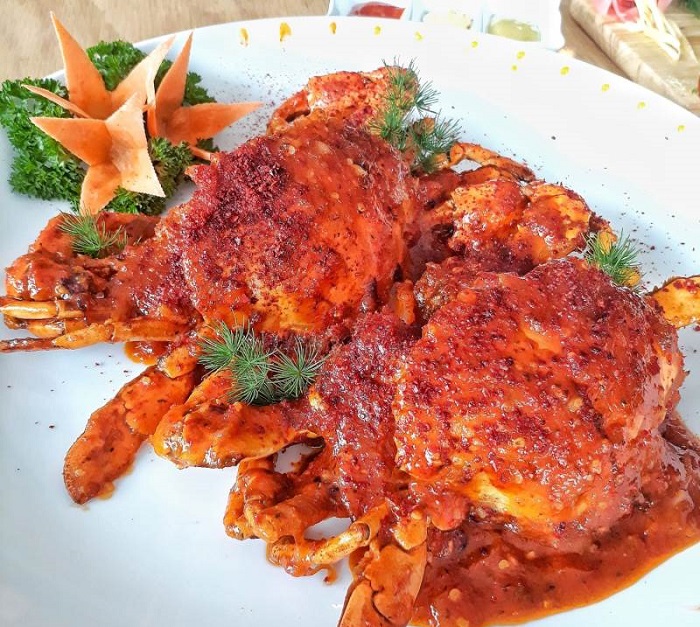 Sabaku owns an impressive menu with 100 different types of seafood, each dish is prepared according to safety and hygiene criteria. The most prominent dish at Sabaku restaurant is king crab. Many people often compare this dish to a Western-style work of art.
Address: Lot 01-A10 Vo Van Kiet, Son Tra District, Da Nang City
Opening time: 10:00 – 22:00
Da Nang cuisine: Try attractive king crab at Crab Com restaurant
Cua Com Restaurant is a very familiar name for tourists who love Da Nang cuisine. This is a large restaurant that has been operating recently and is also quite popular. The Crab has a very unique, spacious and unique culinary space with a rather fancy architecture. Also because it is a luxury restaurant, the dishes at Cua Com restaurant are also quite expensive and are compared by many diners as "expensive to pieces".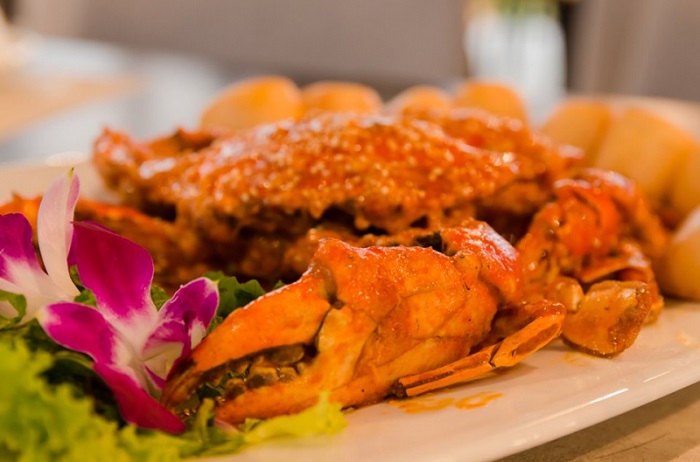 The king crab that comes here is rated as "delicious without criticism". When eating, you will feel the sweetness of the meat, firm and extremely delicious. Huge, red crabs are arranged on a lovely ground, along with many attractive sauces. In particular, there will be many different sizes of crabs for you to choose from.
Address: 10 Vo Van Kiet, Son Tra District, City. Danang
Opening time: 10:00 – 22:00
Red Crab Restaurant – a place to enjoy Da Nang cuisine for gourmets
Red Crab Restaurant is located right on the beautiful coastline of Da Nang city. This place is considered an ideal rendezvous with delicious dishes of Danang cuisine. Most of the dishes here are made from fresh seafood of Da Nang beach.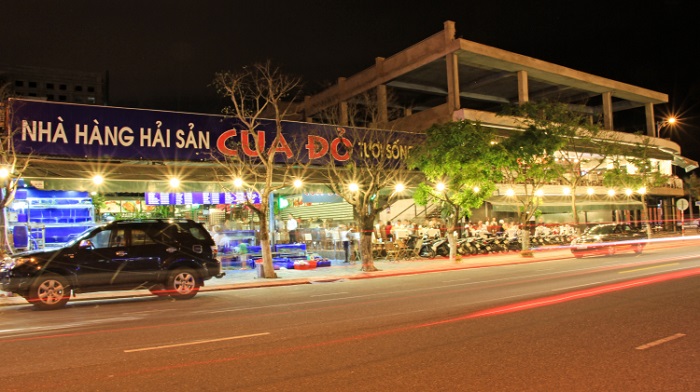 The dish that is considered to attract tourists is the big and extremely delicious king crab. The crab in this restaurant is carefully selected. Those are fresh, firm and aged crabs.
Although it is a luxurious and famous restaurant, the price of the dishes at the restaurant is not too expensive. You can fully enjoy delicious dishes with prices from 100,000 VND to 300,000 VND. This is one of the plus points that makes Red Crab restaurant always crowded with customers, whether it's winter or summer.
Address: 233 Nguyen Van Thoai, Phuoc My, Son Tra District, City. Danang
Opening time: 11:00 – 23:00
Pho Seafood Restaurant with delicious dishes of Da Nang cuisine
If you are a seafood connoisseur, but when you visit Da Nang, you miss Pho Seafood Restaurant, it is a mistake. This is one of the high-class seafood restaurants in Da Nang city, with a spacious and airy space that can accommodate up to 600 guests. This restaurant is designed in a luxurious, Western style.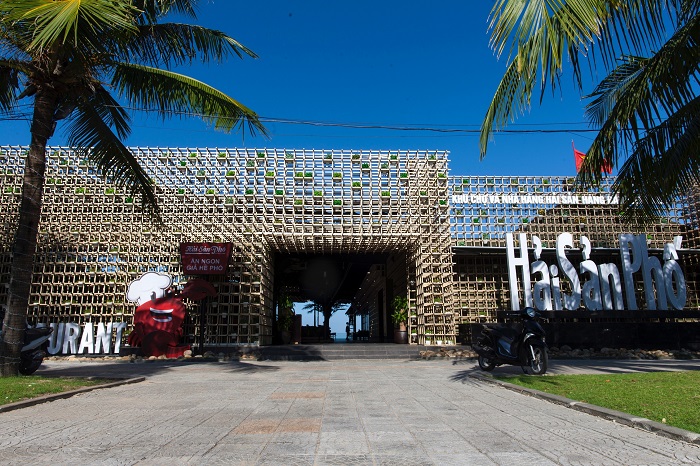 It is especially worth mentioning that this restaurant has nearly 400 dishes made from fresh and attractive seafood. King crab is also considered one of the specialties of this restaurant, it is processed in a unique style, has an attractive taste and is chosen by many diners. Here, you will enjoy many attractive seafood dishes with prices only from 45,000 VND to 300,000 VND, modern culinary space, very good service style.
Address: 51 Vo Nguyen Giap, Ngu Hanh Son District, City. Danang
Opening time: 10:00 – 21:00
Above are the famous king crab restaurants in Da Nang that you should stay for your holiday April 30 – May 1. If you have the opportunity to visit Da Nang, take the time to eat seafood, enjoy the taste of the sea and feel the high-class Da Nang cuisine named king crab.
You are reading the article
Top 6 restaurants of the emperor attract gourmets

at
Blogtuan.info
– Source:
danviet.vn
– Read the original article
here