Life Style
Sức Khỏe
3 extremely dangerous mistakes when wearing sunscreen can cause women to have terrible accidents
In recent days, the northern provinces, including Hanoi, are experiencing the first large-scale hot days of summer. In hot and humid weather conditions, high UV index …, sunscreen has become an indispensable accessory for women. The use of sunscreen not only helps protect the skin from ultraviolet rays from the sun, but also helps reduce the harshness and discomfort of riding a motorbike in the summer.
However, this outfit, besides shielding women from the summer sun, has also caused many unexpected dangers. There have been many horrible accidents related to this outfit, but how to wear sunscreen to ensure safety when participating in traffic, many people are still subjective.
Sunscreen gets caught in the wheel
A traffic police officer from the Hanoi Traffic Police Department, said: Through the process of responding at the checkpoint, at noon it was hot and sunny, many women wore tight sunscreen like "Ninja" but joined traffic again. act hastily, lack of observation… Actually, how to wear is their right, the law does not prohibit it, but wearing this is very easy to cause an accident that not only limits visibility but also makes it difficult to handle situations when participating traffic…
Sunscreens, like raincoats, come in several types of long, full-length designs down to the feet. However, the use of skirts, sunblocks with long sleeves can cause entanglement, affecting the mobility of the wearer, thereby reducing the reaction speed when the vehicle occurs in an accident.
Not to mention the long sundresses can also get caught on the motorcycle wheels when sitting in the back. At that time, the driver of the vehicle was pulled back by his shirt, and the vehicle fell, leading to a fall on the road, very dangerous.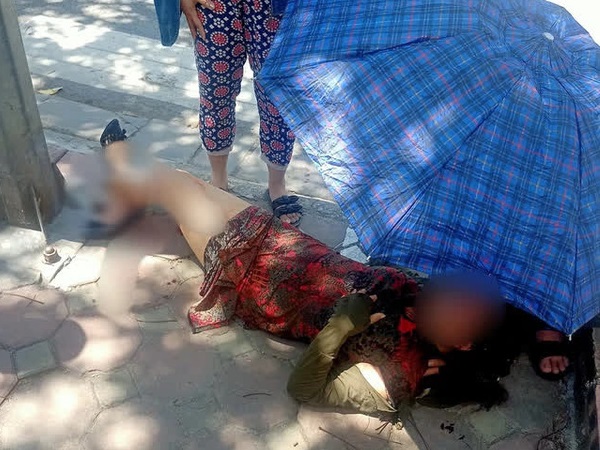 The woman had a terrible accident due to sunscreen
Sunscreen restricts visibility
Currently, most sunscreens are designed with closed hoods and high zippers in the front to replace masks. However, this is also one of the causes leading to accidents related to this costume. When wearing a sun hat on a helmet, it will partly obscure the view of the two sides of the user.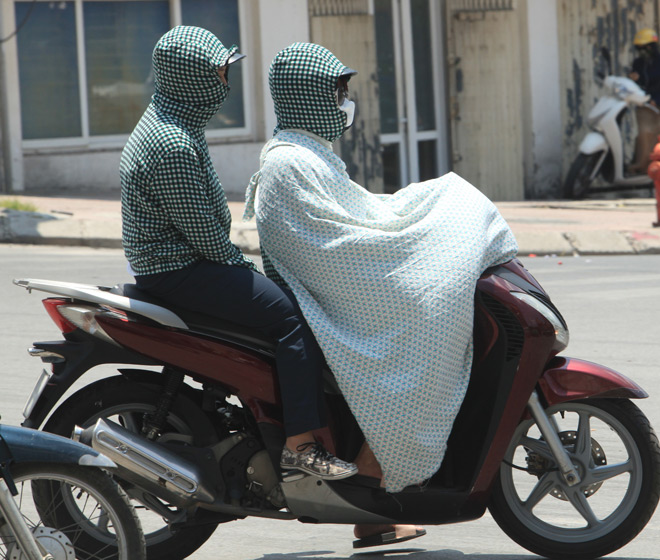 Many women use a lot of sun protection accessories at the same time such as hats, masks… resulting in limited visibility when participating in traffic.
In addition, there have been many accidents when women moved when there was a sudden storm, the wind was very strong, sunscreen clothes and skirts at this time would obscure the vision of the eyes, limiting the ability to control. vehicle, causing the steering wheel to be lost, or the vehicle to fall when traveling on a flooded road due to heavy rain.
Not to mention, many women also use large-sized masks and sunglasses to help protect their faces from the sun, but these masks can affect the wearer's vision. dangerous when riding a motorbike.
Thus, the improper use of sunscreen has resulted in limited visibility, so many women have pushed themselves into dangerous situations when participating in traffic.
Sunscreen reduces women's sensitivity to warning sounds
In addition to limiting visibility due to excessive use of sun protection accessories, this also leads to a limitation in hearing warning sounds when participating in traffic.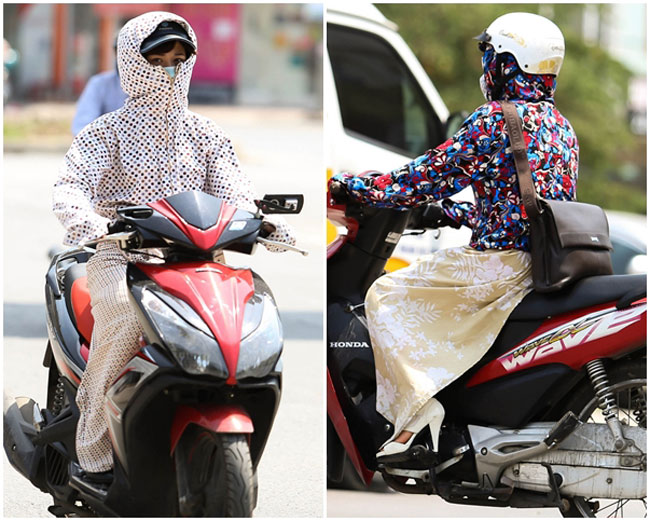 The tight cover can prevent you from hearing the car horn from behind
The fact that many women are covered from head to toe along with wearing extra helmets makes it difficult to hear the warning sounds from other vehicles. When a collision occurs, the driver of the vehicle will lose his temper and an accident will occur.
How to wear sunscreen effectively and safely?
It is currently a hot summer time, everyone who goes out, especially women, has a need for protection. However, how to dress to ensure both sun protection and traffic safety is a matter of concern.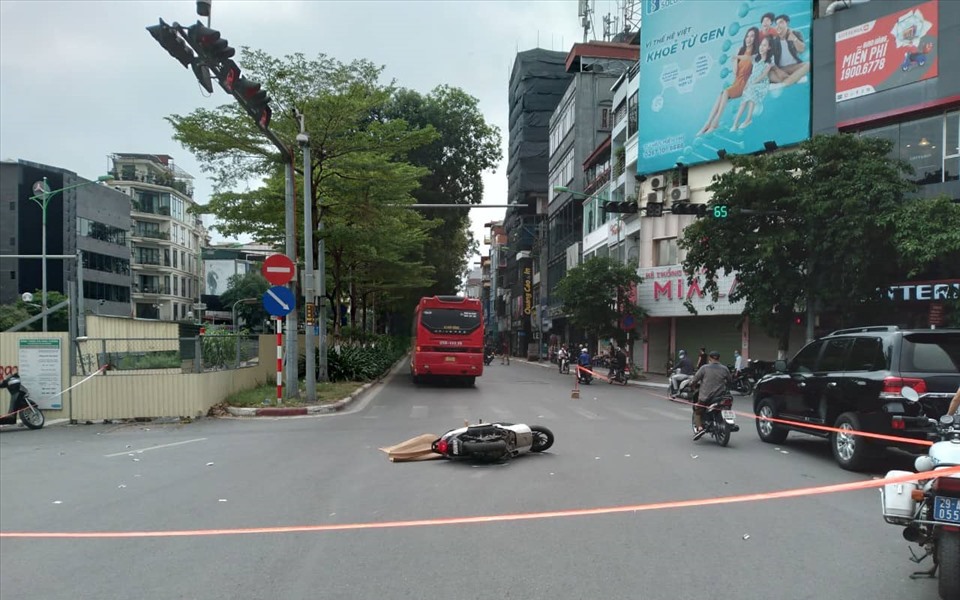 To limit unfortunate accidents, women should choose sun-protective shirts and skirts that are not too long or wide. If it is too long, it can be trimmed to avoid sweeping to the ground and getting stuck on the wheel. When sitting in a car or operating a vehicle, you should zip up, roll up your shirt neatly and observe carefully before starting.
To avoid the risk of an unfortunate accident, it is best to choose a skirt, sunscreen that is tight but still ensures effective sun protection. The best length is to the ankle. When sitting, you should not leave your skirt, sunscreen covering the back of the car, which can easily get stuck leading to an accident.
At the same time, the fabric must also be ensured, avoid strapless dresses with soft elastic materials, when riding, it is easy to get caught in the rear wheel.
In addition, when using other sun protection accessories, it is necessary to ensure the observation, vision and sound factors to be able to easily observe and hear the warning sounds from other vehicles.
https://afamily.vn/canh-bao-3-sai-lam-cuc-nguy-hiem-khi-mac-ao-chong-nang-co-the-khien-chi-em-gap-tai-nan- Kinh-Hoang-20220427145710768.chn
You are reading the article
3 extremely dangerous mistakes when wearing sunscreen can cause women to have terrible accidents

at
Blogtuan.info
– Source:
Kenh14.Vn
– Read the original article
here