Gia đình
A family of 5 spends 44 million VND per month, netizens commented "that's normal"
Ms. Tram gave a cost estimate of up to 44 million dong, many Japanese commented that the items on the list could be even more expensive.
The issue of living expenses in the city has never ceased to be hot, especially when the economic situation is difficult but living expenses, electricity and water, house prices… simultaneously increased. Recently, the online community was excited again when a Hanoi mother shared her family's spending table.
Specifically, in the list of basic expenses that need to be spent every month, she spends up to 44 million VND/month to have enough. At first listen, everyone will think it is a lot. But when looking closely at each item to spend, most social network users nodded and said: "So it's normal, can't reduce any amount".
Ms. Tram, 32 years old, from Hanoi said that her family has 2 husband and wife and 3 small children, including a newborn baby. They have not bought a house but are currently renting an apartment in Dong Da district, Hanoi.
Her main job is selling online with a monthly income of about 25-40 million VND. Her husband's job is in electricity and water, and his monthly income is about 12-16 million VND. Together, she and her husband have a monthly income of about 45-50 million VND. Because the expenses are too much, every month her family spends most of this income, so they cannot save money to buy a house.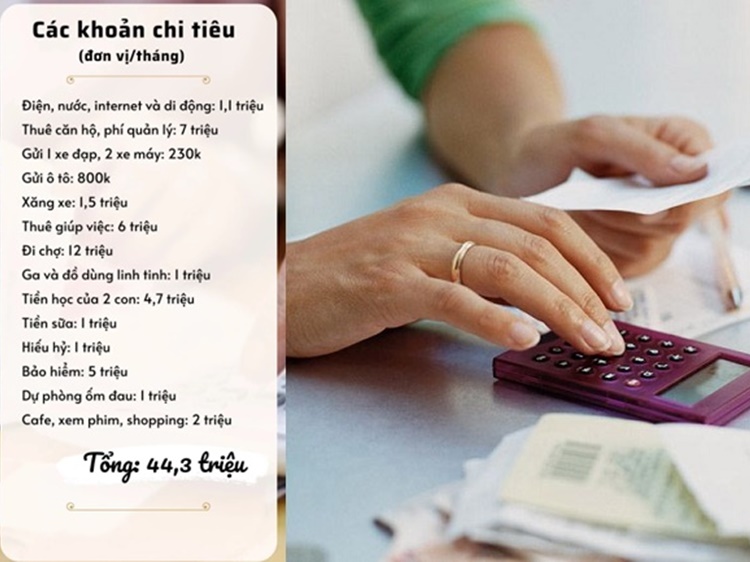 The specific expenditure table of Ms. Tram's family
When Ms. Tram first shared about 44 million VND, everyone was surprised because it was too high compared to the average income of Hanoians. But Ms. Tram has given a list of fixed amounts to prove and according to her, it is impossible to reduce any amount:
– Electricity, water, Internet and mobile bills: 1.1 million VND.
– House rent and management fee: 7 million VND.
– Parking fee: 230,000 VND (for sending 1 bicycle 30,000 VND and 2 motorbikes 200,000 VND).
– Car deposit: 800,000 VND.
– Fuel cost: 1.5 million VND (Because her car is only used to go home or go out on weekends, it costs more, but every day she goes to work or takes her children to school, to the market… motorbike for convenience).
– Rent for maid: 6 million VND.
– Food for 5 people and 1 maid: 12 million VND (To save money, every weekend she lists all the items she needs to buy and then goes to the wholesale market to buy one. Her whole family eats breakfast at home. and to enrich the meal, she just alternates to avoid boredom, fried rice, sticky rice, vermicelli, porridge, noodles…).
– Gas and other miscellaneous items in the house: 1 million VND. (Usually, my family doesn't use up all the gas cylinders every month, but they have to buy things like toilet paper, toothpaste, soap, etc.)
– Tuition for the children of 2 older children: 4.7 million VND (2 of her children go to public schools + English tuition).
– Milk money for children: 1 million VND.
– Filial piety: 1 million dong.
– Insurance for all 5 family members: 5 million VND.
– Weekend entertainment money such as coffee, movies, shopping: 2 million VND (On weekends, she and her husband often take their children out to play, if they don't go in a week, they will save it to make up for traveling on holidays. ceremony).
– Sickness reserve: 1 million VND.
Thus, the total cost: 44.33 million VND.
With such detailed expenditures, the online community thinks that it is not exaggerated, not wasteful. Accordingly, if compared with the spending of each person's family or putting themselves in the situation of an insider, everyone recognizes that it is difficult to reduce or reduce any amount.
Even many people think that if they spend like Ms. Tram's house, the cost will have to increase even more because there are things like car parking, house rent, salary for maids… in many places even higher.
"What year is this article in, but the car deposit has 800,000 VND? The cheapest is 1.2 to 1.5 million VND"; "The family of 3 children, 1 newborn baby, but hiring a maid of 6 million is still too cheap. Not to mention her family's expenses for diapers, car parking, electricity and water, and food are still spent at an economical level. My house is in the same situation as this sister's, the spending is even more, but I can't save anywhere."
"Can you still rent an apartment of 7 million VND/month in Hanoi for 5 people? I live in Saigon and rent an apartment for more than 10 million VND with a 2 bedroom apartment.
"It's reasonable to spend like this. Electricity, water and gas in this house are low. Gasoline prices increase, electricity and air conditioners are better in the summer than the other list"… are just a few of the many comments that suggest that Ms. Tram's household expenses are reasonable.
Most users think that only insiders understand that any number is optimal. Particularly for things like entertainment expenses, letting children go out on weekends are also reasonable, because living should not be too frugal. When you take your family out, you have to spend millions if you use outside services.
"I think that spending like this lady's house is reasonable, not thrifty. Looking at many millet households spending a lot of money but sweating"; "Reading the spending table with the amount of helpers and insurance is something not everyone has, but the rest is normal, the rent is already 7 million dong!".
"I don't hire a maid, don't rent a house, don't rent a parking space, but the couple's family with 3 children under 7 years old each month spends 2/3 of this money. I'm in the province, not in the capital"; "Family of 4, every month spends 40 million, if anyone doesn't know, just say it's wasteful, but the money alone for diapers, milk, porridge, miscellaneous things around me is more than half"…
In addition to the agreement with the expenditure table, many people think that such a spending level is high and only suitable for families with a commensurate income.
"High or low is more or less due to their income and financial ability to plan for life, each person has different living and working needs"; "What kind of income is spent like that. Workers have the consumption of workers, office workers have the consumption of office workers, business people have the consumption of business people, the rich have the consumption of giants… This does not compare anyone to anyone, or how is reasonable."
"Nothing. Just choose rice with fish sauce. The salary is 100 million and the type is 100 million. The salary of 10 million is still good if everything is balanced. Each family has a different way of spending and earning money.
In fact, how to balance spending in each family depends on each individual situation. There will be people who want to save money, there will be people who want to relax a bit, and even many people think that it is necessary to … Not to mention this also depends on the income of each family.
And you, what do you think about the expenditure table of Ms. Tram's family?
According to www.phunuonline.com.vn
You are reading the article
A family of 5 spends 44 million VND per month, netizens commented "that's normal"

at
Blogtuan.info
– Source:
infonet.vietnamnet.vn
– Read the original article
here