Giải trí
Phuong Trinh Jolie's ex-mother-in-law came to the wedding, the new mother-in-law loves her daughter-in-law's stepdaughter
WATCH VIDEO: Close-up of 's wedding Phuong Trinh Jolie and the arrival of his stepdaughter Mia.
The lavish wedding of Phuong Trinh Jolie and Ly Binh ended 3 days ago, but the side stories still attract the attention of netizens. From a bold wedding dress showing off the bride's bust, Phuong Trinh Jolie's 9-year-old stepchild appeared on stage for the first timewent to the wedding ceremony with nearly 100 gold trees and a jewelry set worth 2 billion VND…, all of which made the audience excited.
On April 25, the dreamlike wedding of Phuong Trinh Jolie and Ly Binh took place, making the whole Vietnamese showbiz bustling, "tingling" to send congratulations.
Few people know, another special character also present at Phuong Trinh Jolie's wedding is her ex-mother-in-law. Standing below observing the important moments of the ex-daughter-in-law with the new groom, she watched intently, used her phone to record, sometimes even moved to tears.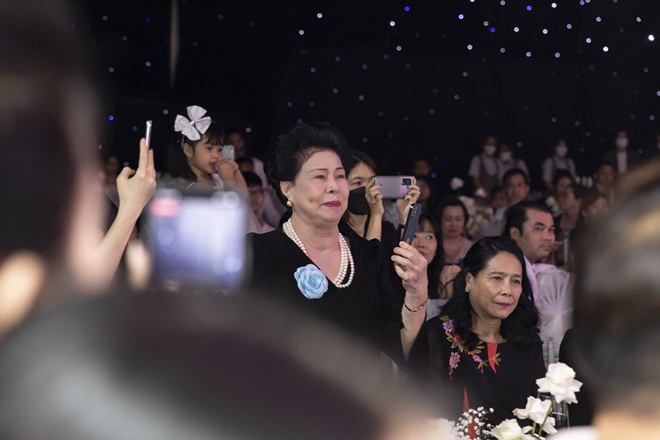 Phuong Trinh Jolie's ex-mother-in-law was touched when she looked at her ex-daughter-in-law and granddaughter on stage. This moment was recorded, causing "fever" on social networking forums.
In addition, in another moment, Phuong Trinh Jolie's new mother-in-law and ex-mother-in-law stood close together, surprising many people.
On the forums, many comments praise and admire Phuong Trinh Jolie because she still maintains a close relationship with her ex-mother-in-law. It is rare to see a wedding where the ex-mother-in-law shows up and supports her daughter-in-law so enthusiastically. This partly proves the cleverness of Phuong Trinh Jolie's behavior.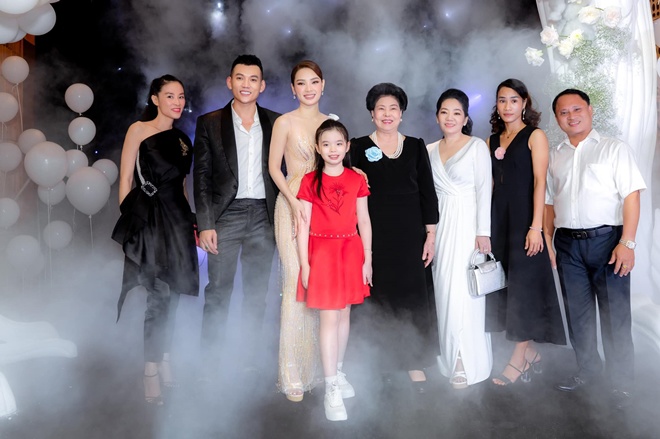 Phuong Trinh Jolie's new mother-in-law and ex-mother-in-law stand side by side closely.
As for Phuong Trinh Jolie's new mother-in-law, she said with tears of emotion about the wedding:Everything happened naturally and wonderfully. Words cannot express the joy. Sincerely appreciate and thank all guests who came to celebrate, thank you, friends, close friends of Phuong Trinh Jolie and Ly Binh for standing with the family."
Notably, the new mother-in-law loves Phuong Trinh Jolie's stepson very much. During the stressful time of the epidemic, when asked if she missed her son Ly Binh, she replied: "Yeah, I remember that too, but not as much as I miss Mia." Ly Binh's mother can cook any dish Mia wants, during the holiday season, she just wants to see her grandson.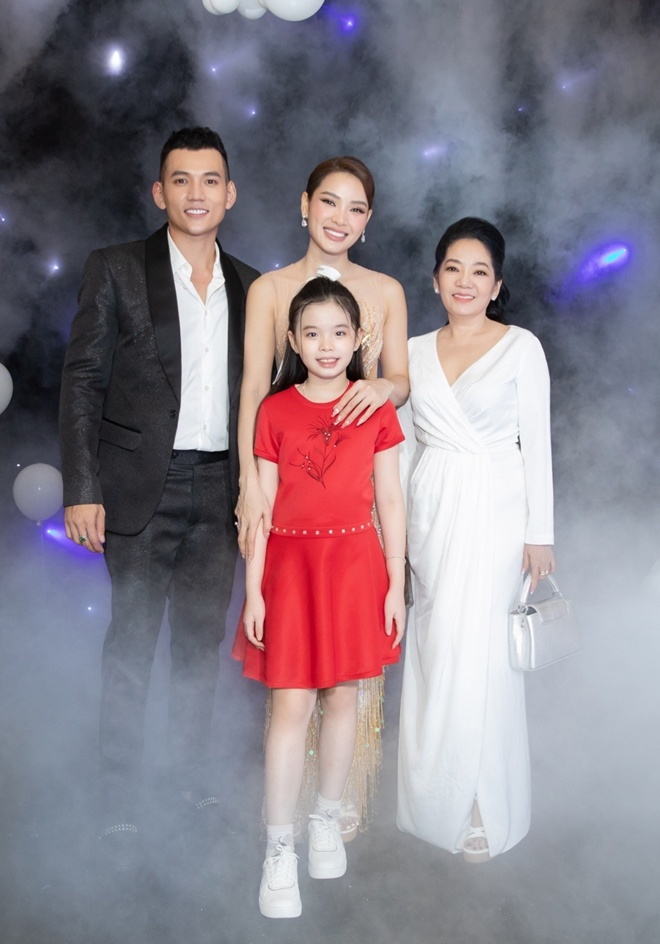 Phuong Trinh Jolie's new mother-in-law loves and pampers her stepdaughter-in-law.
On his personal page, Ly Binh updated many family photos with the appearance of baby Mia. Phuong Trinh Jolie's stepdaughter also attended the intimate birthday party of Ly Binh's mother in 2021. She happily took pictures with everyone, especially prepared her own gifts for her with a sweet kiss. Ly Binh's biological mother happily hugged and kissed her daughter Phuong Trinh Jolie.
On Mia's personal page, this series of photos was shared with the caption: "Wishing Grandma Mai Ly a happy birthday, always be healthy with her children and family."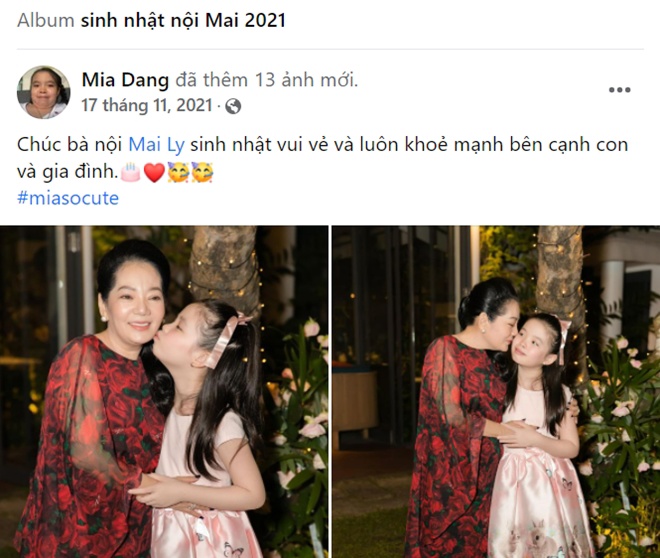 Phuong Trinh's stepdaughter Joile sends birthday wishes to Ly Binh's biological mother. The two grandchildren look extremely affectionate and close, making people admire.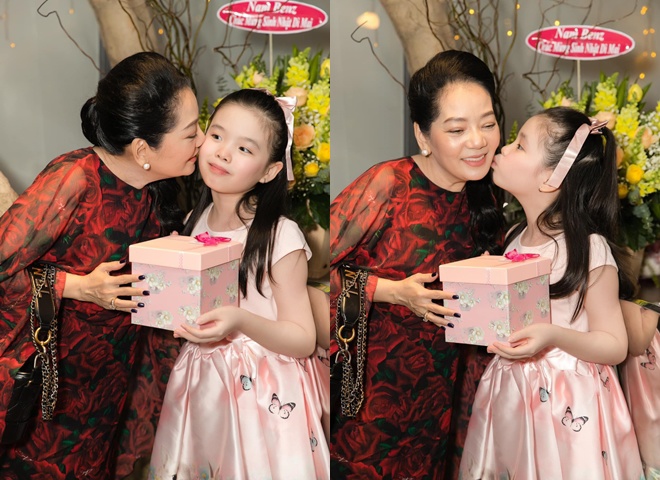 The girl also prepared her own gift, giving her a sweet kiss.
This is also the reason Phuong Trinh Jolie loves her mother-in-law no less than her biological mother. The actress once praised: "Mother is a very psychological, modern thinker. In the past, my mother was not a bride, so now she does not force me to do this or that. I and Ly Binh decided to live with her after we got married. I don't feel pressured to live under the same roof with my mother-in-law. I am also not burdened with having to be good at housework, on the contrary, I am very relieved because I have my mother by my side."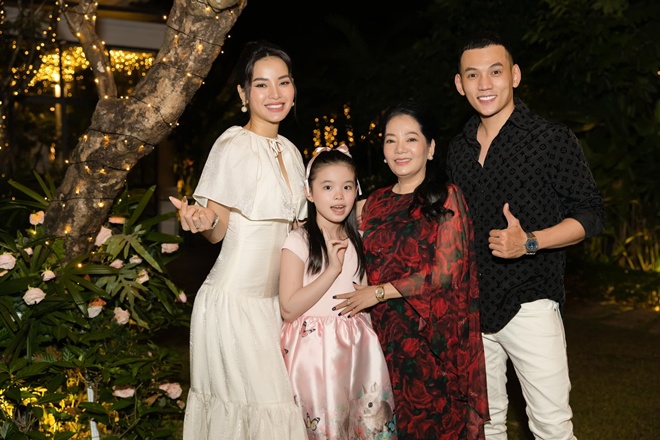 Phuong Trinh Jolie has many "winged" words for Ly Binh's mother.
You are reading the article
Phuong Trinh Jolie's ex-mother-in-law came to the wedding, the new mother-in-law loves her daughter-in-law's stepdaughter

at
Blogtuan.info
– Source:
Eva.vn
– Read the original article
here