Đời sống
20 days breaking the group of scammers winning prizes by phone, appropriating 30 billion VND
Faced with many difficulties during the investigation and collection of evidence, but after only 20 days, Ha Tinh City Police "unpacked" a fraud line of thousands of people with an amount of up to 30 billion VND.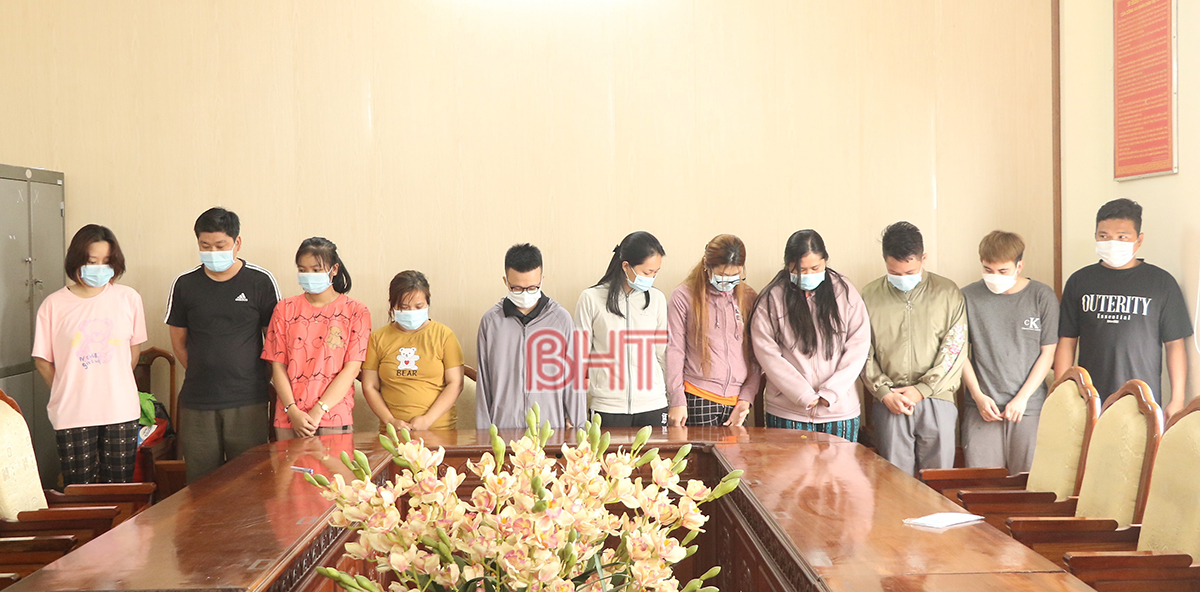 Objects in the group of fraudsters to appropriate property led by Nguyen Van Hieu.
Having severe chronic kidney disease herself, she had to undergo hemodialysis, so Ms. Nguyen Thi S.'s life (SN 1971, Dai Nai ward, Ha Tinh city) was not rich. A year ago, Ms. S. ordered a refrigerator from an electronics store in Ha Tinh city for 6 million VND. Because she did not have enough money for a one-time payment, she bought it in installments.
About 6-7 months later, a strange phone number called, claiming to be the customer service staff of the electronics unit that Ms. S. had purchased from and announcing that she was a "lucky customer" when Honda Vision motorcycle prize. However, because Ms. S.'s accumulated points have only reached 1,500, while she must have 2,000 points to receive a motorbike, this person suggested that she buy some more household goods (hair dryer, rice cooker, etc.) , electric kettle…) of the company to get enough points.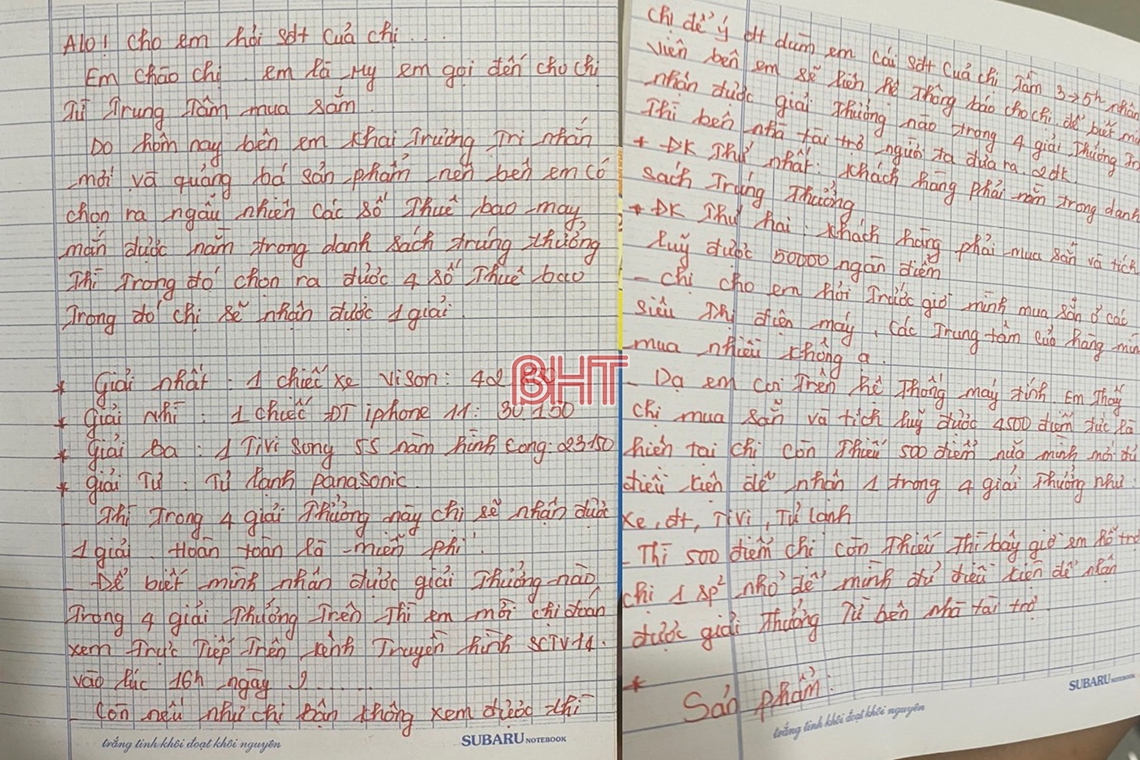 The talk script was created by Nguyen Van Hieu to gain trust from the victim.
When Ms. S. agrees, household items are delivered to the door. In fact, these items are floating goods, poor quality, cheap but attached to "company goods", so Ms. S. has to spend from a few million to tens of millions of dong to buy. In the process of buying more products, Ms. S. received a notice that she was the "luckiest customer" when she won more valuable gifts and continued to buy more products to "accumulate points" to receive rewards.
In less than a year, Ms. Nguyen Thi S. 80 times transferred the amount of 930 million VND to scammers. To get this money, Ms. S. has borrowed money everywhere, from relatives to friends. By early March 2022, when she could no longer manage the money and still did not receive the "prize", this woman knew she had been cheated and reported to the police.
In early April 2022, receiving the letter, the Criminal Police Team of Ha Tinh City Police quickly entered the verification process. Applying professional measures, the functional forces quickly determined that this was a group of organized fraudsters operating in a sophisticated manner in Ho Chi Minh City, so they reported it to their superiors and proposed a dismantlement plan.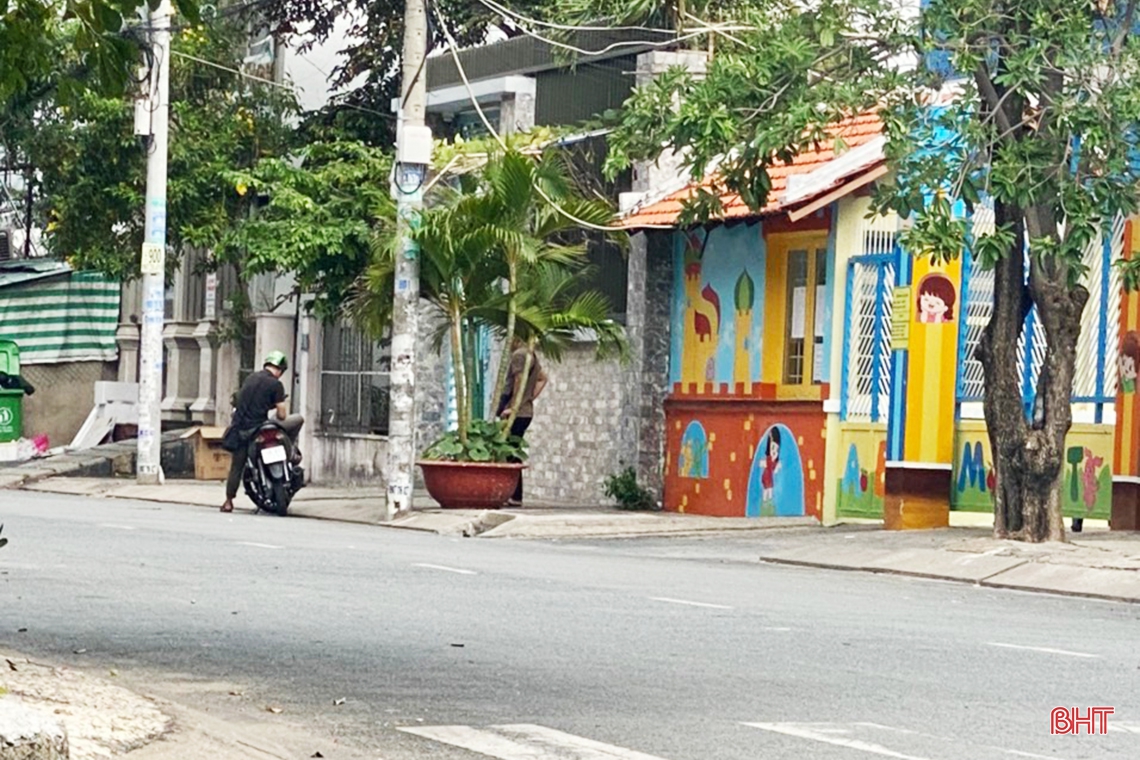 Reconnaissance officers of Ha Tinh City Police monitor and collect evidence about the whereabouts and mode of operation of Nguyen Van Hieu's group.
When the plan was approved, on April 13, a working group of 4 scouts of the Criminal Police Team of Ha Tinh City Police quickly entered Ho Chi Minh City. Due to the lack of initial information on the target group, while Ho Chi Minh City is large and it is in the rainy season, the results obtained are not as expected.
Facing this situation, Ha Tinh City Police decided to strengthen the second working group of the Criminal Police Team to support and coordinate the investigation.
With 8 officers and soldiers working hard, not ignoring even the smallest details, the fraud line with 11 subjects was led by Nguyen Van Hieu (SN 1983, resident in Ward 4, District 4, Ho Chi Minh City). Ho Chi Minh) the leader has gradually appeared.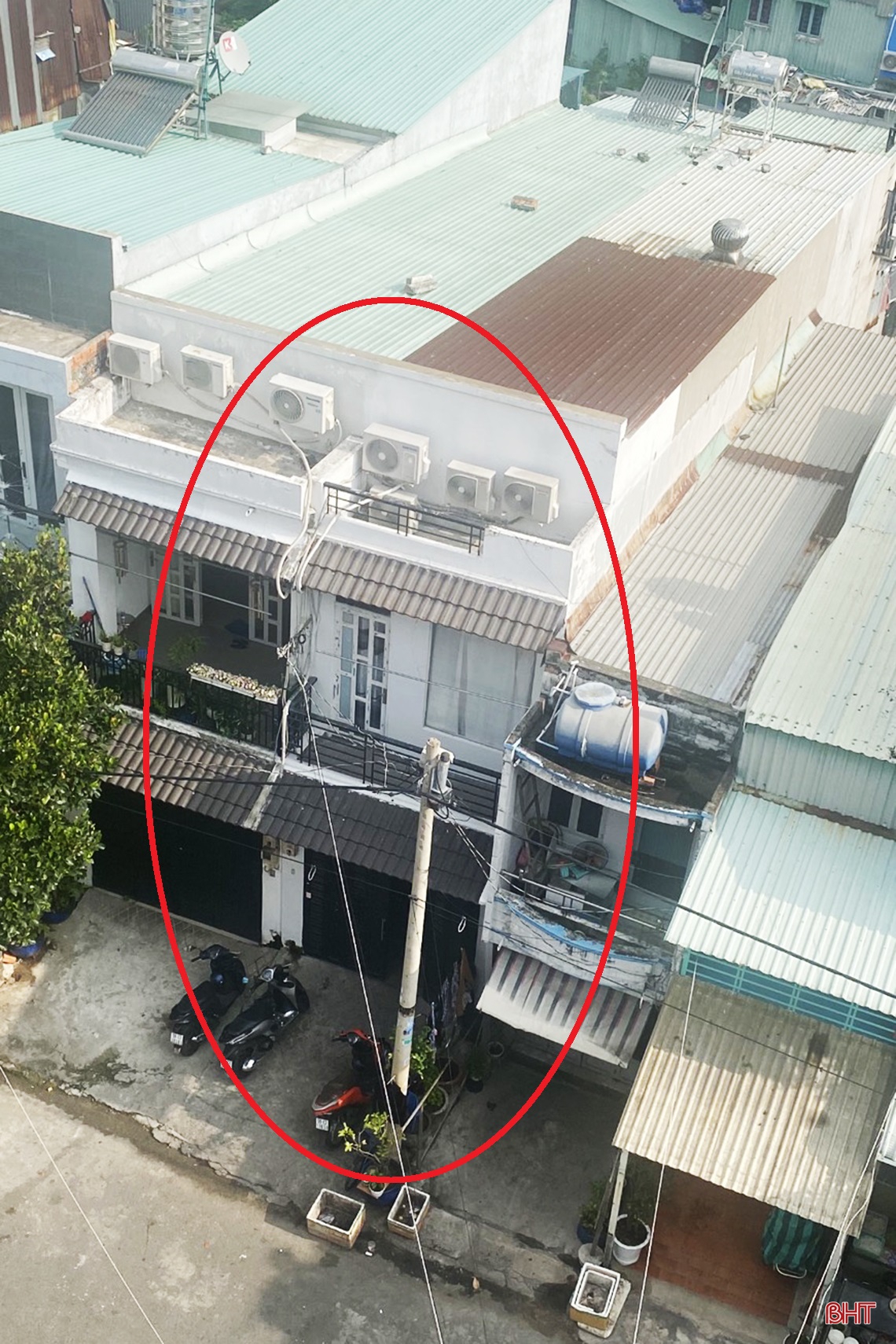 The 3-storey house (red circle) in Tan Kieng ward, district 7, Ho Chi Minh City – where Nguyen Van Hieu rented to drive the scam group to operate.
Lieutenant Colonel Bui Quang Dung – Captain of the Criminal Police Team of Ha Tinh City Police said: The group rented a 3-storey house in Tan Kieng ward, District 7, Ho Chi Minh City as its headquarters.
The house has surveillance cameras around, and while Hieu's team works, "no inside, no outside", food and drinks are ordered online and delivered by shipper. Access is therefore difficult. The scouts had to dress up in many roles, rent accommodation near the 3-storey house continuously for many days to get more information.
When fully grasping the model, operation method, and number of fraudsters, the Ha Tinh City Police Criminal Police Team coordinated with the District 7 Police Criminal Police Team and the Tan Kieng Ward Police Department to thoroughly with the motto "secret, unexpected and full of objects in the scam group".
At exactly 9 a.m. on April 19, dozens of policemen burst into the house and arrested the mastermind Nguyen Van Hieu on the first floor, before the subject could notify "subordinates".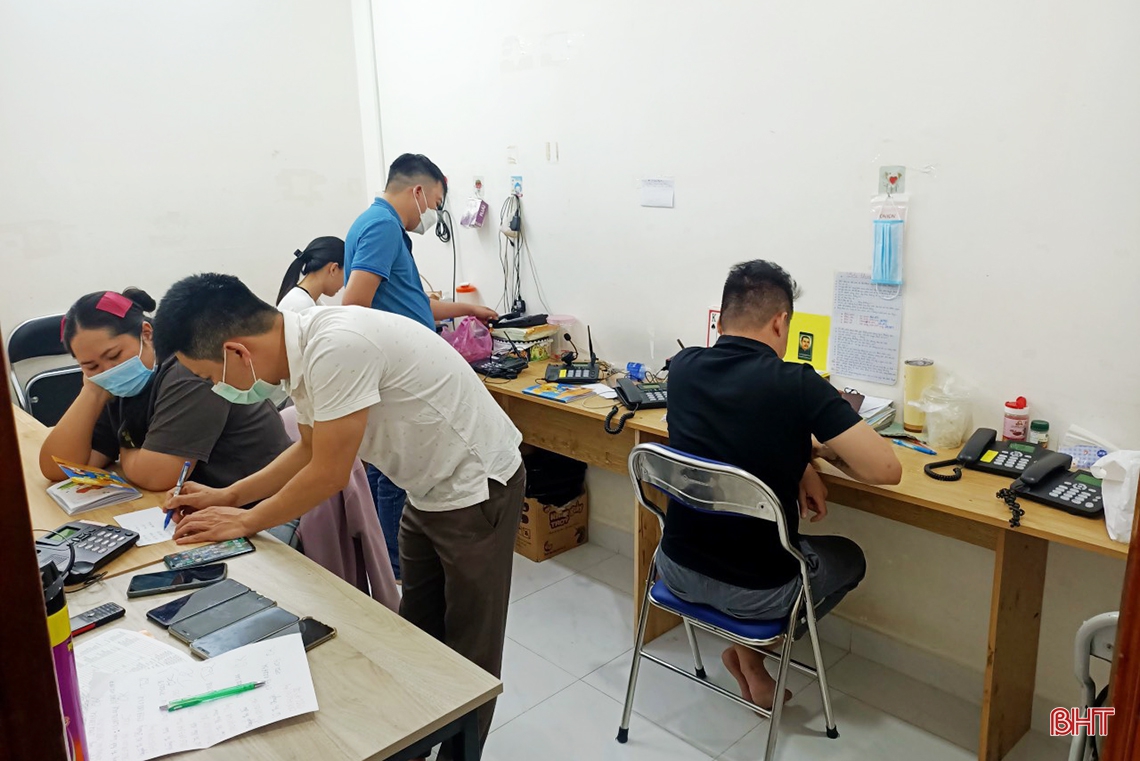 The area on the 2nd and 3rd floors of the house is where the subjects made calls to trick the winners.
On the 2nd and 3rd floors – the main workplace of the scam group, the subjects were caught while "working hard" to make phone calls to bring the victims "into the eye". The functional force also seized 21 more desk phones with sim cards, 130 notebooks with a list of people who were deceived, and personal computers that store data.
Caught in the act, Nguyen Van Hieu and his accomplices knew they could not deny their crimes, so they sincerely confessed. According to the confession, Hieu had previously joined an online fraud organization, so he later set up a phone fraud line to win prizes.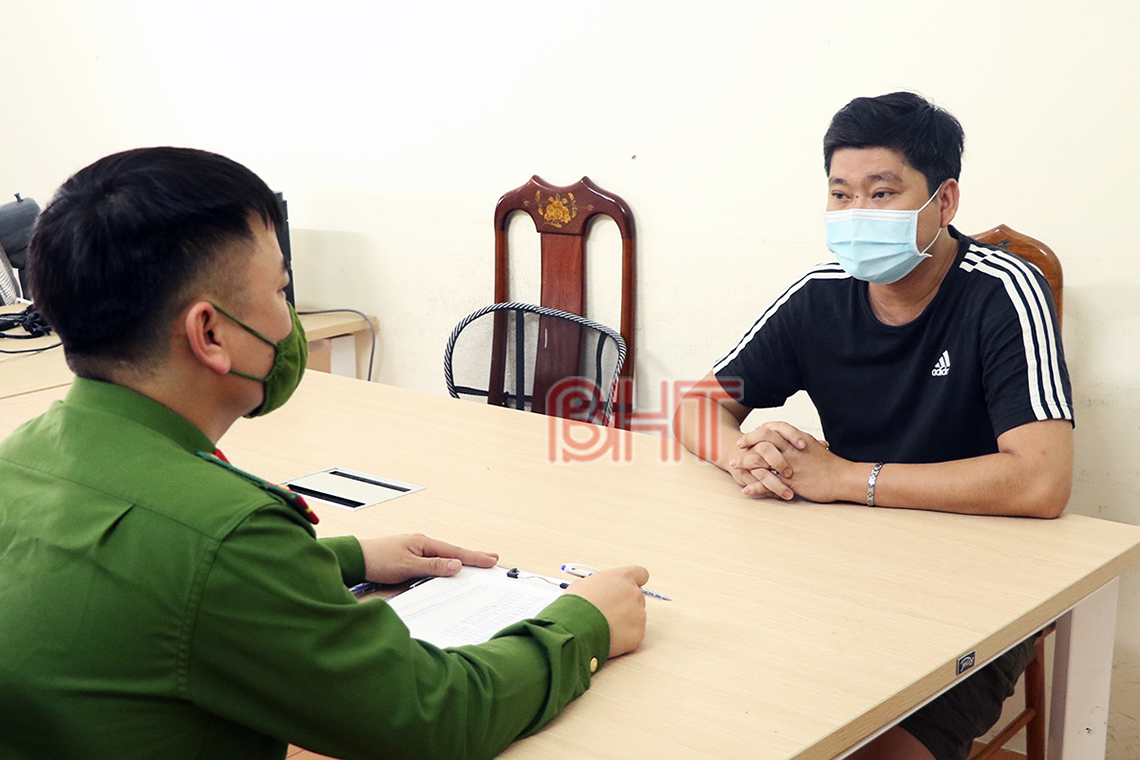 Subject Nguyen Van Hieu confessed to the crime at the police station.
Hieu went online to buy information (phone number, year of birth, address, occupation) of many people for 2,000 VND/case. In this list, there are many people who have purchased goods at electronics stores. Next, Hieu recruited more agents to commit fraud.
In order for the scam to proceed smoothly, Hieu personally wrote scripts suitable for each object, occupation, and residence to gain trust from "prey" and then passed this information along with a phone number to " subordinates" perform.
"For the elderly, Hieu's employees are always soft-spoken, yes yes yes, even "apply for adoption" and then introduce that the company is about to open a branch in the area where they live and will create conditions for accepting their family members to work. If the recipient is a young man, the female staff member will take over and talk swinging, compliments with the content "your voice sounds so cute" are often applied by this group and then make an appointment to find out when The company opens branches in the area" – Lieutenant Colonel Bui Quang Dung informed.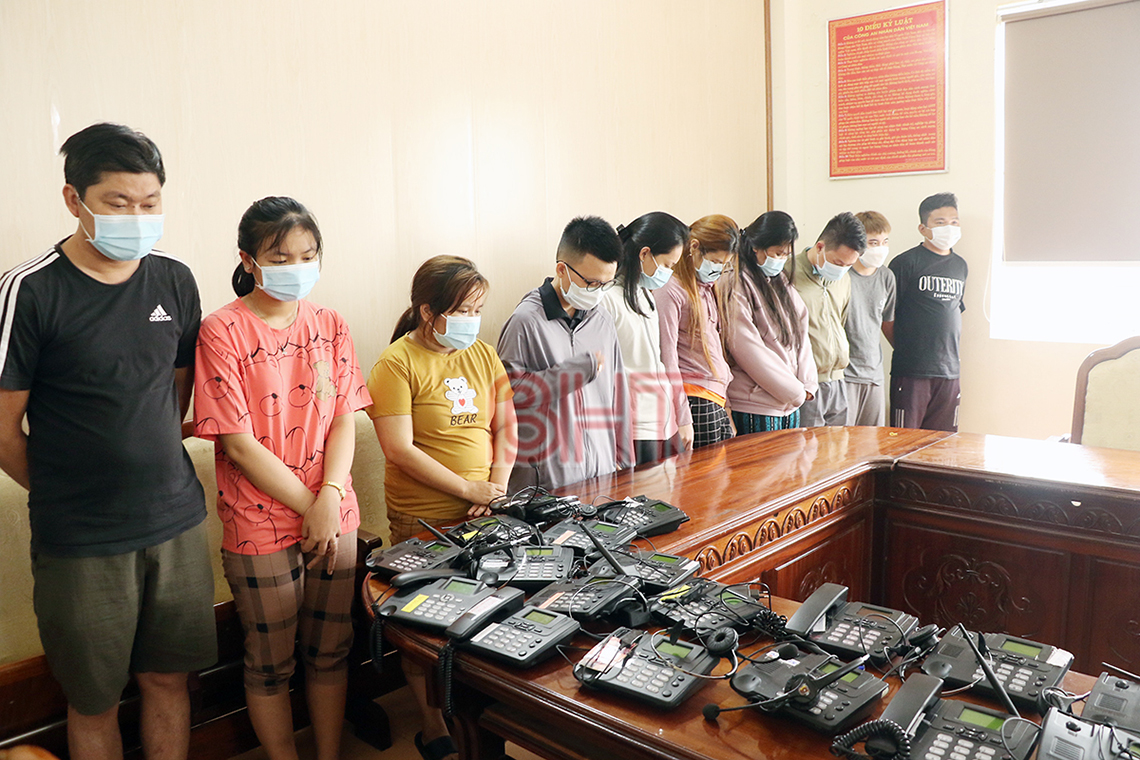 The subjects in the scam group used 21 landline phones with sim cards to call the people on the list that they bought for 2,000 VND/person.
Every day, employees take turns calling the phone numbers provided by Hieu. If the victim "bites the hook", the fraud group will urge them to buy, if anyone hesitates, then Hieu directs other employees to continue calling for advice and exchange. If it is difficult to convince, this group will ignore it and call someone else. Those who agree to buy are "accumulated" to the list to avoid duplicates and this is also the basis for profit sharing later.
The items that Hieu's group sells to people to "accumulate points for rewards" are all floating, poor quality, cheap goods, but when they reach the victim's hands, they become "company goods" with the difference in price. dozens of times, there are products priced at 10-20 million, even higher. Because they are fake goods, many items when they reach consumers are unusable or damaged in a short time.
With such a fraudulent method, from 2020 to the time it was dismantled by the Ha Tinh City Police, thousands of people in all provinces and cities nationwide became victims of Nguyen Van Hieu's group with an amount of up to 30 billion copper.
In the phone call list of the scam group, there are 63 cases in Ha Tinh.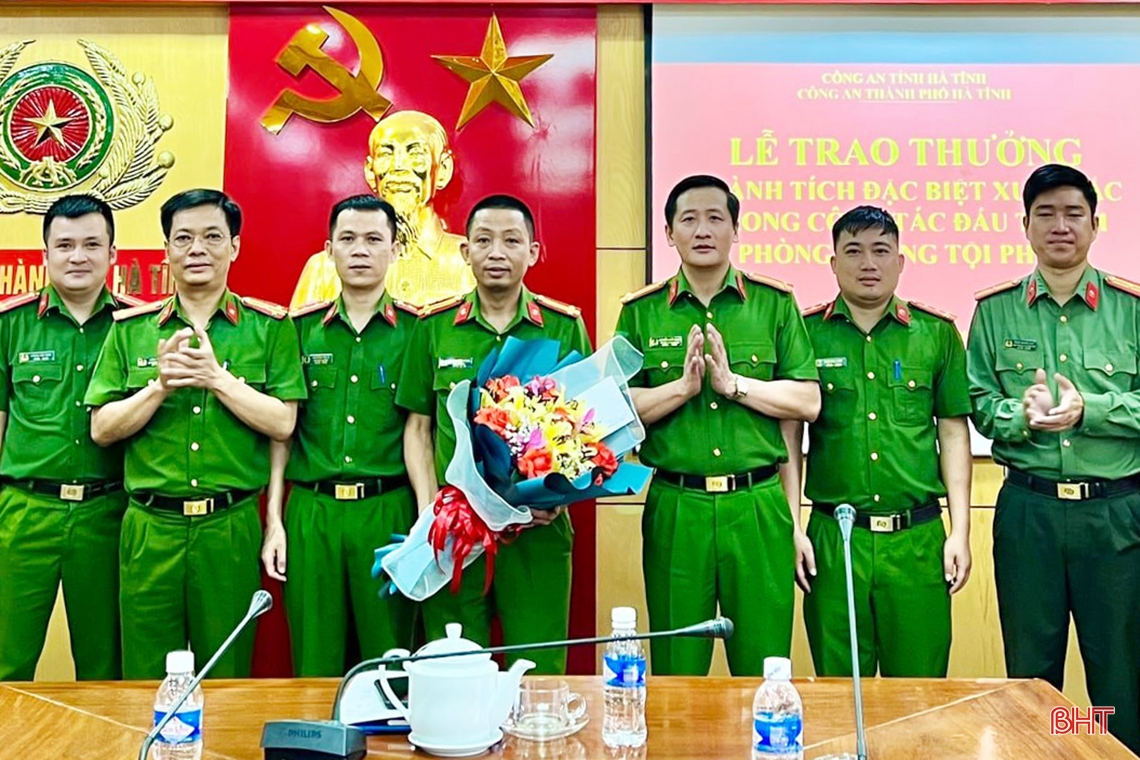 Ha Tinh City Police held a ceremony to commend and award prizes for particularly outstanding achievements in crime prevention by the Criminal Police Team when dismantling a group of 11 people with a total of 11 subjects. The amount of fraud is nearly 30 billion VND.
According to the assessment of Lieutenant Colonel Bui Quang Dung – Captain of the Criminal Police Team of the Ha Tinh City Police, besides the sophisticated, methodical and organized operation method of the group led by Nguyen Van Hieu, another factor One of the most important factors contributing to the successful execution of fraud is the greed and gullibility of the victims. Many people spend hundreds of millions of dong just for the immediate benefit – as in the case of Ms. Nguyen Thi S., to become "lucky customers".
Due to the large amount of money appropriated, involving many people, the Ha Tinh City Police Department transferred the case file to the Office of the Investigative Police Agency of the Provincial Police to accept and continue to expand the investigation.
According to baohatinh.vn
You are reading the article
20 days breaking the group of scammers winning prizes by phone, appropriating 30 billion VND

at
Blogtuan.info
– Source:
infonet.vietnamnet.vn
– Read the original article
here