Nha Uyen is one of the beautiful actresses and screenwriters of the Saigon Drama Theater as well as the TV series. And Aaron Toronto for many years is known as a famous American director. He used to work as a producer and deputy director for films familiar to Vietnamese audiences such as I'm not 18, Chasing, A love story far away, Saigon Yo, To Mai Count, Winning the lottery and directing and scripting the films. short film TV series Bounce Today, Blood Soup…
Both of them got married in 2014 and have 2 lovely and lovely kids. Recently, this couple has just achieved success as a director and co-writer of the movie "Brilliant Night" which is causing a fever at the box office.
Actress Nha Uyen and director My Aaron.
Love each other because of the same madness
Aaron is an American but lives in Vietnam and works in the entertainment industry. It is known that he studied Vietnamese and lived in Vietnam since the age of 18. And Nha Uyen is a beautiful actress born in 1990 from Chau Doc, An Giang. The two met each other by chance.
According to Nha Uyen, she and Aaron first met at her ex-boyfriend's house. At that time, Aaron was a roommate with his ex-boyfriend. In an ex-boyfriend invited over the house, while Nha Uyen and her ex-boyfriend were sitting in the living room, Aaron walked out of the room with only a set of underwear, with long ruffled hair.
The first time they met, Nha Uyen was very scared because Aaron strutted, a big man wearing only underwear. "At that time, I just said "yes, I greet you". He said "Uh huh" and then ran back into the room with a joint. Nha Uyen smiled and remembered the first time the two met.
For the second time, Nha Uyen and Aaron met at the premiere of the movie "Married to a man" by director Luu Huynh. She went with her ex-boyfriend, so she didn't notice Aaron. At the end of the movie, Aaron asked her: "What do you think?", and then the two discussed the movie like a close friend who had met for a long time, causing her ex-boyfriend to leave because of anger.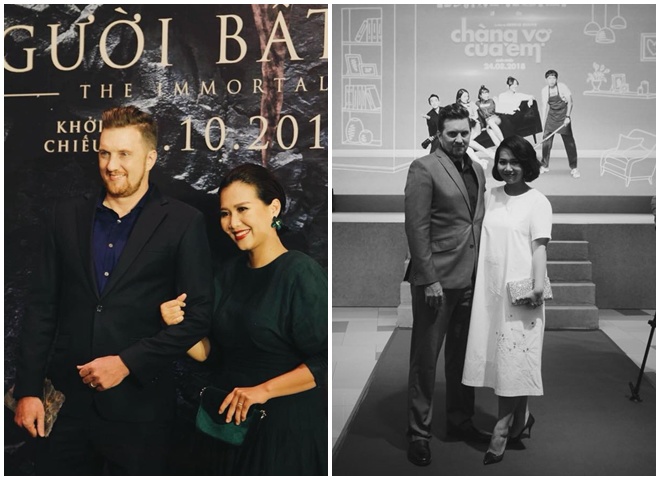 Aaron used to share a house with Nha Uyen's ex-boyfriend.
After breaking up with her ex-boyfriend for 1.5 years, Nha Uyen and Aaron had the opportunity to work together on one of his plays. At that time, Nha Uyen was a dancer, so Aaron invited her to be the choreographer for his play. After a period of working together, seeing that Aaron is cute, gentle, handsome and single, she thought of taking the initiative to "take the saw" and ask him about it. "Dude, do you have a girlfriend? How are your feelings?"
"I just fell in love, but this woman in the profession is always a very cute, gentle, sweet, and cakey actress.', said Aaron.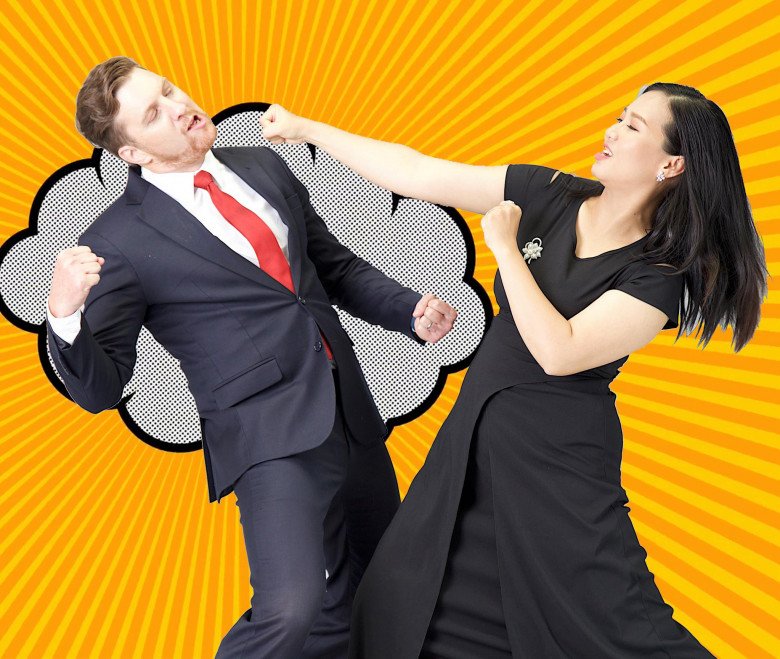 After the confession, the honest confession about the love story, Nha Uyen decided not to "crawl" Aaron anymore because he thought he was not her taste. However, the fate of the two, the madness of the two are the same that brought two people together. Speaking of this, Nha Uyen said that for the first time in her life, she felt that she was crazy, but she had a crazy person with her.
As for Aaron, Nha Uyen is not the type of person that he will marry because it is important to him that the person he loves is at least someone who can speak English and has to travel to many countries. However, Nha Uyen does not have those two things, she is a girl from Chau Doc, An Giang who has come to the city to work, has never been to many countries. But because of a common point of madness, the two bonded together and Aaron took the initiative to "crawl" Uyen. After only 1 week of "holding the saw", Aaron knew that he was going to marry Nha Uyen.
The Western director kept his life until he got married
Nha Uyen and Aaron loved for about 10 months before getting married. The two did not cohabit and Aaron also decided to "keep his boyfriend's life" for nearly 40 years until he married Nha Uyen.
Nha Uyen once confided that when she was with Aaron, she didn't mind if she was crazy and she could tell all her bad habits, live as herself. It is known that the two gave birth to their first daughter three years later and welcomed their second daughter after filming the movie "Brilliant Night" in 2019. Currently, the two have been together for about 7 years.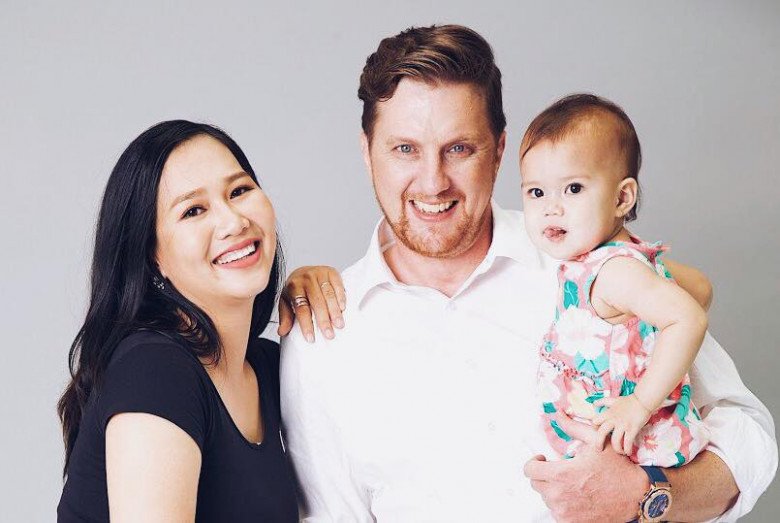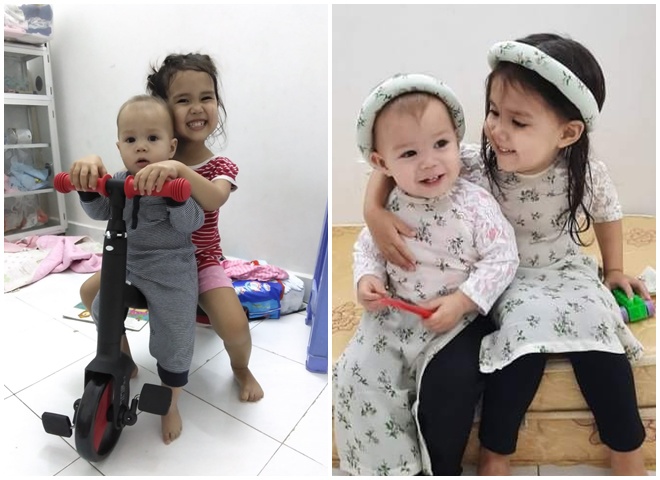 The happy fruit of the couple.
Sharing about her married life, Nha Uyen once humorously said that in the first 6 months of returning to the same house, she was beaten up because the tall Aaron was always rambling, waving his hands to her face and raising his pillow to his head. Miss.
Married life is also sometimes inevitable quarrels. There was a time when she argued, Nha Uyen angrily broke the mirror in the bathroom, making Aaron's face no longer drop blood. But the two always try to change for the better.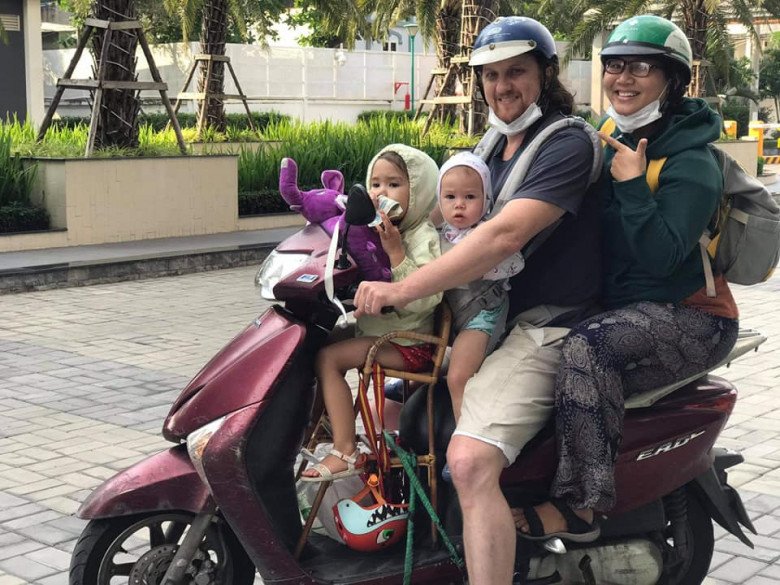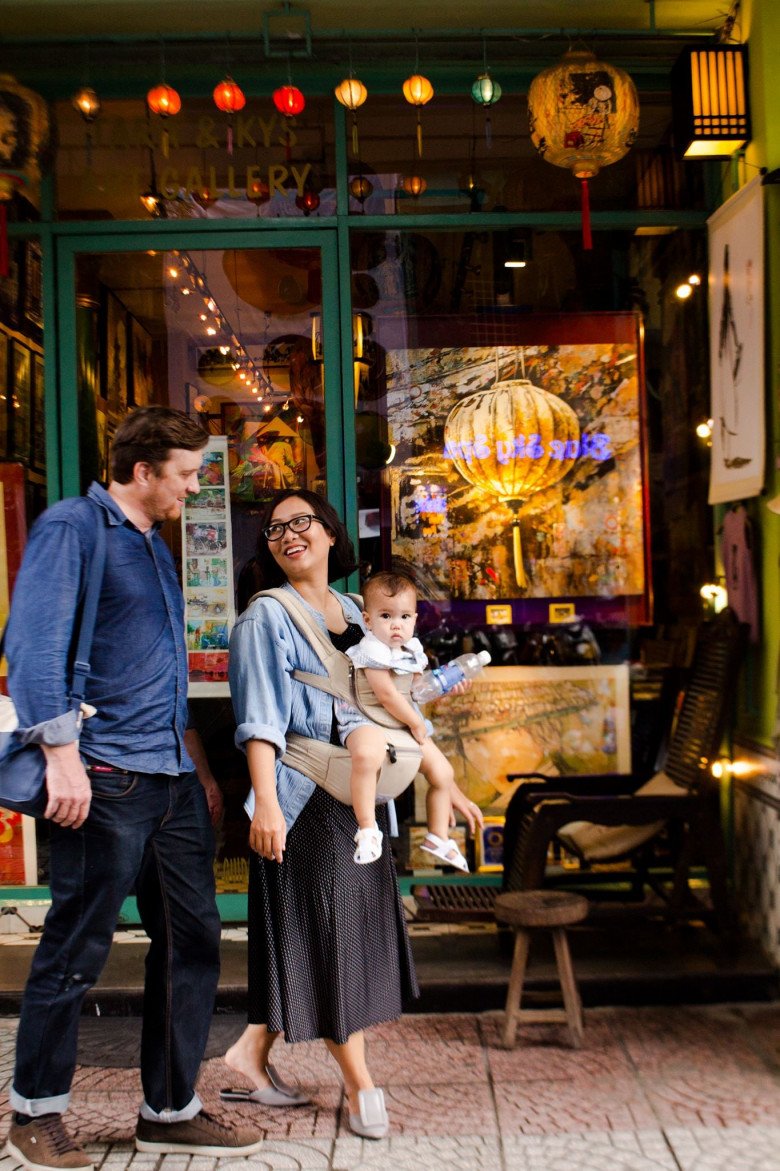 Aaron once shared that he never regretted choosing Nha Uyen to go together on this journey. He is very proud to be her husband. If he had a thousand more chances, he would always ask her to marry him.
The mother also confessed that, since having children, her life has changed a lot. All activities are more orderly, more orderly and also more peaceful. "In the beginning, it was difficult for me to accept the life of having children. As a person who likes to fly freely, it is really difficult to live according to specific rules or hours, it feels like being in prison, but now that I can adapt, I feel more peaceful and happy."
As for the American husband taking care of his wife and children, Nha Uyen said that the male director is always devoted to his family. Because of his wife and children, he doesn't mind anything, and he doesn't mind suffering. She said he is not perfect but he always knows how to cherish and love his wife and children. As a father, Aaron changed himself. He was surprised because he didn't expect himself to have so much love for someone other than himself, even though the two children had so much difference. When his two children were born with two different skin tones, the eldest daughter has dark skin like her mother and the second daughter is very white like her father. Currently, Nha Uyen and Aaron open their own studio, producing their own brainchild.
You are reading the article
9X actress married a famous American director, her husband kept a boy's life" for nearly 40 years for his wife

at
Blogtuan.info
– Source:
Eva.vn
– Read the original article
here