Khỏe - Đẹp
Another case of blindness after injecting filler to fill the cheek grooves at the hair salon
Hung Vuong General Hospital (Phu Tho) has just received another patient who lost his vision after injecting filler to fill the cheek groove at the hair salon.
A few days before, the hospital also had to receive a case of broken filler needle, the entire needle was in the woman's cheek after injecting this substance at a hair salon.
However, doctors say the recent patient is not as lucky as the previous patient. Because, also injecting filler to fill the groove, the previous female patient only added a small scar (which can be treated to fade scars) but this time it affects vision.
The patient came to the emergency room with swollen eyes, drooping eyelids, conjunctival conjunctiva, blurred anterior vision, headache, dizziness, nausea after performing filler injection to fill the cheek grooves at the hair salon.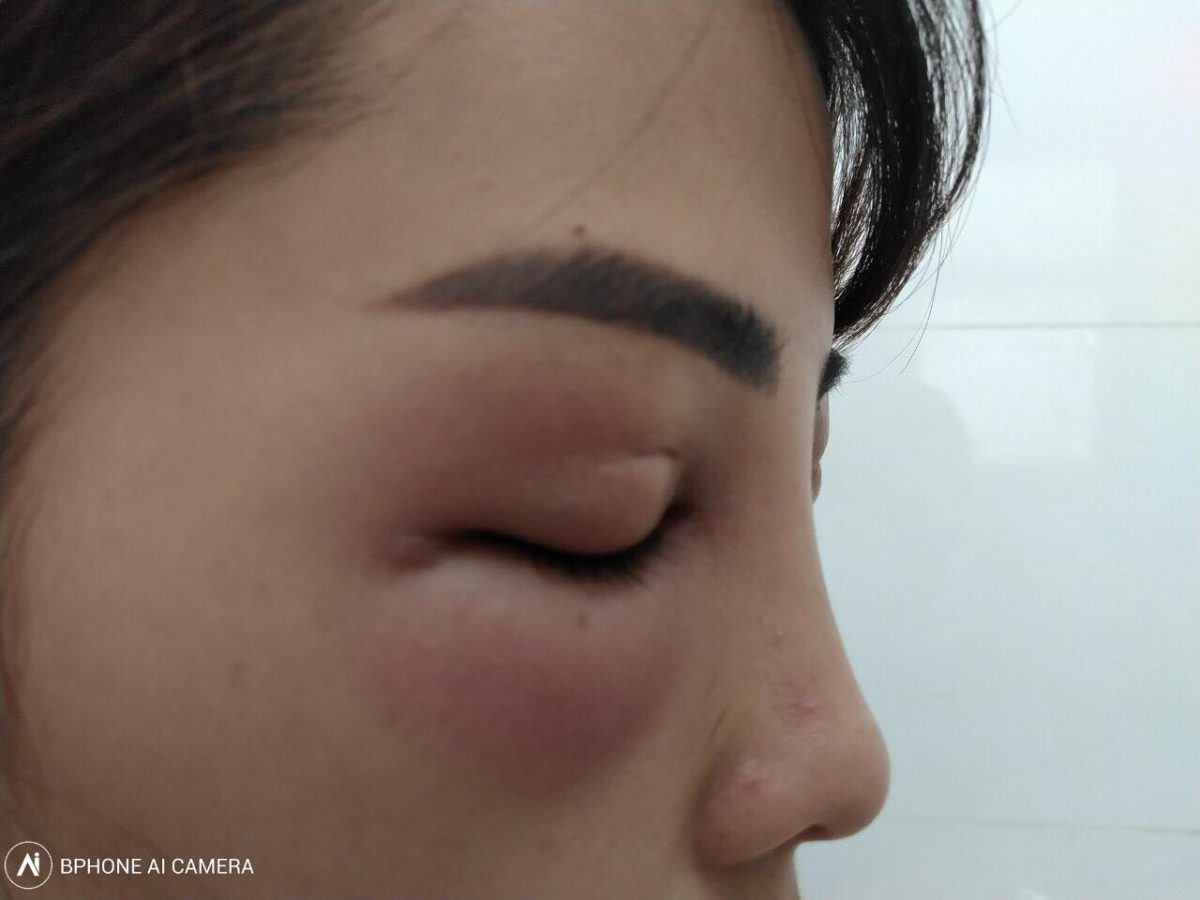 Illustrations
The patient said that after injecting filler, the right eye suddenly became blurred and could not see clearly. After examining and performing laboratory tests, the patient was diagnosed and monitored for right eye artery occlusion, the family requested to transfer the patient to the central level for treatment.
Dr. Dr. Vu Thai Ha, Dean of the Faculty of Stem Cell Technology Research & Application, added that filler injections still rank second in cosmetic procedures because of convenience, because there is no downtime. . Meanwhile, the results are immediately visible and especially now that the filler is mainly HA, there are drugs to solve it.
However, nowadays, with the rampant appearance of injection services everywhere, injectors have not learned about injection techniques, especially not even a minute of medical school, the blind trust of customers makes the rate of complications very high. too much in Vietnam.
Dr. Dr. Vu Thai Ha said that in just the past week, he had to handle 4-5 cases of complications due to filler injections in the temples, nose, sunken cheeks and filler injections to straighten his legs. Even last night was a case of retinal occlusion due to nasal injection.
"Fortunately, these cases were handled promptly and successfully," Dr. Dr. Vu Thai Ha information.
Eye embolism is the most serious complication of filler injection. In addition to causing blindness, loss/reduction of vision, it also threatens to block the arteries supplying the skin, nerve muscles around the eye socket, occlusion of blood vessels in the brain, and even death.
Talking to reporters, Dr. Dr. Hoang Thanh Tuan, Vice Chairman of the Department of Plastic and Reconstructive Surgery, National Institute of Burns, said that in surgery in general and in plastic surgery in particular, just a little carelessness is enough to cause complications. can happen at any time.
But in fact, currently, underground beauty salons do not guarantee the conditions of facilities and equipment. The "hands-on doctors" are countless to tell.
From a hairdresser to a hairdresser or a nail technician, to a tattoo artist, to a spa after a few short courses, wearing a blue shirt and claiming to be a doctor.
"With marketing tricks that hit people's psychology of wanting to make beauty fast, painless, and cheap. Besides, the gullibility and lack of understanding of the people is the reason why complications in plastic surgery are increasing, "Dr. Dr. Hoang Thanh Tuan is shy.
Accordingly, customers going to plastic surgery face many risks: first, the aesthetic factor has not been achieved as desired, followed by complications from mild to severe and even severe complications. possibly even death.
To avoid unfortunate risks that may occur when going to the beauty salon, Dr. Doctor Hoang Thanh Tuan said that people should not believe too much in advertisements and introductions, but should learn carefully about the facility they will come to beautify.
Find out if the facility is licensed or not, who is the right surgeon for you, and then decide to choose the gold face.
"Going to beauty, especially surgery, without carefully researching, following inspiration, and then listening to the sweet words of side-by-side "doctors" is extremely dangerous.
It is absolutely not convenient to cut the hair and do the eyelids right away, by the way, it's close to home to do the nose", Dr. Dr. Hoang Thanh Tuan emphasized.
Worryingly, many provinces and cities currently do not have a clinic specializing in plastic surgery, but the operating rooms at home by horizontal spas are countless. Not to mention many people even come to the house to beautify, which is extremely dangerous.
Therefore, Dr. Doctor Hoang Thanh Tuan recommends that women who want to be beautiful need to be very careful. In particular, the injection of fillers at hairdressing, shampooing and private establishments by untrained people is very dangerous; injecting substances of no origin or origin will lead to unpredictable consequences.
N. Huyen
You are reading the article
Another case of blindness after injecting filler to fill the cheek grooves at the hair salon

at
Blogtuan.info
– Source:
infonet.vietnamnet.vn
– Read the original article
here