Besides Con market and Han market, when coming to Da Nang, Bac My An market is also one of the famous food markets attracting a large number of tourists and locals. Bac My An Market is a local people's market, selling a wide variety of foods for daily necessities. The attractive point in Bac My An market is the stalls selling extremely attractive snacks at super cheap prices.
You should spend a day to discover all the delicious and famous dishes in this market.
Miss Van's avocado ice cream
Surely when mentioning Bac My An market, everyone immediately thinks of delicious avocado ice cream cups, because here is the most famous avocado ice cream dish in Da Nang. Going straight from outside the market gate to the inside, you will immediately see Ms. Van's avocado ice cream shop in the middle stall. The main ingredients in this delicious avocado ice cream include: ripe avocado, fresh cream, roasted peanuts. When they blend together, they create a creamy, cool, creamy, greasy, buttery-cream that's not greasy.
The ice cream here is handmade, the butter is pre-ground into a large bowl. When a guest came to eat, the hostess began to put butter in the cup and then put a layer of cream on top. If you eat durian butter cream, there will be an extra layer of durian on top. Finally, there will be some shaved ice and on top is a layer of desiccated coconut, looking at the buttercream with all colors is already attractive.
The butter has a fatty and smooth taste combined with the cream on top, which adds to the smoothness and feels like melting slowly in the tip of the tongue, the desiccated coconut is crispy and sweet, creating a very delectable and sweet taste.
The price of each cup of avocado ice cream is only from 12,000 – 15,000 VND, in addition, the shop also sells some other types of tea and fruit juice for only 8,000 – 20,000 VND.
Stir-fried snails
Coming to Bac My An market, you will definitely find it hard to resist the attractive stir-fried snails. Snails at the market are not too diverse, there are only two main types of snails and snails, but they still attract customers because of their very delicious taste. If you want to taste both types, you can order a bowl of snails and taste them.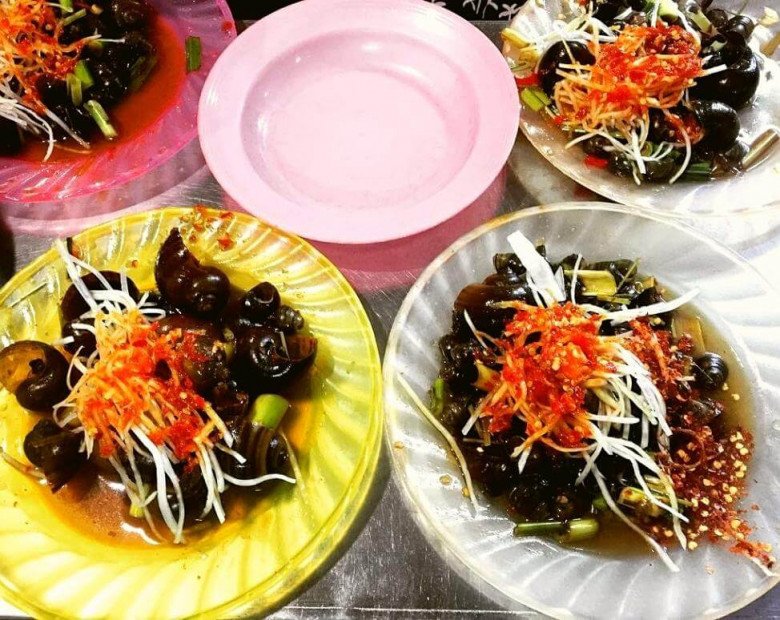 Snails are fried very infuse, full of flavor, rich. The shop owner is very clever, using a knife or scissors to break the spiral to help the stir-fry seasoning to be evenly and deeply absorbed. The aroma of lemongrass, chili, oyster sauce, coconut milk … blends, creating a sweet, salty taste that makes visitors fall in love.
The snail shops in Bac My An market are all delicious restaurants in Da Nang that are loved by students. The tables and chairs at the restaurant are very small, low, and made of colored plastic. Guests who want to eat also have to wait for each other, sometimes there is no seat. However, because this dish is very attractive, visitors come here every day.
Ram rolls with cabbage
This dish is quite popular in the central provinces and when you come to Bac My An market, you can also order yourself a serving to taste. Ram roll with cabbage has 2 main ingredients, which are ram and vegetable leaves to roll. Traditional ram filling has wood ear, meat, and vermicelli. The ram shell is usually made from beef rice paper or rice paper, when fried, it will be extremely crispy and when chewed, it will be very satisfying. Ram is wrapped with extra leaves on the outside, it will create a cool taste, and reduce the taste of ram. When you eat this dish, you will dip it with a sweet and sour dipping sauce.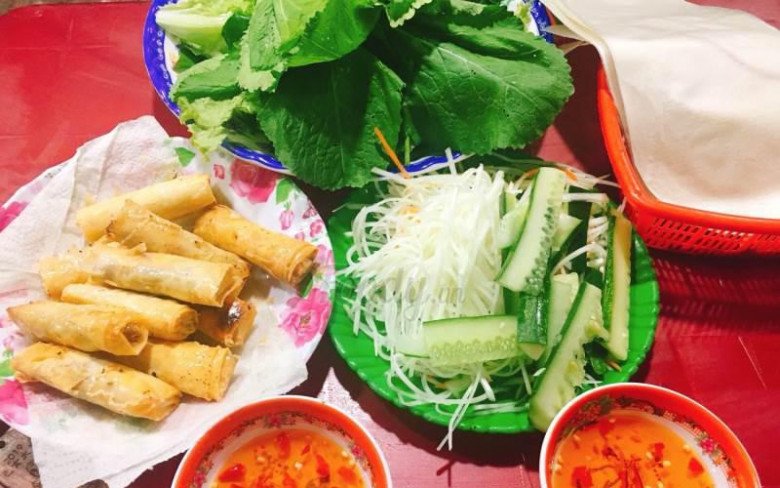 At Bac My An market, each serving of ram rolls usually costs 15,000 – 20,000 VND.
Types of vermicelli
In Bac My An market, there is no shortage of special delicious and bold Central flavor noodles. Let's take a look at some of the favorite noodle dishes at this market!
Noodles with fish sauce
A bowl of vermicelli noodles includes vermicelli, roasted peanuts, boiled pork, raw vegetables such as lettuce, bean sprouts, herbs, etc. All are mixed with delicious seasoning sauce. The ingredients blend together to create a bowl of vermicelli with rich flavor, characteristic of seasoned fish sauce.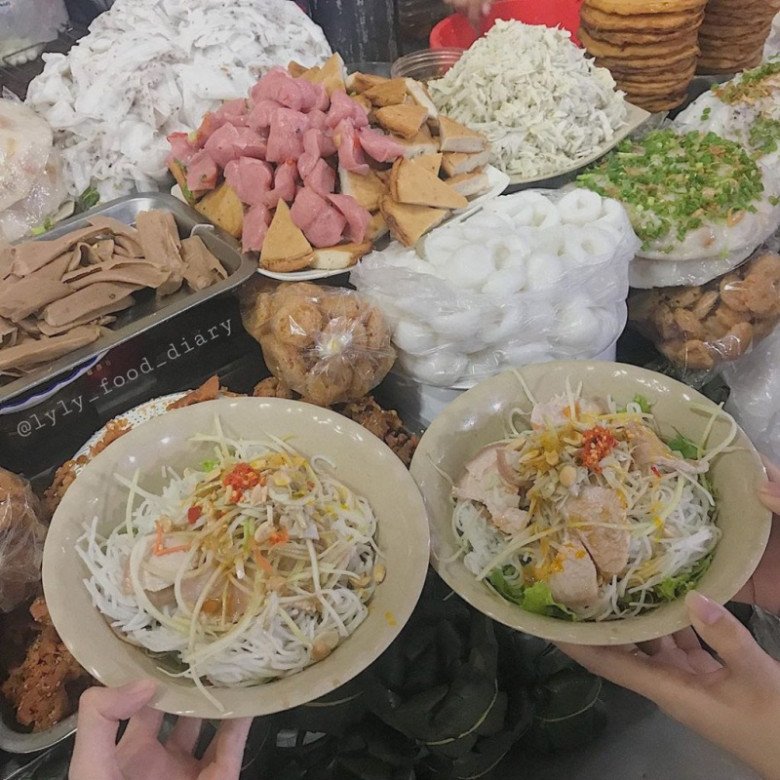 You can easily find yourself a noodle shop in the market. Each bowl of vermicelli in Bac My An market costs 15,000 – 20,000 VND.
Rice noodles with barbecue
Besides vermicelli, grilled pork vermicelli is also one of the familiar vermicelli dishes of Da Nang people. A full bowl of grilled pork vermicelli includes grilled meat, roasted peanuts, cucumbers, fried raw vegetables, and soy sauce, all mixed together. Grilled pork vermicelli eat a lot without getting bored because there are all kinds of raw vegetables, cucumbers, above all, grilled meat is seasoned richly and deliciously.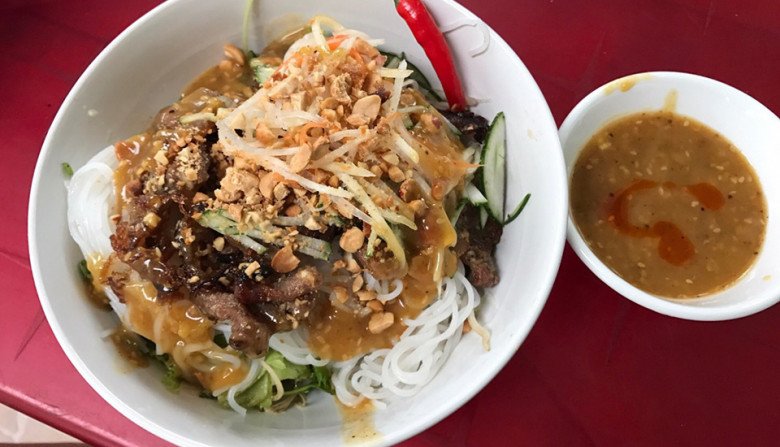 At Bac My An market, you can try eating at Ms. Oanh's restaurant for 15,000 – 20,000 VND/bowl.
Mixed vermicelli
Mixed vermicelli uses yellow vermicelli fibers combined with laksa leaves, green onions, pork skin, peanuts, mushrooms, sweet and sour spring rolls… mixed with delicious fish sauce. When enjoying this dish, you will feel the chewy taste of vermicelli, the texture of pork skin, the flesh of peanuts, the strong aroma of fried onions, combined with rich fish sauce. Vermicelli is served with baked rice paper and costs from 10,000 to 15,000 VND.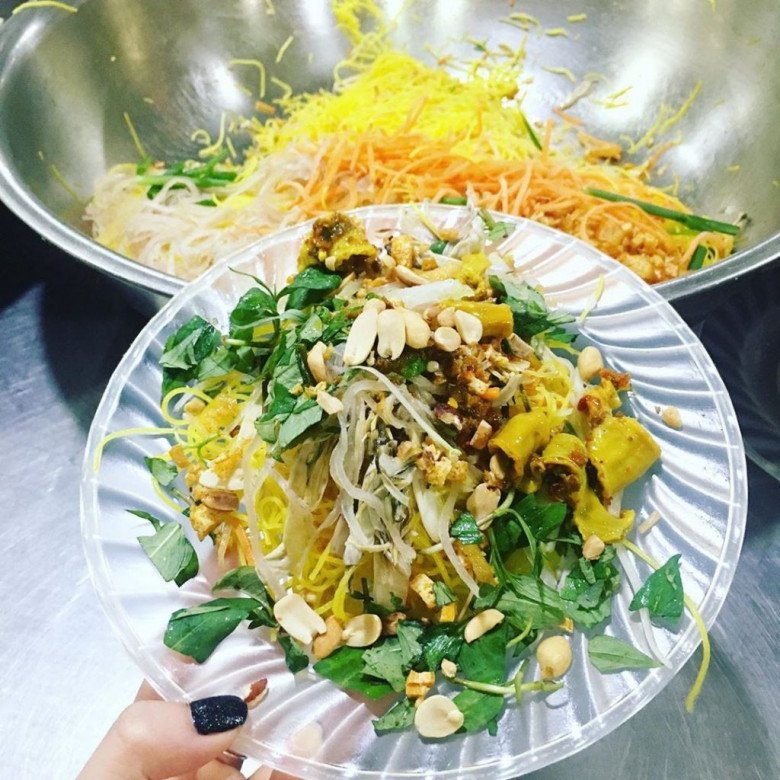 In addition, Bac My An market also has many stalls selling cakes such as can cake, filter cake, wet cake, battered cake, pepper cake, mixed rice paper, etc. are all delicious and affordable. You can take your time to enjoy at this market!
You are reading the article
Every dish is excellent, the price is only from 10,000 VND

at
Blogtuan.info
– Source:
Eva.vn
– Read the original article
here