Thế Giới
Mr. Kishida's Visit: Wishes from Japan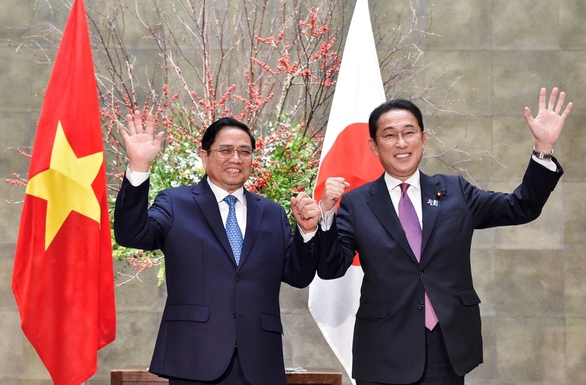 Prime minister Japan Kishida Fumio welcomes Prime Minister Pham Minh Chinh to visit Japan, November 2021 – Photo: VGP/Nhat Bac
The trip is expected to more fully demonstrate the foreign policy of Mr. Kishida's government, just past the 6-month mark in power, and "bridge a bridge of the gap" that is emerging between Japan and its Southeast partners. Asia on some international issues, according to the newspaper The Japan Times. Mr. Kishida is expected to visit Vietnam in 2 days, April 30 and May 1.
Promote cooperation after the pandemic
On April 28, Japan's Chief Cabinet Secretary Matsuno Hirokazu announced that Mr. Kishida would stop in Indonesia, Vietnam, Thailand, Italy and the UK, expected to end the visit on May 6. Mr. Matsuno said the Japanese prime minister would discuss a variety of issues with the partner leaders, including "the regional and global situation as well as bilateral relations".
Specifically, those issues are the war in Ukraine, the situation in the Sea of ​​Japan and South China Sea, North Korea and Myanmar. Mr. Matsuno especially emphasized that Mr. Kishida "will make efforts to further promote cooperation with each country to realize the vision of a free and open Indo-Pacific".
In Indonesia, Vietnam and Thailand, at the top of his agenda will be cooperation in the post-COVID-19 period, according to the newspaper Yomiuri Shimbun. Japan is the world's third largest supplier of COVID-19 vaccines, with more than 30 million doses of aid, mainly for Southeast Asia (Vietnam, Malaysia, Thailand, the Philippines…).
In the near future, Tokyo hopes that ASEAN, which will receive nearly 30 billion USD of FDI investment from Japan in 2021, will gradually remove travel restrictions for Japanese businessmen and workers.
Regarding security cooperation, with both Thailand, Vietnam and Indonesia, Japan wants to further strengthen it through the transfer of defense equipment and technology. Building a free and open Indo-Pacific framework based on order and law is also in the common interest of Japan and ASEAN.
In an important policy speech before the Japanese National Assembly at the end of 2021, Mr. Kishida said he wanted to increase the defense budget by $6.8 billion to increase the offensive capacity of the Self-Defense Forces, A move that has been criticized as violating the country's pacifist constitution.
But even before the Ukraine war broke out, the Kishida administration had increased its total defense spending for fiscal year 2021-2022 from the previous year, to $53 billion, including additional funding only for the fiscal year 2021-2022. maintain American troops stationed in Japan.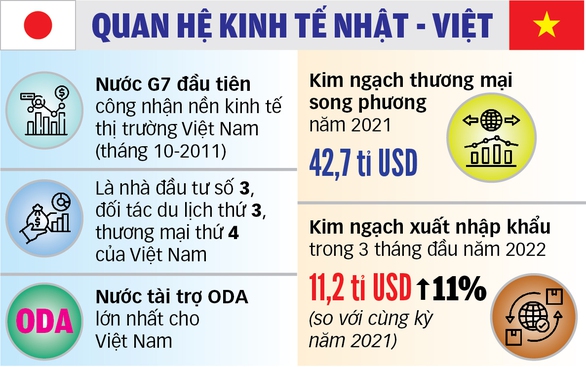 Source: Ministry of Foreign Affairs of Vietnam – Graphic: TUAN ANH
Mission "not easy"
It can be seen that Japan – one of the Asian countries that decisively joins the West in embargoes on Russia because of the war in Ukraine – will also want to mobilize Southeast Asian partners to move closer to them in their view. on the matter, although it would be a "not easy" task, as commented by The Japan Times.
Thai newspaper Bangkok Post said Japan's tough stance against Russia was "unprecedented", as the country has maintained a cautious and relatively balanced foreign policy since World War II, as well as for nearly 10 years. under Mr. Kishida's former "boss", Mr. Abe.
In fact, ASEAN countries also have different views on the Ukraine issue. Out of 10 countries, only Singapore imposes sanctions on Russia.
Cambodia, Indonesia and Thailand have all announced as hosts of major summits – ASEAN (Cambodia), G20 (Indonesia) and Asia-Pacific Cooperation (APEC, Thailand) Lan) will take place this year, that they will still invite Russia to attend.
In Europe, Mr. Kishida is expected to reconfirm Japan's position on Ukraine. So far, Japan has fully participated in all sanctions that Europe and the United States have announced against Russia. Particularly in the UK, Mr. Kishida will discuss more about London's desire to join the CPTPP regional free trade bloc of which Japan is a key member and Vietnam also participates.
The "Diamond Quadrilateral" (QUAD) group consisting of Japan, the US, Australia and India is expected to hold the summit in Japan at the end of May, while the G7 is meeting in Germany at the end of June. Mr. Kishida was expected to announce the results of this voyage to his allies there.
Mr. Kishida's business trip took place during Japan's Golden Week, a long holiday from late April to early May, when Japanese people usually spend time with family and friends. It was a sign that he took this trip very seriously.
Mr. Kishida, 64, who served as Japan's foreign minister from 2012 to 2017 under former prime minister Abe Shinzo, is considered the current government's most knowledgeable person on foreign policy. He is also very attached to Southeast Asia through many trips in this region.
You are reading the article
Mr. Kishida's Visit: Wishes from Japan

at
Blogtuan.info
– Source:
tuoitre.vn
– Read the original article
here