Giới trẻ
Secrets for the holiday April 30
In recent days, newspapers everywhere have posted full-service tours, plane tickets, and trains are all "burned out". That's how we know, our people are eager to travel, relieve stress after a long time dealing with the epidemic… It can be optimistic that tourism will explode, the country's economy will definitely prosper. much more. Exciting and much to look forward to!
However, the hotter the tour, the more people take advantage of the holiday of April 30 to travel, the more determined I am: Travel… at home, discover my own city! Fortunately, my husband and children and my whole family also agree with this "decision".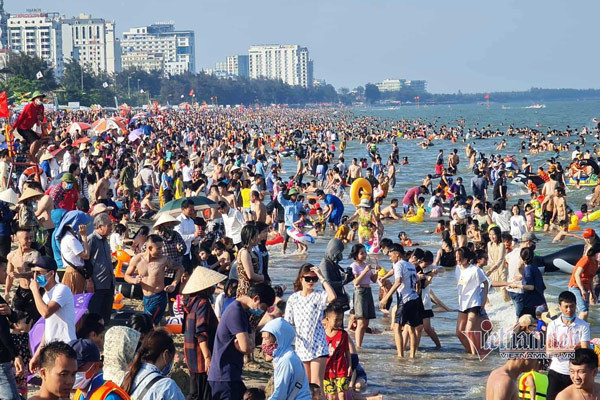 As of today, we have compiled a long to-do list for the next 4 days off. Let's visit Uncle Ho's Mausoleum, Thu Le Park, Ngoc Son Temple… Discover the double-decker bus ride around the old town, the "emerging" streets in the capital with ban flowers, yellow leaves or street vendors. and try delicious dishes only available on the new season. Hanoi is so great, why not try "onsite travel" today?
As for the reason why my whole family decided to travel on the spot, there are many. But perhaps the story begins in a time when my whole family went to National Day holiday on September 2. That time, his husband and younger brother decided to drive from Hanoi to Hue. We plan to drive ourselves so that we can enjoy stopping there and take advantage of visiting relatives in Da Nang. But then, waiting for us is a journey of more than 2 hours on the elevated road because of the long lines of cars following each other… It's only just "touched" the highway but it's no more fun when the line The car only saw an increase, not a decrease.
Don't stop there, wherever you go, you only see people with people. Sam Son beach, Cua Lo … are all crowded, restaurants are overloaded. The children were starving, but the parents were almost helpless because they could not have suitable food for them. The price is not as usual but expensive "exorbitant". A plate of omelette costs 150 thousand, the same goes for a bowl of plain cooked spinach soup. The crabs are worth millions, but they're all broods, and if you get a little bit of meat, they're friable and bland. The plate of rotten shrimp made my mother-in-law eat one child but still "bear the battle" hugging the toilet all day.
Even though the room is already booked at a famous resort, it is not perfect. When we checked in, the WC wasn't even cleaned. All day moving, grandparents and children want to lie down right away but have to wait for the room to be cleaned. The staff apologized profusely because the guests were too crowded, so the preparation stage was a bit more awkward than usual. My family also sympathizes but is tired but can't rest, making the whole family feel warm inside.
After that "traumatic" holiday, my family decided to avoid the holidays and only travel on normal days. For example, a few weeks before April 30 – May 1, my whole family took advantage of going to Ha Long. The sea is empty, the amusement parks are also open to people. The restaurant is full of fresh food and the prices are very reasonable. Or when people compete to travel on the Lunar New Year with the excuse of "avoiding Tet", taking advantage of stress relief, avoiding cluttered tables…, we stay at home, spend time visiting relatives, friends friends…
After all, there is only one Lunar New Year a year, a rare occasion for the whole family to get together, why not enjoy this special time? By the end of Tet, I plan to take my family to Phu Quoc for a weekend. Children or adults all just need to take 1-2 classes off, work sessions are fine. At that time, the tourist areas are less crowded, the trip will be more relaxed and comfortable!
You guys can tell me to calculate around, but just thinking about the crowded, overloaded scene on vacation is already uncomfortable! So "sorry", just let me stay at home to be healthy and happy!
Ha Trang (Hoang Quoc Viet – Hanoi)
*If you have comments, please send them to us at: [email protected] Your article may not agree with the editorial opinion. Thank you very much!
You are reading the article
Secrets for the holiday April 30

at
Blogtuan.info
– Source:
vietnamnet.vn
– Read the original article
here