Nutritional composition of goat meat
In addition to beef and pork, goat meat is also considered one of the healthiest red meats because it is low in saturated fat and cholesterol, and has a higher iron content than other red or white meats. Goat meat is also high in potassium and low in sodium. Goat meat is delicious, easy to prepare and loved by many people.
Nutritional composition in 85 grams of cooked goat meat:
– Calories: 122
– Protein: 23 grams
– Fat: 2.6 grams
– Saturated fat: 0.8 grams
– Carbs: 0 grams
– Sugar: 0 grams
– Fiber: 0 grams
Riboflavin: 30% of the Daily Value (DV)
– Iron: 18% DV
– Vitamin B12: 17% DV
– Zinc: 30% DV
– Potassium: 10% DV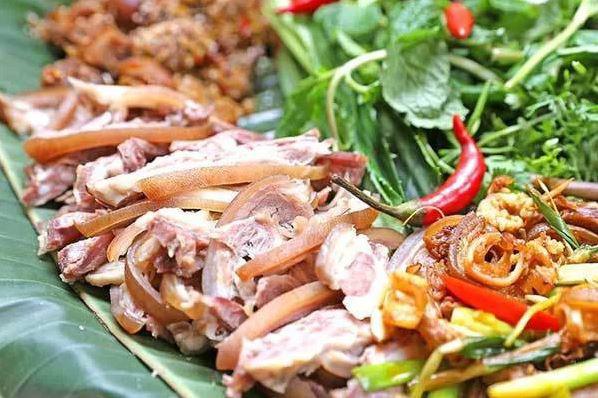 What are the benefits of goat meat?
1. Prevent cardiovascular disease and stroke
Goat meat is low in fat and saturated fat. Goat meat is very lean, high in protein and low in calories. Therefore, goat meat is very suitable for people who need to lose weight.
Goat meat contains only about 1 gram of saturated fat in 85 grams of meat, lower than many other meats. High intake of saturated fats has been linked to an increase in bad HDL cholesterol in the blood. Elevated levels of LDL cholesterol can lead to the accumulation of fat in the blood vessels, causing blockage of blood vessels, which in turn causes heart attacks and strokes.
Therefore, eating goat meat can limit the level of LDL cholesterol in the blood, thereby limiting the risk of heart disease and stroke.
2. Preventing Cancer
Conjugated linoleic acid found in goat meat is a fatty acid that has the ability to prevent cancer. Not only that, but goat meat also contains a complex of B vitamins such as thiamin, riboflavin, niacin, panthothenic acid and selenium and cholina which also have cancer prevention benefits.
3. Prevent Anemia
Like other red meat, goat meat contains a large amount of iron. In 85 grams of goat meat contains about 3.2 mg of iron, nearly double the amount of iron found in lean beef and chicken breast.
Iron is an extremely important mineral, especially for blood circulation. Without enough iron, the body cannot make hemoglobin, a protein found in red blood cells that carries oxygen around the body. In addition, the potassium content in goat meat is also good for blood circulation. Therefore, goat meat is a good choice for anemia patients.
4. Provides omega-3 fatty acids
Many people think that omega-3 fatty acids are only found in fatty fish such as mackerel, salmon, herring… In fact, goat meat is also an excellent source of omega-3 fatty acids. This is considered an anti-inflammatory, helps strengthen the immune system, is necessary for growth and development, is good for the brain and eyes, helps fight aging, beautifies the skin…
5. Prevention of birth defects
Pregnant women should supplement goat meat because it not only prevents anemia but also helps prevent birth defects in the fetus. Goat meat contains iron and vitamin B12, which supports the production of blood cells. Without these blood cells, the development of the fetus will be affected and in the worst case will lead to birth defects in the fetus.
6. Enhance male physiology
Goat meat has long been used as a great food to enhance male physiology because it contains compounds similar to male sex hormones.
According to Oriental medicine, goat meat has hot properties, helps to eliminate cold, tonic blood, stimulates taste, nourishes the body, increases erectile ability. Therefore, it helps to increase vitality and it is an effective solution for the treatment of male infertility.
7. Other benefits
– Regulate body temperature
– Boosts immunity
– Energy production
– Good for nerve cells
– Provide electrolytes.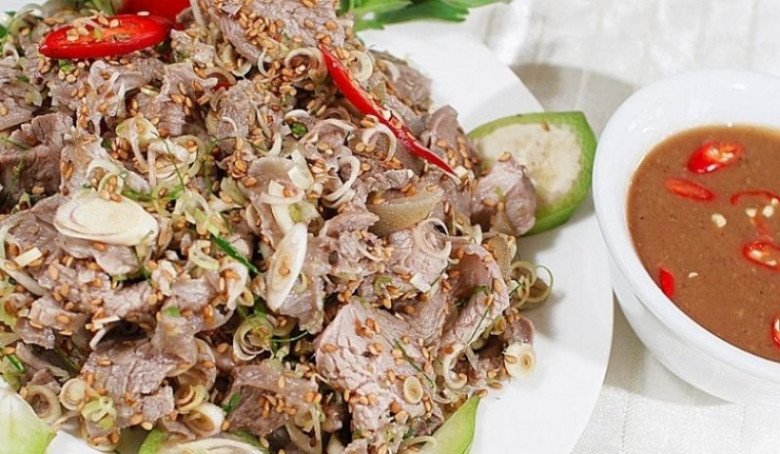 Undesirable effects when eating goat meat
– Increases blood pressure.
– Causing allergic symptoms to people with a sensitive terrain.
– Increases blood cholesterol due to high cholesterol content in meat.
– Disruption of lipid metabolism.
Who should not eat goat meat?
– People are hot in: Because goat meat has heat properties, after eating, the body easily heats up and catches fire. Therefore, do not eat too much goat meat and should be served with cool green vegetables such as cabbage, cabbage, … to neutralize the heat of goat meat.
– Hepatitis patients: Due to impaired liver function, if you eat a large amount of protein and fat in meat at the same time, the liver cannot take care of its inherent function, making the disease worse.
– Patients with pain and inflammation: Due to its hot nature, goat meat dishes are not suitable for people with fever, toothache, mouth sores and yellow sputum.
People with high blood pressure should not eat too much goat meat.
You are reading the article
What are the benefits of goat meat? Although goat meat is nutritious, there are people who need to avoid eating it

at
Blogtuan.info
– Source:
Eva.vn
– Read the original article
here