The number of people withdrawing one-time social insurance decreases
According to Ms. Hien, during the outbreak of the Covid-19 epidemic, the number of people receiving one-time social insurance tends to increase. However, in 2022 there has been a slow upward trend.
Statistics of the Social Insurance Policy Implementation Board show that, in the first quarter of 2022, over 208,000 people withdrew their social insurance once, up 1% over the same period last year. It is estimated that in the first 4 months of 2022, the whole country has over 302,000 people withdrawing social insurance once, down 3% compared to 4 months of the previous year.
Particularly in April 2022, the whole country had over 93,000 people withdrawing one-time social insurance, down 10% compared to April 2021.
Ms. Dinh Thi Thu Hien – Deputy Head of the Social Insurance Policy Implementation Board (Vietnam Social Insurance). Vietnam Social Security photo
Ms. Hien said that the one-time reduction of social insurance withdrawal was due to the uncontrollable epidemic, so the workers had their jobs back and their lives were less difficult. Employees feel secure to work and are not so needy that they have to withdraw their social insurance once to cover their expenses.
Many employees also understand the disadvantage when withdrawing one-time social insurance.
Withdrawal of social insurance once, when closed, will "do it all over again"
Ms. Hien analyzed, the one-time withdrawal of social insurance is very disadvantageous for employees. Many people think that simply withdrawing, when they have money, they will pay back." However, after withdrawing one-time social insurance contributions, the entire period of previous payment of social insurance contributions of employees is not preserved. If you re-join, you will have to "start from scratch." At the same time, the benefits of employees will be much more limited than participating in social insurance until they are eligible for pension, "said Ms. Hien.
Dao Viet Anh, Deputy General Director of Vietnam Social Insurance also emphasized: "One of the benefits of long-term social insurance participants is that when they retire, they will be given a free social insurance card with the benefit of being covered 95% of the cost of medical examination and treatment. Healing.
Many people who withdraw social insurance once think that after getting old, they will buy health insurance by themselves. However, at that time, they were only able to pay 80% of medical expenses, which is much worse than the social insurance cards of retirees.
Mr. Anh also said that, through monitoring, the majority of people with one-time social insurance withdrawals are mainly from 20-30 years old. These are workers who face a lot of financial difficulties. They need a source of funding to cover the current difficulties.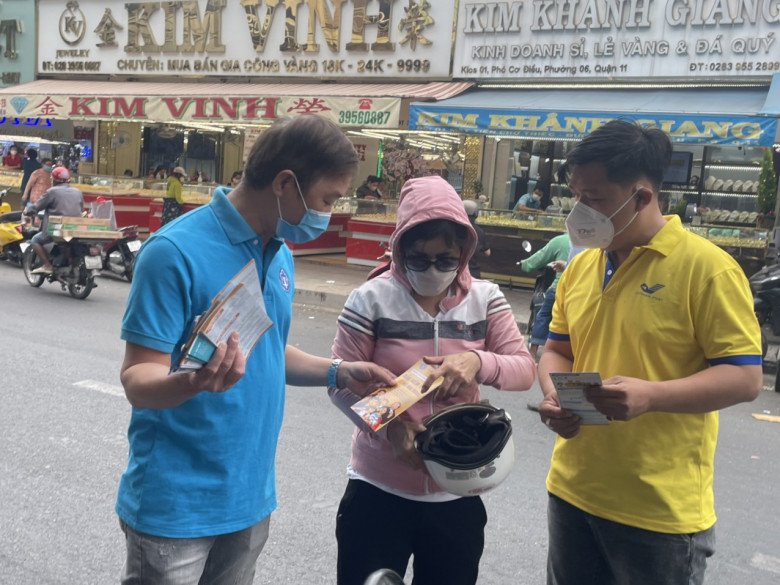 Disseminate social insurance and health insurance policies to every citizen in Ho Chi Minh City. Ho Chi Minh City Social Security's photo
Ms. Hien also said that participating in social insurance is not only "saving money for retirement", but in the process of working, if there is illness, accident, natural disaster, epidemic, the State will also receive a lot of support from the State. . In addition, no matter what, retirees still receive a regular pension, ensuring life.
"In the past two years, despite the difficult economic situation of our country, the pension has been adjusted to a general rate of 7.4% from January 1, 2022. This shows that the State's policy very interested in the income of pensioners," said Ms. Hien.
When a participant in social insurance dies, his or her relatives are also entitled to a death benefit, including a funeral allowance equal to 10 times the base salary in the month in which the pensioner dies, and a monthly survivorship allowance (an allowance equal to 10 times the base salary in the month in which the pensioner dies, a monthly survivorship allowance equal to 50% or 70% of the base salary); or one-time survivorship allowance.
Thus, it can be seen that the participants of social insurance when enjoying pension enjoy a lot of benefits during the pension enjoyment process.
Even when they die, their relatives are also entitled to the survivorship regime. Those who withdraw one-time social insurance are only entitled to a certain amount of money only once, and when they leave the social insurance system, they lose the opportunity to enjoy long-term social security," Hien advised.
You are reading the article
Withdrawal of social insurance once, when re-joining, the payment period will not be reserved

at
Blogtuan.info
– Source:
Eva.vn
– Read the original article
here