Thị trường
Construction engineers get rich from livestock
As a construction engineer, Mr. Tran Van Cong (born in 1976, Quang Phuong commune (Quang Trach) dreams of getting rich by farming.In order to realize his dream, Mr. Cong started investing in building a livestock farm." modern farming…
Passionate pursuit
Stable with a job as a construction engineer, in 2018, Mr. Tran Van Cong wants to try his hand at animal husbandry. To fulfill his wish, he embarked on building a general livestock farm on an area of ​​about 2 hectares.
Looking at the large-scale synthetic farm, many people can't help but admire his hard work and diligence. Few people know that, a few years ago, it was just a low-lying area, flooded with immense water.
Mr. Cong shared: "Trained and worked in the construction field, but I always wanted to try my hand at agriculture. Because I like animal husbandry, in the past, I dug a small pond to raise fish. At that time, I had a friend in the animal feed business. This friend invited me to visit pig breeding models in the northern provinces.
After returning from that study tour, I became more and more determined to build a breeding model for myself. At that time, the locality was having a policy of consolidating and changing plots. My family received 2 hectares of farmland in the low-lying areas. Due to low-yielding rice fields, I converted a part of the area to improve it as a small livestock farm.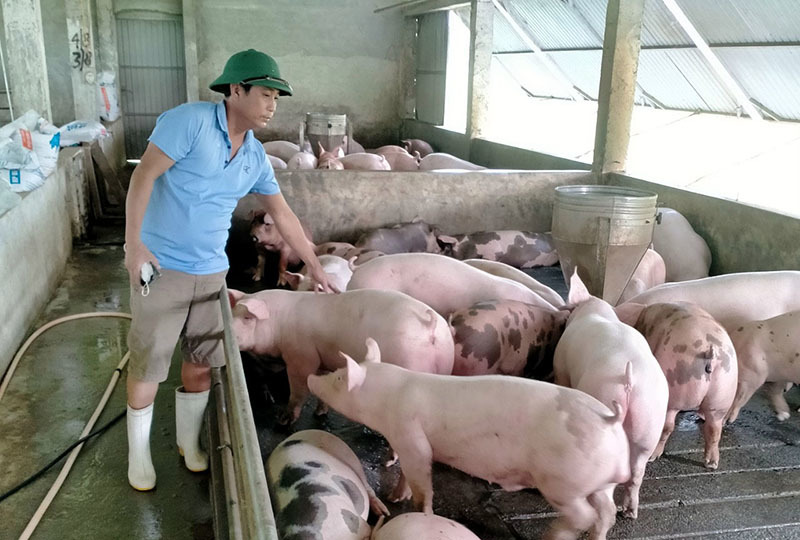 The pig raising model for high economic efficiency by Mr. Tran Van Cong.
With the thought of serious and long-term investment in livestock production, Mr. Cong decided to invest in the construction of a modern pig farm system. Because the farm is located in a lowland area, a part of the land he keeps is to grow rice and fish, and the rest to build a high ground to serve livestock. Due to the rainy season, the land here flooded very high, so instead of building a pigsty on the land, he had to build a barn on a high floor.
"The rainy season here floods very heavily. If built in the normal way, the flood water will wash away all the property, so I have to build the barn on the floor 1.5m above the ground. The barn system is 35m long and 12m wide. In particular, the cages are all invested in a modern direction. Therefore, from the system of feeding troughs, drinking water is used automatically by me. Wastewater and manure are all led to the biogas cellar for treatment to avoid environmental pollution, "said Mr.
To complete the model of the farm and the barn system, he spent about 400 million VND in capital. Currently, with this modern pig barn system, his farm can raise 200 meat pigs per litter. In addition, to actively breed, he also invested in a barn to raise 30 more sows.
Don't be afraid to experiment
Although majoring in construction, Mr. Cong is always passionate and spends a lot of time studying and researching livestock models inside and outside the province. Seeing that relatives and friends have new breeding models with high economic efficiency, he came to visit and learn from farming experience.
"Recently, I went to Viet Trung Farm town (Bo Trach) to visit a friend's model of snakehead fish farming on a cement tank. Seeing how simple farming but for high economic efficiency, I went back to tinker with more knowledge online to start building 6 cement tanks. I was introduced to a place to sell seeds by a friend, I bought 6,000 snakeheads and released them in 6 cement tanks lined with canvas. On average, I stock 1,000 fish per tank. Up to now, after 2 months of farming, snakehead fish is growing well and has no disease, "said Cong happily.
According to Mr. Cong, the advantage of raising snakehead fish on a cement tank with canvas is limited disease and low investment cost in ponds. Besides, the output price for snakehead fish is also relatively high. Therefore, raising snakehead fish on a cement tank promises to be a long-term direction for his farm.
Not only experimenting with the snakehead fish farming model on cement tanks, through research and market research, Mr. Cong also boldly invested in the black apple snail breeding model. Mr. Cong said: Currently, on the market, black apple snail is a popular type and has a relatively high output, about 100,000 VND/kg. Moreover, raising black apple snail is low cost. Recently, he dug a pond and raised water duckweed to raise 10,000 black apple snails. Currently, these black apple snails have been raised for 2 months, expected to be harvested in the 4th month.
Although knowing that testing models can involve great risks and suffer economic losses, however, in order to satisfy his passion and find suitable livestock for water and climate conditions, Mr. Cong Cong take risks.
"My upcoming plan is to test more eel farming models on cement tanks. I have visited this model and am currently building the tank. Also by the end of this year, I plan to renovate and upgrade the pig house system according to the closed cold barn model, that is, with a water-powered air conditioner and a fan system. The model will be completely closed, thereby minimizing the occurrence of epidemics," said Cong excitedly.
Evaluating the integrated husbandry model of Mr. Tran Van Cong, Ms. Nguyen Thi Huong, Chairman of the Farmers' Union of Quang Phuong Commune said: Although he received low-lying land, Mr. Nguyen Van Cong knew how to take advantage of it to exploit it. efficient livestock production. Cong's farm model is currently raising many livestock, of which the most successful is still raising pigs in a modern direction. On average, his farm earns about 450 million VND per year. This is a typical local economic model, which is worth learning and implementing for people in the region.
According to Quang Binh Newspaper
You are reading the article
Construction engineers get rich from livestock

at
Blogtuan.info
– Source:
infonet.vietnamnet.vn
– Read the original article
here