Fried potatoes are one of the favorite dishes of many people. Stir-fried potatoes have a chewy texture that is both delicious and nutritious. However, many people wonder because stir-fried potatoes are often friable, crushed, and no longer intact pieces.
The chef has told me, when sautéing potatoes, don't put them in the pan right away. In addition, how to slice potatoes so that they are not crushed when stir-fried also requires technique. So what is the chef's great way to stir-fry potatoes, let's see how to do it below:
Prepare:
– Potatoes, choose large and long ones
– Salt
– Horny chili
– Cooking oil
Making:
Many people have the habit of cutting potatoes into thin slices and then stir-frying. However, this way of slicing causes the potatoes to crumble when fried. So let's try to change the way the potato is sliced, it will definitely be more effective.
Potatoes are peeled first and then cut into small pieces, if you can't cut them, you should use a grater. To have a delicious dish, the way potatoes are sliced ​​is also very important.
As much as possible, put the potatoes in a bowl of cold water to prevent them from browning and especially to help remove the starch from the cut side of the potatoes. This prevents the potatoes from becoming mushy and sticky when stir-frying. Soak the potatoes for about 10 minutes. After soaking, rinse again and then dry.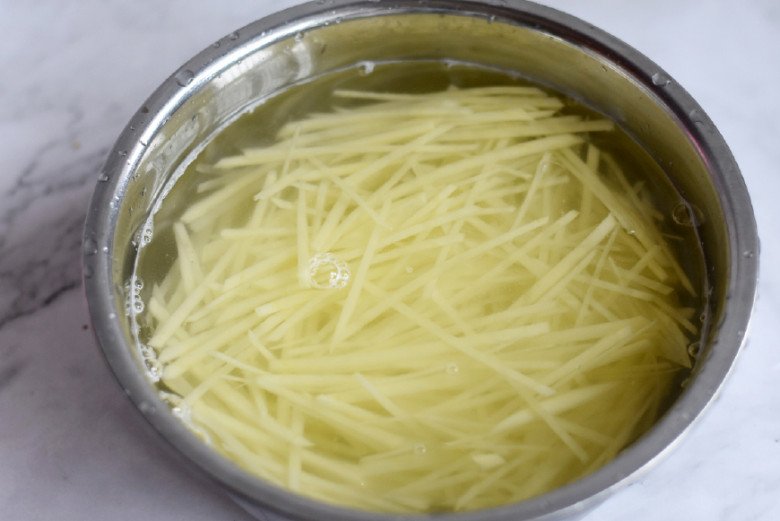 After soaking, do not add the potatoes to stir-fry right away, one more step is needed, which is blanching.
Boil a pot of water, put the potatoes in and blanch quickly for 30 seconds, then take them out immediately, put them in a bowl of cold water. This way, the potatoes are not crushed when stir-frying, but also more crispy.
Cool soaked potatoes take out and drain to stir-fry.
Heat a little cooking oil or lard in a pan, then add chopped dried onions and saute until fragrant. Then add the potatoes and stir-fry quickly over high heat. Season with salt or seasoning powder to taste. When the potatoes are almost cooked, add scallions and finely chopped horn peppers if you like. Stir for a while, then turn off the stove. You can add a little water during the stir-frying process if you are afraid that the potatoes will stick to the pan.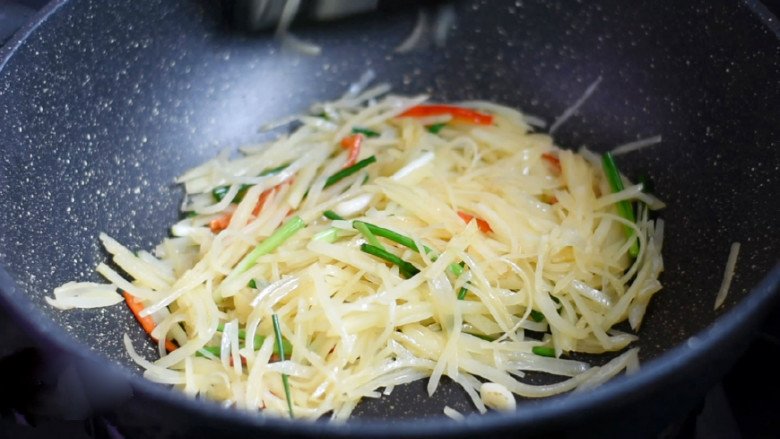 So when frying potatoes, you need to remember:
– Slicing potatoes into fibers will prevent them from being crushed when stir-frying.
– After slicing, soak the potatoes in a bowl of water to wash away the starch clinging to the cut side of the potato, making it not mushy and sticky when stir-frying.
– Before stir-frying, quickly blanch the potatoes and soak them in a bowl of cold water to make it harder for them to be crushed and crunchy when stir-frying.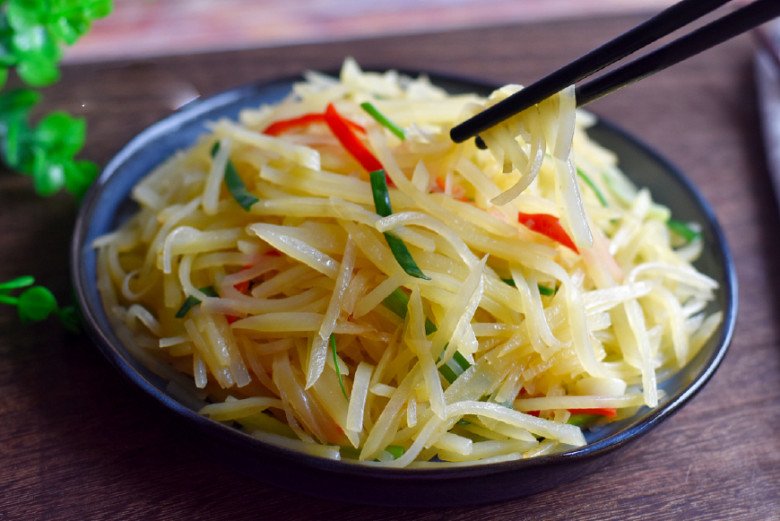 Good luck!
You are reading the article
How to stir-fry the sliced ​​potatoes so they don't break, adding this step the dish is delicious

at
Blogtuan.info
– Source:
Eva.vn
– Read the original article
here