Tin
The big brother of the gang kills, using acid to liquefy the victim's body
Scammers and juniors are afraid of Tu Duc Ich (in Taiwan) because they know that protesting can be exchanged for a plastic bucket filled with acid.
In 2015, Tu Duc Ich was released from prison with a dense criminal record, a history of robbery and intentional injury. The thought that time in the prison would help the 27-year-old man reform, but Tu Duc Ich returned to his old ways, immersed in crime.
With a red betel nut chewing mouth, a way of speaking that smells like a gypsy, a convex face that is dirty, Tu Duc Ich often frowns when he meets other people. Thanks to that, he claimed to be the big brother and recruited many rogue teenagers, wandering in the Taichung area, Taiwan. They carry out robberies at people's houses and empty streets, ready to fight back when discovered.
However, when investigated by the police, they quickly hid themselves, changing to another profession to escape their sights. Tu and his juniors Vuong Man Chinh opened a real estate brokerage facility but aimed at defrauding customers.
Kill the junior's girlfriend
In 2016, a girl surnamed Thai (16 years old, girlfriend of Vuong Man Chinh) joined Tu's scam group. Witnessing that Tu often forced his boyfriend to do illegal things, Thai was afraid, so he repeatedly stopped Vuong. They started having conflicts.
Once, Tu accidentally learned that his Thai girlfriend was a minor who had run away from home and was being searched by the police. After some events, Thai gradually became a thorn in Tu's eyes because he had "ideals" that were not suitable for the group and knew many secrets that could put him in jail.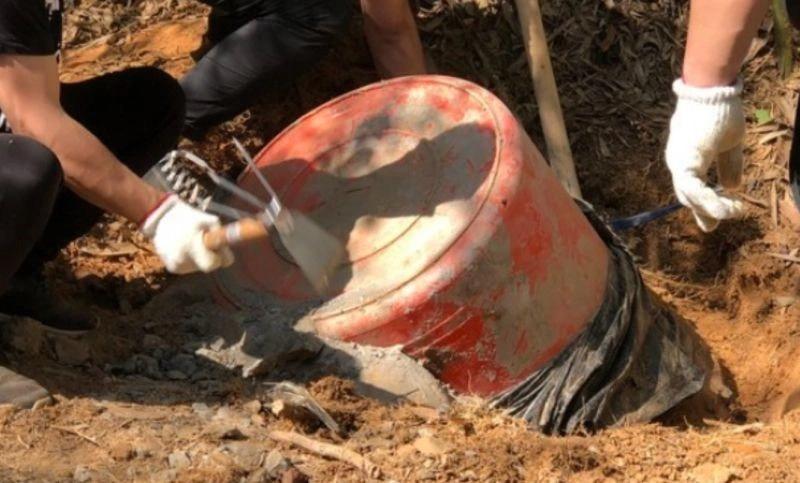 The body of the victim. Photo: cna.com.tw.
In a business case, Tu appropriated 3 million Taiwan dollars (about 2.5 billion dong) from a customer to go out to eat. When the customer asked, he became worried, and then began to plan to blame Thai for not swallowing the money.
He told his accomplices Vuong Min Chinh about blaming Thai. And if Thai dies, no one can prove that the plot is fake. Vuong was afraid but did not care to argue with the big brother. He nodded in agreement.
Body of a girl in a plastic container
In May 2017, Tu, Vuong, and Tu's girlfriend together drank alcohol to make Thai drunk, then hit the girl's head with a hammer. Fearing that the victim would not die, Tu told his girlfriend to stab Thai in the chest with scissors several times and try to make the wound deeper.
Even Tu Duc Ich used a knife to cut the victim's throat. The perpetrators then laughed abominably over the girl's body.
Because the victim was too drunk, the victim did not resist in the slightest. Vuong is also a cold-blooded person when he sees his girlfriend getting sick kill without stopping. After that, this name also participated in cleaning the scene.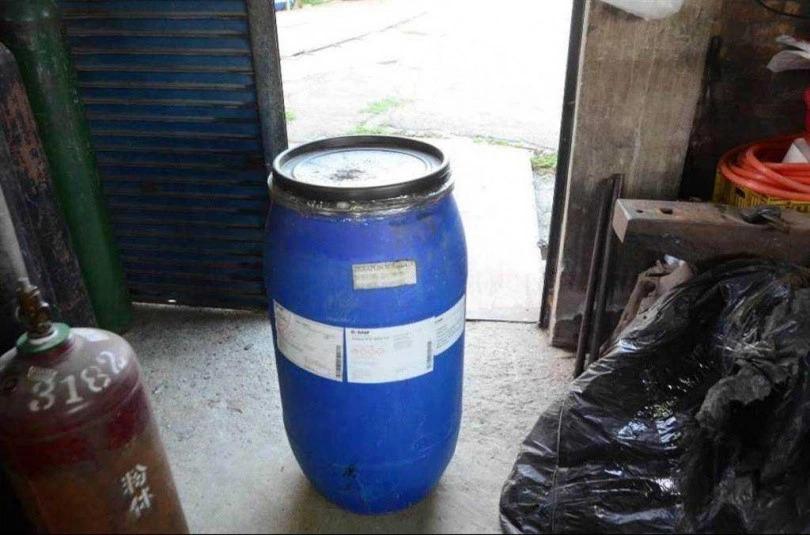 Plastic box containing the body of the girl. Photo: cna.com.tw.
The next morning, Tu bought a can of strong acid. He and his accomplices put the girl's body in a barrel, liquefied the body with acid and poured cement on top.
After closing the lid, they did not forget to write on the blue box the words: "Poison – forbidden to open". The box was then moved to an old workshop owned by Tu's parents. No one knows what is in it. Every day, Mr. and Mrs. Tu grow vegetables and go back and forth but don't pay attention to it. They thought it was just a vat of chemicals. The girl's death fell into oblivion.
Kill the witness
In 2019, Tu and his accomplices were caught up in a land purchase and sale. A man surnamed Ha, through a broker, Mr. Hoang (54 years old), sells a piece of land. Mr. Hoang came to Tu to ask to sell on his behalf, but he did not expect Tu to forge documents and sell off the land for nearly 30 million Taiwan dollars (about 24 billion dong).
When Tu cut off contact, the authorities prosecuted the case. Mr. Hoang was the witness and gave evidence against Tu, so he planned to get rid of this man.
On June 5, 2019, after just finishing a working session with the prosecutor's office, Mr. Hoang was pulled into a car by Tu and his accomplices to a dog farm in the suburbs. Here, he forced Mr. Hoang to withdraw his testimony. The downward strokes made Mr. Hoang's face dark, his left cheek torn a large patch. That day, Mr. Hoang used what little strength he had left to say to him: "I will denounce you, put you in jail…".
From laughing abominable and saying "I didn't intend to let you come back originally. If you're dead, your testimony won't count.". Then, Tu injected a large amount of heroin into Mr. Hoang's neck and then ordered his juniors to shoot the victim in the head with a gun.
They put Mr. Huang's body in a large plastic container, poured acid and cement on top, and buried it in a ravine in Miaoli County, Taiwan. Tu told his juniors to cover the grave with a layer of cement. Rainwater will harden the cement, and the fallen leaves will cover it, forming a surface that can hide the container below.
Strong cover usually
Tu Duc Ich is married to his girlfriend and plays the role of a benefactor who regularly does charity work. With the label of honesty, he continued to do evil deeds.
From controlling scammers over the phone, pretending to sell real estate and then swallowing customers' deposits. In addition, the debt collection cases carried out by this group are very barbaric. From threats to beatings, the victims feared him and so did his juniors because they knew resistance could be exchanged for a plastic bucket filled with acid.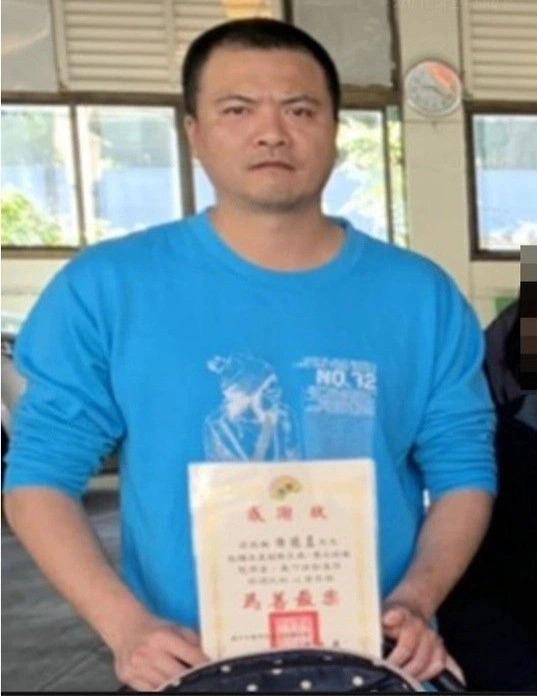 Defendant Tu Duc Ich received a certificate of merit for doing good deeds. Photo: cna.com.tw.
The family of the Thai girl and Mr. Hoang all reported the case after the disappearance. The last clues were deadlocked when the tip of the investigation touched Tu Duc Ich.
By professional measures, the police got clues when taking the testimony of one of Tu's juniors. Tu's cruelty and the crime that the leader forced him to do caused this person to have a mental crisis.
Guilt tormented him, but he did not dare to denounce it. This person agreed to provide information but wanted to be protected by the police.
On November 23, 2020, the police found 2 boxes containing the bodies of Thai girls and Mr. Hoang. Tu's parents were shocked when the box their son brought back was not a chemical, but a young girl's body.
The forensic examination concluded that the body of the Thai girl died due to a skull fracture, the chest still had a pair of scissors, the ribs were broken in many places, the trachea was cut by a sharp object. Mr. Hoang was determined to have died from a gunshot wound through the skull, the tissues were destroyed by acid, so no other injuries were found.
On April 27, 2022, the court in Taichung, Taiwan sentenced Tu Duc Ich to death, Vuong Min Chinh. Lam Huu Dinh, who shot and killed Mr. Hoang with a gun, was sentenced to life in prison. Tu's other juniors received sentences ranging from 12 to 19 years.
According to Zing
You are reading the article
The big brother of the gang kills, using acid to liquefy the victim's body

at
Blogtuan.info
– Source:
2sao.vn
– Read the original article
here