Gia đình
The love story of the author of the historical photo on April 30
April 30 is the day when grandparents nostalgic about their lives as well as remind their children and grandchildren to mark the heroic historical milestones of the reunification day.
Unexpected meeting without meeting again
On April 30, 1975, with the army marching to Saigon, Mr. Nguyen Thang (photographer of the Propaganda Department of the Saigon – Gia Dinh area) took many precious documentary photos, including photos of "sea" of military equipment. , military equipment … of Saigon soldiers left indiscriminately on the way to escape. The photo is displayed in many museums in Ho Chi Minh City and the whole country.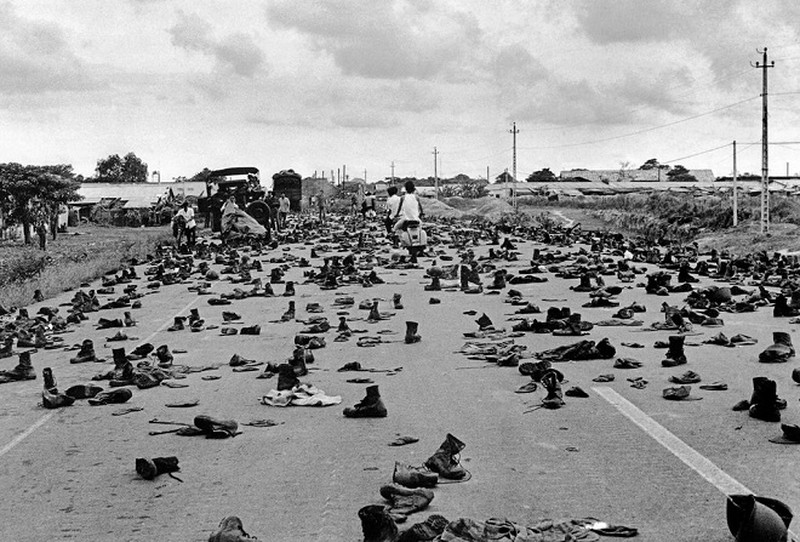 Military equipment, military equipment of Saigon soldiers panicked and discarded on April 30, 1975 – Photo: Nguyen Thang
Looking at him, the aunts and uncles of small businesses shouted: "The Viet Cong know how to be a journalist and have a camera. But the Viet Cong are so handsome, but they're not skinny, the seven men wearing papaya branches don't break like they propagate." Turning to the girl next to her (Miss Mim), they continued to compliment: "She's so pretty too!".
At that time, Ms. Miem was 20 years old, but had worked as a fire worker for many years. Making the announcement in 1974, the young couple temporarily put aside their private happiness and devoted themselves to the front line.
When asked "What similarities do the two have to each other?", Mr. Nguyen Thang laughed heartily: "Probably due to predestined relationships. And at that time, I was in Cu Chi, in the "white area" with the freedom of American bombing, fierce artillery and bombs, the sound of planes roaring incessantly, every time people visit me, I feel sorry immediately!".
At the end of 1971, Ms. Mim was in the strategic hamlet of An Dien (Ben Cat, Song Be – present-day Binh Duong province) sneaking back to Cu Chi to visit her sister – a doctor serving the battlefield – and met Mr. Thang. When Miss Mien returned to the strategic hamlet, Mr. Thang volunteered to take a section of about six kilometers to Ho Bo by bicycle.
The initial story is interrupted by bumpy dirt road, thorny bamboo, tall weeds, there is a part where the hitchhiker has to walk and the driver carries a bicycle on his shoulder. "Well, you stay strong and good, good job" – she said goodbye. Without an appointment, but with nostalgia, he stood and watched forever the shape of his old, dirty shirt, pretending to be someone to pick melons to avoid the enemy's eyes.
Only like ideal people
Hatred is like an invisible hand that binds two people together. At the age of 17, Mr. Thang joined the resistance war. Sharing the same desire for peace, there are also separate feuds, because Thang's three brothers died in two years 1969-1970, leaving pain in the mother's heart – Vietnamese heroic mother Le Thi Sa (Dau Tieng) , Binh Duong).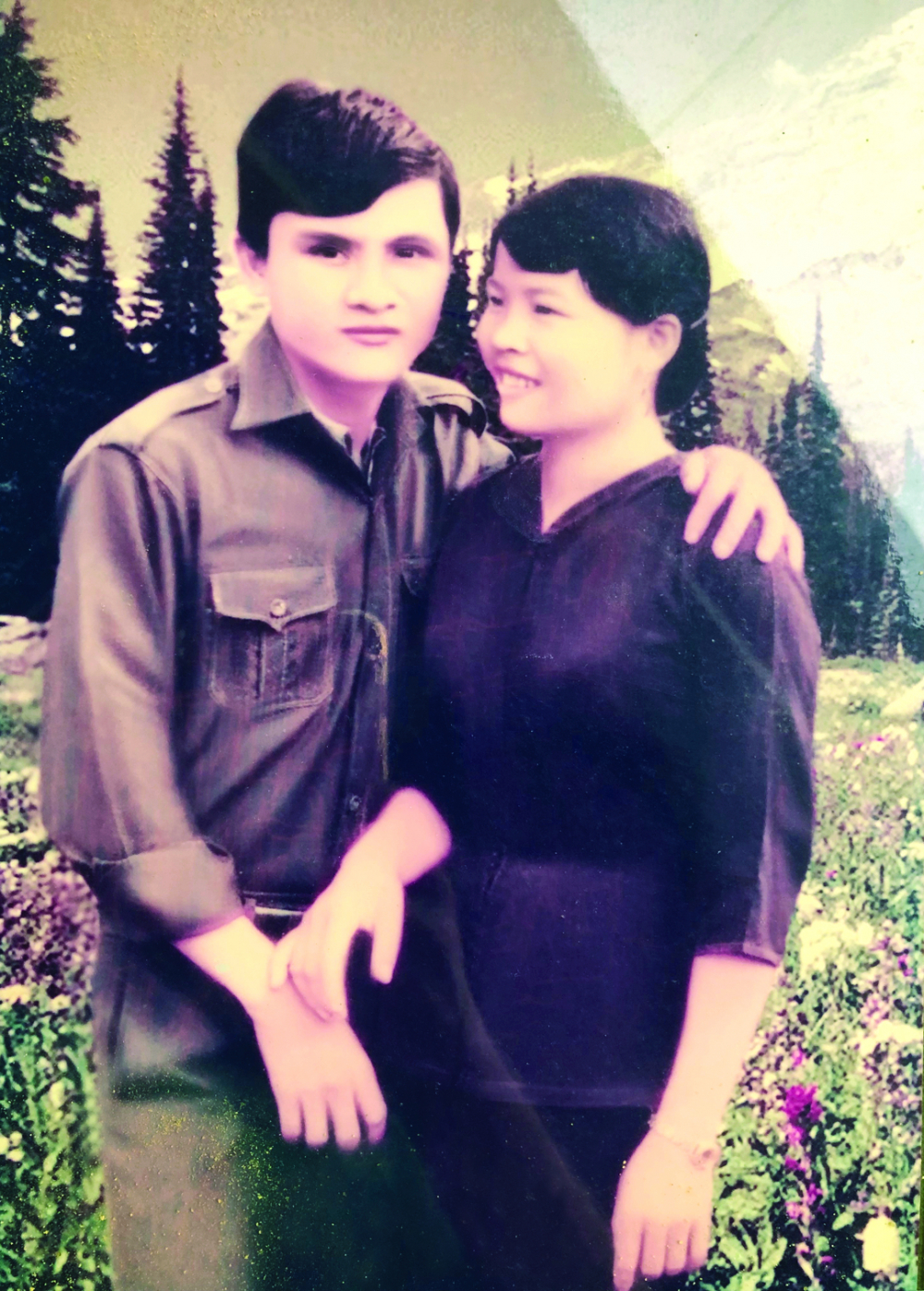 Fireworker Do Thi Miem was shy with her fiancé – war correspondent Nguyen Thang, 1974
Once, when she saw the bodies of young and beautiful female soldiers with long braided hair being left to dry in the market, her heart was filled with hatred. She mourned for a few days, causing her father to tell her: "If the soldiers ask me why I'm crying, remember to say it's because my stomach hurts!" Although many Wei soldiers asked to marry her, Miss Mien was not disappointed, even when Thang had not proposed a hundred years. To become a husband and wife, that person must stand on this side of the front line, she is satisfied.
Getting to know each other, Ms. Mim still doesn't know about Mr. Thang's job duties, just guessing… a nurse. Mr. Thang also did not reveal to his friend his tools including a trio of cameras – a K54 gun – a grenade. The film coating, image washing, image projection many complicated steps are carried out in the basement; the preservation of film, photo paper in a dalian container with desiccated roasted rice… all are absolutely confidential.
Being quick, clever, familiar with the terrain, even though he did not have any military training, Thang was able to destroy many enemies when they surrounded the bunker and called for a comeback, saving himself and his teammates. He was assigned as a war correspondent at the 9th Infantry Division, the 5th Infantry Division and the 16th Regiment, respectively.
Because he is a very good swimmer, Mr. Thang is able to preserve equipment and work in the harsh battlefield. He placed the machine among the layers of plastic, put the grass in the bag so that it floated above the surface of the water, and then swam across the river. The photo of the guerrillas crossing the river (carrying a cannon on his shoulder) was taken by him briefly on a canoe with a petrol bomb shell, rowed by a nurse to the middle of the river in the constant sound of bombs, because the photography was easy to be detected by the enemy. , a little flash from the camera shows a defiant face.
Cozy together
After 1975, Mr. Nguyen Thang worked at the Department of Information and Promotion of the Department of Cultural Information of Ho Chi Minh City (as the leader of the Current and Documentary Photography Team), until 1988, he retired early because he was not enough. health. Due to busy work, he went to work in District 1, Ho Chi Minh City, only a few weeks, a few months, he only came home to visit.
The letters he sent warmed her in the lonely, struggling new day of taking over. He pointed to the back of the house and said, "There were two very deep bombs at that time" as a specific depiction of her hardships and hardships.
Her first daughter was born, she asked someone to inform him, it took almost a week for him to know. Until the third son was born at home, fortunately he was present. After the delivery, the midwife told him to go pick a handful of chili leaves. He rushed to the garden, brought in a handful of… chillies. The midwife was surprised: "How can a chili pepper "trick"?" (an ancient custom of expecting a child to grow up with a peaceful and charming voice). Mrs. Mien was still in pain because she just gave birth and couldn't help laughing at her silly, confused appearance for the first time taking care of her husband's biological wife.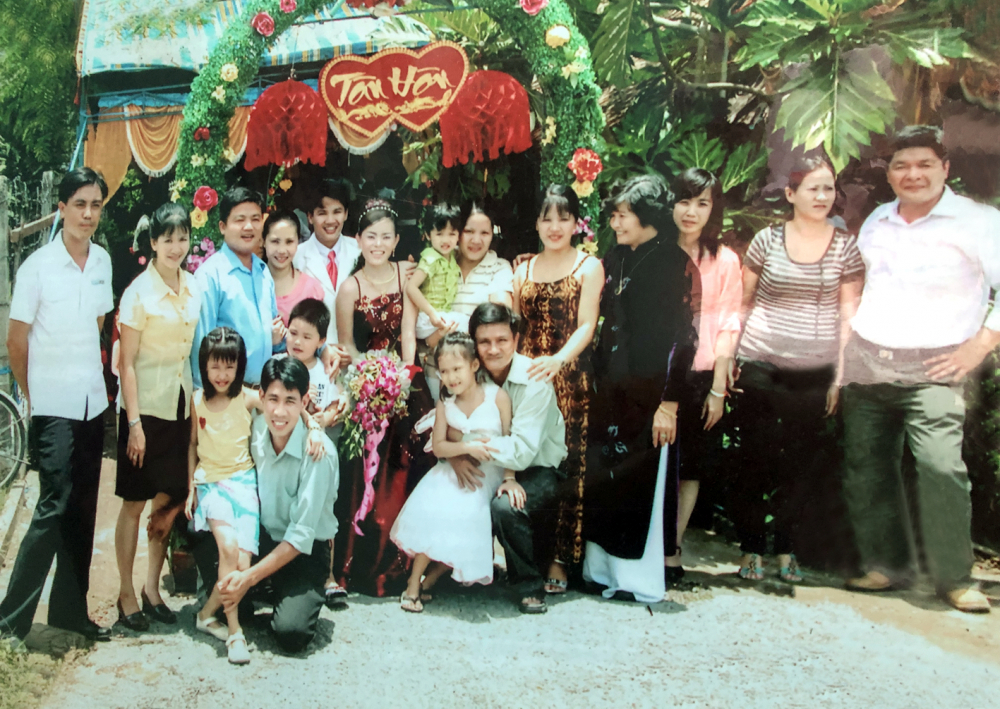 Mr. and Mrs. Nguyen Thang – Do Thi Mim and their son's wedding on April 30, 2008
Every time he visits his house, he brings home the Saigon bread that the whole family loves, on the contrary, he takes home-harvested rice to bring down to the kitchen to cook. There was an epidemic year, the rice crop was lost, and she borrowed rice from a neighbor. Although she lacked before and after, she alone held her children in her arms, she still encouraged her husband to safely complete the task.
Also with the question "What similarities have connected grandparents for the past 50 years?", she gently said: "It's okay, my wife and I have experienced wars, so we find life now too stable and happy. happy". He continued: "From the shack that did not have a place to live, the proclamation ceremony was done in the dark cellar under the thorny bamboo tree, now built… a walled house. Being alive is lucky, complaining about hardships or accepting your partner to lose joy."
Not only do grandparents cherish precious photos, in exchange for their lives, but their children and grandchildren also cherish them. When visiting the museum, seeing the picture "made in… my house", the children and grandchildren tease you to show off "the picture taken by my father/grandfather" with pride.
When the children were grown up and went out separately, grandparents soon spent the evening together raising cows and growing vegetables. She actively participates in local work, especially the elderly association, the hardest part is the COVID-19 epidemic. He is in his 70s, has leg pain, rarely participates in local work, so he cooks rice at home and waits for her to come home to eat.
Every day passes smoothly with the dialogue of the "son and wife": "Grandma! Do you remember in the past, when you and I got up early in the morning to cook rice to open the fields, go on a business trip, and hear the firecrackers whistling overhead?" or "Grandpa! The bomb shell with engraved image of the tank that you gave me as a drinking glass is lost, when will I find it, sir!".
"It's lucky to be alive" – ​​his sentence thought it was simple but sometimes became a "mantra" to help grandparents overcome despair when their youngest son was born in 1985 with a twisted neck and skull. His head was not armored… Months later, the results of the autopsy showed that he was influenced by Agent Orange inherited from his father. Doctors give many types of tonic and recommend that if the family takes care of the baby within a month, but does not gain enough 1kg, it must be delivered to the hospital for care.
Taking advantage of the day off, Mr. Thang worked hard in the fields to kidnap and catch eels to cook porridge for his children, especially the youngest. She always asked for chicken feet and duck legs when she went to celebrate the anniversary of the death of her youngest son. The house lacks first, then all priorities are given to the youngest. After a follow-up examination, the youngest son developed well, gained up to one and a half kilograms, the craniocervical space seemed to be narrower. The whole family was praised by the doctor.
The youngest son now has a stable job, has a wife and children, and takes care of his parents with siblings, saying like Mr. Thang: "Whenever the elderly couple is sick, they worry about it!".
According to www.phunuonline.com.vn
You are reading the article
The love story of the author of the historical photo on April 30

at
Blogtuan.info
– Source:
infonet.vietnamnet.vn
– Read the original article
here