Khỏe - Đẹp
The number of Covid-19 cases continuously decreased, many days without deaths: Has the epidemic been announced yet?
April 30, 2022 10:43 GMT+7
On the evening of April 29, the Ministry of Health announced another 6,068 infections in 59 provinces and cities; one death – the lowest since June 2021 up to now.
The number of Covid-19 cases in the last days of April continuously decreased. On April 26, the country had 8,341 cases of Covid-19, on April 27 down to 8,004 cases, on April 28, there were 7,116 cases, consecutive days without recording any deaths caused by Covid-19.
In Ho Chi Minh City, the average number of new cases is less than 100 cases/day, with 100% Omicron mutations.
At the centers and Covid-19 resuscitation departments, there are still very few Covid-19 patients. For example, at Thu Duc City Hospital, Ho Chi Minh City, there are about 15 cases of Covid-19 left, the Covid-19 Emergency Resuscitation Department has only 1 patient. Ho Chi Minh City also dissolved mobile medical stations, according to which mobile medical stations will cease to operate completely in May 2022.
Ho Chi Minh City only maintains a 3-storey field hospital, closing the remaining 2 hospitals. Particularly, Tan Binh Multi-Level Covid-19 Treatment Hospital will stop the 3rd floor (the floor for treating the heaviest patients) managed by Thong Nhat Hospital because there are no more patients.
In Hanoi, Associate Professor Nguyen Lan Hieu – Director of Hoang Mai Covid-19 Hospital said that the hospital was almost out of Covid-19 patients, it was time to treat Covid-19 as a specialist disease.
"The pandemic is over, if we are afraid when declaring the end, the pandemic will break out again is afraid for us but how many opportunities for people to recover what was lost during the past 2 years? no more.
If the epidemic returns, we have enough experience to know when to announce a pandemic and what measures are needed," said Associate Professor Hieu.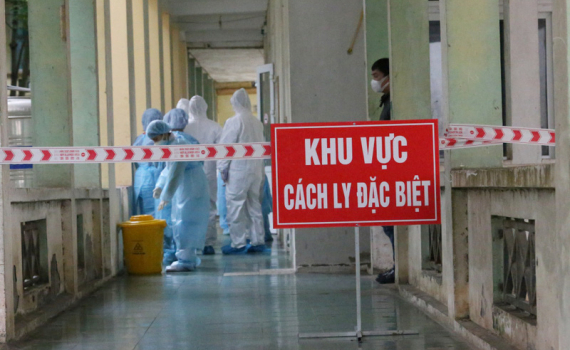 Illustrated photo.
However, according to regulations, Covid-19 is a group A infectious disease, according to current regulations (Law on Prevention and Control of Infectious Diseases 2007) and Decision 07/2020 on conditions for declaring the epidemic and declaring the end of the epidemic. Infectious diseases, the end of the epidemic can only be declared if no new cases are recorded for 28 days, counting from the time the most recent case was isolated at a medical facility.
Assoc. -19 from common circulating diseases, to Group B infectious diseases.
The announcement of the end of the epidemic, PGS Dung said that it is not possible to announce the end of the epidemic because we do not know that a new strain may appear, the speed of spread is faster if the epidemic is quickly announced until it is time to "turn the car" and announce it again. translation will not be reasonable.
Currently, people and social life have been more stable with the Covid-19 epidemic. We have abolished medical declarations, facilitated economic development. However, in terms of epidemic prevention, PGS Dung said that it is still necessary to comply with the remaining 5K, especially masks and disinfection.
Associate Professor Dung said that if the epidemic is declared over, localities need to consider what benefits will be achieved when declaring the end of the epidemic. In fact, according to this expert, announcing the end of the epidemic has not brought any more benefits.
From a subjective perspective, Associate Professor Dung said that declaring an end to the pandemic could cause people to neglect disease prevention. High infection rates and low mortality also cause economic losses, increasing costs due to prolonged Covid-19 and Covid.
A part of the elderly, with underlying diseases and contraindications to vaccination will be afraid of social contact or normal activities. This hinders the full recovery of social activities, quality of life and comprehensive health of the entire population.
According to Assoc. Prof. Tran Dac Phu – Former Director of the Department of Preventive Medicine, Ministry of Health, we need to observe more about the epidemic situation in the world as well as research on virus mutations.
Assoc. This situation allows Vietnam to open up and operate as normal.
The Ministry of Health has removed many hard regulations related to entry, international tourists to Vietnam (not quarantined), reduced/stopped testing requirements…
Travel is also completely free, without isolation, testing "people from epidemic areas" as before. In particular, the Ministry of Health also has Document No. 2118 on the temporary suspension of medical declarations at border gates in Vietnam.
Khanh Chi
You are reading the article
The number of Covid-19 cases continuously decreased, many days without deaths: Has the epidemic been announced yet?

at
Blogtuan.info
– Source:
infonet.vietnamnet.vn
– Read the original article
here