Business
The perfect ending of the Nghe couple for 10 years, basking in the sun and wind, researching animal feed
Promised father-in-law not to take his daughter away
Falling in love since they were students of the Academy of Agriculture, after graduating, Mr. Nguyen Duy Thang and Ms. Vi Thi Thu Hang got married and became agricultural engineers according to their trained profession.
Ms. Hang is originally from Phu Tho, Mr. Thang is a boy from Nghe An. When agreeing for the two to be married, Hang's father only had one wish, that the two children establish a career in his wife's hometown so that he would not have to see his daughter marrying away from home, in difficult times, parents wanted to help. without help.
At that time, a newly born dairy company was recruiting people with expertise in the field of agriculture, Mr. Thang received a very good job interview opportunity with the condition that the engineer had to work in Nghe An. . Therefore, he rejected the offer 3 times to keep his promise to his father-in-law, thinking that family comes first.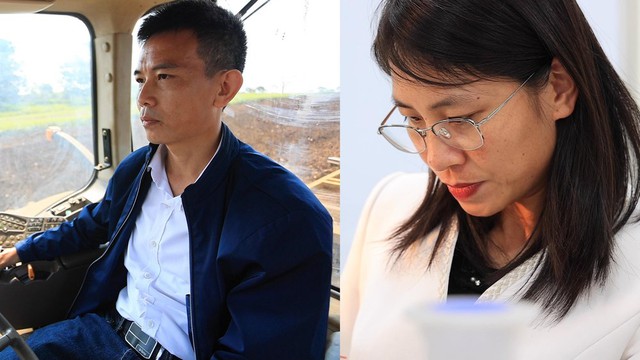 Mr. Nguyen Duy Thang (left) and Ms. Vy Thi thu Hang (right) (Photo: Ha AN)
As both a classmate and a wife, more than anyone else, Hang knows the potential and hidden ambitions in his heart. Despite the "tacit agreement" between her father and son-in-law, it was Hang who encouraged and seized the opportunity to work again for Mr. Thang, bringing the whole family to a big turning point that later became successful. then, I can only encapsulate it in two words "predestined".
Well deserved success
The day the whole family packed up to the new land, Hang said "at that time I didn't think too much, just thought that wherever there was a husband and wife accompanying each other, life was full and meaningful". But she herself could not have expected that the land of Nghia Dan more than 10 years ago still did not have a stable power line, people sometimes lose power for 2-3 days without charging their phones.
Moreover, the climate here is extremely harsh, the April sun burning skin to welcome the couple makes her not dare to call to tell her father anything.
After a short acquaintance, Mr. Thang started his work with the study of forage cultivation for cows. Ms. Hang also works in the quality control department of the products that Mr. Thang harvested, then processed into nutritious food. He shared, these two areas are "closely related, almost have to interact every day".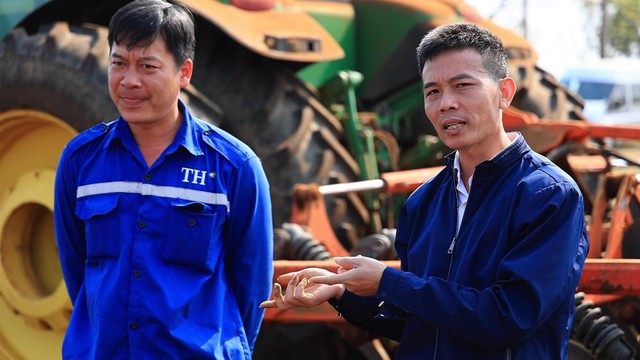 Mr. Nguyen Duy Thang (right) on the farm (Photo: Ha AN)
However, at work, it is inevitable that there will be times when husband and wife disagree. The specific work of growers also depends on factors such as quality of seedlings, natural conditions, weather and climate, so it is common for harvested products to fail to meet the requirements of the inspection department. like meals. On the contrary, from a professional assessment perspective, Ms. Hang cannot ignore that person just because that person is her husband.
But with a common will for work, the husband and wife's advice and mutual support have helped them get rid of their egos to both keep family affection and complete the work well. Just like that, they go together, the two sides develop together: the successful processing of products is thanks to the source of qualified raw materials, if the raw materials are green and clean, the cows will eat nutritious and fragrant food. yummy.
Loving his wife's hard work, Mr. Thang saved his salary to build a small house right next to the farm. He said that he didn't want his wife to have to work far away, so the couple could spend more time with their children instead of traveling far away just to stay in a house on the street.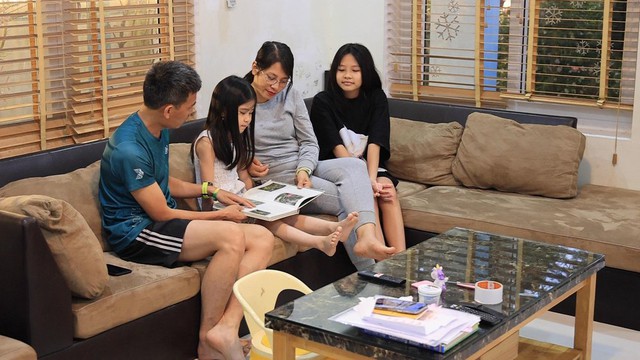 Mr. Thang and Ms. Hang are happy in a small nest next to the farm (Photo: Ha AN)
After more than 10 years of hard work making food for cows, Mr. Thang has now become the Deputy General Director of the Company under the Group, and Ms. Hang has also proved her old determination to be right when she became the Director of Feed and Foodstuffs. nutrition.
"Destiny does not come many times in life. In order to support my husband's career, we accidentally worked at a company whose name was a combination of the letters in our husband's name (Thang – Hang) so that after a while For a long time, the couple's love is nurtured and perfected in their married life, adding more meaning" – Ms. Hang confided.
As for Mr. Thang, the Nghe boy in every year broke his promise to his father-in-law, but with his own efforts, he was completely with the consensus of his beautiful wife.
The more he asserts his prestige at work, the more he respects and admires his wife's love and understanding that gave him the opportunity to live with passion and have a firm foothold in his career.
https://soha.vn/cai-ket-vien-man-cua-cap-doi-xu-nghe-10-nam-done-pha-nang-gio-nghien-cuu-thuc-an-gia-suc- 20220426150603928.htm
You are reading the article
The perfect ending of the Nghe couple for 10 years, basking in the sun and wind, researching animal feed

at
Blogtuan.info
– Source:
cafebiz.vn
– Read the original article
here