Đông Tây - Kim Cổ
Vo Tong fights the tiger and the events before going to Luong Son Bac
1. Vo Tong's biography
Not only depicted in novels such as Thuy Hu or Kim Binh Mai, Vo Tong also has a dense appearance in many other Chinese art forms such as drama or cinema. Therefore, the level of interest for this character is not small.
1.1 Who is Vo Tong?
Widely known as a built-in character in the famous Chinese novel Water Margin, Wu Song was thought to be a fictional character for a long time, but in reality there are many references to the fact that there are Wu Tong in history.
According to the description in the story of Thuy Hu, from Shandong province, Vo Tong lost his parents at a young age and has an older brother, Vo Dai Lang. In addition to his strong and muscular body, about 8 feet tall, Vo Tong is also distinguished by his high-powered martial arts, likes wine and has a sense of qi.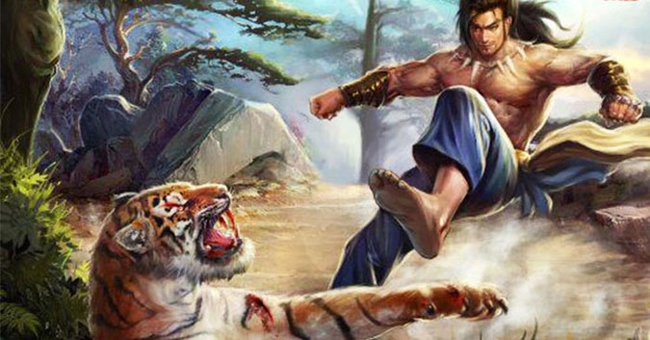 After many unfortunate life events, Vo Tong joined Luong Son Bac – a place where 108 heroes from all over the world gathered to create an uprising against the exploitation and oppression of the imperial army. family – and became one of the 10 leaders of the Luong Son infantry.
After a period of growing up against the imperial court, Tong Giang – the leader of Luong Son Bac – with the ideology of patriotism, asked to submit to the court despite the fierce opposition of Vo Tong. In the journey to quell the rebellion and suppress the attack of many uprisings, Vo Tong encountered Phuong Lap army. Having an arm cut off but still winning the battle, Vo Cong decided to ordained at Luc Hoa Pagoda in Hangzhou and lived to the age of 80.
1.2 Discovering Vo Tong's grave
In 1894, while repairing the wall of Dung Kinmen in Hangzhou, an ancient coffin was discovered, and archaeologists quickly got involved. Surprisingly, not only did they find the tombstone, on top of the coffin, archaeologists also discovered the words "Vo Tong chi Huu" (Vo Tong's coffin).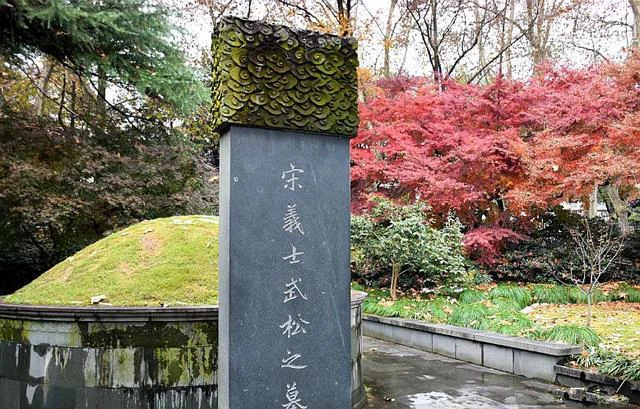 Inside the coffin are the remains of men, and archaeologists confirm that this is Vo Tong's coffin. However, this corpse still retains the left arm, different from the description in the story of Water Margin that he lost his arm during the battle with Phuong Lap army. According to experts, there were many scars all over the body, but the cause was not from fighting the enemy. With the discovery of this coffin, many questions were raised about Vo Tong in real life and the image of Vo Tong in the novel.
2. Vo Tong: Life events before going to Luong Son Bac
Before becoming the 14th person to join Luong Son against the military mandarins specializing in pillaging and oppressing the people, Vo Tong's life was full of turbulence and events that soaked in blood and tears. Let's take a look at some major events that happened in Vo Tong's life before going to Luong Son Bac.
2.1 Vo Cong killed Ximen Khanh
The story of Vo Tong killing Tay Mon Khanh is associated with the name "Vo Tong killed the pipe" that folk still say about him. Accordingly, Vo Thuc, also known as Vo Dai Lang (the eldest son of the Vo family) – has a fraternal relationship with Vo Tong – has a newlywed wife, Phan Kim Lien – a girl with a beautiful face. but affectionate personality. While her husband was away, she played a trick to seduce Vo Tong, the result was not only unsuccessful, but he was also loudly shouted, "I have heard outside gossip about many bad things about pipes, I can resist but not sure. This fist can hold."
After that, Vo Tong had spent all his life in the dental office, then Phan Kim Lien had an illicit relationship with Tay Mon Khanh – whose adoptive father was the Thai monk in the Thai Kinh dynasty. Until Vo Dai Lang discovered his wife's corruption and decided to arrest the adulterous couple, but before he could do anything, he was beaten to bed.
At this time, Phan Kim Lien revealed her true nature, not only did not take care of her husband but also cursed, thereby making Vo Dai Lang angry and threatening to call Vo Tong to punish. Scared, she and her toxic lover Vo Dai Lang showed no mercy. Vo Tong, after knowing the top of the industry thanks to the people around, brought the evil couple to the public street to denounce, but they were all useless due to the power of Ximen Khanh. After taking care of his brother's funeral, Vo Tong forced Phan Kim Lien to confess to his neighbors and take his own life, then went to the Lion's floor to kill Ximen Khanh to avenge him.
The story "Vo Tong killed the pipe" ends with the fact that Vo Tong was exiled to Manh Chau, and left listeners with mixed emotions, both love, anger and resentment.
2.2 Vo Cong killed Truong Do Giam and Chiang Mon Than
During the exile, Vo Tong helped Thi An – who took care of him during this difficult time – to regain the business area of ​​Khoai Hoat Lam from Chiang Mon Than. This incident made Chiang Mon Than angry and colluded with Truong Do Giam to harm him.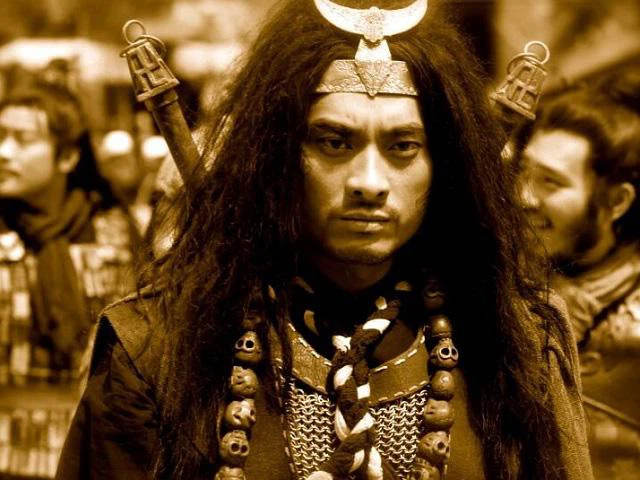 At this time, Truong Do Giam called Vo Tong to work in the government and pretended to treat him kindly so that he would not be wary. Vo Tong was falsely accused of stealing and was imprisoned, but thanks to Thi An's help, his sentence was reduced and only sentenced to imprisonment. But Chiang Mon Than and Truong Do Giam still did not spare him when they sent assassins to kill him, making Vo Cong angry and determined to kill these people. Vo Tong broke into Truong Do Giam's house, not only killing him and Chiang Mon Than, but also killing those close to them, and left behind a piece of blood that reads "The killer is Vo Cong. fight tigers".
2.3 Vo Tong kills assassins
On the way to exile due to the murder of his sister-in-law Phan Kim Lien and his lover Tay Mon Khanh, Vo Tong was surrounded and killed by a group of assassins ordered by the enemy. The battle between him and the assassin became a classic when a handcuffed, unarmed man could defeat fully armed assassins.
Extraordinary strength, high martial arts skills and quick handling ability helped Vo Tong escape from the hands of death despite being in a difficult position: The chains were full of people, were attacked by surprise, and the enemy was outnumbered. This match is definitely a detail that should not be overlooked when discussing Martial Arts, still attracting the attention of many people whether transmitted in folklore, in stories, or in movies.
3. The story of Vo Tong killing the tiger (Vo Tong fighting the tiger)
Vo Tong's role model is loved by many people, and interesting legends related to him such as Vo Tong slaying the lake (Wu Tong killed the tiger), Vo Tong killing his sister-in-law (Vo Tong killed his sister-in-law), … all became themes that fascinate people and are passed down from generation to generation.
Although there are many different plots according to different sources, the phrase "Wu Tong killed the tiger" is still a topic that attracts the attention and curiosity of many people.
Legend has it that Vo Tong once returned to his hometown to visit a pub in Duong Coc district (present-day Lieu Thanh city). As an alcoholic, he was annoyed by the words "Drink 3 cups, you should not cross the hill" hanging in front of the shop, and after asking the shop owner, he found out the existence of a tiger that specializes in eating. Human flesh is on Canh Duong hill, so if you get drunk, you shouldn't go there.
Indignant at the story, Vo Tong drank all of the wine in the bar and then took the stick up the hill to find the tiger. After a day with a stick to beat the tiger but it didn't work, he threw away the stick and fought with the tiger empty-handed, punching the tiger with one hand, pressing its head to the ground with the other hand. Vo Tong's consecutive punches. With the merit of killing tigers and bringing peace to the people, Vo Tong was appointed the district command of the region.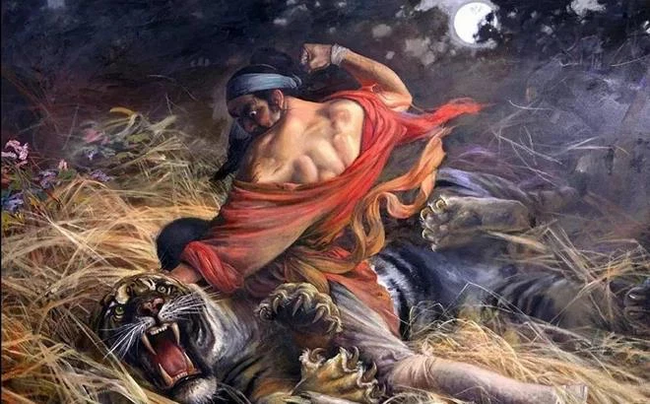 It is the folk version that was passed on, but according to historical records such as Zhejiang Zhi, Hangzhou Fuzhi or Lin'an County, "Wu Cong killed the tiger" is associated with a completely different story.
Accordingly, Vo Tong – who was a martial arts man, traveling around the world – met the official Cao Quyen on a visit to Hangzhou, so he was invited to serve as the Hangzhou Editor thanks to his high martial arts skills. Not long after that, because Cao Quyen was dismissed for offending the nobles, Vo Tong was also dismissed from his position as a small official in the tri government.
At that time, Thai Cung – the newly appointed Hangzhou government official – took advantage of the power of his father, Thai monk Thai Kinh in the capital to do harassing and bullying things. Angry at Thai Cung's abuse of power, Vo Tong decided to plan to kill him. After ambushing and successfully killing the mandarin Thai Cung right in front of his house, Vo Tong was also arrested and died in prison due to torture by torture.
According to records, Thai Sim was still alive with the nickname Thai Ho, so when Vo Tong killed him to eliminate harm to the people, people used a metaphor Vo Tong "killed a tiger". Therefore, the story that Vo Tong didn't kill the tiger with his bare hands was most likely only fictionalized by the author of the series Thuy Hu from the incident that Vo Tong killed Thai Cung.
4. Bien Nguyen Hanh – Is it the real-life prototype of Vo Tong?
Known for many famous Chinese stories, typically Thuy Hu and Kim Binh Mai, as well as appearing with variations in many other art forms such as drama, film, … viewed as a fictional character for a long time. However, through many historical evidences, researchers have shown that Vo Tong is a real character.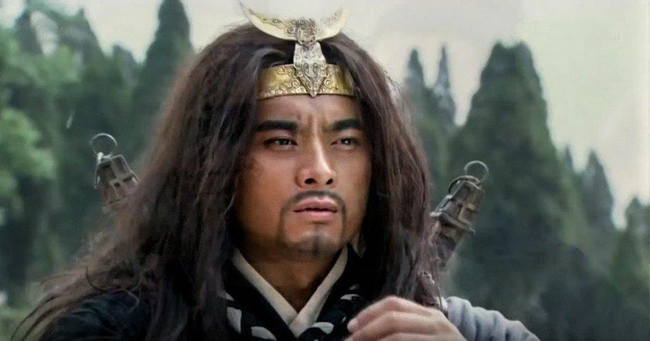 According to some studies, the real-life archetype of Vo Tong is Bien Nguyen Hanh – the son of the King of Hell Bian Si Chan at the end of the Nguyen Dynasty (according to Bien Thi Gia Pho). Bian Nguyen Hanh, with high martial arts skills and strong strength, single-handedly defeated a fierce tiger in the Bien Thuong strip.
Thi Nai Am – Truong Si Thanh's advisor, who was a close friend of Bien Nguyen Hanh, noticed that his surname Truong was addicted to alcohol and beauty, neglected politics, so he moved back to hermitage and wrote Thuy Hu and included it in the story. characters modeled after people he knew.
The details and stories surrounding the character Vo Tong arouse the interest and curiosity of many people. Although the legends associated with this character such as Vo Tong killing a tiger, Vo Tong killing a pipe, Vo Tong killing Truong Do Giam and Tuong Mon Than,… will have many different variations according to different sources, Vo Tong is always an interesting topic to explore and learn.
You are reading the article
Vo Tong fights the tiger and the events before going to Luong Son Bac

at
Blogtuan.info
– Source:
danviet.vn
– Read the original article
here