BOOKED BASE RELIEF CULTIVAR
Material:
– 800g cucumber, washed, scraped into long thin slices along the fruit body (note, only young fruits should be selected, old fruits with large seeds will cause a puncture in the middle of the fruit).
– 450g delicious pork belly
– 2 chili peppers, trimmed
– 1 handful of green onions
– Herbs served: 2 curly lettuce plants; 1 bunch of coriander; 1 bunch mint basil; 1 bunch of perilla or raw veggies of your choice.
Making:
Bacon is only washed with dilute salt water, then put in a pot of boiling water with a few drops of rice vinegar to make the meat white. Then take it out and let it cool.
Pick and wash herbs, soak in dilute salt water for about 15 minutes, then take them out to dry. Lettuce is fragile so you have to wash it very gently.
Wash the scallions, take only the leaves. Put the scallions in a pot of boiling water and then put them in a bowl of cold water to keep the green color of the onions. Take out to dry.
After the bacon is cooled, put it on a plate, cut it into thin slices, about 5cm long.
Put 1 slice of cucumber on a plate, then 1 slice of meat, followed by some curly lettuce leaves, perilla, coriander, mint… and then roll it up.
Use scallions to force the cucumber to roll the meat so it doesn't come apart. Arrange cucumber rolls with bacon on a plate, served with sweet and sour fish sauce.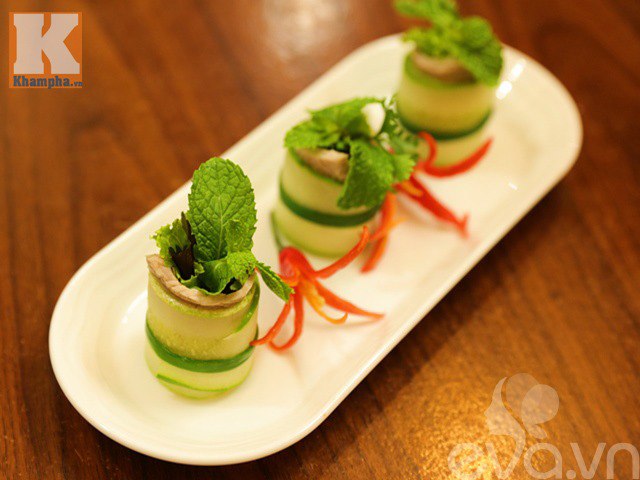 SUCCESSFUL GINGER STEAM
Material:
– Longevity: 300g
– Green onions: 50g
– Ginger: 1 small tuber
– White wine
– Salt, pepper, fish sauce, cooking oil
– Served with herbs.
Making:
– Wash the field with water mixed with a little salt and white wine.
– Boil the sausages in water with a little salt and a little white wine for about 15 minutes, take them out and put them in cold water immediately.
– Peeled ginger, julienne. Sliced ​​scallions.
– Cut sausages into bite-sized pieces.
– Arrange the sausages on a plate, add a little pepper, ½ teaspoon of onion soup powder, and arrange ginger evenly on the sausages. Put the saucer in the steamer and steam for about 5-7 minutes or when the sausage is cooked.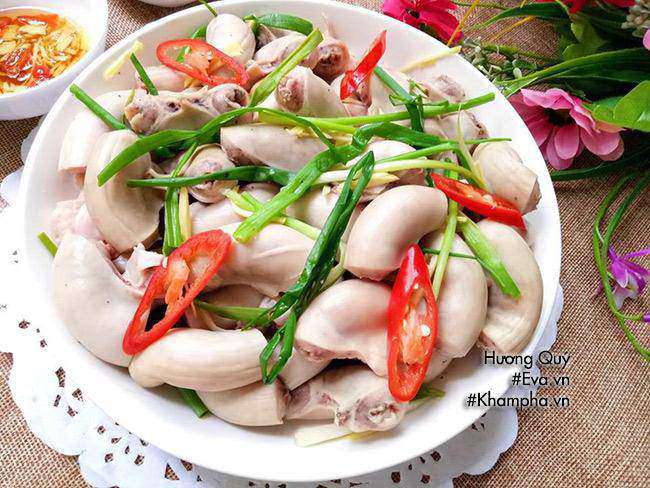 MEAT ROLL LEADES
Material:
– 1 piece of pork belly with little fat (about 1 kg)
– 1 teaspoon salt
– 1 purple onion; 1 branch of lemongrass smashed
– 1 tablespoon vinegar
– Fresh vermicelli, lettuce, grated carrot, herbs, sliced ​​cucumber, shallots lightly blanched in boiling water.
– Dipping sauce: 2 tablespoons full of black soy sauce (hoi sin sause); 1 tablespoon peanut butter; 1 minced chili; 1 clove of minced garlic; 1 minced purple onion; 1 tablespoon crushed roasted peanuts; 100 -140ml of water; 1 teaspoon sugar; 1/3 teaspoon seasoning powder.
Making:
Put a pan on the stove, add 1 tablespoon of oil, wait for the oil to heat up, add the onion and garlic and saute until fragrant. Then add the black sauce and sauté for 1 minute. Next, stir in the butter. Finally, add the water and spices and stir together. Bring to a boil, season to taste, then turn off the stove.
Bacon is only washed, scraped off the dirt clinging to the skin. Cook 1 pot of water, when the water boils, put the meat in and boil for 5 minutes. Then take out the meat and wash it. Now put 1 amount of water in a pot with vinegar, salt, lemongrass and onion and pieces of meat, put on the stove and cook on medium heat. We boil the meat for about 45-50 minutes.
Note: The time depends on the piece of meat to be large or cut into small pieces. Remember not to overcook the meat, it will lose its flavor. When the meat is cooked, take it out and soak it in a bowl of ice cold water for 2 minutes before slicing.
When the meat is cooked, take it out and wait for it to cool, then slice it thinly.
Spread lettuce leaves on a plate, arrange meat, herbs, cucumber, some noodles and carrots. Gently curl. Use chives in the middle column to complete. Arrange the salad pieces on a plate, when eaten with peanut sauce.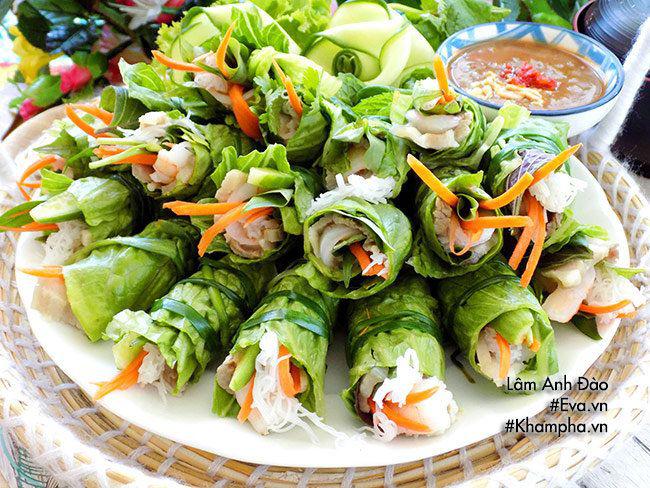 AGAIN
Material:
– Boneless swan meat
– Green mango
– Carrot
– Onion
– Whole roasted sesame
– Galangal, lemongrass, garlic, chili
– Lemon leaves, the smell of ships
– Rice paper rolls, coriander, soy sauce
– Delicious fish sauce, spices
Making:
Step 1: Preliminary processing
– Boneless swan meat, boiled and drained, then fried in hot oil until the meat is just cooked.
– Green mango, shredded carrot.
– Thinly sliced ​​onion, soaked in a bowl of ice water to reduce pungent.
– Crushed garlic galangal, lemongrass peels off all old clothes and thinly beveled.
– Sesame is ripe and fragrant
Step 2: Mix the ingredients
Sliced ​​swan meat, marinated with delicious fish sauce, main noodles and a little pepper. For galangal, lemongrass, garlic, squeeze the hands to infuse into the meat. Nearly eat mixed with mango, carrot, onion. Add chopped lemongrass leaves, Chinese flavor. Finally, mix the toasted sesame seeds.
Step 3: Mix dipping sauce
Soy sauce mixed with 2 tablespoons of filtered water, a little sugar, add chopped ginger, garlic, chili.
Enjoy
When eating, put raisin in rice paper (rice paper) with tops of coriander, dip it in soy sauce and enjoy.
In addition to cilantro, you can eat rare with fig leaves, sour star fruit, green banana… all very delicious.
HOW TO KEEP YOUR FEET
Material:
– Pork leg meat: 500g
– Galangal: 150g
– 4-5 lemongrass bulbs
– 3-4 sour star fruit
– 20g sesame
– 4-5 lemon leaves
– Chili, garlic, salt, sugar, lemon
– Vegetables eaten with: fig leaves, clove leaves or other leaves such as apricot leaves, herbs of all kinds.
Making:
Pork leg meat is washed, drained, then yellowed. The best is that you cook with straw, if you don't have straw, you can wrap paper around the meat and then burn it or put it on the stove to turn yellow on all sides.
After the meat is cooked, wash it clean and then put it in the pan with a few slices of galangal and lemongrass lining the bottom of the pan. Cook with low heat for about 15-20 minutes, when the meat is cooked it is dark yellow, the aroma of the meat is mixed with the aroma of lemongrass and galangal.
Galangal is washed, sliced, then put in a mortar to pound or put in a blender, grind it. Clean star fruit, peel off the edges, remove the seeds and core, then slice thinly. Peel the garlic, wash and mince it. Chilli washed, chopped. Lemon leaves, washed and finely chopped. Ripe roasted sesame.
Slice the meat into thin pieces.
After the meat is sliced ​​thin, first squeeze it with the sour star fruit above so that the sour taste of star fruit infuses into the meat. Next, add the crushed galangal to the top with a few slices of chili, a little seasoning to taste. Finally sprinkle some sesame, lemon leaves and a few slices of lemongrass and mix well.
Shave legs served with leaves such as fig leaves, sesame leaves, clove leaves or add a little apricot leaves, herbs of all kinds. Dip with cork sauce or sweet and sour fish sauce. When eating the aroma of grilled meat mixed with the aroma of galangal, lemongrass, and lime leaves, it creates a rich and attractive flavor for this dish.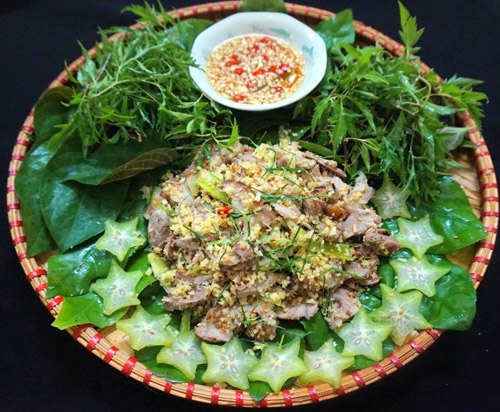 You are reading the article
5 cool dishes, can be drunk again, not bored for a holiday meal

at
Blogtuan.info
– Source:
Eva.vn
– Read the original article
here