Giáo dục
Life Style
6-year-old kid got lost at the airport, when asked for the name of his relative, he answered 5 unexpected words
Many parents often pay little attention to safety awareness and teach their children self-saving skills in case of an emergency, when this is really something worth noting. A recent story shared by a parent on a group group has received a lot of attention.
Specifically, this parent met a 6-year-old child at the airport who lost a loved one, had a backpack on his back but did not have any personal information on him, asked for a phone number his parents did not remember. Ask who you go with, answer "I'm going with grandma", ask what is the name of the relative, answer: "My relative's name is grandmother". "Interviewing her but confused about the style", exclaims the person who shared the story.
This parent also warned: Learning is a part, equipping skills must have done a lot, but sometimes you have to check. Because many children know their parents' phone numbers by heart, but when they get lost, they cry too much and are too scared to remember anything.

This parent's story received nearly 1,000 likes and hundreds of comments and shares. Many parents are "startled" because so far they have been negligent in teaching their children coping skills when they are lost. Besides, some parents also said that they focus on educating their children about this issue from a very young age:
– Right from the age of 2, I taught her to memorize the phone number, home address and always ask again when going out with her to remember. Once I lost my mother in the shopping mall, when I was 3.5 years old, I knew I asked the security guard to call my mother and wait for my mother to come pick me up.
– If you are confident that your child remembers the phone number of his parents, if he remembers the information, then try to take him to the supermarket or a crowded place and then try the situation when he is lost to see if he can remember the phone number when he panics? If you can still remember it calmly, it is considered a graduation.
– My friend at the age of 6 let him go to the lake to play, he turned back and did not see him. Mom and aunt rushed to find, after a while, she saw her friend standing next to her uncle and told her to wait for her uncle to call her mother. The good thing is that the device that I remember that day, my mother charged the battery to forget at home. In addition to telling children to remember the phone number and home address, parents should also fully charge the battery and carry it with them when going out.
What do parents need to do to teach their children safety skills when going out?
Children are often surrounded by their parents, but when no one is around, they need a certain amount of self-reliance. However, in many cases, parents are subjective and do not anticipate unexpected situations, do not teach their children some skills in advance, so in real emergencies, children do not know how to handle them properly.
1. Let the child remember some necessary information
After children turn 3 years old, children can learn a lot of things and remember well. At this point, you can teach children some family information such as parents' names, cell phone numbers, and home addresses. Who knows, children might one day use this important information to ask others to help contact the family.
However, because the memory of young children is not good, you should put a piece of paper in your child's backpack or pocket with your name, address, and phone. Instruct the child to keep this piece of paper carefully and give it to an adult to contact and call parents to pick up the child early. At home, parents can practice with their children over and over again hypothetical situations to help children know the best way to react and act.. Or you can take advantage of times when you go to public places to "review" in case you need to use them but you don't remember.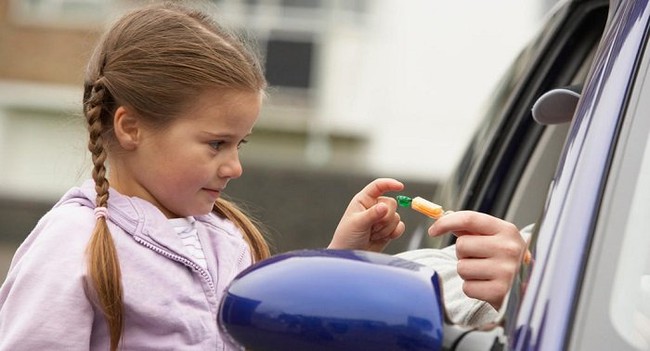 2. Identify safe people to ask for help
Parents, please teach your children who are safe and can be trusted for help. If your child is lost in a public place such as a supermarket, theater, or park, you should look for parents with small children or uniformed staff.
If you are on the street, you can go to the police officers or visit a people's house, a nearby agency such as a committee or a bank to ask for contact with your family. Parents, please tell your children not to accept gifts from strangers, and not to let strangers touch their bodies. Children must stay away from objects that appear to be overly kind such as giving money, giving gifts, cakes or toys to entice them to come along.
3. Set up a family password
If someone says to a child: "Follow me. I'll take you to my parents", the first thing a child should do is ask the stranger: "What are your parents' names? Family password? What's your family?" You should create a sentence that acts as a password for emergency situations. Using phrases that are rarely thought of will make it difficult for strangers to guess, like "Cam Bong" for example.
https://afamily.vn/dua-tre-6-tuoi-di-lac-o-san-bay-khi-duoc-hoi-ten-nguoi-than-lien-tra-loi-5-tu-khien- who-now-was-man-managed-much-phu-huynh-giat-minh-thon-thot-20220430222819882.chn
You are reading the article
6-year-old kid got lost at the airport, when asked for the name of his relative, he answered 5 unexpected words

at
Blogtuan.info
– Source:
Afamily.vn
– Read the original article
here