Kinh tế
AIC Group's financial health "endoscopy" of Ms. Nguyen Thi Thanh Nhan has just been arrested
As reported by Dan Viet, the Investigative Police Agency of the Ministry of Public Security has issued a decision to prosecute the criminal case "Violation of regulations on bidding, causing serious consequences" that occurred at Dong Nai Provincial General Hospital. , Progressive International Joint Stock Company (AIC) and related units.
The investigative agency also issued a decision to prosecute and arrest the accused of AIC Company, including: Nguyen Thi Thanh Nhan, former Chairman of the Board of Directors cum General Director; Hoang Thi Thuy Nga, former deputy general director; Nguyen Quang Minh, Nguyen Tien Thu, Hoang The Quynh are all employees of the Company.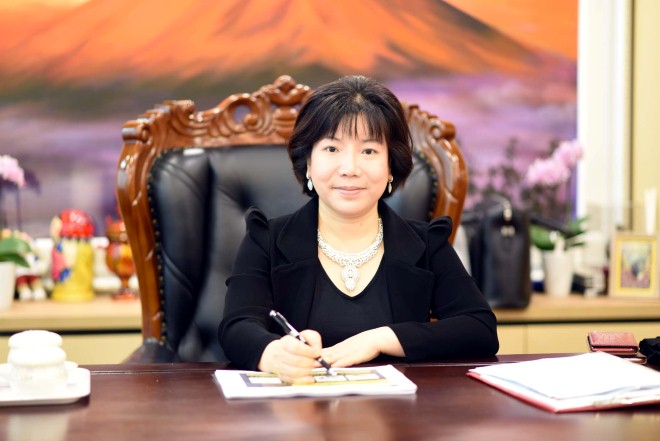 AIC Group, less than 1 year, twice changed legal representatives
The self-introduction of aicgroup.com shows that AIC Group is a pioneer in many business fields, with 29 member companies, thousands of employees and hundreds of major global partners.
AIC Group operates in many fields such as: health, environment, education, human resource training, science and technology, participating in many bidding packages to supply teaching equipment, install wastewater treatment equipment and waste in many hospitals.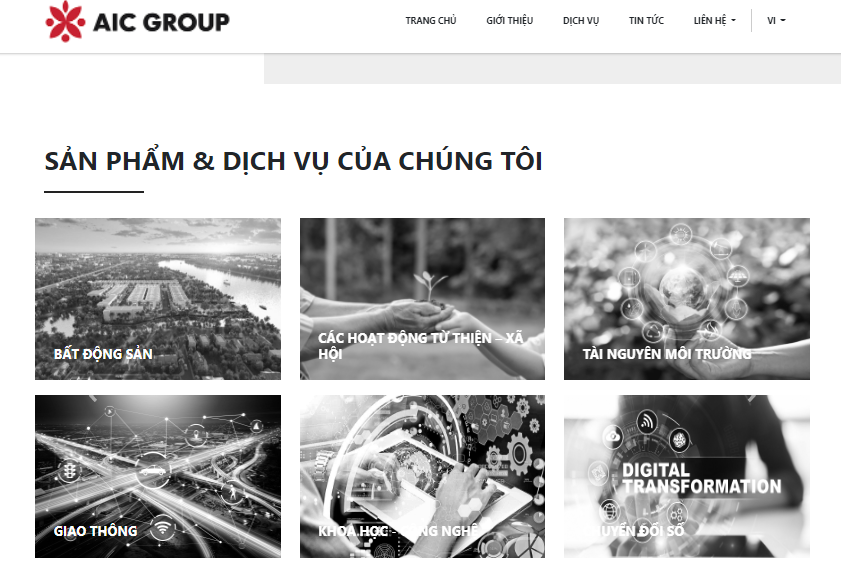 Data from the enterprise registration portal, Tralacen Labor Export Center under the Ministry of Transport was established and officially put into operation in September 1999. This is the forerunner of International Progressive Joint Stock Company (AIC Group) – after this center was equitized and renamed in 2005.
According to enterprise registration, the charter capital and legal representative of the enterprise have fluctuated in recent years.
Specifically, in April 2017, the charter capital of the enterprise decreased from VND 1,000 billion to VND 928 billion. In which, the founding shareholder includes Ms. Nguyen Khanh Van (21.9%); Le Thi Hong Ly (5.7%); Truong Thi Xuan Loan (13.5%), the remaining 51.9% of charter capital is in the hands of Ms. Nguyen Thi Thanh Nhan. At this time, Ms. Nhan is both the legal representative and the general director of the company.
This company then raised its capital to VND 1,000 billion, and continued to increase it to VND 1,225 billion (March 2020), then increased to VND 1,350 billion in September 2020.
At the same time, the legal representative was also transferred from Ms. Nguyen Thi Thanh Nhan to Mr. Nguyen Hong Son born in 1970 (on September 7, 2020). Mr. Son is also the general director of this enterprise.
On March 8, 2021, the legal representative cum General Director again changed from Mr. Nguyen Hong Son to Mr. Nguyen Xuan Nguyen. Mr. Nguyen was born in 1952, currently lives in Trang Tien, Hoan Kiem, Hanoi.
As of April 22, 2022, Mr. Nguyen still holds the position of General Director and legal representative of the enterprise.
Winning many bidding packages, revenue of thousands of billion dong
Data from the national bidding network system (Ministry of Planning and Investment) shows that over the years, AIC Group has won a series of public investment projects such as the package of supply and installation of pre- and post-production equipment systems. , the system of equipment for the conference studio… belongs to the overall solution project to upgrade the Voice of Vietnam Television channel VOVTV from SD standard to HD, the winning price is 91.33 billion VND or as the package provided. installing electronic portal software equipment for the central academy and 5 academies under the Ho Chi Minh National Academy of Politics, the winning bid was 30.09 billion VND.
Information from the national bidding network system also shows that, in the period 2017-2018, Ms. Nguyen Thi Thanh Nhan's AIC Group won a series of bidding packages of hundreds of billions in the field of environmental resources in many provinces and cities. streets across the country.
Typically, the procurement package for laboratory equipment and office equipment, belongs to the investment project to build a capacity improvement project for the Center for Natural Resources and Environment Monitoring of Bac Ninh province, by the Department of Natural Resources and Environment. Bac Ninh provincial school invited bids, winning bid was 101.8 billion VND.
Or like the bidding package to provide drinking water treatment equipment at 162 public schools, part of the investment project on the treatment and supply of drinking water at public educational institutions in Quang Ninh province. 1, was invited by the Quang Ninh Department of Education and Training, the winning price was 34.5 billion VND.
In the field of real estate, the information introduced on AIC Group's aicgroup.com page introduces that this business is implementing two large-scale real estate projects, namely Phat Tich urban area – Bac Ninh, scale. construction of about 3,000 hectares, Tan An urban area project, Long An province, construction scale of 500 hectares.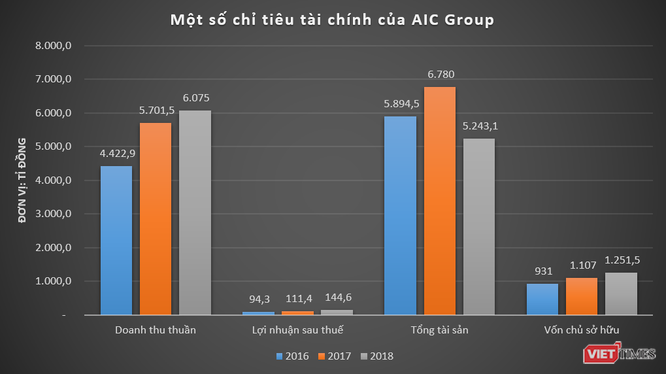 Along with business expansion, AIC Group also recorded growth in revenue and profit, especially in the period 2016 – 2018.
Specifically, AIC's revenue increased sharply from VND 4,422.9 billion to VND 6,075 billion. Profit after tax of this group also improved year by year, increasing from VND 94.3 billion to VND 144.6 billion.
By the end of 2018, the total assets and equity of AIC Group reached VND 5,243.1 billion and VND 1,251.5 billion, respectively.
Updated to September 2020, AIC Group has a charter capital of 1,350 billion VND. In which, Ms. Nguyen Thi Thanh Nhan contributed VND 765.23 billion, accounting for the dominant ownership rate with 76.5% of charter capital.
Thus, in the period 2016 – 2018, 76% – 84% of AIC Group's total assets were financed by liabilities. Profit/equity ratio ranges from 10% – 12%.
You are reading the article
AIC Group's financial health "endoscopy" of Ms. Nguyen Thi Thanh Nhan has just been arrested

at
Blogtuan.info
– Source:
danviet.vn
– Read the original article
here