No one is a stranger to the "giant of District 7" Doan Di Bang. Villa 400 billion, buying goods from hundreds of millions to billions of dollars like going to the market …, are some of the prominent keywords that netizens think of whenever Doan Di Bang's name is mentioned.
On her personal page, in addition to showing off her beautiful and smooth photos, Doan Di Bang also became the image of a hot mom in Saigon when she let 3 little princesses enjoy a rich kid standard life from a young age. With the "huge" fortune that the Di Bang couple owns now, in the future these beautiful princesses will be the heirs. Therefore, it is no exaggeration to say that Di Bang's children were born at the finish line, not having to worry about economic problems when they grow up.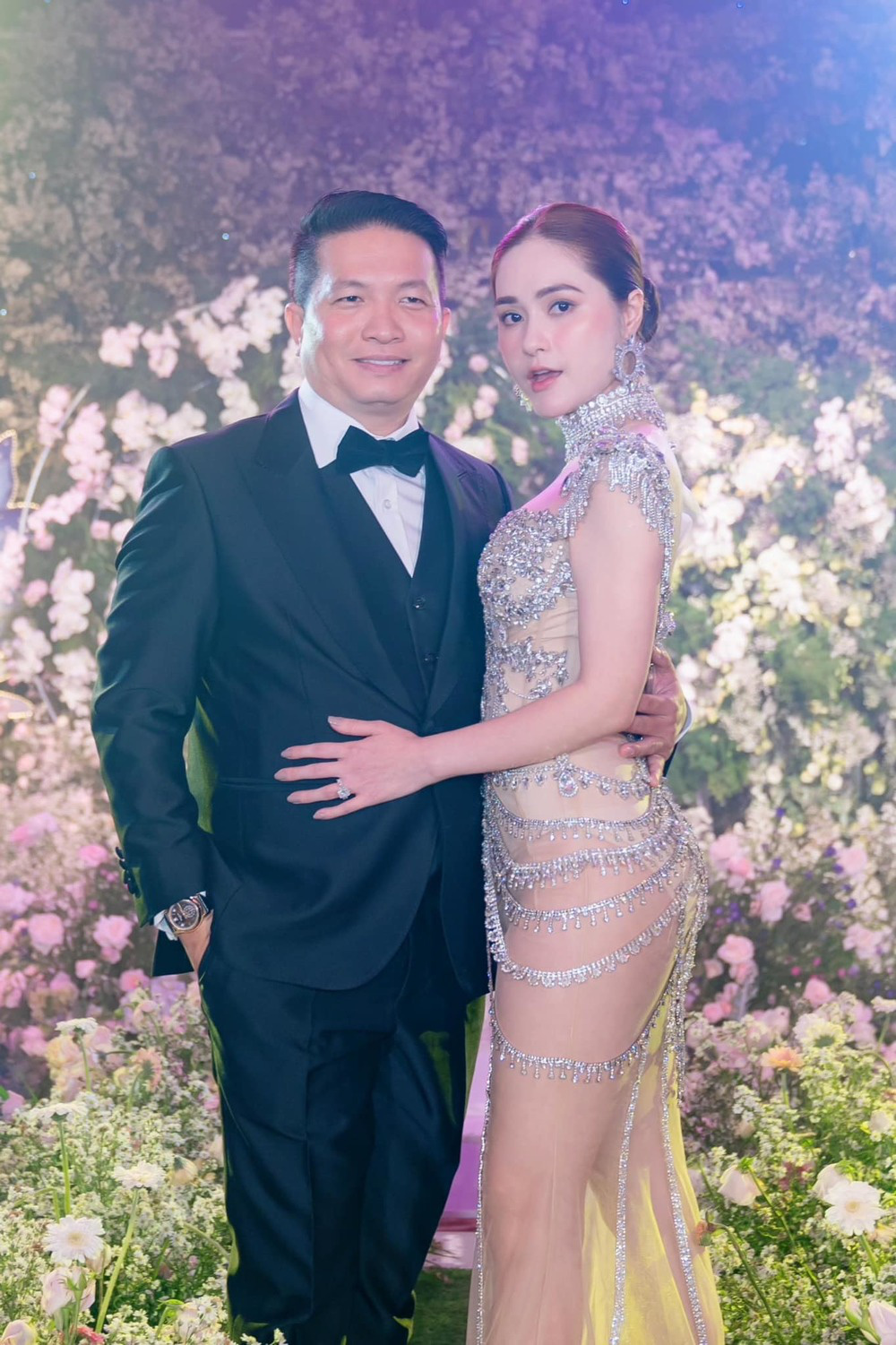 Doan Di Bang and businessman Quoc Vu.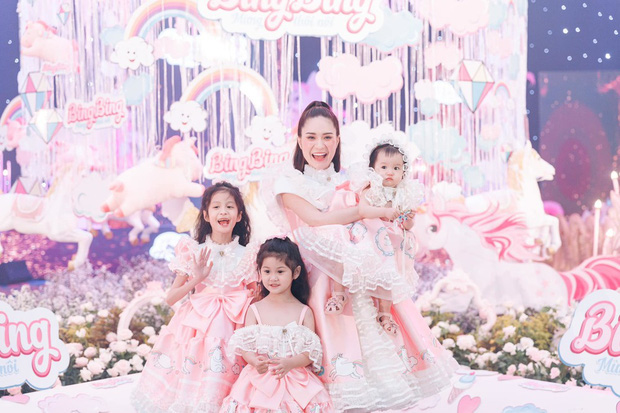 3 little princesses of Doan Di Bang's family.
Born with a "golden spoon", Doan Di Bang's daughters are always invested by their parents to develop in the best environment. Recently, the female giant in District 7 announced on her personal page her decision to transfer schools for her two eldest daughters, Hana (born in 2012) and Yuki (born in 2016).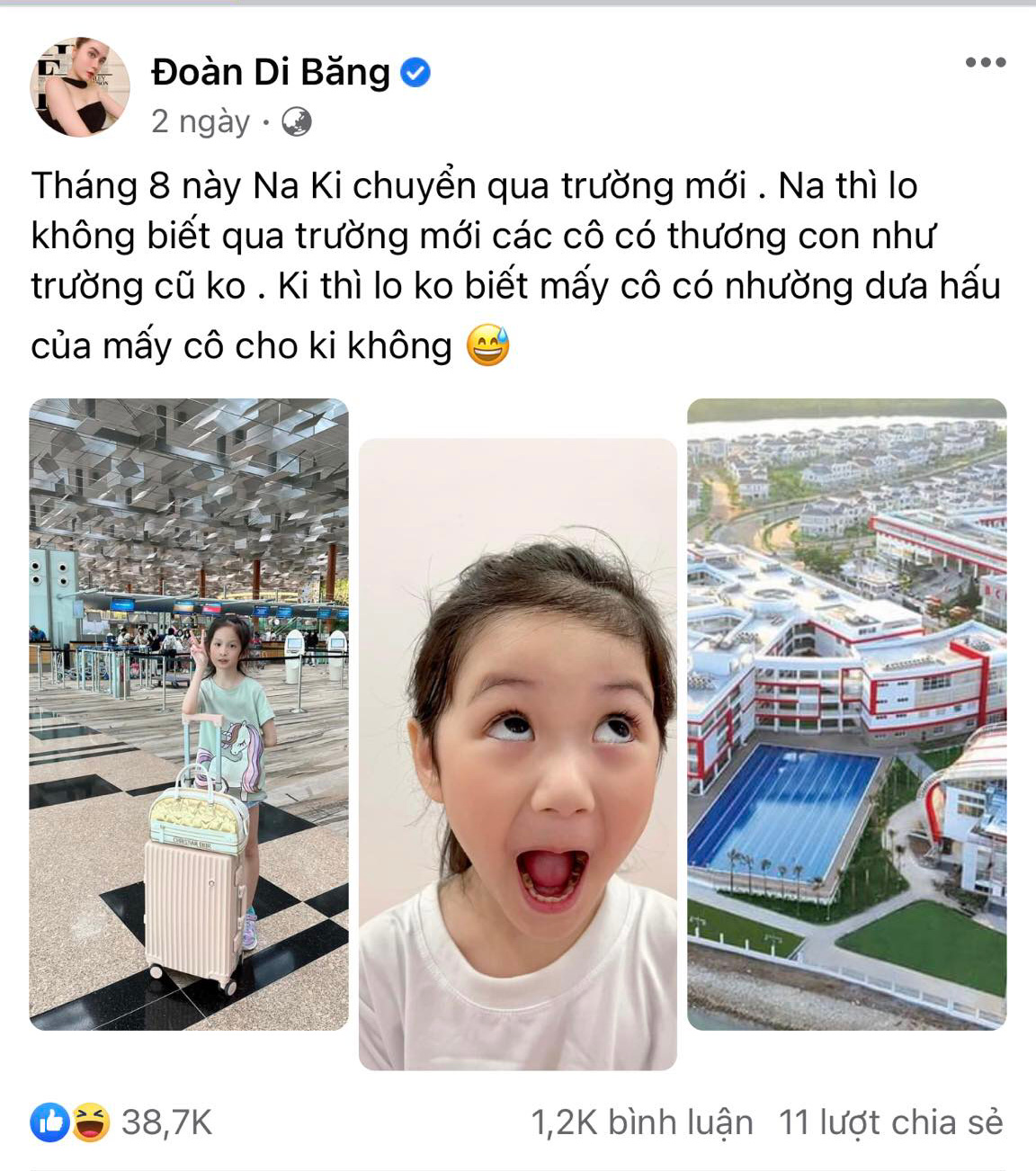 Doan Di Bang shared about transferring schools for her children on her personal page.
Accordingly, she revealed: "This August, Na Ki transfers to a new school. Na is worried about whether they will love their children like the old school when they go to the new school. Ki is worried whether they will give their watermelon to Ki".
Doan Di Bang's humorous sharing line made netizens excited to compliment the cuteness and humor of the two little princesses. Although they are two sisters, they have very opposite personalities, if the older sister Hana is extremely gentle and loving, the younger sister Naki is extremely sly.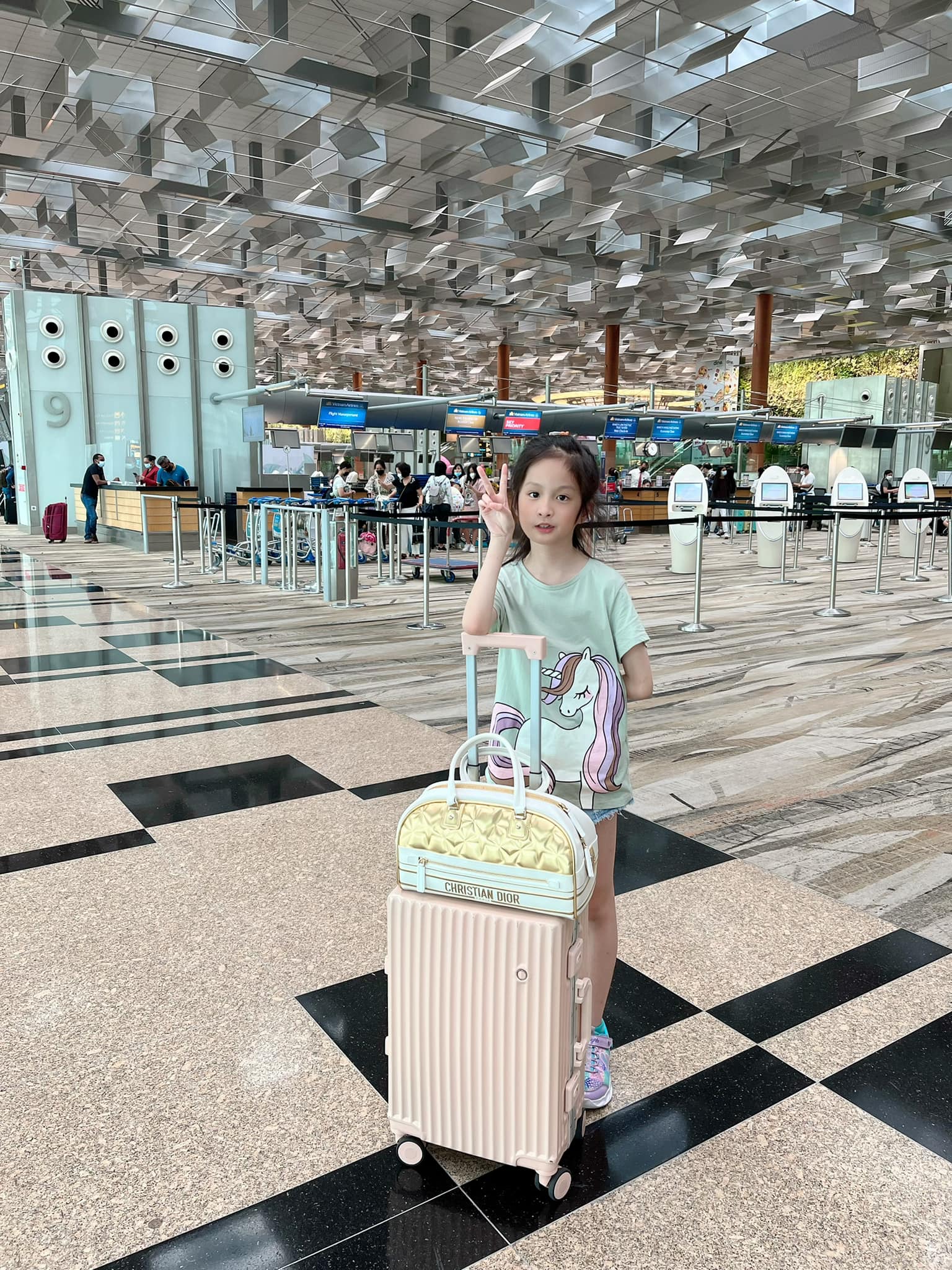 How gentle and gentle Hana is.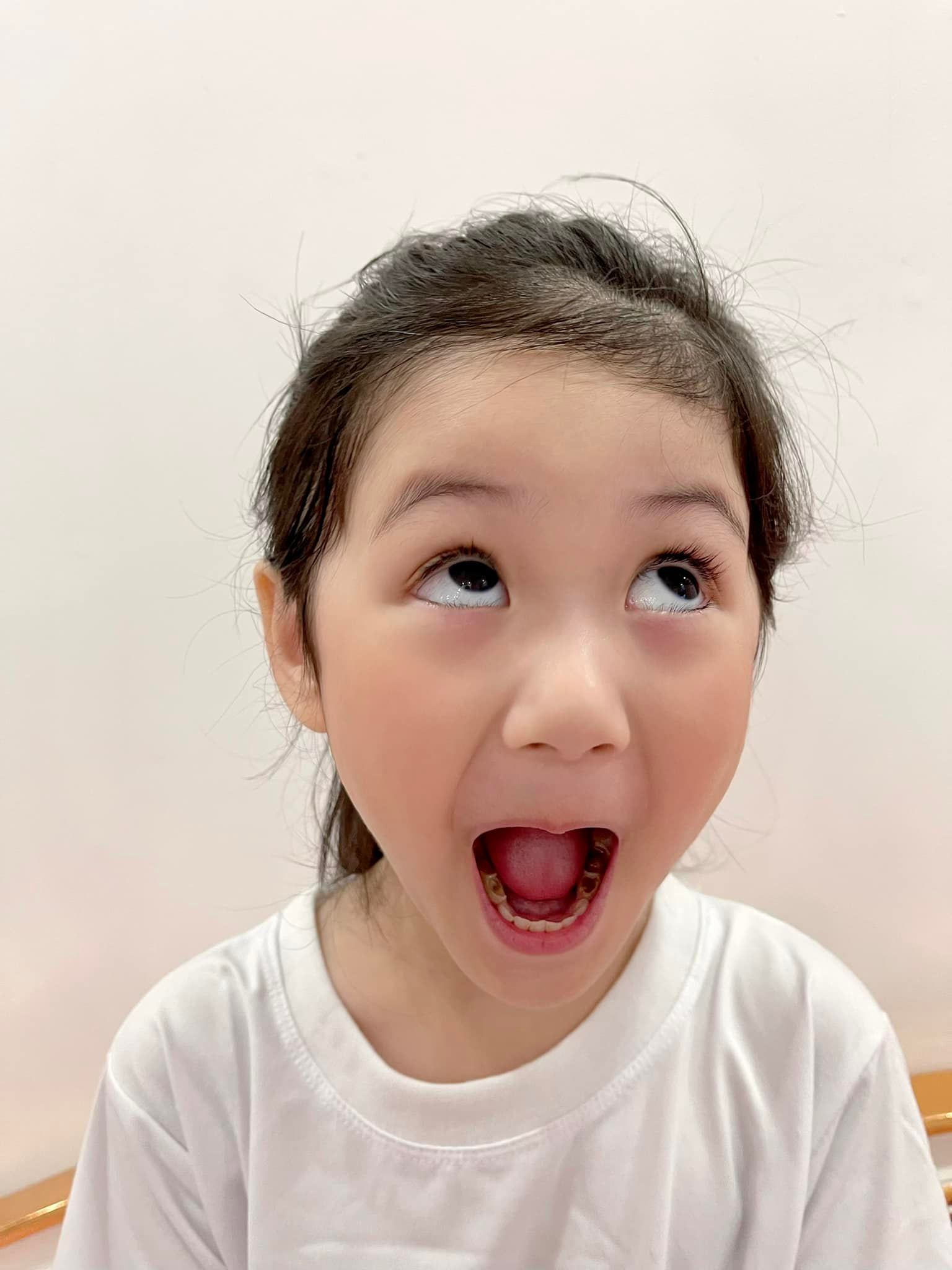 So, Yuki is so cute and clever.
Attached to her post, Doan Di Bang also shared pictures of her 2 daughters' new school. According to research, this is a picture of the Canadian International School system with 5 training facilities: Canadian International School (CIS), Canadian International Bilingual School (BCIS), Albert Einstein Elementary – Middle School – High School ( AES) and Canada Vietnam Kindergarten (CVK), located in District 7 and Binh Chanh District (HCMC).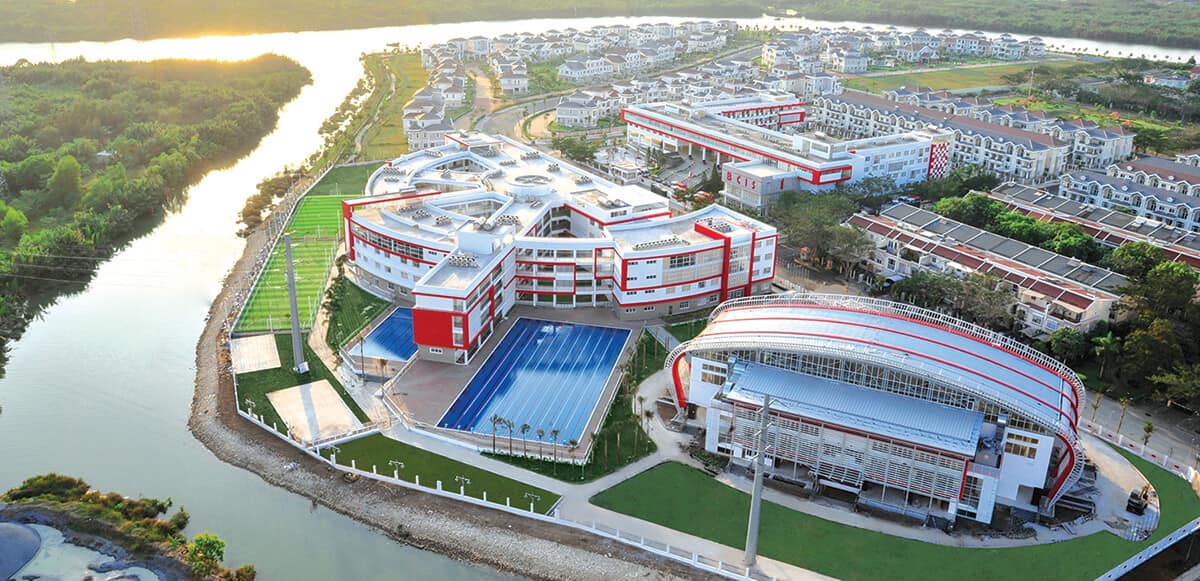 Overview of the Canadian International School System that Doan Di Bang's children will attend in the coming school year.
Vietnam – Canada Kindergarten (VCK) is located on the same street as the Canadian International School (CIS) and the Canadian International Bilingual School (BCIS). The school offers a bilingual program for children from 18 months to 5 years old. A special feature of the facilities of the Canadian International School system is the character education program by action of the Ontario Ministry of Education, to help children nurture and perfect good character from an early age.
It can be seen that this is a school of international quality, so the tuition fee is not "cheap" at all. On the school's website, it is announced that the international program has a preferential tuition fee for the whole year for primary students of VND 402.9 million. With the bilingual program, the whole year preferential tuition fee is 189 million VND for first grade and 198 million VND for the following grades at primary school for the whole year.
The CIS international program has a yearly preferential tuition fee of 500-600 million VND for high school. Similarly, with the BCIS bilingual program, the whole year preferential tuition fee is 253 million VND. In addition, not to mention the extra expenses such as entrance examination fee of about 2.2 million VND; admission fee from 22-23 million dong; The cost of a Vietnamese language class on Saturday morning is about 19 million VND,… Thus, the total cost of studying for the two little princesses of Doan Di Bang's family can be up to nearly 1 billion VND.
Before, when asked about the average amount of money each month will give to the children about. Di Bang revealed: "Every month, the amount of money I spend is not the same. Only a fixed amount is to pay the nanny's salary, tuition and daily living expenses. Shopping and travel are not always available. But I calculate it will be at least about 100 million / month."
Besides, right from a young age, children have learned English and can use this language fluently. It is known that when choosing a nanny to take care of her daughter, the giants of District 7 also set many standards as high as they must know and be good at English, in order to be able to teach and talk to their children.
Talking in a previous interview, Doan Di Bang also shared her feelings about the daughter's nickname "rich kid": "The life of the children of the Bang is still normal. The children go to school all day, come home to help the nannies in every possible condition. Bang has never told her children that she is rich or has any conditions. Because I don't want the children to create a distance from their friends, and the closest are the nannies."
And despite living in full and happy conditions since childhood. But Doan Di Bang always teaches children to appreciate money and appreciate what they have.
"Every time the children are good and help people with housework, my wife and I will reward them with toys and give them a few tens of thousands of dollars so that the children can put away the piggy bank to save money. At the end of the year, they will beat the pig once to buy groceries. They like it and the rest will go to charity.I think this way of educating children will give them more motivation to train themselves, always do something useful for society and help them know how to appreciate them. value for money earned".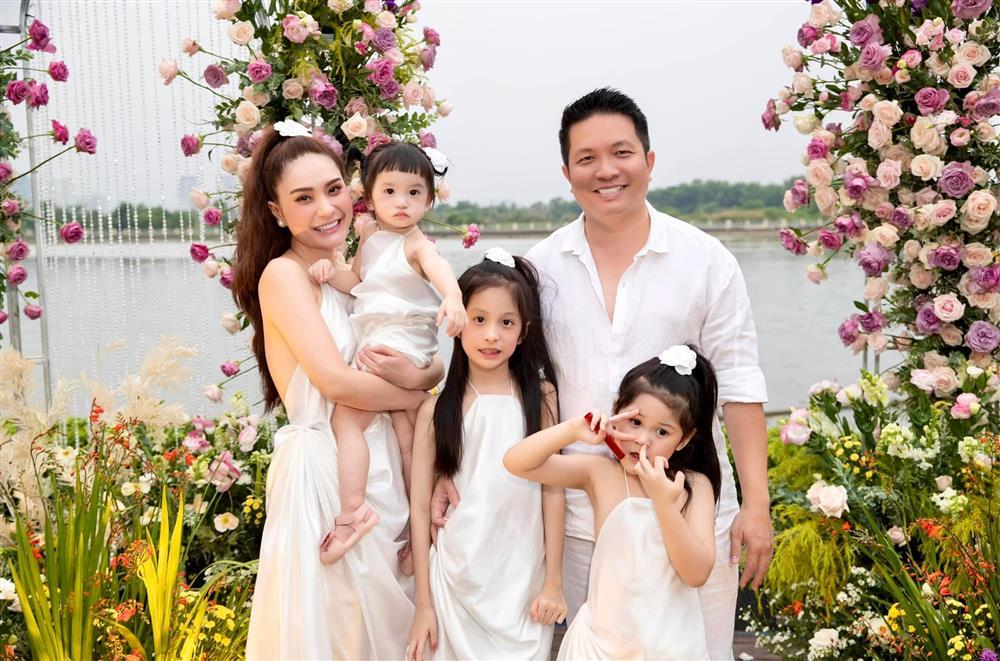 The happy little family of Doan Di Bang.
Synthetic
You are reading the article
District 7 giant Doan Di Bang moves schools for his 2 daughters

at
Blogtuan.info
– Source:
Afamily.vn
– Read the original article
here