HAZARDOUS CHICKEN HOT HOT OF THE WEST WEST
Material:
– About 1.2kg – 1.5kg of chicken meat
– Green chili: Depending on your preference for spicy, you can usually give 100g, but if you can't eat spicy, you can use less chili.
– 1 fresh coconut
– Basil for dipping hot pot: 300g
– 500g-1kg of vermicelli, depending on the number of people eating
– 5-6 dried purple onions
– Some lemongrass branches
– Some lemons
– Salt and sugar just enough.
– Vegetables dipped in hot pot: If you like, you can add chamomile, mushrooms… but using basil is still the best taste.
How to cook delicious chili chicken hot pot:
Step 1: Prepare the chicken
First, you should choose delicious chicken, if it is a young chicken, the better, the meat is sweet and tender, so dipping in hot pot will be very delicious. Do not choose young chicken too quickly crushed, even fishy. Also, don't choose old chicken because the meat is tough, dry, less sweet, and hard bones.
Chicken you can ask the vendor to make feathers and then peck it and then bring it home for preliminary processing. Use salt to rub all over the chicken to disinfect, then rinse thoroughly under running water and dry.
After the chicken has drained, use a sharp knife to cut the chicken into bite-sized pieces. Do not cut the pieces too big to make the chicken take a long time to cook. Also, do not cut the baby pieces too tightly, the meat will crumble and shrivel during the process of putting it in the hot pot to simmer. Place the chicken on a plate and cover with cling film. Chicken is originally put into the hot pot, so it doesn't need to be seasoned to feel the original deliciousness of the chicken. Put the chicken dish in the refrigerator, wait for the broth to cook and prepare other ingredients, then bring it out and enjoy.
Particularly, the legs, neck and backbone of the chicken should be kept separate for later simmering for the broth to make the broth more fragrant and sweeter.
Step 2: Prepare other ingredients
Peel off the dried onions and wash the dirt. If you have a large tuber, you can cut it in half to make it fragrant, a small tuber can be left whole, not chopped.
The dangerous green chili should use scissors to cut off the stem and then wash.
Lemongrass tubers peel off the old outer skin and then wash, cut and smash.
Squeeze lemon juice, remove seeds.
Basil picks up old, damaged leaves and soaks them in dilute salt water for about 15 minutes, then rinses several times with clean water. Finally, put the vegetables in the basket to drain, wait to dip the hot pot.
Other accompanying vegetables and mushrooms are also washed and dried.
Fresh coconut for water.
Step 3: Cook dangerous chili chicken hot pot
Prepare a pot to cook hot pot. At this point you put a moderate amount of water into the pot, maybe a large bowl. Boil a pot of water. When the water boils, add crushed lemongrass, dried onions and fresh coconut water to the pot. For a delicious hot pot of chili chicken hotpot, immediately put the bones of the neck, back, and legs of the chicken into the pot. It is recommended to boil for about 20-25 minutes until the bones are soft, and the sweeteners out of the water. When the chicken bones start to soften, turn off the heat. Season with salt to taste and add 1/2 of the freshly squeezed lemon juice. You can taste it again to see if the acidity is just sour.
Note, adding lemon juice to the dangerous chili chicken hotpot makes the hotpot more fragrant, the taste has a special freshness.
When finished, pour the broth into the hot pot to prepare to eat.
Step 4: Make chicken dipping sauce
Although the chicken hot pot is dipped with hot pot sauce, it is still good to make a separate dipping sauce to increase the attractiveness of the dish. While stewing chicken bones, you should make use of the sauce to save time.
Put 1 teaspoon of granulated salt, 5 green chili peppers in the mortar, and then put it in a bowl. At this point, add 1 teaspoon of sugar, 1 teaspoon of lemon juice, and stir until the sugar and salt are dissolved. The dipping sauce, or actually salt, is very simple, but it enhances the flavor of the chicken many times over.
Finished product and enjoy
Pour the broth into the pot. Note, you should not overfill the broth because you also put the chicken in and dip the vegetables in. If the water is too full, the hot pot will overflow.
Turn on the stove to boil the hot pot again, the hot pot water boils, drop the dangerous chili in. There is a special thing, when putting chili in hot pot, do not cut it, but leave the whole fruit. Because doing so, the hot pot will only have a mild spicy taste, not too spicy nor too strong for many people to eat.
If someone wants to eat more spicy, they should only cut 1-2 fruits. Now drop the chicken into the hot pot. When the chicken is cooked and the water boils again, dip the basil with other vegetables and mushrooms you like to enjoy.
Eating dangerous chili chicken hot pot with vermicelli is very suitable.
The chicken hot pot is delicious, not too spicy or too strong, and the fresh coconut water is very attractive. The chicken is tender, fragrant, well cooked, and very tasty.
Vinegar-Dip Hot Pot
Material:
– Beef (corn, loin…)
– Rice vinegar
– Coconut water
– Pineapple, cucumber, carrot, green banana, star fruit
– Herbs of all kinds
– Lemongrass, ginger, garlic, onion
– Vermicelli, rice paper
– Spices: Sugar, seasoning
– Seasoning sauce
Making:
Step 1: Preliminary processing
– Beef choose corn or loin. Wash and cut thinly. Store in the refrigerator to keep.
– Wash herbs, soak in salt water for 15 minutes, remove the scales and drain the water.
– Cucumber, carrot, pineapple, green banana, star fruit, washed, soaked in brine, drained, sliced
– Onions washed, thinly sliced.
– Lemongrass, ginger, garlic: Wash and cut into large slices, minced garlic in a bowl of dipping sauce
Step 2: Cook beef dipping vinegar
– Put fresh coconut water in a pot, add 4 tablespoons of vinegar, 2 tablespoons of sugar, 1 teaspoon of seasoning, add a few slices of pineapple, thinly sliced ​​onion, lemongrass, and sliced ​​ginger to boil. The finished product is a pot of sweet and sour dipping water.
Step 3: Make seasoning sauce for dipping
– Minced pineapple, minced garlic, add 3 tablespoons of sugar, 1 tablespoon of coconut water, beat it, slowly pour in the seasoning sauce, until it's just right. If you like spicy food, add chopped fresh chili.
Note: you can add lemon to balance the taste, because the seasoning sauce is the soul of this dish that determines 80% of the deliciousness of the dish.
Enjoy:
– Dip beef in boiling vinegar water (put the pot of broth on the hot pot), served with rice paper rolls with raw vegetables, cucumber, carrot, pineapple, green banana, star fruit, onion… dipped with fish sauce wedge.
Beef dipped in vinegar served with rice paper rolls with herbs dipped in fish sauce
– Beef dipped in vinegar is very mouth-watering, delicious, not bored.
– Vermicelli can be eaten with rolls or with vinegar water with a mild sour taste, sweet taste of coconut water, fragrant pineapple, lemongrass, ginger, extremely delicious.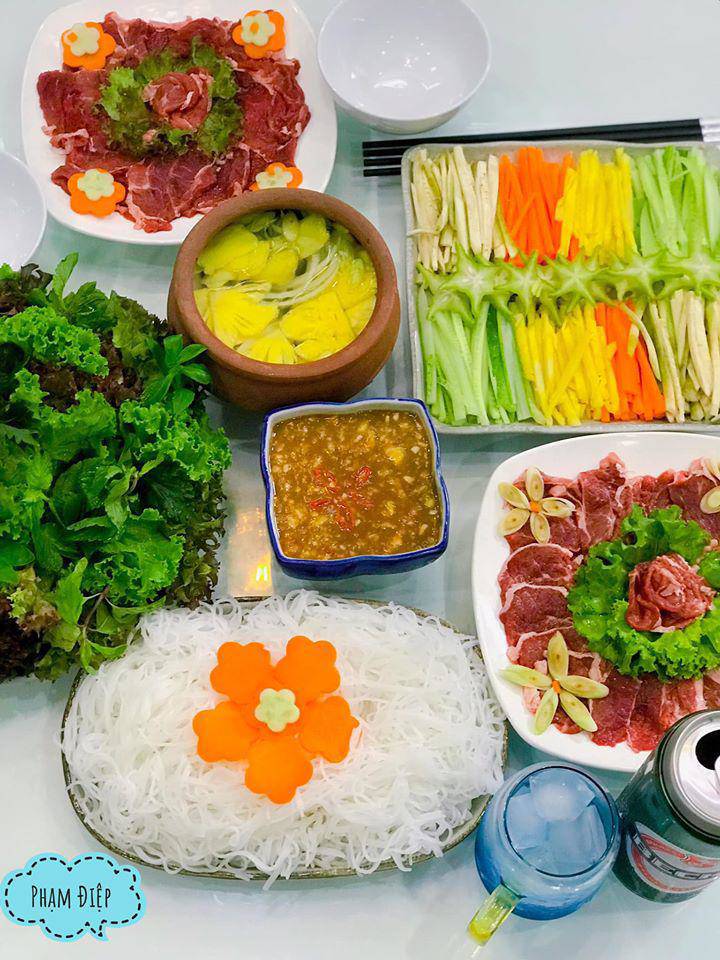 MOTHER hot pot
Ingredients for hot pot sauce:
– 300g fish sauce (fish paste and fish sauce)
– 200g roast pork or bacon
– 500g of howling fish
– 200g shrimp
– 400g squid
– 200g fish cake
– 2 eggplants
– 50g minced lemongrass
– Garlic, chili, lemon
– Bone broth or coconut water
– Raw vegetables of all kinds (bitter vegetables, shaved water spinach, chives sprouts, gun stalks, truffles, wild flowers… or other vegetables depending on taste)
Process materials:
– Howling fish shaved off the slime, washed the first time with diluted salt water and washed the second time with warm water mixed with vinegar to clean the oil. Then cut into slices to eat. Head and tail for cooking first, the middle to eat hot pot later.
– Pork belly/roasted pork cut into small pieces.
– Boiled shrimp, peeled.
– Squid cleaned, pre-washed, chopped.
– Freshly cut fish cakes.
– Eggplant washed, cut into quarters and cut into quarters.
– Raw vegetables of all kinds, washed and drained.
Processing:
– Put the fish sauce in a small pot, pour the water over the fish and bring it to a boil until the fish meat comes out, then turn off the stove. Filter through a sieve to get fish sauce, remove bones.
– Fry garlic and chili and set aside.
– Add minced lemongrass and stir-fry with pork belly/roast pork until the meat is golden.
– Continue to add the head and tail of the fish and fry until the fish is fragrant with a few chili peppers.
– Add the boneless fish sauce with 1.5 liters of coconut water or bone broth. When it comes to a boil, skim off the foam and reduce the heat. Because the fish sauce is already salty, just add sugar and monosodium glutamate to taste. Finally, add the eggplant, garlic, chili and seasoning vegetables.
– When eating hot pot, add the ingredients: shrimp, squid, howling fish, fish cake, roasted meat.
– The fish sauce hot pot dish is almost mandatory to eat with raw vegetables to be delicious.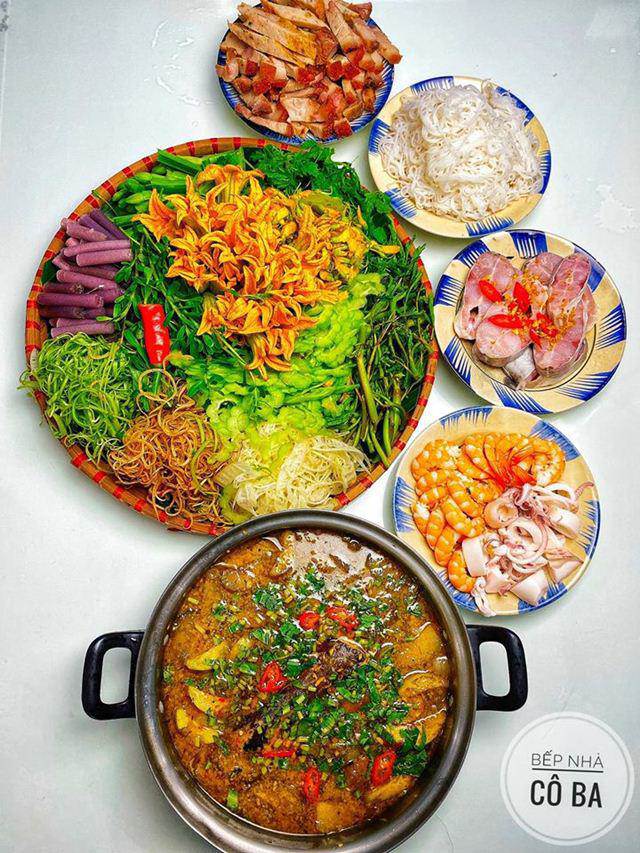 DONG Crab Hot Pot
Prepare:
– Field crab, beef, tofu, cartilage ribs
– Dried onions, tomatoes, shrimp paste
– Dip vegetables: banana flowers, split water spinach, mushrooms, herbs
– Served with: vermicelli, shrimp noodles, vermicelli…
Making:
– The crabs are soaked and washed, then separate the shells from the body. The body part, you continue to wash through water to clean it again and then put it in a mortar or blender. The next part is to pick up the bricks and then throw them away.
– When grinding or pounding crab, add a little salt so that the crab can be mixed, fluffy, easier to pound. After grinding, you filter the water and discard the residue.
– Tofu: Cut into small pieces and fry until golden
– Beef: Washed and thinly sliced ​​beef. Marinate the meat with a little ginger, seasoning seeds & cooking oil for about 20 minutes. Should buy corn or core, dip will be more delicious.
– Chop cartilage, thinly sliced ​​(I couldn't buy this the other day)
– Cooking broth:
After the crab has filtered the water, put it in a pot to boil and turn on low heat. Stir until the crab cakes rise. After the crab cakes have floated but the water has not boiled, quickly take this part separately into a bowl and keep the crab water.
Sauté dried onions, tomatoes with a little cooking oil. Next, add the crab meat that has been stirred from the apricot and the crab meat cakes that have been picked up from the crab water, stir-fry until cooked, and then add 500 ml of broth to boil the ribs. Next, you pour another 500 ml of crab water into the pot. Season to taste.
Add shrimp paste to whatever you like!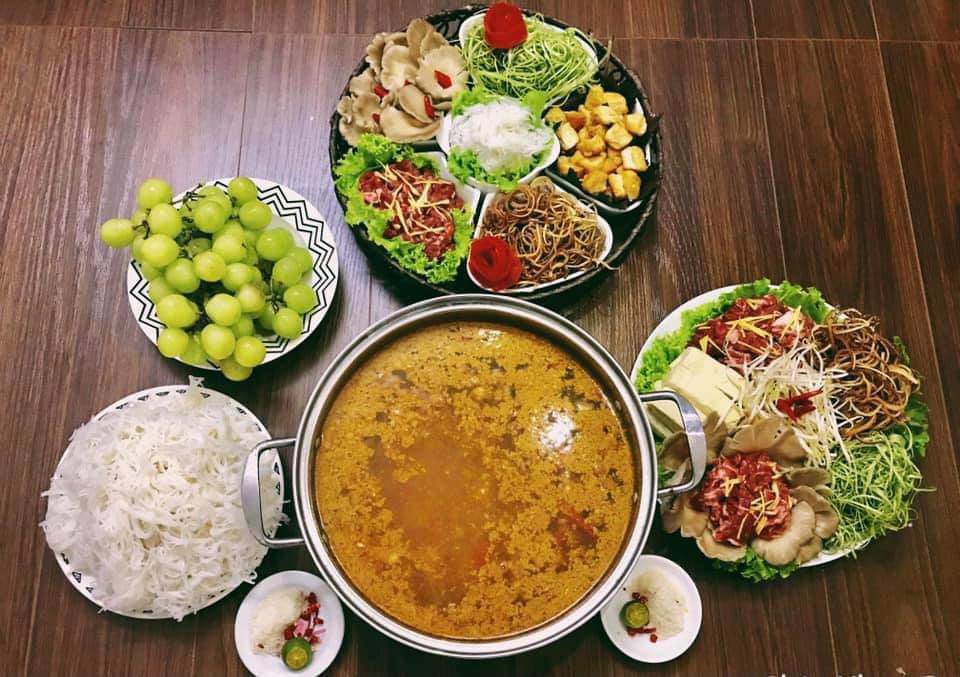 Medicinal Chicken Hot Pot
Material:
– 1 delicious chicken
– 1 pack of herbal spices, delicious
– Mushrooms
– Comes with dip (depending on your preference): mushrooms, beef, tofu, wormwood, shrimp noodles…
Making:
– Filter and separate the chicken, take the meat and cut it into bite-sized pieces to dip into the hot pot.
– The chicken skeleton, neck, and wings are put in a pot of cold water with a packet of herbal spices. Simmer for about 45 minutes, then season with salt and fish sauce to taste and get a good pot of hot pot. Add some soft soaked shiitake mushrooms.
– Fresh vegetables and mushrooms of all kinds, washed and laid out on a plate.
– Dipping items such as beef are not salted, just add a little oil to marinate the meat.
– With Northern medicinal chicken hot pot ingredients, seasoning with salt, pepper, and lemon is the best.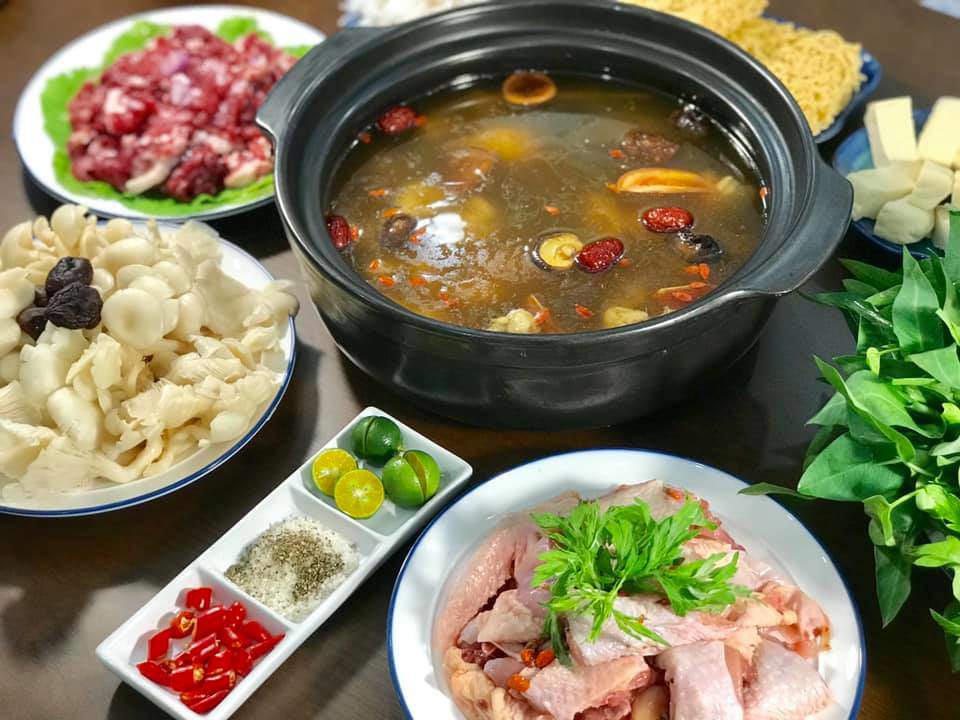 Good luck!
You are reading the article
During the holiday season, cook and make these 5 hot pot dishes that are both delicious and hot, very suitable for the weather

at
Blogtuan.info
– Source:
Eva.vn
– Read the original article
here