Sức Khỏe
The man burst his esophagus after drinking at home
He was urgently hospitalized in the afternoon of the same day with a diagnosis of esophageal rupture – a very rare situation.
The patient was taken to the Emergency Department, People's Hospital 115 (HCMC). The doctor suspected that he had acute pancreatitis, not ruling out a peptic ulcer.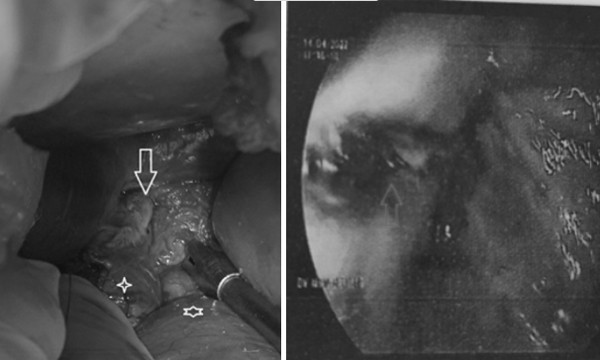 Doctors at People's Hospital 115 said that after gastric bypass and CT scan of the abdomen with contrast, the patient's results showed that the patient had fatty infiltration of the right lower quadrant of the abdomen.
The patient also underwent gastroscopy and contrast-enhanced gastroscopy. Indications for immediate surgery are made.
Left thoracotomy showed left central angle of the diaphragm many white pseudomembranous membranes, turbid fluid collection, inflammatory mass in the posterior mediastinum covering the esophagus extending a distance of 20cm from the diaphragm to the left hilar level, pus-filled cysts. .
The team dissected, enlarged, washed the abscess and placed in the thoracic cavity the irrigation system along with the left pleural drain.
The results of abdominal exploration showed that the patient's abdomen was clean, but around the abdominal esophagus and cardia were bruised. Pumping the color indicator, the doctor noted that the male patient had a 3cm long esophageal tear.
The patient was surgically sutured for the esophageal perforation, and a part of the large omentum was placed over the suture. He was also placed 2 more drains next to the right – left abdominal esophagus and opened the stomach for feeding.
Doctors said this is a case of serious complications if not diagnosed and treated promptly.
Spontaneous esophageal rupture is a rare disease, accounting for only about 10% of all esophageal lesions, but has a very high mortality rate, possibly up to 40% or more.
Vomiting is the most common cause of spontaneous esophageal rupture. There can also be some less common causes such as weightlifting, constipation, epilepsy or pregnancy… These are all causes of a sudden increase in pressure in the esophagus.
The normal course of a patient with spontaneous esophageal rupture is that, after a bout of intense vomiting, the patient has sudden, poststernal thoracic pain and substernal emphysema. Early diagnosis within the first 12-24 hours will give the most satisfactory treatment results.
Thanh Hien
You are reading the article
The man burst his esophagus after drinking at home

at
Blogtuan.info
– Source:
vietnamnet.vn
– Read the original article
here