Life Style
Yêu
The owner of the fashion shop "closed the order" for the girl after 1 month of knowing
Many people say that love is the foundation for marriage. When love is mature enough, the wedding will take place. However, there are also couples from love to marriage that only go through a short period of time.
Go eat barbecue and meet life's destiny
Recently, Ngo Tho Hung shared his love story. He was born in 1994, currently doing men's fashion business in Thanh Hoa. Hung's wife is Thanh Thao, 8 years younger than her husband.
Hung and Thao met at the end of 2021. That day, Hung went to eat with friends at a barbecue restaurant. Looking at the table next to him, he saw Thao sitting. Seeing the beautiful and lovely girl, he stole a photo with the intention of going home to find her information and then flirting.
"That day, I searched forever, thinking I might not find it, so I gave up. The next day, surfing Zalo to find goods, I accidentally saw a photo of a girl posted. That girl was wearing the same outfit as a beautiful girl. I was able to steal a photo. Who knew that they were friends, Zalo was not good, so I texted and asked."Hung said.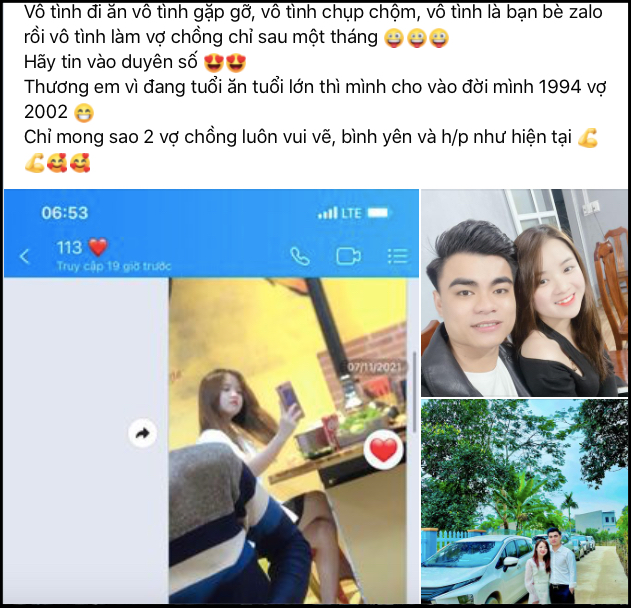 Needless to say, Thao was surprised when suddenly someone sent a photo of her going out to eat. Being a sociable person, Thao agreed to text back. The two talked to each other and suddenly found themselves extremely compatible with each other.
"A week later, I made an appointment to meet her and eat together. After that meeting, we developed real feelings and became much closer. The two of us 'sticked' together, talked happily, had The days when we talk through the night and don't want to turn off the phone"Hung confided.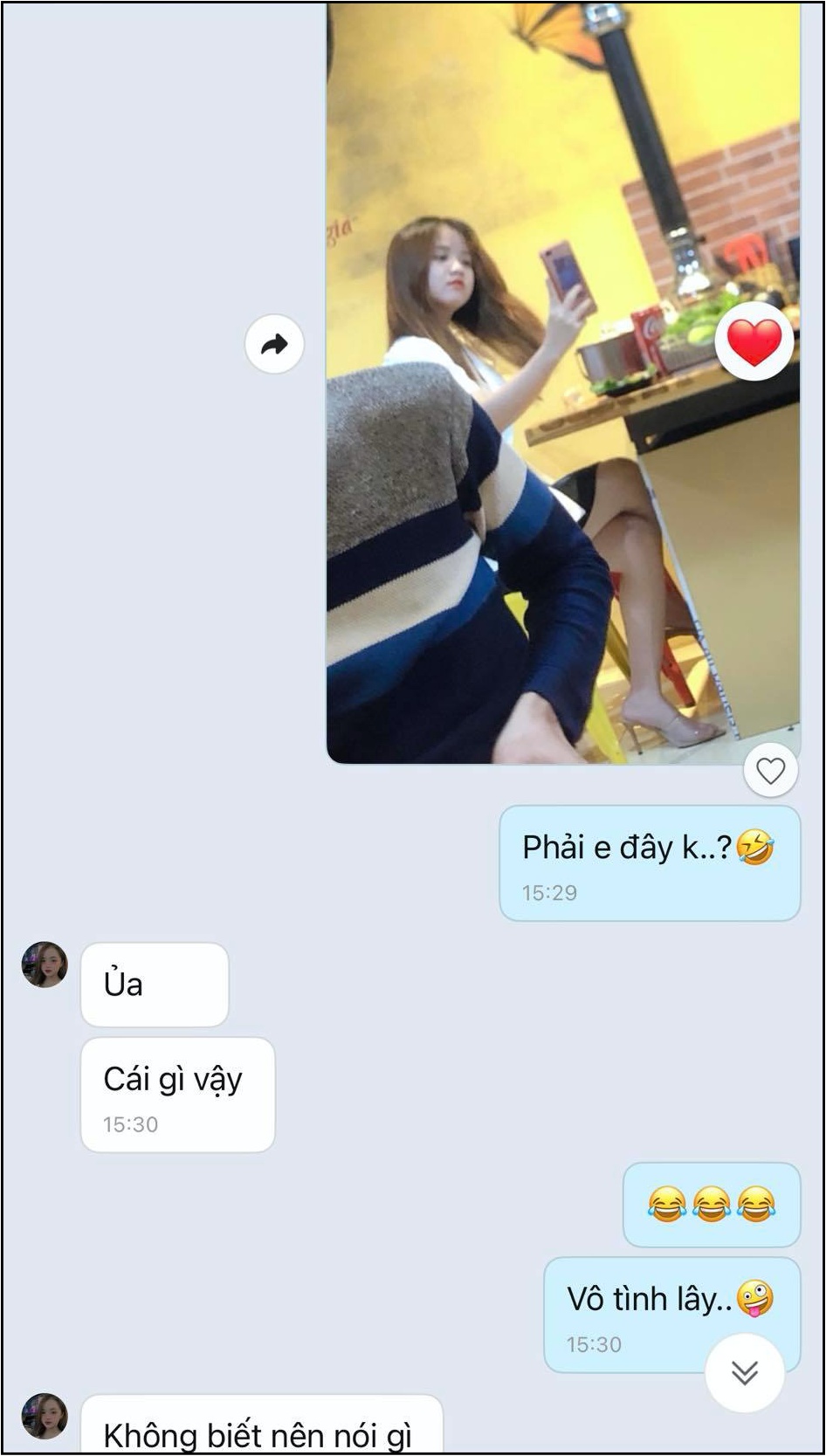 It was the end of the year, Hung had reached the age to get married, so his parents urged him to get married continuously. The love between the two sides was more intense, Hung suggested to Thao that he fell in love and would get married next year. Thao agrees.
"You two plan to end this year get married. At that time, it had been 1 year of love, the preparation time was also longer. However, when going to see the day, the first day of the year is more beautiful, so it is a bit rushed. I brought her home to introduce her to the family. My parents did not have to say, looking forward to their son getting married, so they asked directly: 'Do you two really want to be together, have you thought about it carefully?'. At that time, the parents did not know about the two new acquaintances. It wasn't until later that the marriage was over that the parents knew." Hung said.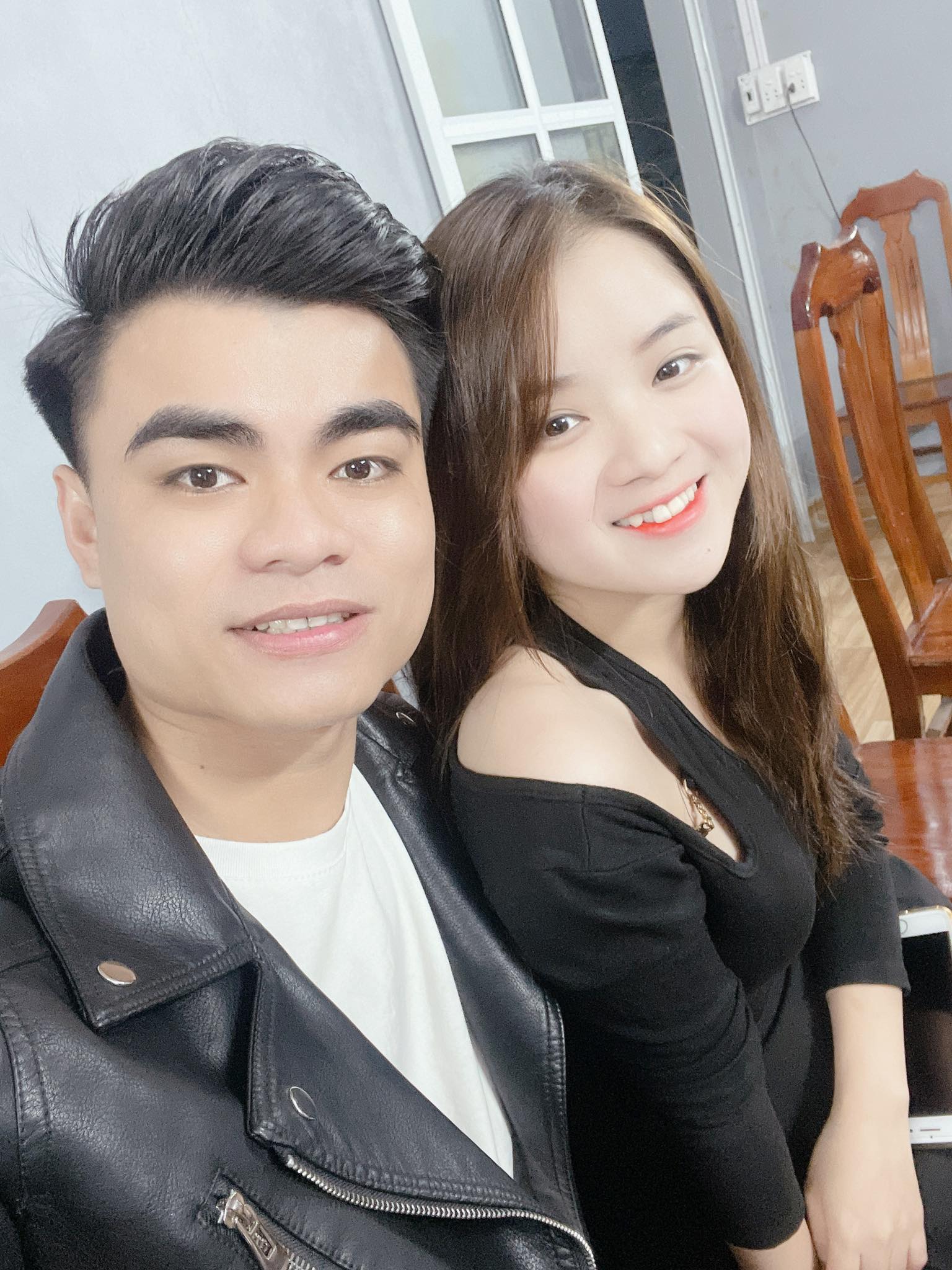 As for the family on the maternal side, at first, the wife's parents did not agree. Partly because Thao is too young, the other part of the couple has not been in love for long. However, Thao is determined to get married. She talked to her parents and wished to agree, blessing this choice.
After meeting Hung, they realized that he was mature, mature and had a very good career. Therefore, Thao's parents agreed to let them both get married.
The work after that was carried out hastily. Both sides of the family come to each other's houses to play and make a path so that the couple can get married.
On January 11, the two officially became husband and wife. The journey from acquaintance, love to wedding is only within 1 month.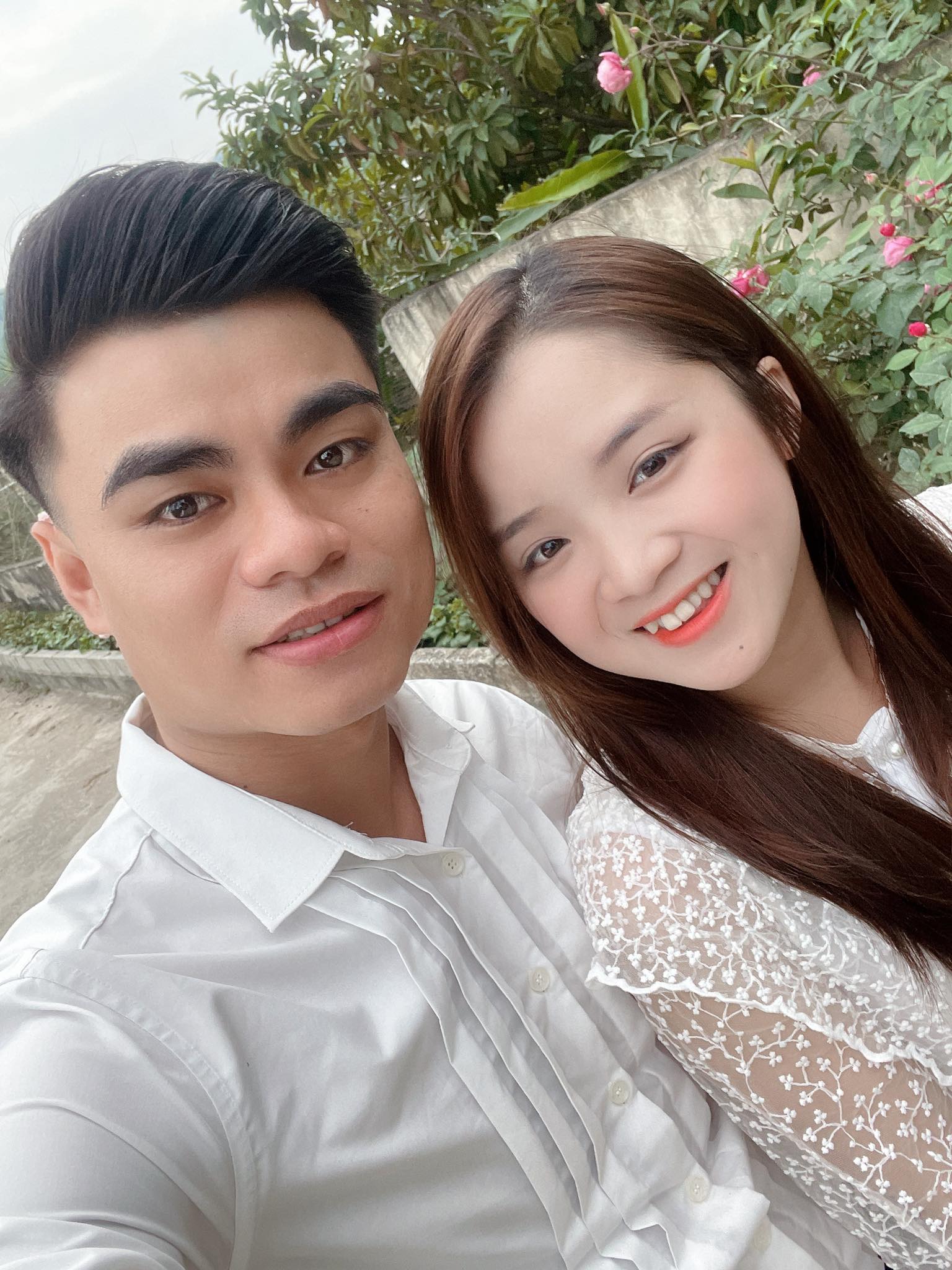 Initially, when Hung said he would get married, many people suddenly did not believe him and thought he was joking. When Hung took wedding photos and then posted them, everyone was even more surprised.
"People say I'm too bold," Hung laughed and added.
Hung shared: "Honestly, when I decided to get married, I was also scared and worried about many things. I'm also about to turn 30, it's difficult to say if I choose the wrong one. Moreover, I also wonder if my personality and lifestyle are compatible or not. However, at that time, it was like love, it was self-determined, I believed in my own feelings and senses, so I really wanted to go home with Thao soon.
At first, I was also well aware that my wife was young, so sometimes there would be shortcomings. The two of them are far apart in age, making the gap even bigger. Fortunately, Thao is a person who is good at dealing with people. She is young, but she knows how to think and take care of her family more than many people her age."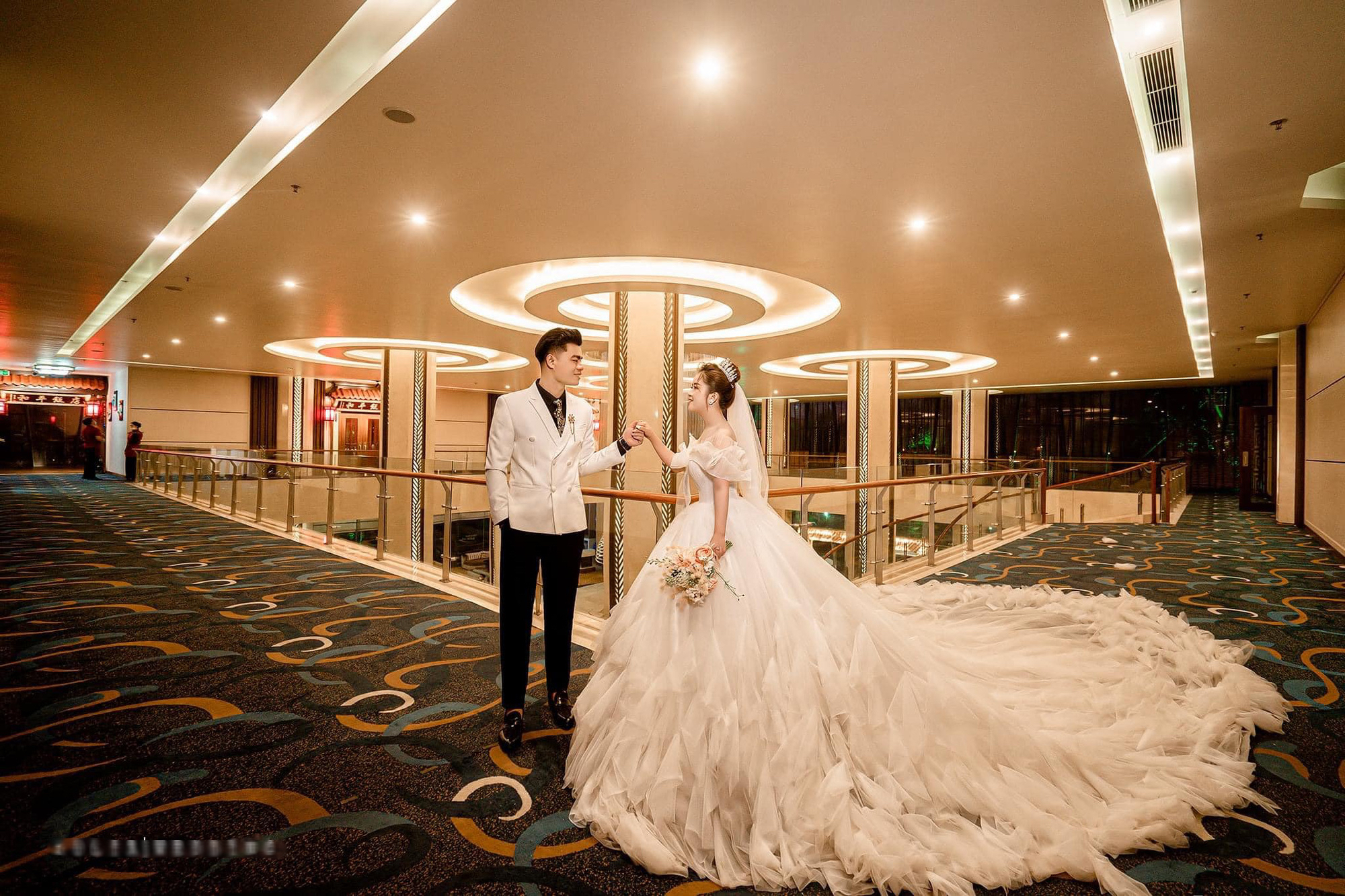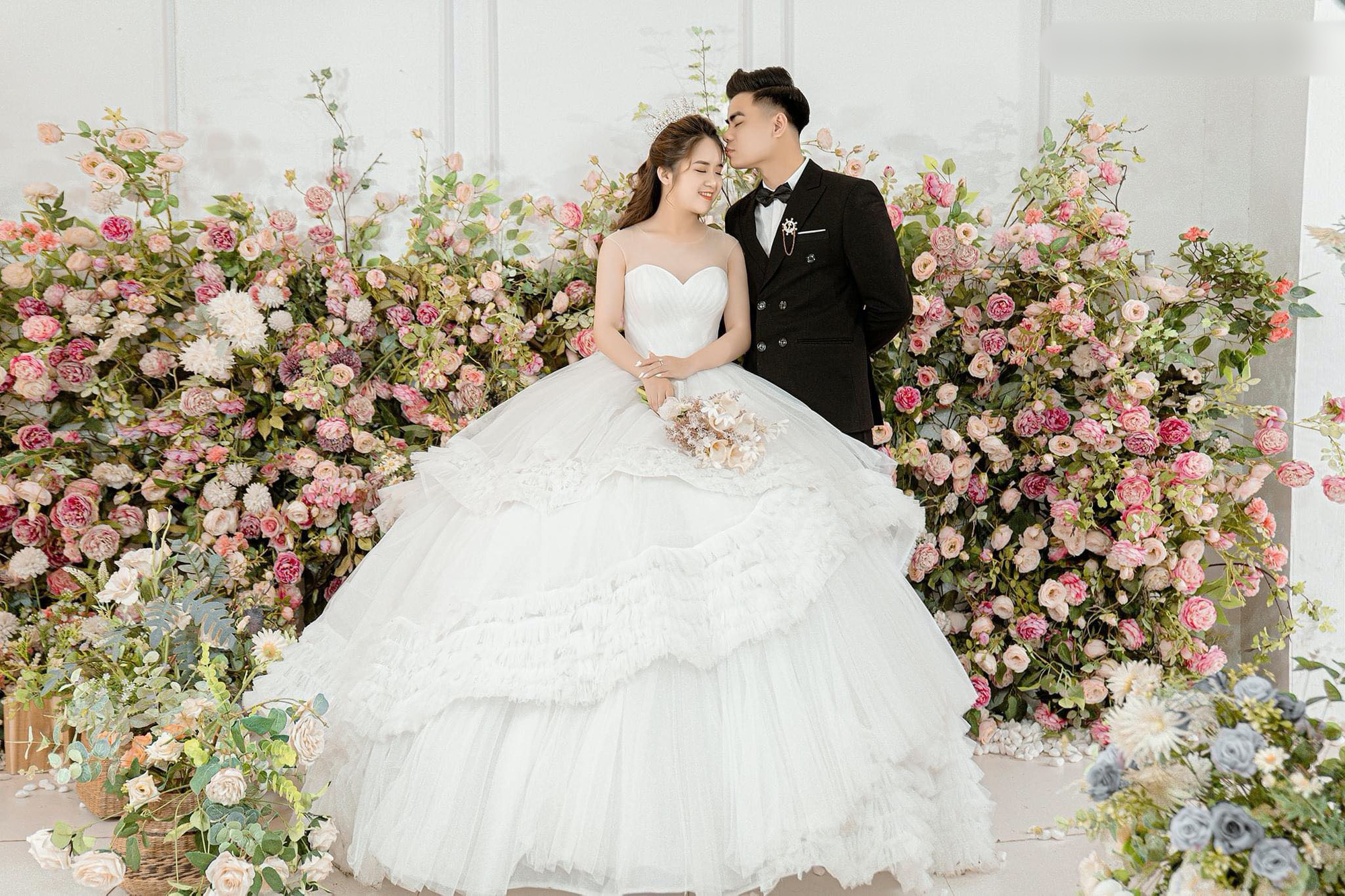 Up to now, Thao and Hung are very compatible, very cheerful and happy. In the first stage of marriage, both continue to love and learn more about each other, family. More and more, they see that their choice is really correct.
Currently, Thao helps her husband in the fashion store business. Next time, she will study beauty and start a shop in this area.
Regarding the story of the mother-in-law and the daughter-in-law, Thao is also really lucky to meet her husband's psychological family, who always love and teach her daughter-in-law enthusiastically.
Hung said: "My parents love my wife very much, pamper her a lot. I don't know if my wife is young, so my parents love me or what, but I feel more pampered than my biological son. My wife is also quick and cheerful, so my parents love me very much.
A couple selling clothes came home late. It's also far from home to the shop, so it's only late at night. Therefore, when I woke up in the morning, my mother bought breakfast for both of us. I also understand your children's work, so I let my mother sleep comfortably until 8-9 am and did not wake up. Right now, life is like that, I'm happy. I want nothing more than that the whole family is happy, happy and loving each other like that."
It is true that sometimes a bold decision has unexpected results. Congratulations to Hung and hope that he and his wife will always be happy and happy!
Photo: Zulia Wedding
https://afamily.vn/vua-quen-1-thang-chu-shop-thoi-trang-cuoi-luon-gai-xinh-moi-20-tuoi-bao-dam-cuoi-ai-cung-tuong- dua-me-chong-phone-mai-de-con-dau-9-gio-sang-moi-ngu-day-2022050119110771.chn
You are reading the article
The owner of the fashion shop "closed the order" for the girl after 1 month of knowing

at
Blogtuan.info
– Source:
Afamily.vn
– Read the original article
here