Life Style
Sức Khỏe
A 25-year-old man is in critical condition after smoking a pipe cigarette
The patient is Sam Van D., 25 years old, residing in Doi Binh commune, Yen Son district, Tuyen Quang province. After smoking a pipe tobacco, he had convulsions, vomiting, cyanosis, loss of consciousness, illness. patient is admitted to the emergency room in a deep coma G; 9 low Spo2 points, fast pulse and other survival indicators are temporarily stable.
The doctors carried out intubation, put the patient on a ventilator, used emergency medicine, and did the necessary tests. Now that the patient is out of danger, doctors have initially diagnosed the patient with shock due to nicotine poisoning.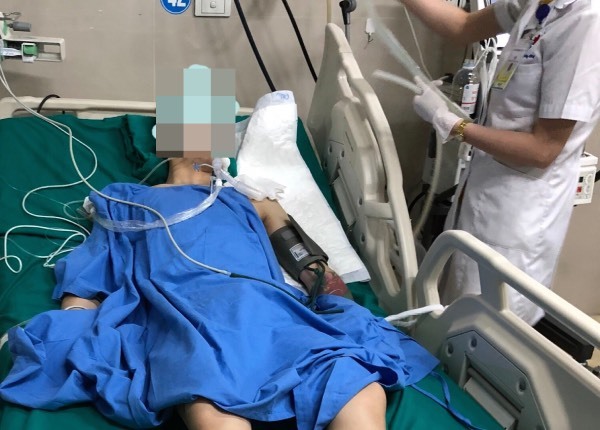 Many studies have shown that a dangerous adult dose of nicotine is 50-60mg, equivalent to about 5 cigarettes or 10ml of nicotine-containing solution, which can be fatal. However, the actual mortality rate from nicotine poisoning is very low, and some other studies show that it takes 500-1,000mg of nicotine to kill an adult.
Children in particular are much more susceptible to the effects of nicotine, with just the amount of nicotine in one cigarette being enough to cause illness in a child.
Nicotine affects the body in many different ways. Besides the risk of nicotine poisoning, the main risk associated with nicotine use is its addictive effects. Many people who quit nicotine will experience difficult withdrawal symptoms such as anxiety, intense cravings, feelings of sadness, difficulty concentrating, irritability …
People who are unfamiliar with nicotine and have tried e-cigarettes have a higher risk of poisoning than adults who have smoked cigarettes before and switched to e-cigarettes. Using more than one nicotine-containing product can also increase your risk. Poisoning can occur with the simultaneous use of cigarettes, e-cigarettes or smoking cessation products at the same time.
The main harms caused by smoking and nicotine: lung cancer, the rate of smokers increases, lung cancer increases; cancer in the head and neck: esophageal cancer, larynx cancer, oral cancer, nose cancer; kidney and bladder cancer; pancreatic and genital cancer in both men and women, linked to smoking leading to cancer of the uterus and cancer of the penis; anal and rectal cancer.
Respiratory disease from smoking, smelling tobacco smoke affects lung function through the nose, oropharynx, trachea, and into the lungs, causing chronic obstruction causing asthma, respiratory infections. Smoking causes cardiovascular disease and blood pressure, coronary heart disease and myocardial infarction, arrhythmia and sudden death. Smoking affects the fetus and newborn, affects the intelligence of the child in the future. Those are the specific dangers and not to mention a number of diseases caused by smoking and nicotine.
Nicotine poisoning is a serious threat when using tobacco and other nicotine-containing products, but there are ways to help minimize toxicity.
You are reading the article
A 25-year-old man is in critical condition after smoking a pipe cigarette

at
Blogtuan.info
– Source:
Afamily.vn
– Read the original article
here