Bất động sản
Agricultural land prices increased rapidly, Long An stopped issuing books for co-use land
Agricultural land prices "dancing"
Since the beginning of the year until now, in the context of housing prices in Ho Chi Minh City and neighboring provinces tend to increase, the housing market Long An also became active. Besides the planned land projects, the price agricultural land offered for sale by households and individuals at unusually high prices.
In Luong Hoa commune, Ben Luc district, agricultural land such as garden land, annual crop land and specialized wet rice cultivation land are for sale quite a lot.
In the role of a person buying land in Luong Hoa commune, PV VietNamNet T. offered to sell his family's land of more than 1 hectare of annual crops for 25 billion VND. According to Mr. T, last year someone paid 20 billion VND but he did not sell.
"The price of 2.5 million VND/m2 is still cheap. Before Tet, my neighbor sold a garden land of 2,000m2 for 6 billion VND. People from other places come here to buy a lot of agricultural land, some people make billions of dollars in just a few months." Mr. T said.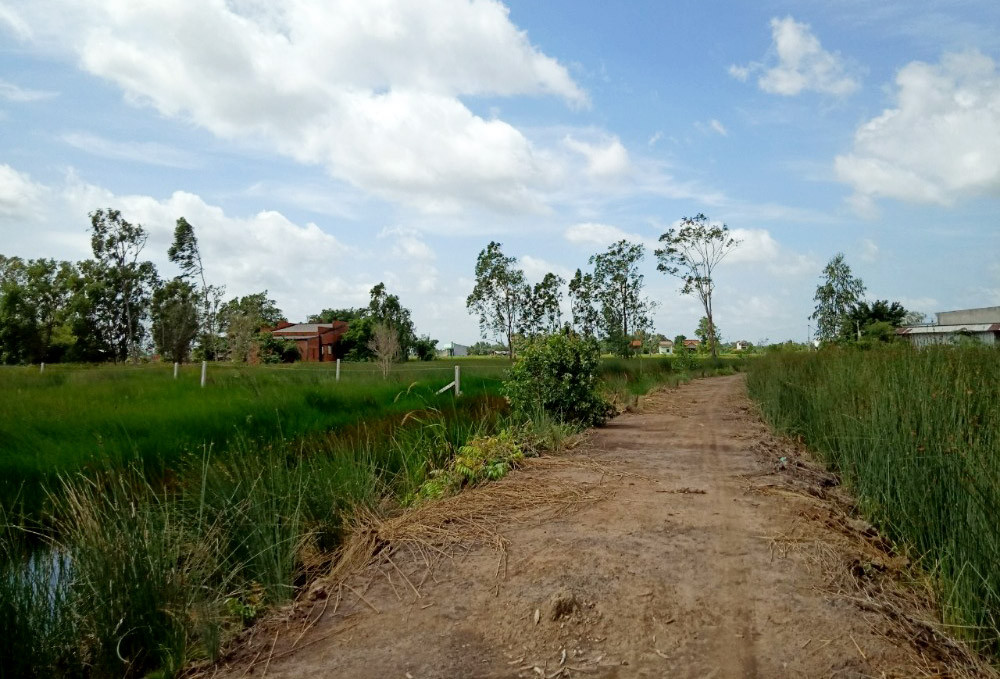 Located in front of a dirt road about 5m wide in area C, Thanh Loi commune, Ben Luc district, a garden land of 20,000m2 is being sold for nearly 9.5 billion VND. The landowner said that this land is suitable for buyers to cultivate and raise livestock. If you do not have a need to use it, you can buy it and wait for the price to rise and sell for a profit.
Also in Thanh Loi commune, a garden plot of 10,000m2 in area D is offered for sale by the owner for 10 billion VND. The landowner said that this land is located in a developing residential area, not far from National Highway N2, so the future price will be even higher. Due to the need for money to settle family matters, the new landowner sold at this price.
In addition to garden land, land specializing in growing wet rice in Long An is also offered for sale at a much cheaper price. Like an 8,000m2 rice field in Vinh Tri commune, Vinh Hung district, the land owner is selling it for nearly 600 million VND.
Temporarily suspending the settlement of land records for co-using land
According to observations, grasping the wave of land price increase in Long An, recently, more and more investors from all over the world have flocked here to "hunt land". The busiest transaction is the agricultural land segment. In which, garden land and land specialized in growing wet rice were bought a lot.
Mr. Nguyen Minh Lam – Vice Chairman of the People's Committee of Long An province said that the handling of documents Change the purpose of land useThe separation of parcels and the transfer of land use rights by State agencies are not strict. In many cases, people from other localities came to receive the transfer of rice land, which did not meet the conditions prescribed by the land law.
There are many cases of arbitrarily leveling the ground and changing the purpose of land use to divide plots and sell the ground illegally. In addition, people still donate land to build roads to form spontaneous residential areas, thereby causing virtual land fever and abnormal land prices.
In order to correct the above situation, the People's Committee of Long An province has just directed the management agencies and localities directly under the authority when certifying the land use right transfer documents to ensure compliance with regulations, especially strict verification of land use rights. subject to transfer of land specializing in wet rice cultivation.
At the same time, not considering the cases of donating land for road construction split the land plot does not comply with the regulations on the minimum area of ​​parcels in the locality.
In the province of Long An, there are still many people using the same name red book, pink book, but the area per capita is not enough to ensure the minimum area allowed to separate the plot. And they agreed with each other to separate this area into many small parcels of land for each person to be jointly used without going through the competent State agency.
While waiting for the opinion of the Ministry of Natural Resources and Environment, the People's Committee of Long An province decided to suspend the handling of land procedures, procedures for granting red books, House ownership certificate for co-use land.
The termination of the settlement of land procedures with co-using land in case the co-users do not have a relationship according to the law on marriage – family and the area per capita does not meet the minimum area requirement. parceled out.
"If any locality does not strictly follow the above directive, so that there is a limitation in land management, "land fever, virtual land price increase" makes it difficult for compensation and site clearance work, the Chairman will The district-level People's Committee of that locality must be directly responsible to the Chairman of the Provincial People's Committee. Long An Provincial People's Committee directed.
Mr. Phuong
You are reading the article
Agricultural land prices increased rapidly, Long An stopped issuing books for co-use land

at
Blogtuan.info
– Source:
vietnamnet.vn
– Read the original article
here