Kinh doanh
Bring 500 million to buy gold, get a big extra a year
After retirement, Mrs. Van and her husband have a savings of about 500 million VND. Ms. Van calculated that if she deposited in a savings account, the interest rate would be very low. She would only receive a few hundred thousand per month. After thinking, Mrs. Van discussed with her husband to buy gold.
At that point a year ago, SJC gold price Hanoi area sold at 55.15 million VND/tael (buy in) and 55.65 million VND/tael (sold out). Saigon Jewelry Company listed SJC gold at: 55.30 million dong/tael (buy in) and 55.67 million dong/tael (sold out).
After buying, she and her husband often pay little attention to gold because it is determined that this is a savings account, only selling when necessary due to a daily living pension. In early 2022, the price of gold continuously increased. Through press reports, Mrs. Van was happy that she had made the right choice.
At the time when gold rose to 74 million dong, Mrs. Van still did not sell gold, due to her view of buying gold to save. She believes that gold will increase in the near future.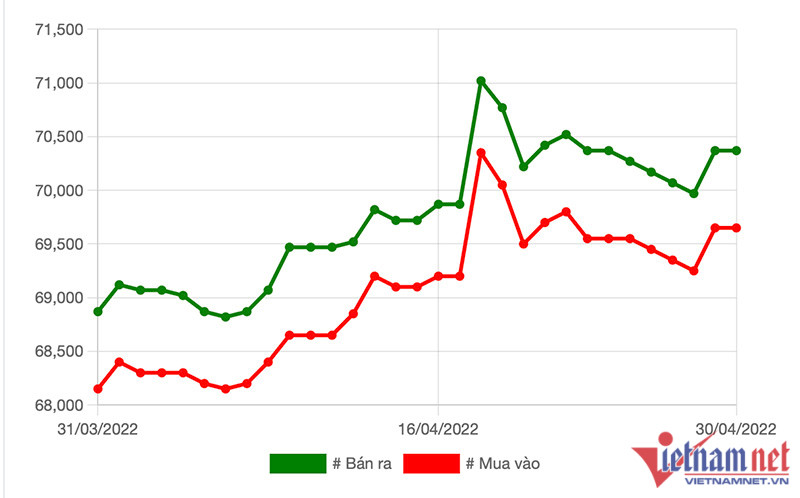 At the end of the trading session on April 30, the price of 9999 gold bars at SJC Hanoi was 69.65 million dong/tael (buying in) – 70.37 million dong/tael (sold out). SJC Ho Chi Minh City listed at 69.65 million dong/tael (buy in) and 70.35 million dong/tael (sold out). Doji Hanoi listed at 69.55 million dong/tael (buy in) and 70.20 million dong/tael (sold out). In Ho Chi Minh City, Ho Chi Minh City Doji bought SJC gold at 69.55 million VND/tael and sold it at 70.25 million VND/tael.
Thus, after a year, Ms. Van made a profit of 14 million VND/tael. Van's total gold has been over 125 million dong. For a retired civil servant couple, this is the largest return on investment that the couple has in their accumulated life.
The domestic gold market ended April with an increase in price. If selling SJC gold on April 1, then after 1 month, the customer has suffered a loss of 1.2 million dong/tael. If buying on that day, consumers made a profit of 480,000 VND/tael when selling gold on April 30.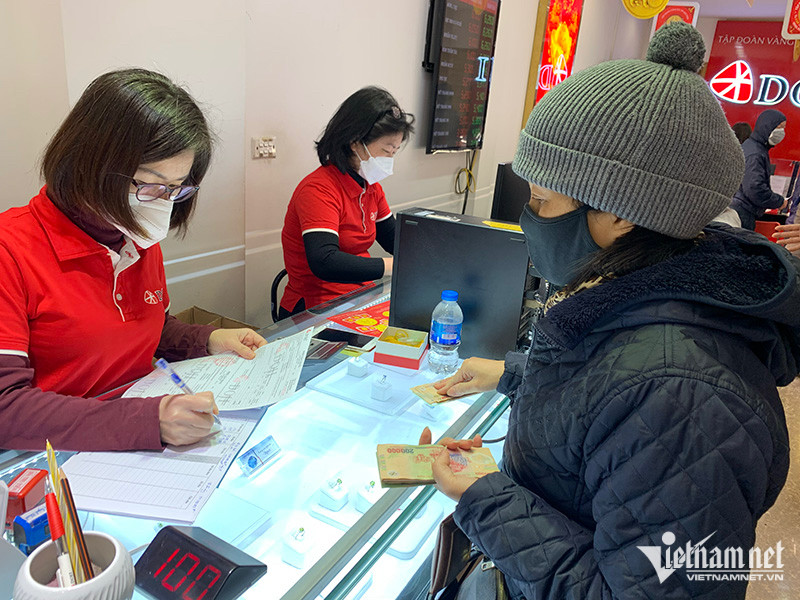 World gold fell
Contrary to the increase of domestic gold, the world gold price ended April falling. Closing session on April 30, spot gold price increased 0.9% to 1,9111.14 USD/ounce. However, for the whole month of April, the price of gold fell about 1.5%, marking the first decrease in the price of gold since January this year. Meanwhile, gold futures in the US also increased by 1.1% at the end of the week, to $1,911.70 per ounce.
Converted at the free USD exchange rate without taxes, world gold is 17.56 million dong/tael cheaper than domestic.
The purchasing power of the dollar has fallen 86 percent since 1971, when President Richard Nixon stopped allowing the dollar to be converted into gold at a fixed price, according to government data.
Along with the use of gold as jewelry, put into the Fed's reserves, and used in some industrial production, some believe that gold is more valuable than fiat currencies such as the dollar, because governments The government can issue bonds and print money.
Fed data shows that the amount of USD in circulation is now $ 2,250 billion, up from $ 1.8 trillion at the beginning of 2020 and above $ 800 billion in 2007.
Marc Desormeaux, senior economist at Scotiabank, said that although gold prices have recently fallen more than 5% from $2,000, he still has an optimistic forecast for the precious metal. However, he also thinks that gold may face some difficulties next week before the Fed's monetary policy decision.
According to Mike McGlone, an expert at Bloomberg Intelligence, the price of gold could break through the psychologically important level of $2,000 an ounce.
Currently, the market is turning its attention to the Fed's two-day policy meeting (May 3-4).
Told him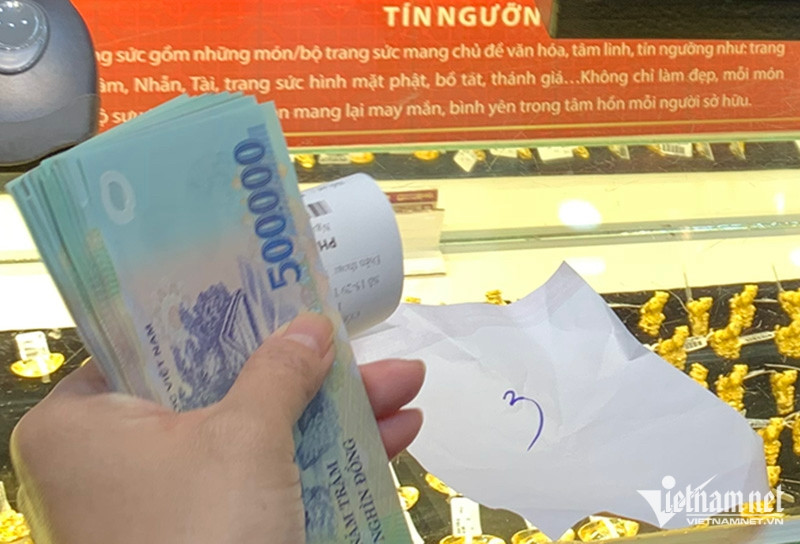 You are reading the article
Bring 500 million to buy gold, get a big extra a year

at
Blogtuan.info
– Source:
vietnamnet.vn
– Read the original article
here